NFL Draft Round 2: Best Available Players Heading into Day 2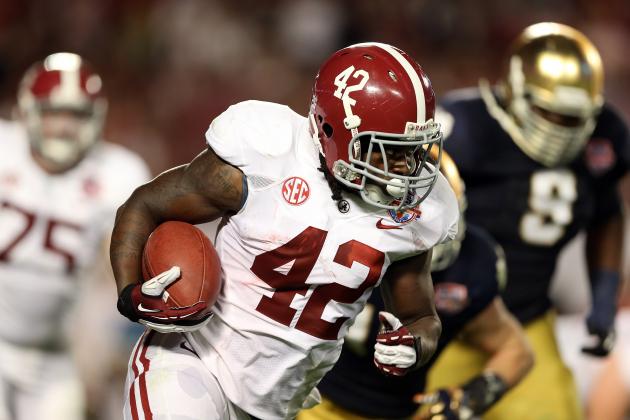 Streeter Lecka/Getty Images

The first day of the 2013 NFL draft is finished, and running back Eddie Lacy leads the list of best players still on the board.
As Alabama's featured back last season, Lacy was one of the top players in the nation. He suffered a big disappointment when he did not hear his name called on Thursday, but he will find a new home on Friday.
Quarterbacks and running backs had a rough first day of the draft. Florida State's EJ Manuel was the only player from those two skill positions to be selected, which was a surprise for several reasons. He wasn't expected to be the first quarterback taken, and there was supposed to be at least one running back off the board by now.
No matter where these players go, they will be expected to have an impact next season.
Who joins Lacy on the list of best available players?
*All stats are from ESPN.com
Begin Slideshow

»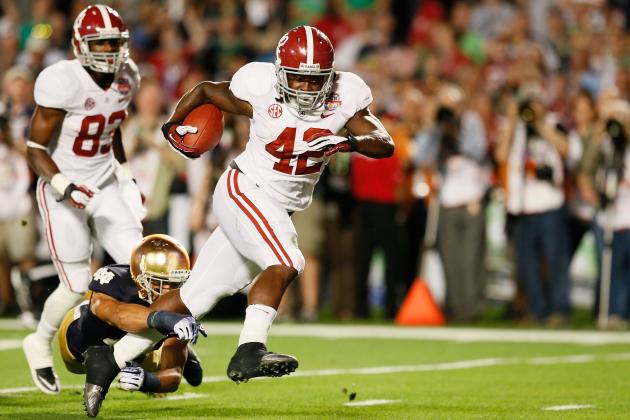 Kevin C. Cox/Getty Images

Eddie Lacy is a prototypical back. He can line up in the backfield and run straight at the defense.
At 220 pounds, he is built to pick up the tough yards. He was a mismatch for just about every team he faced while he was in Tuscaloosa, and he finished his career on a strong note.
As the stakes got higher, Lacy got better. He had 321 yards on 40 carries—which is an average of eight yards per carry—in the SEC title game and BCS National Championship combined. He ran for three scores and also caught a touchdown pass in must-win games.
In the game leading up to those highly anticipated games, he averaged seven yards per carry and ran for 131 yards and two scores in a rivalry game against Auburn.
Lacy is a power back, so he doesn't have great speed. He's not going to catch a ton of passes out of the backfield or be a great blocker, but he can be a playmaker in the running game.
Teams like the Cincinnati Bengals and the Indianapolis Colts could be fits on Day 2.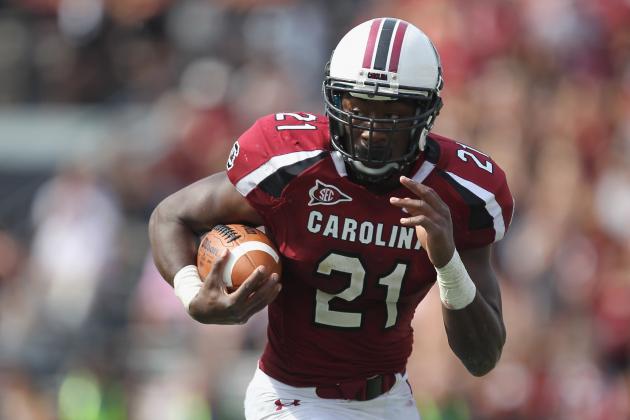 Streeter Lecka/Getty Images

After tearing his ACL, LCL and PCL in October last season, Marcus Lattimore saw his stock drop.
The star looked like he was going to be a first-round pick, but his devastating injury threatened his career. It has been six months since his injury, and he told Robert Klemko of USA TODAY Sports that he was ahead of schedule and should be ready for Week 1.
Lattimore is arguably the most talented back in this draft—when healthy. He also suffered an injury to his left knee in 2011, so both of his knees have undergone surgery. His injury history is scaring teams away, but he will be worth a pick on the second day.
He is a versatile back and can give a team different skills to work with. The star has carried the ball over 550 times and added 70 catches in less than three full seasons. He can also stay back and block, so there is plenty to like about him.
Teams are going to stay away from a running back with an injury history, but Lattimore will be a star in the NFL.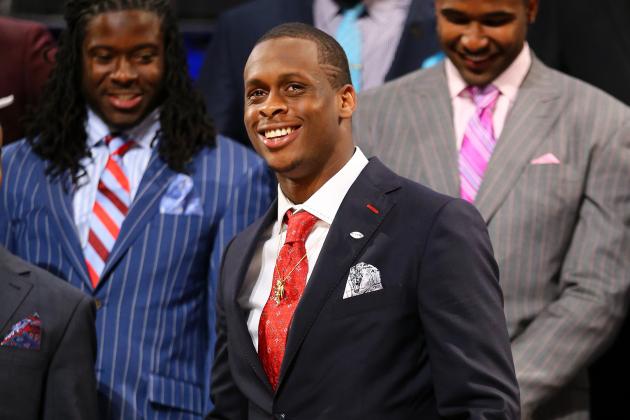 Al Bello/Getty Images

If any quarterback was going to go in the first round, Geno Smith looked the right pick. The West Virginia quarterback was the early favorite for the Heisman, but he faded as the season went on.
He has a great set of skills, including a strong arm and good legs.
The quarterback can make any throw, and he has shown the ability to be accurate. He's never completed less than 64 percent of his passes for a full season in his career. There were only three games last season in which he completed fewer than 65 percent of his throws.
Smith has shown the ability to consistently take care of the ball. He went the first six games of the season without throwing an interception, and he threw 25 touchdowns in that stretch.
He's never put up big rushing numbers, but he does have good mobility.
Smith will reward whatever team selects him because of his versatility. He has shown flashes of brilliance, and he will go early in Day 2.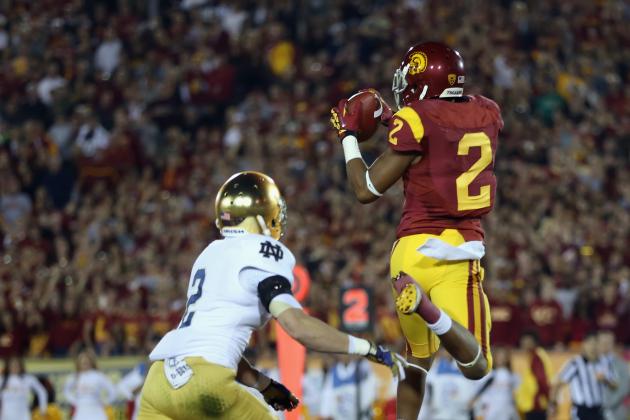 Jeff Gross/Getty Images

Entering the 2012 season, Robert Woods was supposed to help Matt Barkley win the Heisman. Unfortunately for both players, they saw their stock drop and remain undrafted.
Woods has the ability to be a star in the NFL.
The wide receiver never missed a game at USC, and he was productive in every season. He never finished with fewer than 65 catches or 792 yards.
He had a monster 2011 campaign. He caught 111 passes for 1292 yards and 15 touchdowns. That was an increase of nearly 50 catches, 500 yards and nine touchdowns from his freshman season.
Woods has good hands and good speed, so it shouldn't be too long before he comes off the board. Size is an issue for him, but he has the skills to make up for it.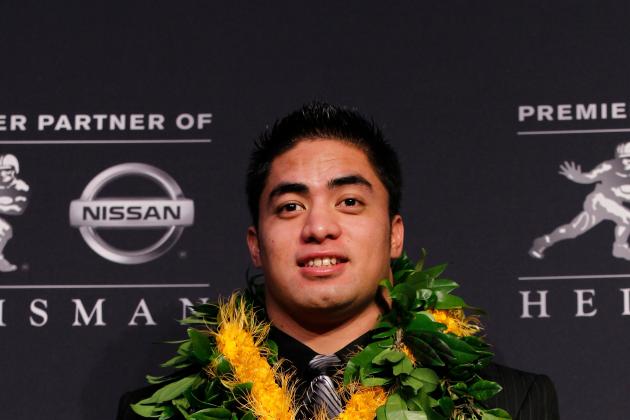 Mike Stobe/Getty Images

Nobody on this list has suffered a free-fall quite like Manti Te'o. After Notre Dame got blown out in the title game, Te'o's fall began.
However, he is still one of the best prospects available entering Day 2. He is the top defensive player on the board, but it's unclear who is interested in him.
Te'o had a huge senior season. He finished the year with 111 tackles and had seven interceptions. It's clear that he is a good tackler, but he was exposed against Alabama. It was the entire team that fell apart, not just the linebacker.
His play was good enough to finish second in Heisman voting.
He reads plays very well and can be a good linebacker for any team. He doesn't have great speed, which is part of the reason teams are down on him.