Initial Post-Draft Depth Chart for the New York Jets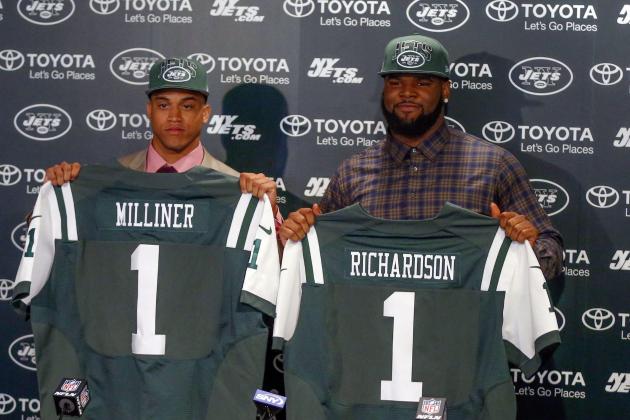 Jim O'Connor-USA TODAY Sports

The following slides will break down each position now that the bulk of the roster building is now over. The Jets will continue to build their training camp roster with more free agent signings.
The Jets filled some holes early in the draft, but their plan of building up the offensive line with their later picks left plenty of empty holes that will have to be filled by unproven players.
Advanced stats provided by ProFootballFocus.com (subscription required).
Begin Slideshow

»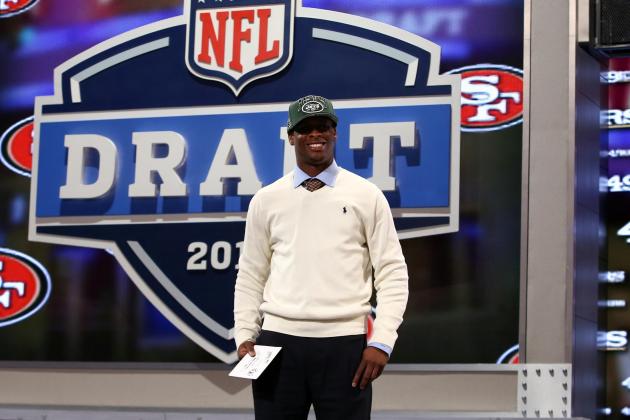 USA TODAY Sports

Projected Depth Chart: Mark Sanchez, David Garrard, Geno Smith, Tim Tebow, Greg McElroy, Matt Simms
It sure is going to be tough to get a good seat in the quarterback meeting room.
The selection of Geno Smith with the 39th overall pick give the Jets six quarterbacks as they head into OTAs and minicamps.
Based on Idzik's philosophy of competition, no player will be the "favorite" to win the starting job. Each player has a clean slate and the best player will play, regardless of contract.
However, the future of Mark Sanchez and Tim Tebow remain unclear. No one knows why Tebow is still on the team in the first place, but perhaps he will be released after the draft, barring an unexpected trade.
For Sanchez, signs are starting to point to his release, as the Jets have enough cap room to eat his cap penalty by making him a June 1 cut. According to ESPN's Adam Schefter, the Jets are at least considering it.
Without Sanchez and Tebow in the picture, the quarterback situation becomes more more clear with a classic veteran versus rookie battle in Garrard vs. Smith. Either way, we won't know who the Jets' starter is until the end of training camp.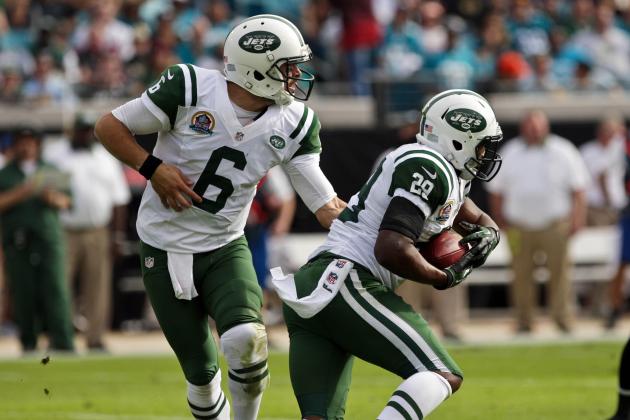 Rob Foldy-USA TODAY Sports

Projected Depth Chart: Chris Ivory, Bilal Powell, Mike Goodson, Joe McKnight, John Griffin, Lex Hilliard, Tommy Bohanon
The Jets were clearly not satisfied with a duo of Bilal Powell and Mike Goodson as their running back tandem, as they finally completed their trade with the Saints for Chris Ivory, costing them a fourth-round pick.
When healthy, Ivory is a tremendously physical runner who can also make defenders miss. He will be the clear-cut starter, with Powell and Goodson providing a three-headed backfield that will keep all three runners fresh and healthy.
Because he is so reliable in protection, expect Powell to take over most of the third-down duties, with Ivory and Goodson handling the early-down responsibilities.
Lost in the re-shuffling of runners is Joe McKnight, who has not been able to get into the regular running back rotation but has excelled as a return man. Signing two players to replace on lost free agent (Shonn Greene) all but signifies the fact that the coaching staff simply does not believe in McKnight.
John Griffin was a camp casualty last year, but what brought back as the Jets like his ability to catch the ball and play in space. There is not enough room for him on the final roster, but he will be auditioning for a job on another team.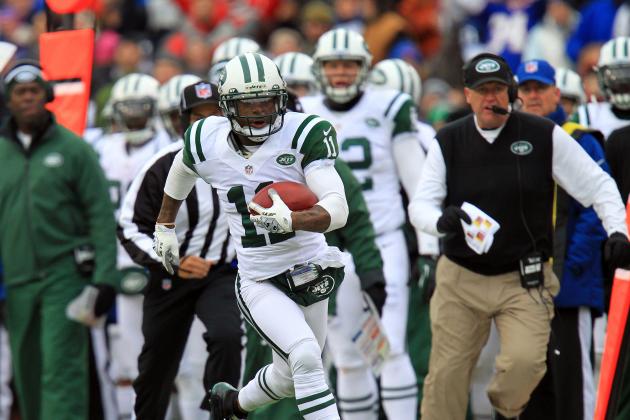 USA TODAY Sports

Projected Depth Chart: Santonio Holmes, Jeremy Kerley, Stephen Hill, Clyde Gates, Royce Pollard, Jordan White, Titus Ryan, Emmanuel Arceneaux, Vidal Hazelton, Thomas Mayo, Joe Collins, Ryan Spadola, Zach Rogers, KJ Stroud, Antavious Wilson
Assuming Santonio Holmes can come back healthy, the Jets have their set of starting wide receivers. Jeremy Kerley was the most productive (and healthy) player at the position a year ago and appears to be a budding star in the slot.
However, Stephen Hill was slow to develop with lingering injury problems. He is fortunate that the Jets did not draft a receiver, or his job would be in serious jeopardy. He needs to take huge strides in his second season.
If this position group runs into trouble again, the Jets offense will, once again, not have the same depth it did a year ago.
Clyde Gates did flash potential with his great speed, but he is also injury-prone after getting multiple concussions. Jordan White can find a way to get open in one coverage but he possesses no special athletic traits.
The Jets will likely add a slew of free agents to the bottom half of the receiver group, but it is unlikely that more than one of the back eight or so receivers on the depth chart will land a roster spot.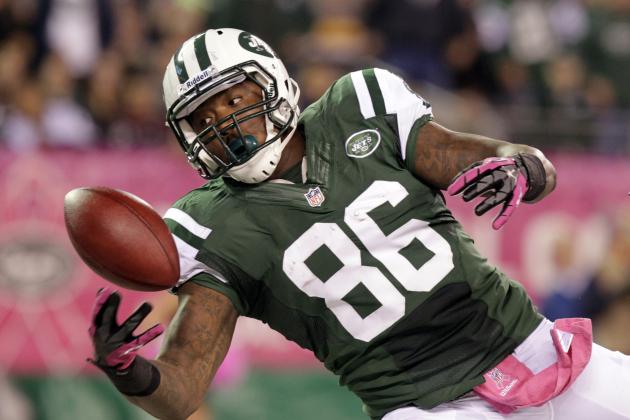 The Star-Ledger-USA TODAY Sports

Projected Depth Chart: Jeff Cumberland, Konrad Reuland, Hayden Smith, Mike Shanahan, Chris Pantale
This position is as bare as any on the roster. Jeff Cumberland is a solid No. 2 as a receiver, but he is not much of a blocker and hardly strikes fear into opposing defenses.
Konrad Reuland was a valuable H-back, but he is a bit undersized and does not offer much as a blocker. The Aussie, Hayden Smith, was not see in any significant action, but the fact that the Jets wanted to keep him around is a good sign for his future.
The Jets did add undrafted rookies Mike Shanahan and Chris Pantale as blocking tight ends, but this is still a huge position of need that has not been addressed since losing Dustin Keller to the Dolphins.
Al Bello/Getty Images

Projected Depth Chart: D'Brickashaw Ferguson, D.J. Young
Ferguson rebounded nicely after a subpar 2011 season, not allowing a sack until Connor Barwin finally beat him in a Week 14 matchup for a strip sack. Barring a severe injury, Ferguson has shown no signs of losing his status as one of the best pass-protectors in the league.
Ferguson did restructure his deal on Friday, but is was not because of a decline in his play, as the Jets were trying to clear up even more cap room.
D.J. Young spend time with the Cardinals last season, and will have another chance to make the Jets' roster with an opening at the sixth tackle spot.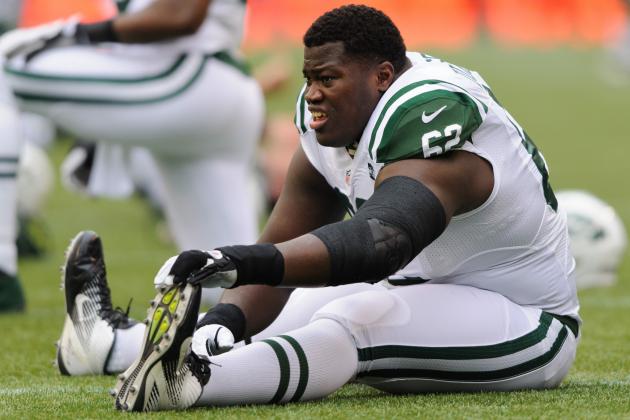 Steven Bisig-USA TODAY Sports

Projected Depth Chart: Vladimir Ducasse, Brian Winters, Stephen Peterman, Dennis Landolt
Clearly not satisfied with their lack of depth at the position, the Jets used a third-round selection on Brian Winters, a strong, athletic Ken State product that will have a chance to compete for a starting job this offseason.
Meanwhile, former second-round bust Vladimir Ducasse has had ample opportunities to earn a starting job, but he has not been able to seize the opportunity. Ducasse is a well-built, athletic player but he has struggled to pick up some of the mental aspects of the game.
Meanwhile, the recently-signed Peterman has allowed the most hurries in the league a year ago. He will compete for the starting job, but he could also just as easily be cut before the season starts. Sixth-round selection William Campbell will also get a crack to compete for playing time as well.
Wintesr will have to make the transition from left tackle to guard for the first time of his career, but he plays with a level of tenacity that is simply not as prevalent in Ducasse's game. There is a good chance that Winters will win over coaches with his attitude and upside, especially if he can pick up his new position in a hurry.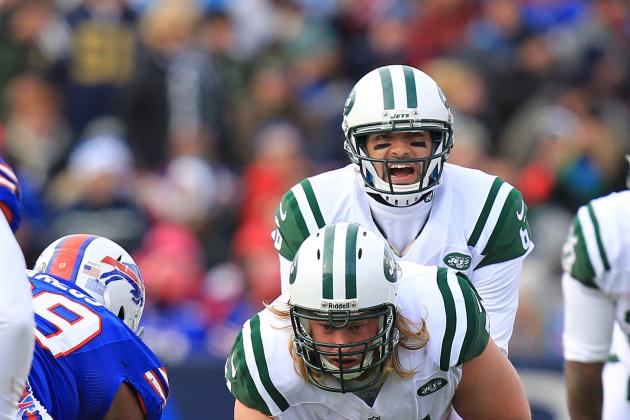 USA TODAY Sports

Projected Depth Chart: Nick Mangold, Caleb Shalauderaff, Dalton Freeman
This is one of the few positions that appears to be set for the long-term. When healthy, Mangold is as good as they get in the NFL and is the perfect antidote for Vince Wilfork two Sundays per year. Mangold is still a core player in his prime, but he will likely be on the downhill of his career by the time the Jets are competitive again.
Nick will still be a tremendous asset to Geno Smith, who comes from what was a no-huddle system at West Virginia. A cerebral player like Mangold would go a long way in taking some of the mental pressure off a young player like Smith, should be the starter in 2013.
Schlauderaff, acquired in a trade two years ago, provides adequate depth and has enough versatility to play guard or center if needed.
Justin K. Aller/Getty Images

Projected Depth Chart: Willie Colon, William Campbell, Mark Popek
As long as Colon can stay healthy, he should not have much difficulty earning a starting job for the Jets. While he missed 22 games in two seasons in Pittsburgh, he was an effective player when he was able to stay on the field.
After all, it would be a curious decision if the Jets decided to start a rookie opposite Vladimir Ducasse, regulating Colon to the bench. The loser of the Winter/Ducasse/Campbell battle would give the Jets insurance in case Colon's injury issues come up again.
Sixth-round selection William Campbell could make things interesting if he can make a seamless transition from defensive tackle to guard. Campbell is a gifted player who never quite fit as a defensive tackle at Michigan but could turn out to be the next Brandon Moore as a converted defensive lineman.
Meanwhile, Landholt has bounced around on various practice squads, re-signing with the Jets for a second stint after spending some of 2012 with the Saints. His odds of making the 53-man roster, especially with the addition of Winter, remain slim.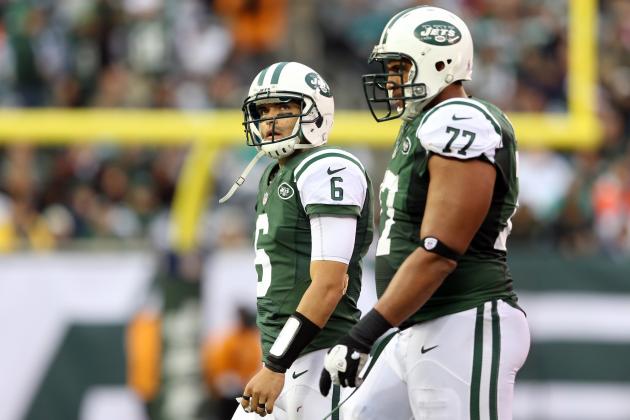 Debby Wong-USA TODAY Sports

Projected Depth Chart: Austin Howard, Oday Aboushi, Trey Gilleo
Howard started the 2012 season behind Wayne Hunter, but a horrific preseason by Hunter thrust Howard into the starting lineup, where he thrived.
Still, There is a notion that Howard is not a capable starting right tackle simply because of the fact that he started training camp as the backup to Wayne Hunter, which could not be further from the truth. Pro Football Focus rated Hunter in the top half of starting offensive tackles (including left tackles).
Given a $2.02 million RFA tender for 2013, Howard has a chance to land himself a big payday if he turns in a season like he did in 2012.
Fifth-round pick Oday Aboushi will likely make the conversion to right tackle or guard, despite playing left tackle at UVA. His best chance to play would be at guard where the spots are wide open, but if Aboushi is impressive enough, he could push Howard, who is not known for having a tremendous work ethic.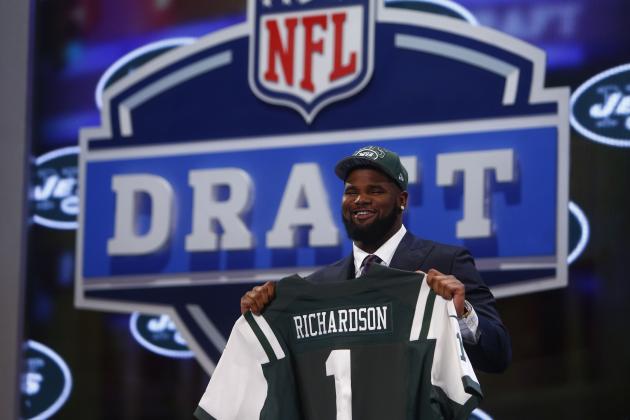 Jerry Lai-USA TODAY Sports

Projected Depth Chart: Muhammad Wilkerson, Quinton Coples, Sheldon Richardson, Tevita Finau
The Jets have plenty of needs, but defensive end is certainly not one of them.
Wilkerson had a dominant season in 2012, as PFF ranked him higher than every other player at his position, with the lone exception of J.J. Watt.
Rookie Quinton Coples flashed brilliance as an interior pass-rusher, notching 5.5 sacks as a part-time player. Coples should slide into the opposite starting position at defensive end, replacing Mike DeVito, provided that he cleans up his technique in the run game.
First-round pick Sheldon Richardson is listed as a defensive tackle, but he will play more like a defensive end in the Jets' system. Richardson will likely undertake the same role as Quinton Coples did as a rookie as a situational pass-rusher who give the Jets unusual depth at the position.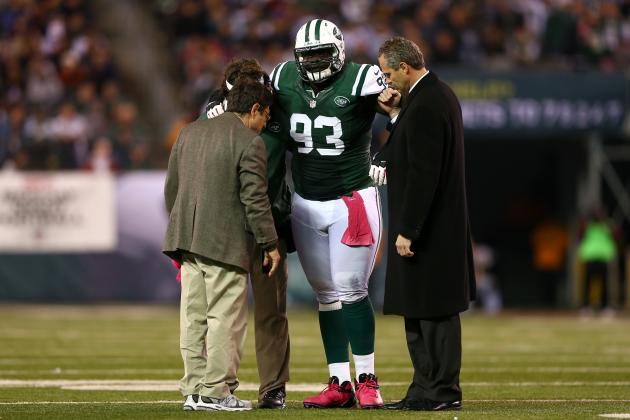 Elsa/Getty Images

Projected Depth Chart: Kenrick Ellis, Antonio Garay, Damon Harrison, Junior Aumayae, Spencer Nealy, Jake McDonough, Roosevelt Holliday
This is a position that is based on potential and some luck in the health department. Kenrick Ellis and Sione Pouha (since released) missed most of last season, but Ellis did show a lot of improvement from his rookie season. If he can stay healthy, the Jets have themselves a nose tackle.
Antonio Garay is a bit older (33) but he gives the Jets reliable insurance in case Ellis' injuries continue to be a problem.
The intriguing player to watch here is Damon Harrison, who made the team last August as an undrafted free agent. A special size-strength specimen, the Jets did not release him in the middle of a lot of tinkering on the bottom of their roster—a sure sign that the Jets like what they see.
Junior Aumayae figures to be a camp body that will only have a chance to make the Jets' practice squad.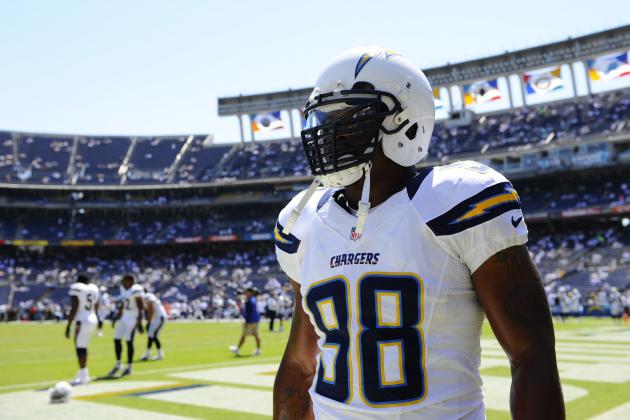 Christopher Hanewinckel-USA TODAY Sports

Projected Depth Chart: Antwan Barnes, Calvin Pace, Garrett McIntyre, Ricky Sapp, Claude Davis, Jacques Smith, Troy Davis
Once again, the Jets enter the draft with a gaping hole at outside linebacker, and once again—the Jets fail to address the position.
Antwan Barnes is an upgrade over Bryan Thomas as a pass-rusher, but Calvin Pace graded out as the worst defender on the Jets last season, as per PFF. Youth and explosiveness are much-needed at this position.
Meanwhile, Garrett McIntyre and Ricky Sapp brings a little as a rotational pass-rusher, but they are both unreliable setting the edge against the run. It would be an upset if Claude Davis or Jacques Smith managed to make the team.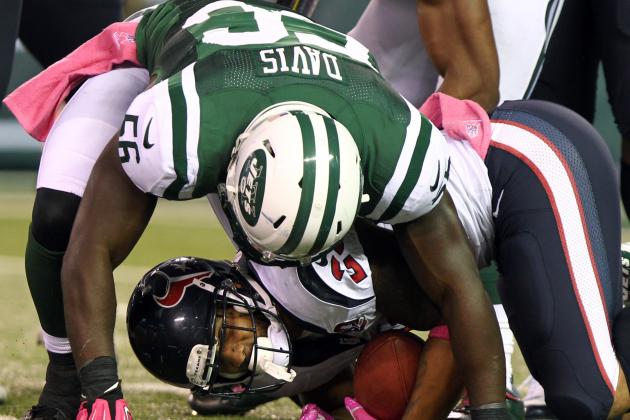 Debby Wong-USA TODAY Sports

Projected Depth Chart: David Harris, Demario Davis, Josh Mauga, Nick Bellore, Danny Lansanah, Jacquies Smith
The Jets are getting younger at the position as Demario Davis replaces Bart Scott next to David Harris. Davis had an up-and-down rookie season, but that is expected from a rookie out of Arkansas State. Davis is more of a finesse player that is better in coverage than Scott but is not as physical in the run game.
Meanwhile, David Harris had his worst season as a Jet, with PFF rating him as the second-worst defender on the team (behind Calvin Pace). He improved as the season went on and won the team's courage award, suggesting that he played through some type of injury.
The Jets re-signed John Mauga, giving them adequate depth at the position. Mauga has some starting experience for when he filled in for Bart Scott's periods of absence in 2011 and, along with Nick Bellore, is a core special teams player.
Danny Lansanah and Jacquies Smith will face tough odds to make the final roster with the amount of players ahead of them on the chart.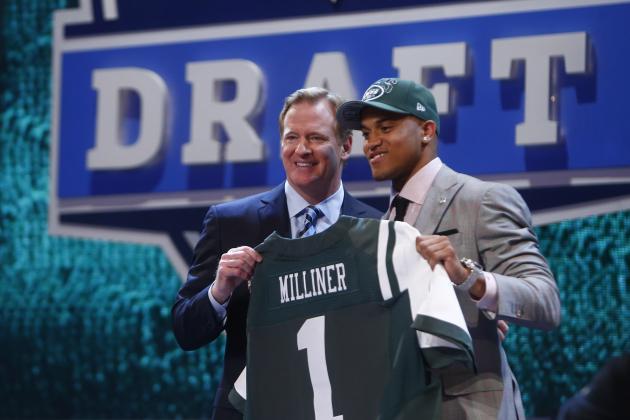 Jerry Lai-USA TODAY Sports

Projected Depth Chart: Antonio Cromartie, Dee Milliner, Kyle Wilson, Aaron Berry, Ellis Lankster, Darrin Walls, Donnie Fletcher, Royce Adams, Cliff Harris, Mike Edwards
Darrelle Revis' days as a Jets are long gone, as the Jets have found a new star player to fill the role opposite Antonio Cromartie with Dee Milliner, the Jets' top pick in the 2013 draft.
It would be assumed that Milliner would beat out Kyle Wilson for the starting job opposite Cromartie, but Alabama corners tend to take time to develop in the NFL. They are not taught basic NFL techniques, including a backpedal.
Assuming Milliner does join Antonio Cromartie on the perimeter, the Jets have Kyle Wilson and the oft-injured Aaron Berry to play in the slot, as Ellis Lankster had a disappointing season and was eventually benched.
A name to keep an eye on is Darrin Walls, a late-season addition to last year's roster that showed promise in limited action as the fourth cornerback.
Donnie Fletcher bounced back and forth between the active roster and the practice squad, and Cliff Harris has some considerable talent. Royce Adams was in camp last year and will have a tough time standing out from the pack this year.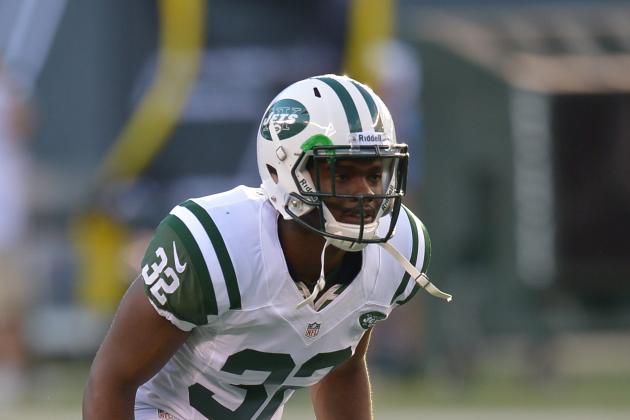 Drew Hallowell/Getty Images

Projected Depth Chart: Dawan Landry, Josh Bush, Antonio Allen, Bret Lockett, Jarrett Jaiquawn, Eric Crocker, Rontez Miles
Despite there being plenty of valuable players on the board, the Jets elected not to address their safety position in the draft.
The projected starters are Dawan Landry at strong safety and John Bush on the other side at free safety. Antonio Allen is a logical fit for the third "big nickel" role that used to be occupied by Eric Smith.
Bush has some experience as a rotational player but he has not been asked to be the Jets' full-time starter, until now. Dawan is not as physical or dynamic as his brother LaRon, but he adds some stability as a veteran.
It would be an upset if Lockett, Jaiquwan or Croker make the team, but the Jets should add several free agents to build competition to get the most out of the projected starters.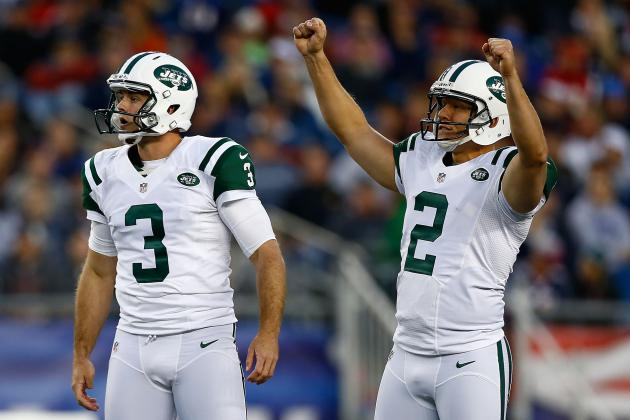 Jared Wickerham/Getty Images

Projected Depth Chart: Robert Malone (P), Nick Folk (K), Jeremy Kerley (PR), Joe McKnight (KR)
The Jets had their share of special teams woes with an outrageous amount of blocked kicks and coverage breakdowns, but the specialists were not the issue.
Nick Folk had his best season of his career, as nearly all of his misses were from blocked kicks. Robert Malone had some inconsistencies, but he proved to be a much more reliable punter than T.J. Conley.
Jeremy Kerley and Joe McKnight are effective returners, but Kerley must be more consistent catching the ball, as he lost two fumbles last year.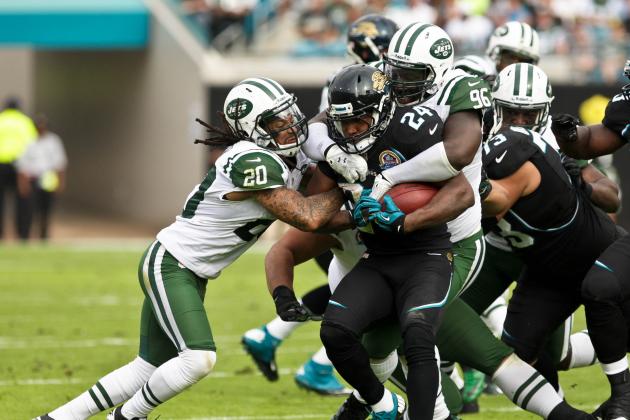 Rob Foldy-USA TODAY Sports

QB (3): David Garrard, Geno Smith, Greg McElroy
RB (5): Chris Ivory, Mike Goodson, Bilal Powell, Joe McKnight, Tommy Bohanon
WR (5): Santonio Holmes, Jeremy Kerley, Stephen Hill, Clyde Gates, Royce Pollard
TE (3): Jeff Cumberland, Hayden Smith, Konrad Reuland
LT (1): D'Brickashaw Ferguson
LG (2): Brian Winters, Vladimir Ducasse
C (2): Nick Mangold, Caleb Schlauderaff
RG (2): Willie Colon, William Campbell
RT (2): Austin Howard, Oday Aboushi
DE (3): Muhammad Wilkerson, Quinton Coples, Sheldon Richardson
DT (3): Kenrick Ellis, Antonio Garay, Damon Harrison
ILB (4): Demario Davis, David Harris, Josh Mauga, Nick Bellore
OLB (4): Antwan Barnes, Calvin Pace, Ricky Sapp, Garrett McIntyre
CB (6): Antonio Cromartie, Dee Milliner, Kyle Wilson, Darrin Walls, Aaron Berry, Ellis Lankster, Donnie Fletcher
S (3): Josh Bush, Dawan Landry, Antonio Allen
P (1): Robert Malone
K (1): Nick Folk
LS (1): Tanner Purdum