Jones vs. Sonnen: 5 Reasons You Can't Miss UFC 159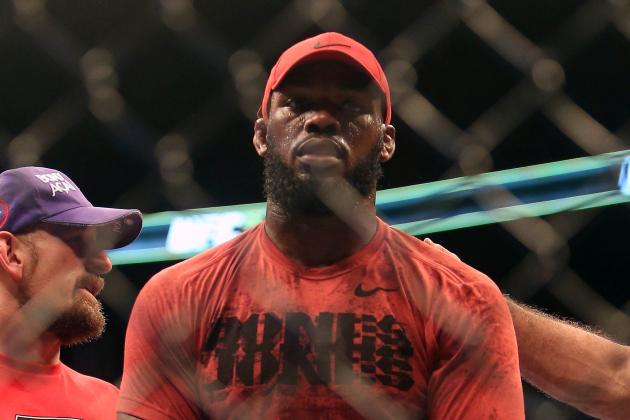 Tom Szczerbowski-USA TODAY Sports

For the better part of eight months, UFC light heavyweight champ Jon Jones has witnessed Chael Sonnen's best version of verbal warfare.
Jones put up with Sonnen's pro-wrestling-like act in the pre-fight pressers, and then tolerated "The American Gangster's" shallow attempt to buddy up with him on the 17th season of The Ultimate Fighter.
But the day Jones has yearned for since August will arrive in a matter of hours, and Sonnen, who dropped two straight middleweight title bouts to Anderson Silva, must stop talking, throw in his mouthpiece and lock horns with the world's greatest 205-pound fighter.
Here are five reasons you must tune into UFC 159 on Saturday.
Begin Slideshow

»
Rarely will a pair of upper-echelon fighters carry the brand of genuine animosity that UFC middleweights Michael Bisping and Alan Belcher hold for one another.
At UFC 159, the fourth-ranked Bisping and the 10th-ranked Belcher each will square off with dreams of thoroughly embarrassing one another.
A grinder by nature, Bisping holds advantages in the departments of technical striking, cardio and wrestling. A natural finisher, Belcher possesses tremendous knockout power, slick submission skills and a sturdy chin.
But chances are, this instant classic will feature an emotional back-and-forth saga that ends in a hard-fought decision win for "The Count."
After all, Bisping has never finished a world-ranked opponent in his nine-year career.
Granted, few can match the Brazilian jiu-jitsu prowess of 28-year-old submission ace Vinny Magalhaes.
But for a fighter on the rebound, Magalhaes could have been more selective in calling out his first opponent, perennial light heavyweight contender Phil Davis, in his second stint back with the UFC.
The eighth-ranked Davis, a former NCAA Division I wrestling champ, has long been considered a world-ranked 205-pounder, and has produced the victories in the UFC to prove it.
A tough stylistic matchup for a submission master, Davis offered these sentiments regarding the free-speaking Magalhaes on a pre-fight interview for UFC 159.
I respect Vinny a lot. I respect all the guys in my weight class (and) all the guys in the UFC. All of them are skilled fighters. We're the best in the world. I'll take him very seriously, but he's going to regret asking to fight me. Some lessons have to be learned the hard way. You wanted this fight, you got it.
Although Pat Healy thought he had the chops to hack it in the UFC back in 2006, "Bam Bam" undoubtedly optimized his potential by working his way up the ladder the last seven years.
Healy will carry a six-fight winning streak, which includes wins over Mizuto Hirota, Caros Fodor and Maximo Blanco, into his second shot with the UFC. The 29-year-old Bam Bam last tasted defeat at the hands of Josh Thomson in Strikeforce in 2010.
Waiting to greet Healy, however, lurks the fourth-ranked Jim Miller, a Brazilian jiu-jitsu black belt and a winner of two of his last three bouts.
Miller will surely offer Healy his stiffest test since Thomson, at least according to Bovada.com, which has deemed Miller a 3.25-to-1 favorite (-325) to best Bam Bam (+250).
When the UFC's brass constructed the women's bantamweight decision, adding Olympic silver medalist Sara McMann just made sense.
The sixth-ranked McMann, the first American woman to earn a silver medal in wrestling in the Olympics, carries a 6-0 record into the Octagon, where she'll face the ninth-ranked Sheila Gaff in her debut.
A native of Germany, Gaff has reeled off three straight wins since dropping three in a row in 2010.
McMann has been named a massive 7.5-to-1 favorite (-750) to spoil Gaff's debut to the Octagon, according to Bovada.com.
Arguably the most dynamic and physically gifted fighter in the UFC, Jones will face a fading Sonnen in what will likely prove the Oregonian's last shot at a belt in a major organization.
From a stylistic standpoint, Sonnen, a former NCAA Division I wrestling All-American, may have no bread-and-butter maneuver to turn to against Jones, who's never been floored, in this obvious mismatch.
The 25-year-old Jones, on the contrary, will have options of whether or not to stand and pick apart The American Gangster, or get on top of and slice up the 36-year-old Sonnen.
Truth be told, Jones, with a 10.5-inch reach advantage, wasn't named an 8-to-1 favorite (-800) by accident by Bovada.com. Sonnen (+500) will frankly need a minor miracle to not appear one-dimensional in this one.