Final Regular Season Grades for Each Detroit Pistons Player in 2013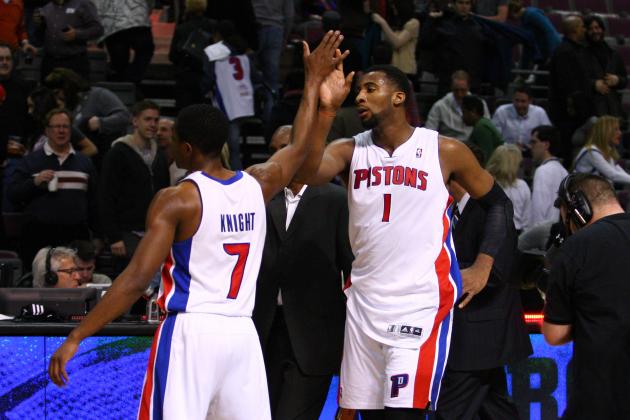 USA TODAY Sports
Knight and Drummond are two of the young players the Pistons can build around.
Even after winning four of their final five games, the Detroit Pistons finished the 2012-13 season 11th in the Eastern Conference with a 29-53 record. It was their fourth straight season missing the playoffs, and their fifth straight with a losing record. And to top it off, head coach Lawrence Frank was fired after the regular season concluded.
While the bad definitely outweighed the good this season for Detroit, there were some bright spots. Greg Monroe is a borderline All-Star, and rookie Andre Drummond was better than expected. Also, many young players got plenty of game experience.
Here are the 2012-13 final regular-season rankings for every single player on the Pistons.
Begin Slideshow

»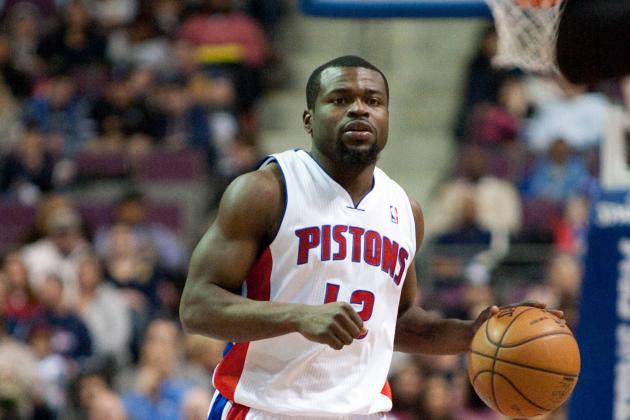 Tim Fuller-USA TODAY Sports

Will Bynum bounced back from arguably the worst season of his career to have a solid 2012-13 campaign for the Pistons. He showed once again that he is capable of being a decent backup guard that can score in bunches.
Bynum increased his field-goal, three-point and free-throw percentages from his 2011-12 season, as well as doubling his assists per game from 1.8 to 3.6. As a result he was a much more efficient player. His PER (Player Efficiency Rating) jumped from a dismal 9.98 in 2011-12 to 16.62 this season, which is slightly above league average.
His biggest issues came on the defensive end. According to NBA.com, Bynum was one of the Pistons' least efficient players defensively this season. The Pistons were a very poor defensive team as a whole, but his 108.7 defensive rating (points against per 100 possessions) was 3.1 points worse than the team's overall rating.
Bynum was one of the better offensive players for the Pistons in 2012-13 and one of their best players off the bench.
2012-13 Grade: B+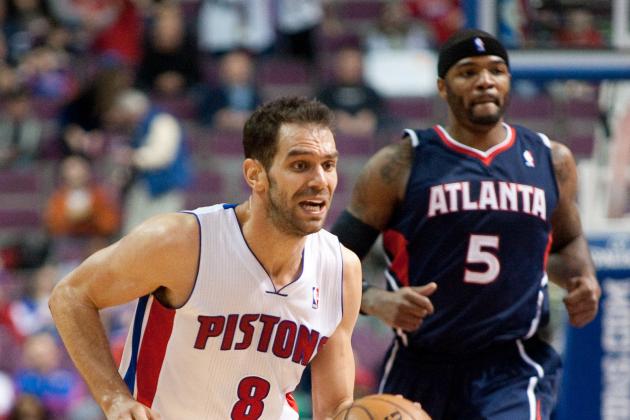 Tim Fuller-USA TODAY Sports

Acquired in a midseason trade from Toronto, Jose Calderon provided the Pistons with a steadying presence at point guard during the second half of the season.
The 31-year-old came to Detroit and played very efficient basketball on the offensive end. He shot 52.7 percent from the field, 52 percent from behind the arc and 89 percent from the line in his 28 games with the Pistons while averaging 6.6 assists. His 18.8 PER was his best mark in four seasons.
Unfortunately, his strong play offensively did not translate to success for the Pistons. They went just 7-21 in the games he played, a .250 winning percentage that was even lower than their overall .354 mark.
Part of that was his below-average play on the defensive end, where Calderon struggles to stay in front of quicker guards. Defensive statistics back up the eye test, as Calderon's 109.3 defensive rating was the second-worst among all Pistons this season.
Overall, Calderon was the best point guard on the Pistons' roster, and one of their best players overall. His shooting ability will be something they will miss desperately if he leaves this summer in free agency.
2012-13 Grade: A-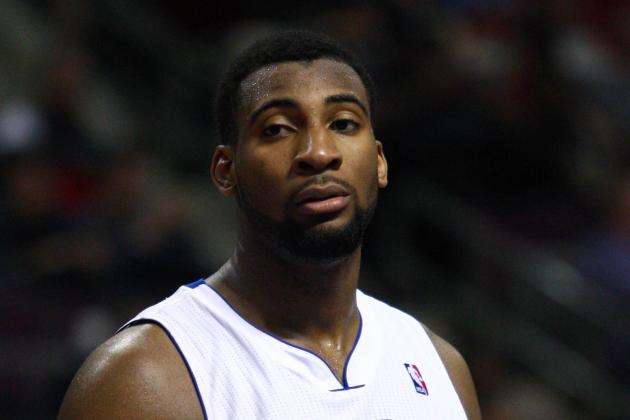 USA TODAY Sports

The Pistons used the No. 9 overall pick in the 2012 draft on Drummond, a player with both incredible upside and bust potential. After one season it looks like they have a star in the making.
Drummond started just 10 games for the Pistons this season, but he showed that he has the athletic ability and defensive instincts to be a Defensive Player of the Year candidate in the near future. He averaged 7.6 rebounds and 1.6 blocks in just 20.7 minutes per game. He still has work to do with one-on-one defending and understanding team rotations, but the potential is clearly there.
Where Drumond needs to make huge strides is on the offensive end. He showed very little offensively other than the ability to finish at the rim. According to NBA.com, Drummond shot 328 of his 342 field goals from within eight feet. He doesn't need three-point range, but adding a mid-range jumper would improve his offensive game dramatically.
Another area where Drummond needs huge improvement is at the free-throw line, where he shot just 37.1 percent. Not a typo. At least it's an improvement from the 29.5 percent he shot in his lone season at Connecticut.
Overall, Drummond exceeded the expectations of nearly everyone this season, as he was supposed to be a project big man. He is still incredibly raw, but he has a very bright future for the Pistons if he can develop any sort of offensive game.
2012-13 Grade: A-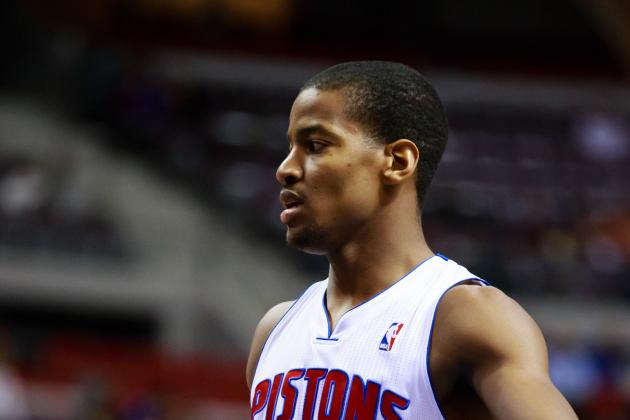 Rick Osentoski-USA TODAY Sports

Kim English was the Pistons' second-round pick in 2012, a 24-year-old shooting guard with a reputation as a sharpshooter.
English didn't see the court much in his first NBA season, averaging under 10 minutes of playing time 41 games. Even with issues on the wing, he struggled to see regular playing time.
Part of the reason for that was he just couldn't shoot as well as advertised. English shot 52.1 percent from the field and 45.9 percent from three in his senior season at Missouri. For the Pistons he shot just 37.5 and 28 percent from the field and the arc, respectively. Those numbers translated to a very poor 7.97 PER, one of two Pistons in single digits.
English wasn't a good defender either, as his lack of athleticism really hurts him. His limited sample size should be taken with a grain of salt, but his 110 defensive rating was the worst of any Pistons player. He does have the size to play shooting guard in the NBA, but that is really all he has going for him defensively at this point.
Overall, English didn't show much in his first season to indicate that he will have a long NBA future. He may get another chance with the Pistons next season, but his age definitely limits his upside.
2012-13 Grade: D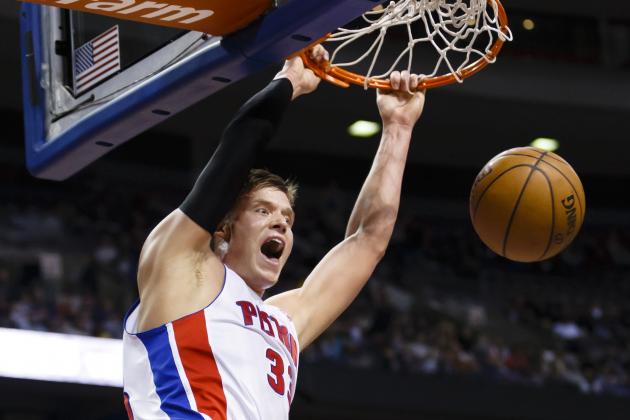 Rick Osentoski-USA TODAY Sports

Jonas Jerebko showed again this season that if he develops just a couple aspects of his game, he can be a very competent stretch power forward off the bench. However, Pistons fans thought the same thing last season.
Jerebko is a decent player offensively, but if he improved his three-point shooting, he could really help the Pistons. He is quicker than most power forwards in the league and can beat many of them off the dribble. However, his 30.1 percent shooting from behind the arc allows defenders to sag off of him and clog the lane for his teammates.
Defensively, Jerebko was outmatched by opposing players this season. According to 82games.com, he allowed opposing power forwards to post a 22.9 PER against him this season. To give that reference, among qualifying power forwards, only Tim Duncan posted a PER above that mark.
Jerebko must take the next step with his offensive game and develop a three-point shot. If he doesn't, his poor defense makes him too much of a liability to earn significant playing time next season.
2012-13 Grade: C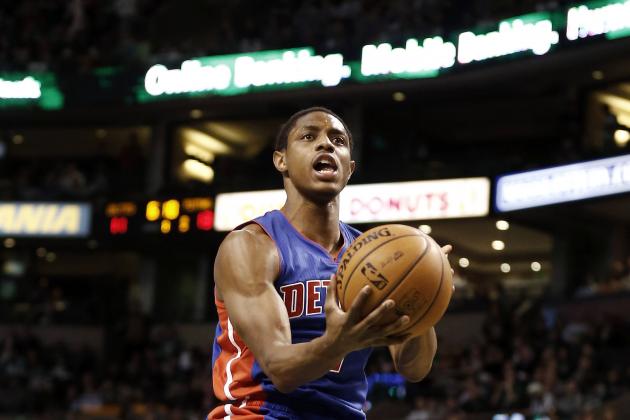 Winslow Townson-USA TODAY Sports

In his second year with the Pistons, Brandon Knight showed very little improvement from his rookie season. He had flashes of brilliance throughout the season, but his overall performance in 2012-13 was not significantly better than his rookie campaign.
Knight played most of his minutes at point guard in the first half of the season, but the acquisition of Calderon moved him to shooting guard for long stretches. It will be very interesting to see where the Pistons play him in the future.
Offensively, Knight scored over 13 points per game and shot 36.7 percent from the arc. He also drew more fouls in his second season, averaging three free throws per game.
His biggest issue was decision-making. He averaged just four assists per game while logging major minutes at point guard. Even worse was that he averaged 2.7 turnovers per game, and his turnover ratio was tied for 10th-highest in the entire league, per ESPN.com.
Knight was much better on the defensive end. He averaged less than one steal per game, but his 102.7 defensive rating was second-best on the team. Individually, Knight gave up a PER of just 11.2 to opposing point guards and 12.7 to shooting guards, according to 82games.com.
Overall, Knight showed this season that he is already a solid defender. The next step for him is to improve his offensive game, and find his true position.
2012-13 Grade: B-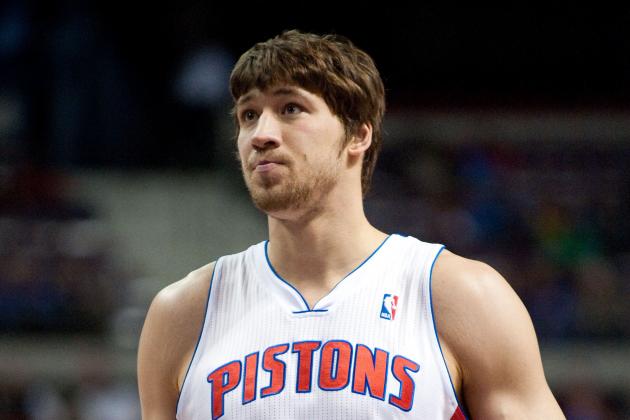 Tim Fuller-USA TODAY Sports

The Pistons signed Viacheslav Kravtsov in the summer and very few people knew much about the Ukranian big man. He didn't play enough this season for that to change much.
Kravtsov came off the bench just 25 times this season for the Pistons. He did show some talent on the offensive end, where he averaged 3.1 points on 71.7 percent shooting. He did not rebound well for a 6'11" player, averaging just 1.8 per contest. These numbers don't mean much, however, as they are a very small sample size and were almost exclusively played in garbage time.
On a team that won just 29 games, it is a bit surprising that Kravtsov did not see the court more often. It is very hard to evaluate his potential in fewer than 250 total minutes.
2012-13 Grade: C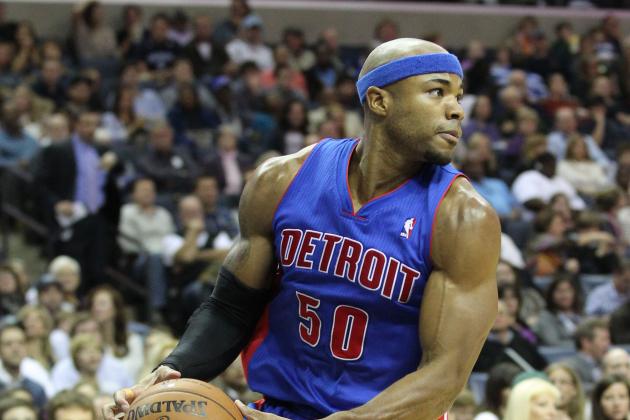 Nelson Chenault-USA TODAY Sports

Corey Maggette has averaged 16 points per game throughout his career, but he was out of Frank's rotation before Christmas. He never played another game in a Pistons uniform.
Maggette struggled in the 18 games he played for the Pistons, but removing him from the rotation completely was a shock. Small forward was the least-talented position for the Pistons this season, and there is no doubt that Maggette would have provided an upgrade over Kyle Singler.
The Pistons acquired him for his expiring contract, and Maggette will certainly leave the team this summer.
2012-13 Grade: F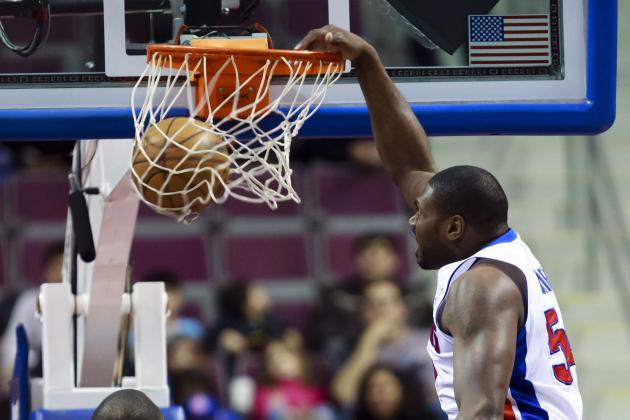 Rick Osentoski-USA TODAY Sports

In his eighth season with the Pistons, Jason Maxiell started 71 of the 72 games he played, far more than any previous season. While his athleticism is clearly not what it used to be, Maxiell brought experience and some defensive ability to a team that lacked both.
Maxiell has never been much of an offensive player, and this season was much of the same. Nearly all of his scoring is done at the rim via a pass or an offensive rebound. Starting next to Monroe, Maxiell was left to do much of the dirty work.
Defensively, the undersized Maxiell was one of the Pistons' better players. His 104.5 defensive rating was about a point better than the Pistons as a whole, and was third-best among their players. Additionally, he averaged 1.3 blocks per game, the highest of his career.
Overall, Maxiell is a limited offensive player that earns his playing time with hustle and decent defense. His 2012-13 season was very similar to his past seasons statistically—the difference this year was that he was a starter.
2012-13 Grade: B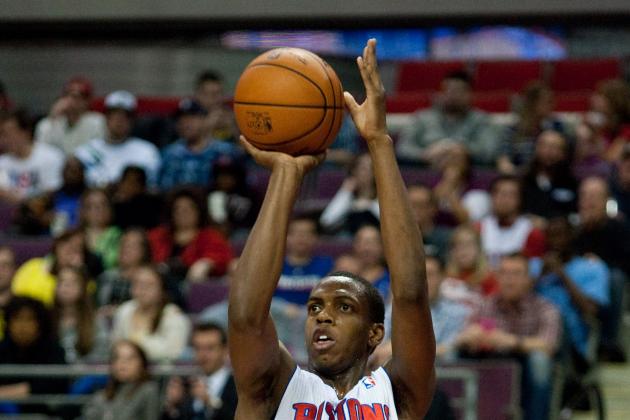 Tim Fuller-USA TODAY Sports

After being selected in the second round of the 2012 draft, Khris Middleton gave the Pistons reason to believe that he can be a rotation player in the NBA.
The 6'7" small forward did not see much playing time until the end of February, but he played reasonably well over the last two months of the season. He averaged 17.6 minutes in the 27 games he played, averaging just over six points per game.
Middleton did not score much, but his shooting numbers were strong. He shot 44 percent from the field, 31.1 percent from three and 84.4 percent from the line. He doesn't look for his own shot often, but he does have the ability to knock down jumpers when open.
Middleton's future may be as a solid wing defender off the bench, as he has long arms for a player his size. He will need to work on his defensive technique to make up for his lack of elite athleticism, but there is some potential there. If he also adds a three-point shot, he could be a solid NBA player.
Overall, Middleton did not play until the final third of the season, but showed in limited minutes indication that he can be a competent backup small forward.
2012-13 Grade: C+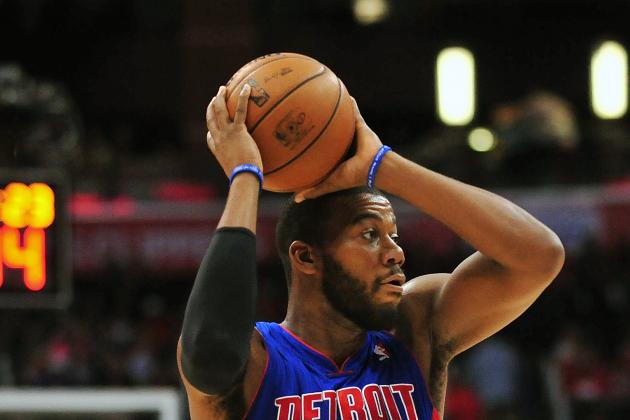 Gary A. Vasquez-USA TODAY Sports

In 2012 Monroe nearly made the Eastern Conference All-Star team in a breakout sophomore season. In his third year he was the best player on the Pistons' roster, but he showed only marginal improvement in his game.
Monroe is a very talented player, and this season he averaged 16 points and 9.6 rebounds per game. He also improved as a passer, as his assists jumped from 2.3 per game to 3.5.
There were a few troubling things this season for Monroe, however. Despite playing two more minutes per game, he averaged .7 fewer offensive rebounds. Also, his field-goal percentage dipped from 52.1 in 2011-12 to 48.6 percent this season. His turnover average also jumped from 2.4 to 2.9.
Some of this likely results from Monroe shouldering a bigger offensive load for the Pistons, but it is concerning. At just 22 years old he should still have plenty of room to grow as a player, but his improvement statistically was minor at best this season.
An even bigger concern for the Pistons should be his lackluster defense. Monroe is often late on rotations and looks slow-footed. Ideally, Drummond will make up for many of Monroe's deficiencies in the future as the two play more minutes together.
That being said, Monroe does perform better defensively against power forwards, a good sign for the Drummond-Monroe pairing. He gives up a PER of 19.6 to opposing centers, but a much more respectable 16.0 to power forwards, per 82games.com.
Monroe was the Pistons' best player this season, and he is someone that they can build around for the future. They would just like to see more improvement from him in year four than they saw in year three.
2012-13 Grade: B+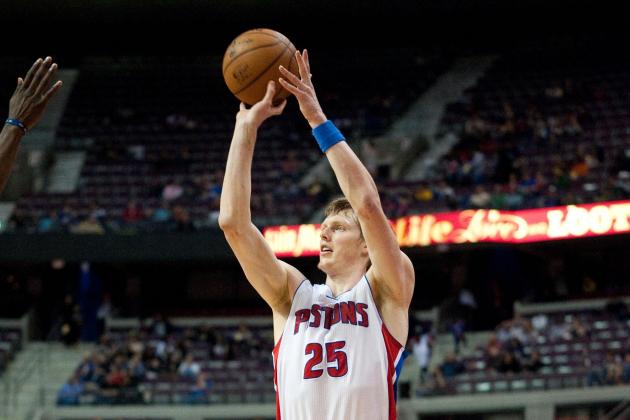 Tim Fuller-USA TODAY Sports

In his first NBA season after being drafted in the second round in 2011, Kyle Singler started a surprising 74 games for the Pistons. There is no doubt he is an NBA player, but Singler was over-matched as a starting small forward.
The Duke product held his own defensively on the wing, although he was better at his natural shooting guard position. According to 82games.com, Singler held opposing shooting guards to a PER of 13.5, and small forwards to 15.9.
Offensively, Singler does not have enough athleticism to be a real threat to defenses. He shot a very respectable 42.8 percent from the field and 35 percent from the arc, but he averaged less than nine points in 28 minutes per game. His PER was well below league average at 10.0.
Singler is not the long-term answer on the wing for the Pistons, but he does have the talent to play significant minutes off the bench in the future. The playing time he got this year will be key to his development.
2012-13 Grade: B-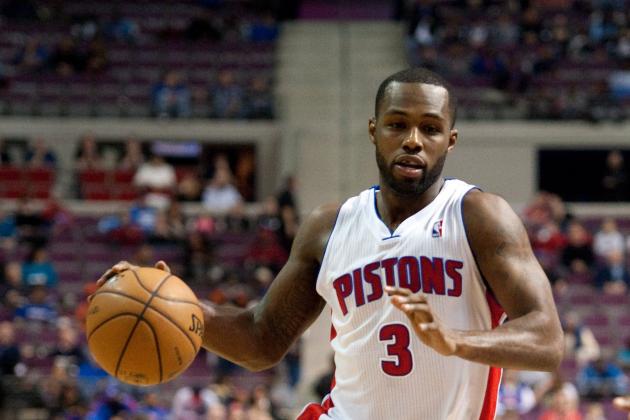 Tim Fuller-USA TODAY Sports

This season was the worst of Rodney Stuckey's career, as the combo guard regressed in his sixth season.
Stuckey was once the future at point guard for the Pistons, but now his future with the team is in question. His 13.0 PER this season was the lowest of his career, and he had his lowest scoring average since 2009-10.
Much of the reason for this is Stuckey has stopped getting into the paint and has started shooting more outside jumpers. His free-throw attempts have dropped from 5.8 to 3.6 per game, and his three-point attempts have jumped from 1.3 to 1.9 to 2.4 over the past three seasons, even though he still only shoots 30.2 percent from behind the arc.
Stuckey clearly did not play his best basketball this season, but some of that has resulted from playing off the ball so much. He was still very effective at point guard this season. According to 82games.com, Stuckey's PER was 22.5 at point guard, but just a 11.4 at shooting guard and 11.7 at small forward.
The problem with playing Stucking at point guard is that he cannot defend quick guards. Against opposing point guards, he gives up a PER of 18.2, but that drops significantly to 12.8 against shooting guards.
Stuckey was not good for the Pistons offensively this season, settling for long jumpers that aren't his strong suit. Defensively he played well, but the Pistons need him to return to form offensively next season.
2012-13 Grade: C-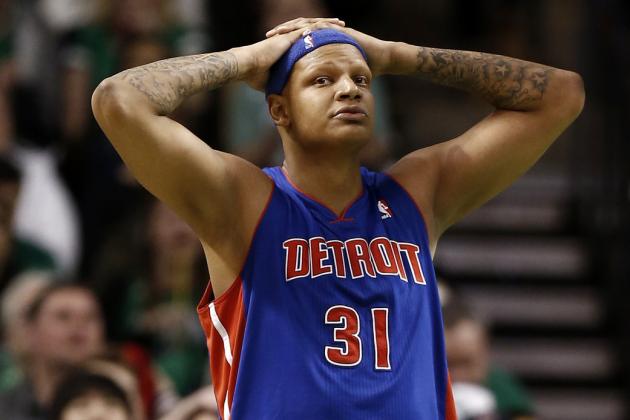 Winslow Townson-USA TODAY Sports

After the 2012-13 season, Pistons fans are still hoping that the Pistons use their amnesty clause on Charlie Villanueva.
In four seasons with the Pistons, Villanueva has never lived up to the expectations of fans or management. This season he was used sparingly as a stretch forward, playing just 15.8 minutes per game.
He averaged 6.8 points and 3.5 rebounds per game, both career lows, as was his 37.7 field-goal percentage. He did shoot 34.7 percent from three, but that is really the extent of his offensive game.
Villanueva has already said that he will be picking up his player option for next season, so the Pistons will need to trade or amnesty him if they don't want to bring him back.
2012-13 Grade: D