Arizona Cardinals 2013 Mock Draft: Predictions for Day 2 and Beyond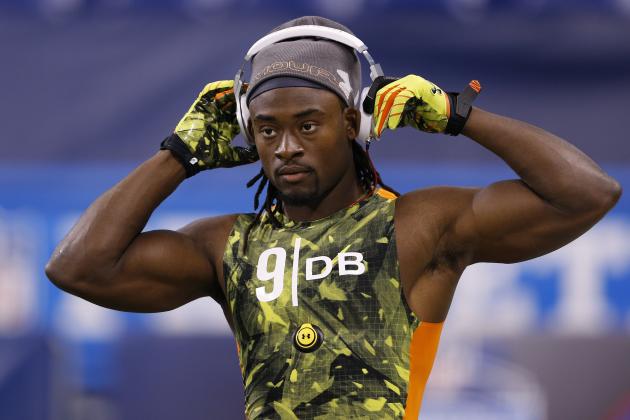 Joe Robbins/Getty Images
Safety Jonathan Cyprien would be the perfect addition at No. 38.
With guard Jonathan Cooper becoming the newest member of the Arizona Cardinals, the offensive line has been shored up enough to the point they can now look elsewhere to make the team better.
That does not necessarily mean they are done picking offensive linemen, but they do not have to spend another early round pick on one if they feel another player is a better fit in Round 2 and beyond.
A few playmaking safeties could still be around when Arizona is back on the clock at No. 38. The same goes for pass-rushers, inside linebackers and cornerbacks. There are plenty of players from which to choose who can earn significant playing time as rookies.
Here is a Cardinals mock draft for their remaining picks.
Begin Slideshow

»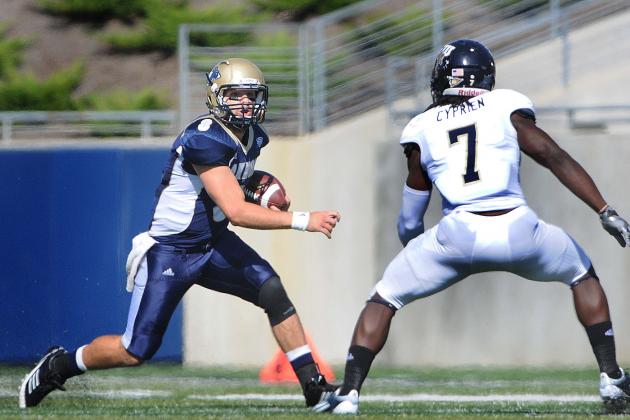 Eric P. Mull-USA TODAY Sports

Previous Pick: D.J. Swearinger, S, South Carolina
This young man is a physical specimen. He is a ripped 217 pounds and will blow anyone up who crosses his path with or without the football.
Jonathan Cyprien has top-20 talent, but he has fallen to the second round for unknown reasons. Three safeties—Kenny Vaccaro (Saints), Eric Reid (49ers) and Matt Elam (Ravens)—all went before him.
There is a possibility the Cincinnati Bengals select him at No. 37, one pick before Arizona would have its shot at him. But if he is there, expect this to be a fast pick.
Cyprien is a lot like former Cardinals strong safety Adrian Wilson. They are built the same, and they play the same style of football—reckless, hard-nosed and smart. He would end up starting for Todd Bowles' defense early—potentially even Week 1.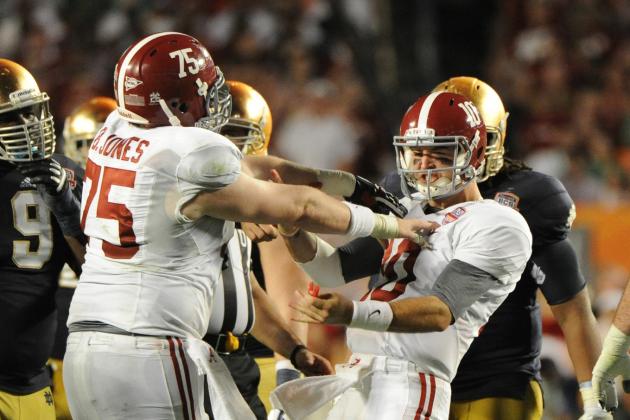 Steve Mitchell-USA TODAY Sports

Previous Pick: Sam Montgomery, DE/OLB, LSU
With my last mock having Wisconsin's Travis Frederick going to Arizona in Round 4, and with him actually going to the Dallas Cowboys at No. 31 (quite foolishly, I might add), there had to be a change in picks.
With Frederick going so high, centers may go a bit earlier than anticipated. This may be caused by the rush of other offensive linemen going in Round 1 last night; nine of the first 32 picks were offensive linemen—the most taken in any first round since 10 were taken in 1968.
It is such a talented and deep class of big men and, because of so many going in such a short amount of time, teams may feel it necessary to grab one while they can.
Before injury, Barrett Jones was considered a late-first- early second-round pick. He was the leader of the best college offensive line for three years, having played right guard as a sophomore in 2010, left tackle as a junior in 2011 (where he won the Outland Trophy as the best O-lineman in college) and at center as a senior last season.
He is a two-time All-American and three-time All-SEC lineman who is versatile enough to play any position along an offensive line. Together with Jonathan Cooper, head coach Bruce Arians would have two of the best, most versatile young linemen in the NFL.
And versatility along the line is something he has been preaching he wants.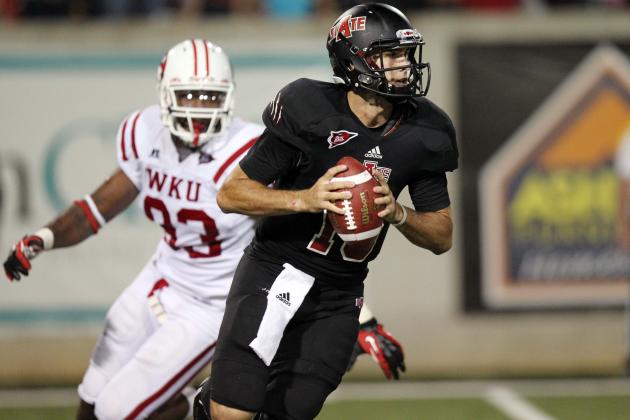 Nelson Chenault-USA TODAY Sports

Previous Pick: Travis Frederick, C, Wisconsin
Quanterus Smith was leading the nation with 12.5 sacks last season when he went down with a torn ACL in mid-November.
Since then, he has spent much of his time rehabbing and trying to get ready for the draft and his rookie season. He was unable to perform at the NFL Scouting Combine and at Western Kentucky's pro day due to his injury, but this pick is still well worth it given his talent.
Smith is relentless in his pursuit of the quarterback, oftentimes roughing up the opposing signal-caller with a vicious hit.
He began his senior campaign by getting to Alabama quarterback A.J. McCarron three times versus that vaunted Crimson Tide offensive line. He even recorded a sack against No. 11 overall pick D.J. Fluker during that game.
It is quite possible Smith may not be ready for the 2013 regular-season opener, but his talent is worth the wait. He can take the time he needs to get back to 100 percent before stepping onto an NFL field, because once he does he will be a force with which to be reckoned.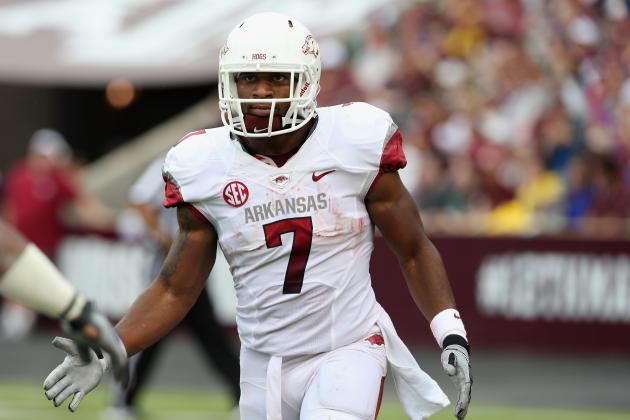 Ronald Martinez/Getty Images

This pick is unchanged because Knile Davis is one of the best athletes in the draft. He had a down junior year coming off missing the entire 2011 season due to an ankle injury at a fall practice in August of that year.
The entire Arkansas offense struggled in 2012 behind a porous offensive line. Davis averaged just 3.4 yards per carry after averaging a stellar 6.5 YPC in 2010, the season in which he led all SEC running backs with 1,322 rushing yards and 13 touchdowns.
Davis is a big back with speed who knows how to use leverage, and he uses it well. He runs behind his pads quite well, and when he gets a head of steam he is very difficult to bring down.
He would challenge Alfonso Smith and William Powell for the No. 3 running back spot on the roster, likely easily beating them both out. He may even challenge Ryan Williams for the No. 2 RB spot if the latter cannot stay healthy early on.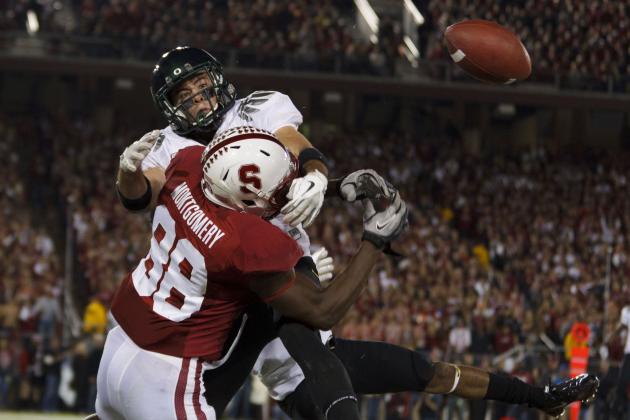 Jason O. Watson-USA TODAY Sports

John Boyett is coming off a senior season lost to injury. He played his entire junior year with a tear in both patellar tendons, and after one game in 2012 he shut it down, having surgery on both knees.
His time at Oregon was spent as the Ducks free safety.
He did a wonderful job of playing center field for former head coach Chip Kelly, racking up 10 interceptions and 30 passes defended in three-plus seasons.
The short-but-stout safety totaled 278 tackles as a member of the Ducks secondary, tops in the Pac-12 Conference over that time. He is a sure tackler and a big-hitting free safety who has a record of having no regard for anyone near him when the ball is in the air.
That is his air space, it is restricted, and he intends to flush any unfortunate opposing receiver out of it on every play. Sometimes, teammates are collateral damage, but it's all part of his game.
He has a bright NFL future ahead of him so long as his knees heal properly.
All stats gathered from Sports-Reference.com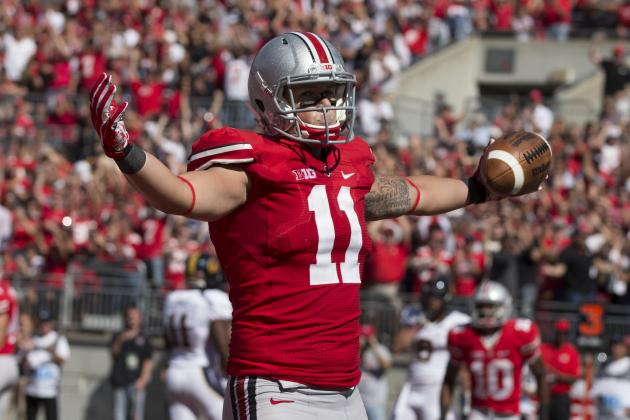 Greg Bartram-USA TODAY Sports

Jake Stoneburner is one of the best athletes from the tight end position in this draft. He was not used very often at Ohio State, racking up just 53 receptions for 714 yards and 13 touchdowns in four seasons.
He runs very well, posting a 4.53 40-yard dash at the Buckeyes pro day on March 8.
He could be another potential deep threat in Arians' offense next to fellow tight end Rob Housler, who is also a burner who can stretch the field well. Stoneburner runs so well, in fact, that Ohio State coach Urban Meyer used him split out wide and from the slot just as much as he lined him up from a traditional tight end spot.
Two quick and athletic tight ends in a downfield attacking offense can create mismatches for a defense, and quarterback Carson Palmer loves using tight ends in the passing game.
If Arians and general manager Steve Keim do not use an earlier pick on a tight end, look for Stoneburner to be there waiting for them in Round 7.