49ers 2013 Mock Draft: Predictions for Day 2 and Beyond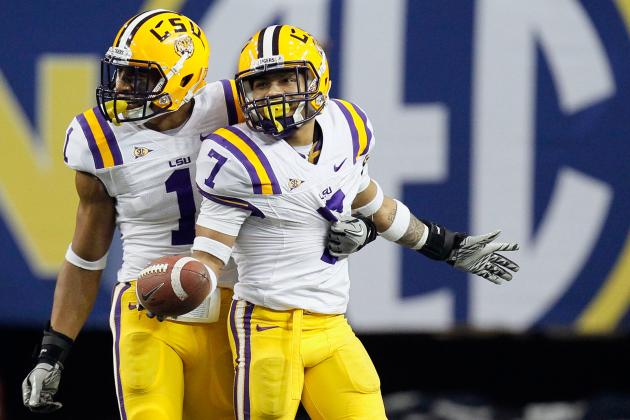 Kevin C. Cox/Getty Images

With Day 1 of the NFL draft behind us, the board has been narrowed, and the intentions of 32 teams have become a bit clearer.
In the first round, the deep-pocketed San Francisco 49ers traded up, sending the No. 31 and No. 74 overall picks to the Dallas Cowboys for No. 18. At that point, GM Trent Baalke pulled the trigger on LSU safety Eric Reid.
This was a primary need that San Francisco clearly addressed early on.
However, as we go forward into Day 2 and beyond, we'll be heading into the real meat of the draft. There are several high-ceiling prospects scattered throughout these middle rounds—talent just waiting to be plucked.
With 11 picks remaining at their disposal, the San Francisco 49ers can still maneuver and bring in difference-makers. For a mock completing the Niners' 2013 draft, proceed through the following slides.
NINER NATION!!!!! Fly out to San Fran in the morning ✈✈😁😁

— Eric Reid, Jr. (@E_Reid1) April 26, 2013
Begin Slideshow

»
After taking a top-flight safety in the first round, the 49ers focus their attention on the front seven.
With the second pick on Day 2, San Francisco selects Tank Carradine of Florida State.
Right away, this makes the Niners a whole lot scarier upfront. With the focus of the team's pass rush coming from Aldon Smith, the addition of this former Seminole will keep offenses on their heels.
This will give the 49ers a more balanced defensive attack.
Furthermore, the 49ers need to be prepared to initiate a healthier rotation upfront, keeping guys fresh and thus generating a more potent rush. Carradine has first-round talent and is one of the most intriguing pass-rushers available in 2013, so this is a no-brainer.
As a rookie, Carradine will be able to step in and get involved, bringing scheme flexibility. He will have total functionality and purpose within San Francisco's base and nickel packages.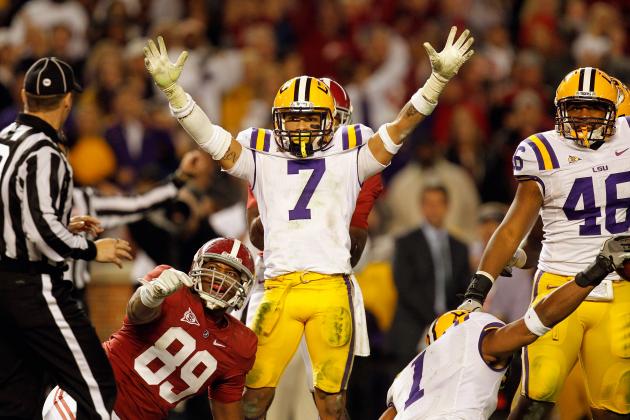 Streeter Lecka/Getty Images

The 49ers don't let this former LSU star see Day 3.
With the No. 61 pick in the draft, San Francisco selects Tyrann Mathieu—a cornerback, special-teams gunner and return specialist.
As a defensive back, the former Heisman finalist is an agile pattern-reader with ball skills. And although undersized (5'9", 186 lbs.), he is aggressive at the point of attack, displaying a ruthless on-field persona.
In his rookie season for the 49ers, the Honey Badger can be a weapon for both the defense and special teams. The tantalizing part about his game is that he brings unique ability as a playmaker.
Lining up on defense or the S/T unit, Mathieu is going to play every down like it's his last.
With this pick, the 49ers acquire one of the most accomplished defenders in the NCAA and get a building block for the future. By his second season, Tyrann Mathieu will have replaced Carlos Rogers, Ted Ginn Jr. and Blake Costanzo all in one.
Moreover, Mathieu will be reunited with his college running mate, Eric Reid, whom the 49ers selected in the first round. Given the chemistry that already exists between these two, it would be wise to bring them in as a duo.
Together, Tyrann Mathieu and Eric Reid can lay the foundation for the future of this 49ers secondary.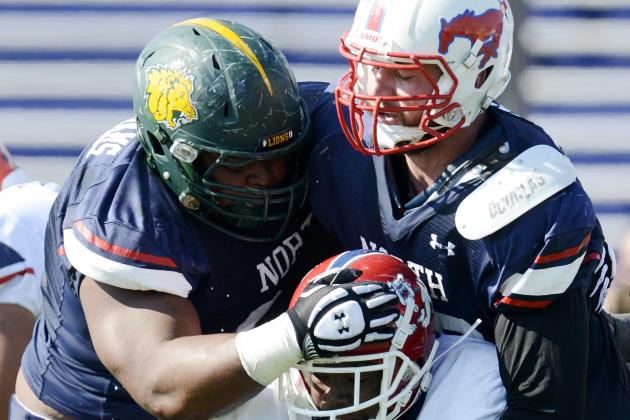 USA TODAY Sports

49ers trade up into the middle of the third round, giving up Nos. 128, 157 and 180 overall
Well into the draft, the 49ers are able to acquire a quality defensive lineman in Brandon Williams of Missouri Southern State.
The great thing about Williams is that, at 6'1", 335 pounds, he is a thick-bodied down lineman operating as a penetrating threat.
He is both broad enough and strong enough to absorb blockers, but he also displays the quickness to shoot gaps and be disruptive.
This multifaceted skill set by Brandon Williams is appealing to the 49ers, who are looking for a hybrid to fulfill duties in their 3-4 base scheme and their often-called-upon nickel package.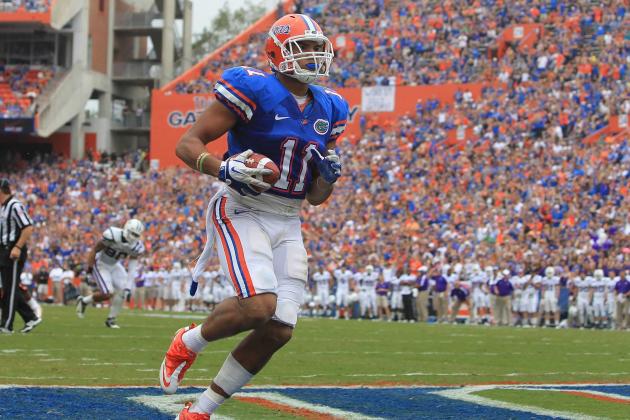 Kim Klement-USA TODAY Sports

With the depth of this draft class, the 49ers are able to wait on a primary need until the third round.
San Francisco addresses the No. 2 TE position by drafting Jordan Reed of Florida.
Like his predecessor, Aaron Hernandez, Reed is the prototypical joker tight end that NFL teams are looking for. He has the athleticism to be a mismatch for opposing units, adding a nontraditional receiving threat to an offense.
With Delanie Walker now starting in Tennessee, Reed steps in as the secondary tight end to Vernon Davis, assuming a fairly prominent role as a rookie.
He will have to develop as a blocker, but he can eventually provide a dimension in the passing game that Walker could not. With his prestigious background and physical ability, Reed can be true-to-life X-factor in the 49ers' innovative offense.
Jordan Reed adds another playmaker for Colin Kaepernick to utilize in 2013.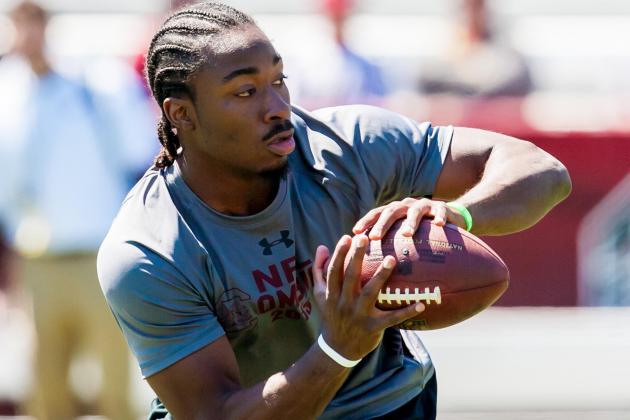 Jeff Blake-USA TODAY Sports

With South Carolina's Marcus Lattimore on the board, one of the most prolific players in the 2013 draft remains available.
After suffering a gruesome knee injury in 2012—his second—teams were irked by the unknowns surrounding Lattimore's durability, longevity and overall ability to come back and play at a high level.
Fortunately for the 49ers, they are one of the few teams that can truly afford to make this pick risk-free. San Francisco has several draft picks and no immediate roster spots available for Lattimore, allowing him to steadily ease back to the game both mentally and physically.
If he lands on the wrong team, there is a chance he is put into action before he is ready and is run into the ground. And if that happens, the football world may never know what Marcus Lattimore could have been.
On the 49ers, Lattimore has a year to red-shirt, heal and absorb a very high-volume playbook.
If all goes to plan, the former Gamecock succeeds Frank Gore in 2014, adding the final piece to a complementary trio featuring himself, Kendall Hunter and LaMichael James.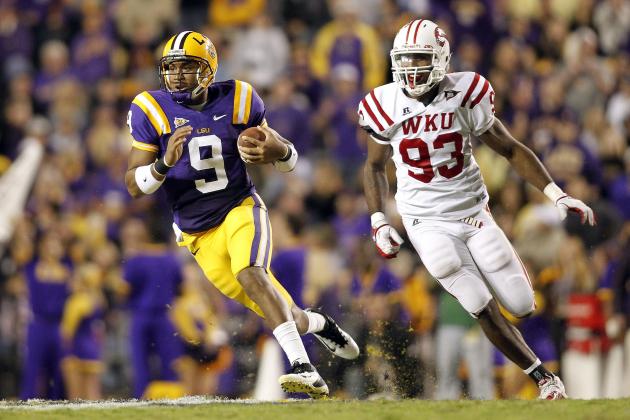 Crystal LoGiudice-USA TODAY Sports

Vaulting back into the fifth for a desired player, the 49ers trade two late-rounders (Nos. 173 and 237 overall) to Washington for No. 154 overall.
With that, San Francisco continues to bulk up this front seven by taking defenseman Quanterus Smith of Western Kentucky.
As a tweener DE/LB prospect, Smith brings raw pass-rush ability, which would make him an asset to San Francisco as a rookie. The 49ers need to assist Aldon Smith, who has become largely responsible for the team's pass rush—or lack thereof.
Under the wing of several veterans and a choice coaching staff, Quanterus Smith should be able to step in and be a proficient situational rusher. He will compete with second-year LBs Darius Fleming and Cam Johnson, both of whom are returning from injury.
Smith will bring competition to the backup situation in San Francisco and allow for more of a regular rotation on game day. There is a very solid chance he surpasses Fleming, Johnson and Parys Haralson in camp to become the primary No. 3 OLB.
He can also work within the team's nickel package.
This would be a great pickup for a team that needs to add layers to their newfound pass rush.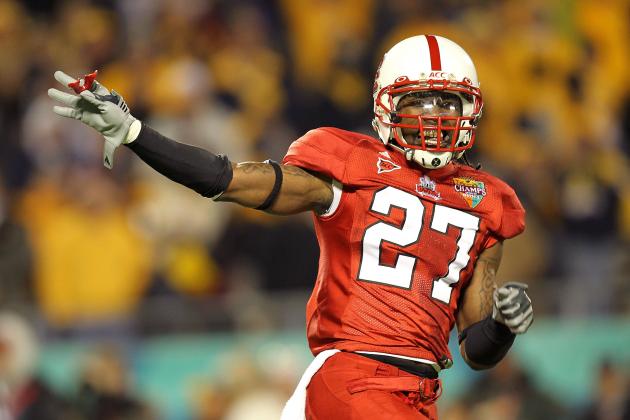 Mike Ehrmann/Getty Images

Even though the 49ers added Eric Reid in the first round, there is a possibility he switches to strong safety after Donte Whitner's tenure is up.
With that in mind, San Francisco finds reason to add Earl Wolff on Day 3.
Hailing from N.C. State, Wolff is an intriguing developmental prospect that could provide depth for the 49ers early on. By taking the time to acclimate and learn from the veterans and coach Ed Donatell, he could become a dynamic player.
With Michael Thomas, Darcel McBath, C.J. Spillman and Trenton Robinson, the 49ers have a host of potential starting safeties.
Earl Wolff would be a great addition to that pack, providing more competition at a position that is in the midst of being evaluated.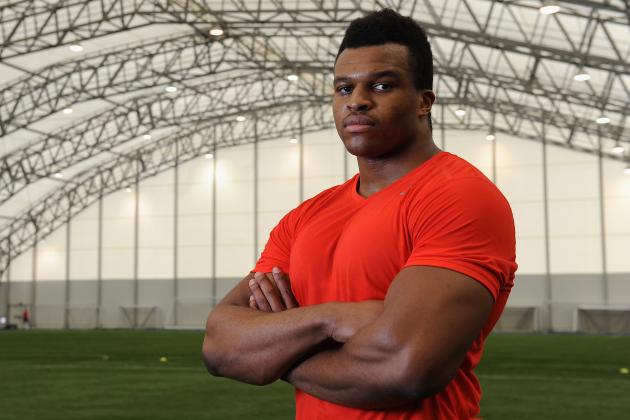 Tom Dulat/Getty Images

Well, after a strong draft, one of the most championed rosters in the NFL rolls the dice to close the draft.
In Round 7, the 49ers select Olympian Lawrence Okoye.
As a world-class athlete—a British record-holder for discus—Okoye is one of the most enticing prospects in this draft based solely on measurables.
During his pro day, the 6'6", 308-pounder drew a lot of intrigue, demonstrating a rare combination of height, weight and agility. His out-of-this-world physical ability has scouts wondering what he can do at the NFL level.
Unfortunately, Okoye has zero football background and is essentially a lump of clay. His background with discus and rugby is pretty much the extent of his sports history, but that does not mean he can't evolve.
With defensive-line coach Jim Tomsula, Lawrence Okoye gets a real chance to develop his game as a pro football player.
Dylan DeSimone is the San Francisco 49ers' lead columnist for Bleacher Report. A former NFL journalist and fantasy football writer for SB Nation, Niners Nation and SB Nation Bay Area, Dylan now writes for B/R.
To talk football with Dylan, follow him on Twitter @DeSimone80