Boise State Football: Broncos' Home Game Attendance Must Improve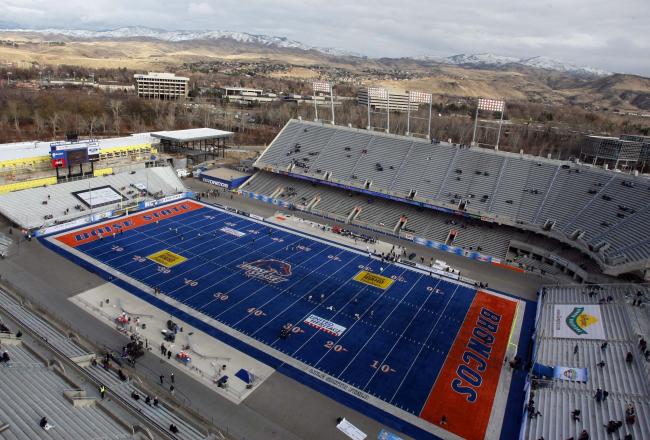 Brian Losness-USA TODAY Sports
Boise State is getting close to finishing its new football complex at Bronco Stadium. It is the latest in stadium improvement projects that have been occurring in Boise for the last seven years.
Last season Bronco Stadium opened to the public with expanded seating. It went from a capacity of 33,500 seats to 37,000 seats.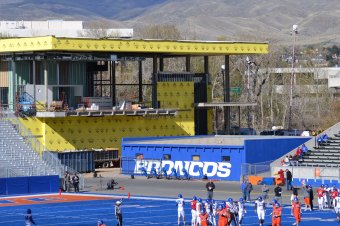 At the time there was a bit of buzz by fans around the community that the administration didn't go big enough. From the outside looking in, it might have appeared that hitting the 40,000 mark would have been easy enough and a better statement.
However, the administration seems to have had a firm grasp on their numbers because, according to the Idaho Statesman, in 2012 the stadium didn't witness a capacity crowd even once.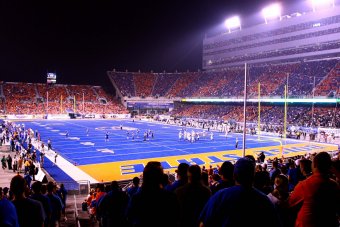 Brian Losness-USA TODAY Sports
The Thursday night game against BYU came the closest, with an attendance of 36,864. Even if all the tickets were sold, a handful of fans chose not to show.
After the BYU game, the San Diego State game had an attendance of 36,084 and the UNLV "blackout" game had 36,012 fans filling most of the seats in their dark attire.
The home game against Fresno State was next with an attendance of 35,742, and that was followed by the Miami, Ohio game with 34,178 fans. The Colorado State contest drew the smallest home crowd, with 33,545 faithful fans.
The numbers don't add up to expectations
The attendance numbers have to concern the leadership at Boise State, and you wonder if the numbers will get any better with a home schedule in 2013 that has fewer interesting opponents for the Broncos.
How many Boise State home games will you attend in 2013?
One thing that a move to the Big East would have done, at least for one season, is create some interest and bring in teams like Rutgers and Cincinnati. After that, however, a newly created American Athletic Conference in 2014 probably would have had even fewer interesting games than currently on the schedule for Boise State.
The home opener in Bronco Stadium in 2013 is Tennessee-Martin, and you have to wonder how many tickets are going to be sold and how many fans are actually going to show up for that one.
The second home game should be a great game, and a decent sized crowd should be on hand when Boise State takes on Air Force Friday, Sept. 13th. It will be an ESPN game, which usually brings out a rowdy and sizable crowd.
Will it be a capacity crowd? If last season is any indication, the answer is no. If BYU didn't fill the seats, it is hard to believe an Air Force game will.
Still, it is all in the hands of the fan base.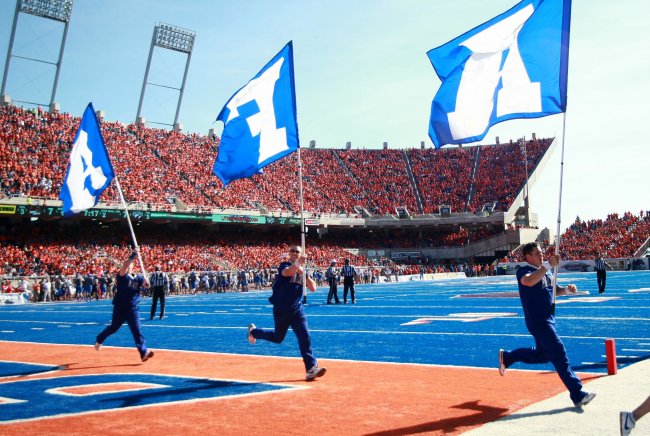 Brian Losness-USA TODAY Sports
Attendance must improve to continue the program's progress

The Boise State football program has done a tremendous amount for the community of Boise and the state of Idaho. The fan base has also done an amazing job supporting their team. But, more support is needed if they want to help elevate the program even higher.
The university could probably do some things to help the situation. Perhaps bigger family discounts for multiple ticket purchases, a reorganized student section and of course better home games on the schedule would all help.
The latter is the hardest thing to do, but it seems that the school is doing all it can to land excellent out-of-conference opponents to come visit The Blue. However, that is easier said than done.
Other practical things that could be done are things that are already in the works. A bigger and more advanced video screen and new sound system would help the stadium experience greatly.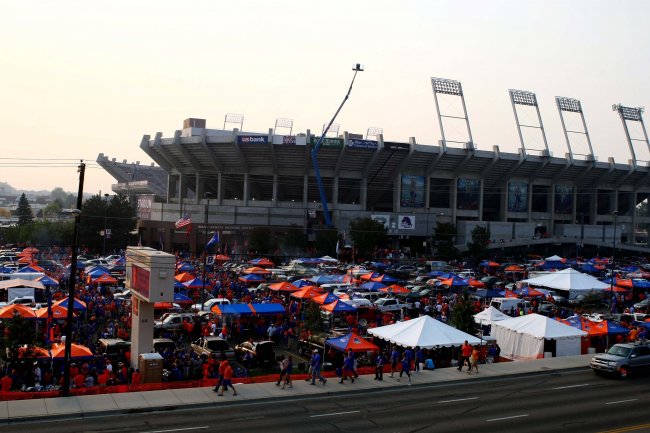 Brian Losness-USA TODAY Sports
The rest of the 2013 season

After the Air Force game, the most intriguing home game for the Broncos is Nevada on Saturday, Oct. 19th. Nevada always draws a crowd, but again, will it be a sellout?
What 2013 home game are you most excited about?
Southern Miss, Wyoming and New Mexico round out the home schedule. All of those games will be difficult to draw a crowd, especially the Cowboys and Lobos games, considering they will be held in mid and late November.
It might help if Boise State is in a BCS run, but that may not be enough if temperatures are icy.
If nothing else, the 2013 season will be gut check time for Bronco Nation.
The team should be very good, and challenging for a BCS game is a real possibility. However, will the seats be full to see it all transpire?
If Bronco fans step up and the university does what it can to make sure they can, sellouts would go a long way in elevating the entire program.
If Boise State wants to continue its historic rise it will take a complete team effort. The football team itself, the administration and the fans will all need to do their part to make it happen.
The 2013 season could be a pivotal year for Boise State football.
This article is
What is the duplicate article?
Why is this article offensive?
Where is this article plagiarized from?
Why is this article poorly edited?

Boise State Football: Like this team?