UFC on FX 8: Questions Heading into Belfort vs. Rockhold
UFC 159 is in the books and the full results are below:
Jon Jones defeats Chael Sonnen via TKO at 4:33 of Round 1
Michael Bisping defeats Alan Belcher via technical decision (30-27, 30-27, 29-28) fight stopped in third round due to accidental eyepoke from Bisping
Roy Nelson defeats Cheick Kongo via knockout at 2:03 of Round 1
Phil Davis defeats Vinny Magalhaes via unanimous decision (30-27, 30-27, 29-28)
Pat Healy defeats Jim Miller via submission at 4:02 of Round 3
Rustam Khabilov defeats Yancy Medeiros via TKO (thumb injury) at 2:32 of Round 1
Ovince St. Preux defeats Gian Villante via majority technical decision (30-28, 30-29, 29-29) fight stopped due to accidental eye poke at 0:33 of Round 3
Sara McMann defeats Shelia Gaff via TKO at 4:06 of Round 1
Bryan Caraway defeats Johnny Bedford via submission at 3:44 of Round 3
Cody McKenzie defeats Leonard Garcia via unanimous decision (29-28, 30-27, 30-27)
Steven Siler defeats Kurt Holobaugh via unanimous decision (29-28 x 3)
The UFC will take a fairly long break following UFC 159. The next UFC fight card will take place on May 18. That event, UFC on FX 8 will be headlined by a middleweight contest between Vitor Belfort and Luke Rockhold.
Like every card, there are some questions concerning the event.
Begin Slideshow

»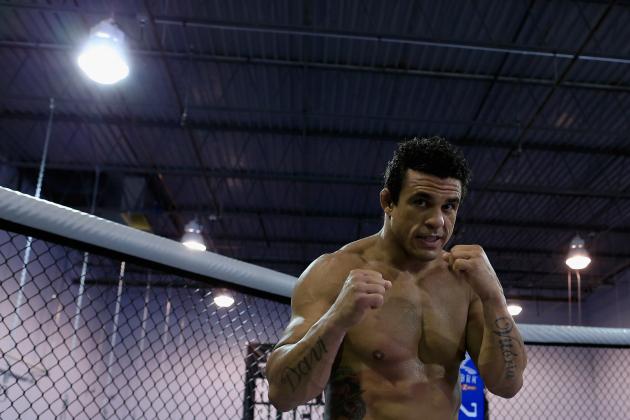 Chris Trotman/Getty Images

The UFC recently put on one of its most exciting cards in recent memory, and it was all on free TV. I'm speaking, of course, about UFC on Fox 7, the card that had eight of its 12 fights end by knockout or TKO. The promotion's next free card will take place on May 18 from the Arena Jaraguá in Jaraguá do Sul, Brazil.
The card will be headlined by a middleweight bout between Vitor Belfort and Strikeforce middleweight champion Luke Rockhold. After the main event, the name recognition on the card takes a bit of a dip.
Sure, your hardcore MMA fan will recognize the names on the card, and they'll tune in, but the casual fan, the one the UFC should be thinking about pulling in and retaining, they're most likely going to shy away from this one.
UFC president Dana White has often ripped fans and media for criticizing a card in advance of the event, most recently sounding off about the pre-fight fan reaction to UFC on Fuel 9. That card didn't look all that great on paper, but it delivered some pretty solid fights. So I won't argue White's point there.
What I will argue is, who's watching cards that don't look great on paper, the cards that don't have a number of recognizable names? It's the same fans that will tune into every fight card. It's preaching to the converted.
When the UFC and Fox got in bed it was because Fox wanted the fans the UFC already had as well as some growth, some new fans. A co-main event of Costa Philippou and Jacare Souza is not going to bring new eyeballs to the promotion.
Paulo Thiago is one of those rare fighters that found UFC success while still working a full-time job. And not just any full-time job. Thiago is a member of BOPE, short for Batalhão de Operações Policiais Especiais, the special forces of the Military Police of Rio de Janeiro, Brazil.
While it's admirable that Thiago continues to pull double duty, it may be affecting his fighting career. Thiago is 1-4 in his last five fights inside the Octagon. A record that's a far cry from the 13-1 run he had been on before losing to Martin Kampmann at UFC 115.
If Thiago is able to score a victory at UFC on FX 8, he may need to think about his fighting future. Thiago is 32 years old, and if he wants to seriously contend with the top fighters in the welterweight division, he may very well need to focus strictly on fighting.
If he's happy to hang in the middle of the pack and unwilling to give up his full-time gig, no one will fault him for that. After all, it is his life.
On the other hand, with a loss in Brazil, Thiago may have the decision about his UFC future taken completely out of his hands.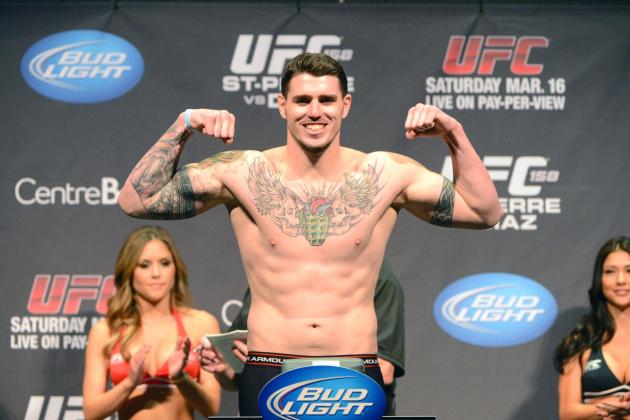 Eric Bolte-USA TODAY Sports

If you saw UFC 158, you may have noticed that Chris Camozzi walked out with a piece of black tape covering something on his walkout shirt. If you were wondering, it was the logo of the band Hatebreed.
Oddly, the UFC turned down Camozzi's request to use a Hatebreed song as his walkout music and forced the fighter to cover the bands logo on his shirt.
MMAJunkie spoke to Hatebreed singer Jamey Jasta about the incident. Jasta said, "I reached out to people at the UFC and I finally spoke to someone, who said maybe once all this stuff with New York...passes, they might be a little more lenient about allowing some heavier music and different types of sponsors."
It's somewhat strange that the UFC has allowed a fighter to walkout to Prodigy's "Smack My Bitch Up" but put the kibosh on a Hatebreed tune.
Camozzi's manager said the song was rejected due to tempo, but listening to the song, Camozzi mentioned on his Twitter feed that the pace of the song ("Honor Never Dies") seems to fit right in with many other UFC walkout songs.
Will Camozzi get to support Hatebreed in Brazil, or ever?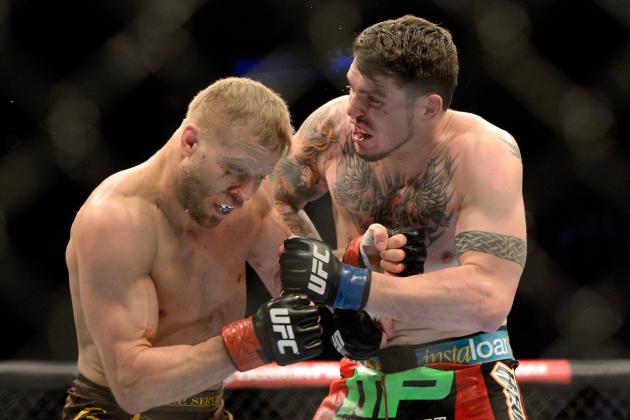 Eric Bolte-USA TODAY Sports

Chris Camozzi is on a nice run in the UFC's middleweight division, putting together four straight victories. At FC on FX 8, Camozzi will face Rafael Natal. It's a short-notice fight for both fighters, as they both stepped into this bout as replacements.
Camozzi got the attention of UFC president Dana White in his last fight, a split-decision win over Nick Ring at UFC 158. That's always nice for a fighter, but will he be able to keep his name on the boss's mind and get himself a top-10 opponent in his next bout.
Camozzi is faring well against the middle of the UFC middleweight pack, but "also ran" can't be what he wants out of his UFC career.
An impressive win on a card that is not stacked with big names may bode well for Camozzi's future.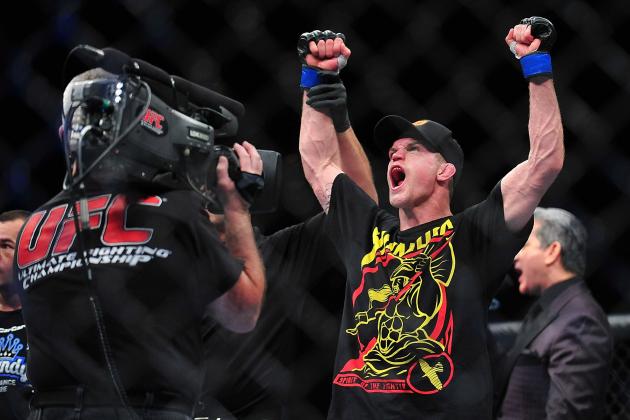 Gary A. Vasquez-USA TODAY Sports

The UFC's lightweight division is a peculiar place right now. What we know is that No. 1 contender Anthony Pettis is dropping to featherweight to face UFC champion Jose Aldo at UFC 163. We also know that the winner of UFC 160's T.J. Grant versus Gray Maynard bout will be champion Benson Henderson's next opponent. Other than that, things are pretty wide open.
Two fighters that have a chance to get their names "in the mix" in the lightweight division will meet at UFC on FX 8—Rafael dos Anjos and Evan Dunham.
Dunham is 3-1 in his last four fights, with his only loss being a "Fight of the Night" defeat at the hands of the aforementioned Grant. Dos Anjos is riding a three-fight winning streak heading into the Brazil card.
Do I think a win here puts either fighter in line for a title shot? That's very doubtful, but a win will set up a bout with another top-10 contender, which could put a title shot in the not-too-distant future for the winner of this bout.
With a lot on the line here, Dunham versus Dos Anjos may be your sleeper pick for "Fight of the Night."
Gary A. Vasquez-USA TODAY Sports

If you don't go with the Evan Dunham versus Rafael dos Anjos fight as your pick for "Fight of the Night," it may be because you already have your mind made up that the fight that follows it on the card, Costa Philippou versus Jacare Souza, is going to earn that bonus.
Philippou was a contestant during Season 11 of The Ultimate Fighter, but he failed to make it past the elimination round, being submitted by Joseph Henle. Philippou got a second chance with the promotion when he was booked as a late replacement on the UFC 128 fight card, stepping in to face Nick Catone on very short notice.
Philippou lost that bout by unanimous decision. Since then, he has gone on a five-fight winning streak, with his last win being a third-round TKO over Tim Boetsch, a fighter many believed was working his way toward a title shot before losing to Philippou.
Souza, a former Strikeforce champion, is 7-1 in his last eight fights, with his sole loss being a five-round decision defeat to Luke Rockhold in his second title defense.
Both of Souza's last two fights have ended in the first round, one via submission and one via knockout. An impressive win here and I wouldn't be surprised to see the victor get some consideration for a shot at the winner of the upcoming bout between UFC middleweight champion Anderson Silva and Chris Weidman.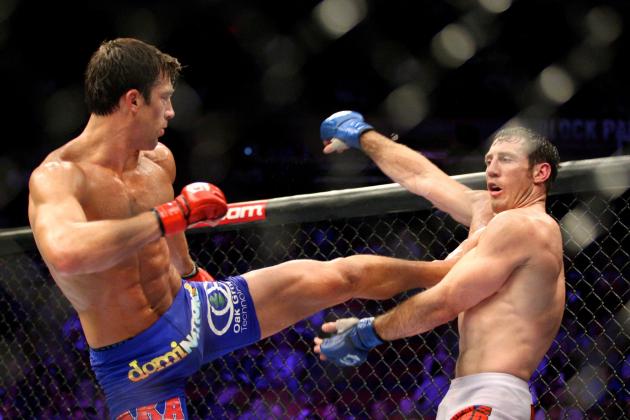 Scott Olmos-USA TODAY Sports

One person that may have something to say about if the winner of the Costa Philippou vs. Jacare Souza bout earns a title shot is one of the fighters competing in the main event—Strikeforce middleweight champion Luke Rockhold.
Rockhold transfers to the UFC with a record of 10-1. His only loss came in his second professional bout back in 2007.
With a win over Vitor Belfort in Brazil and the ability to stay healthy, you can almost guarantee that Rockhold will be calling for a shot at UFC gold.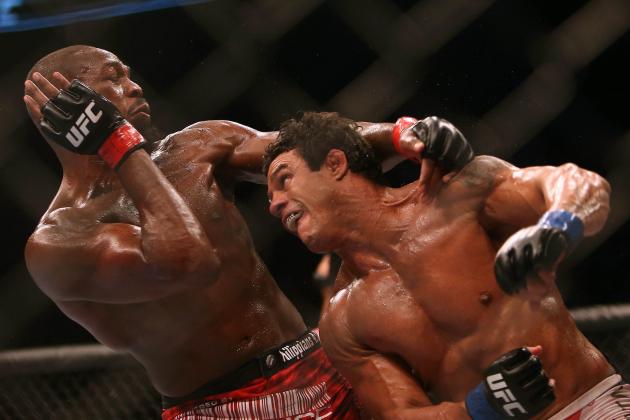 Tom Szczerbowski-USA TODAY Sports

The last time Vitor Belfort fought in the United States was August 2011, when he defeated Yoshihiro Akiyama in Philadelphia, Pa., earning "Knockout of the Night" honors. Since then he has competed twice in Brazil and once in Canada. At UFC on FX 8, he will make it three times in Brazil.
At this point, one has to wonder if we will ever see Belfort fight in the U.S. again. It's no secret that Belfort was busted for steroids back in 2006 following a loss to Dan Henderson while fighting for the PRIDE organization.
It's also no secret that Belfort has been using testosterone replacement therapy (TRT). In the U.S., especially in Nevada, the past steroid bust would make it very difficult for Belfort to get a TRT exemption from an athletic commission. Brazil does not have a commission, so Belfort's working in a little bit of a grey area.
Yes, the UFC has said that Belfort's testosterone levels have been monitored in the past by a physician, but the whole thing looks kind of bad for Belfort and the UFC. Why should Belfort get what is essentially a pass to fight in Brazil on TRT when he would not have that option in a state with an athletic commission such as Nevada?
Yes, it's true that there is no proof that Belfort's steroid use is the reason that he needs TRT, but if it would almost surely count him out of getting a license in Nevada, it makes no sense to let him fight elsewhere.
Allowing Belfort (and other fighters) to fight in one location but not another is just another factor the UFC needs to consider when it comes to this entire TRT mess. In this writer's opinion, it needs to be all or nothing when it comes to TRT, and since there's just so many questions surrounding the process now, I would prefer nothing.