10 Players the Arizona Cardinals Should Target on Day 2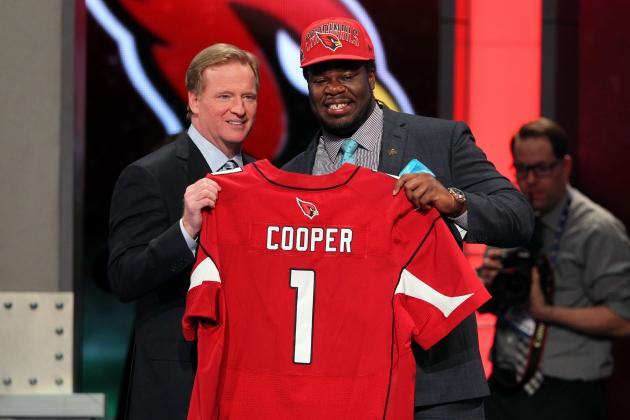 Brad Penner-USA TODAY Sports
Arizona took Jonathan Cooper in the first round.
The Arizona Cardinals took offensive guard Jonathan Cooper from the University of North Carolina with the team's first-round pick at the NFL draft.
The team has two picks to make on the second day of the draft. Their second-round pick is sixth in the round and 38th overall while the third-round pick is seventh in that round and 69th overall.
With a plethora of talent still out there, there are plenty of players who can come in and make an immediate impact on the team.
Start the slideshow below and see which 10 players the Cardinals should target in Friday's second and third rounds.
Begin Slideshow

»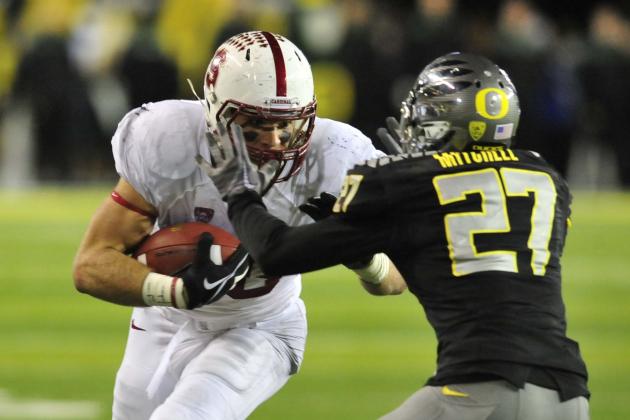 Steve Dykes/Getty Images
Ertz looks for additional yardage against Oregon.
If the Cardinals want to get another threat in the passing game, Stanford tight end Zach Ertz would be a player Arizona needs to examine.
It's no secret Carson Palmer likes to get his tight end involved in the passing game, and Ertz would be a good fit with how he can cause mismatches and wreak havoc down the seam.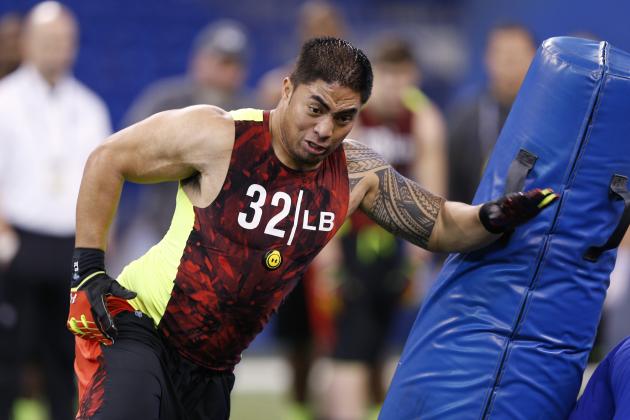 Joe Robbins/Getty Images
All 32 teams said no to Te'o Thursday.
Notre Dame linebacker Manti Te'o is still available after the completion of the first round.
Arizona should take a look at him as a way to shore up the linebacking corps that was repeatedly gashed in the ground game last season.
Te'o had the look and feel of a top-10 pick before a bland performance in the BCS championship game against Alabama and the "Catfish" scandal that he dealt with in December.
He has the skills to succeed at the NFL level, but could he do it in a Cardinals uniform?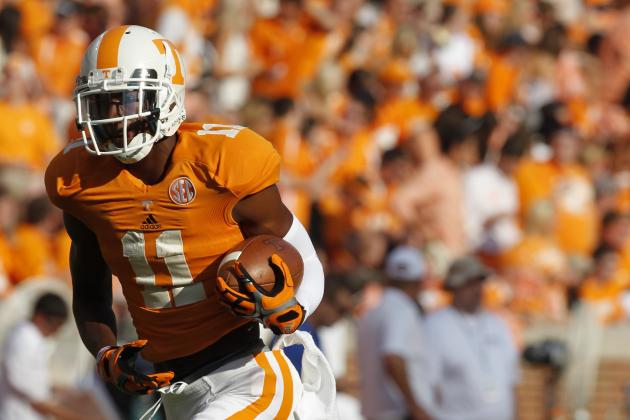 John Sommers II/Getty Images
Hunter is a big-body receiver who has the size teams covet.
If Arizona is thinking of getting a wide receiver, Justin Hunter is worth a look when the Cardinals get back to the draft room Friday night.
Hunter, at 6'4" and 196 pounds, is a long, lanky receiver with above-average speed and the measurables that would fit nicely with the Cardinals.
He lined up all over the offense when he was a Volunteer, and he's worth targeting in the second day of the draft.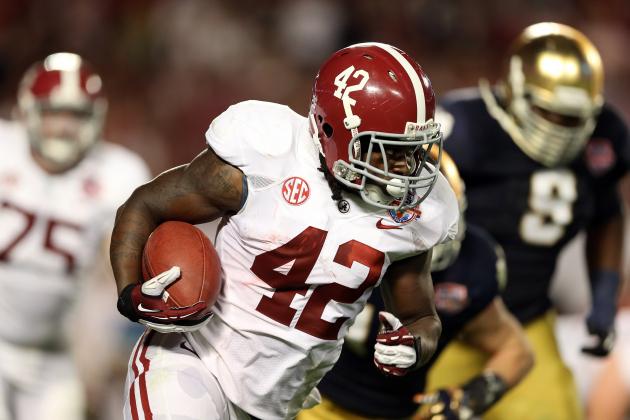 Streeter Lecka/Getty Images
Lacy looks to gain yardage against Notre Dame.
This draft was the first one in 50 years without a running back being taken in the first round, and it leaves Eddie Lacy of the Crimson Tide as a second-day possibility for the Cardinals to look into.
Lacy is the kind of back who can run over defenders or spin around them as well. He keeps his feet moving after contact, and that can get critical extra yardage where other runners would be stopped.
Lacy has some injury concerns with his feet in the forms of turf toe and sprained ankles. It might shy away some teams, but Arizona should target Lacy for an earlier pick if the Cardinals want to bolster the running back position.
That position seems to be plagued by injuries with Rashard Mendenhall (ACL) and Ryan Williams (patellar tendon 2011, shoulder 2012) suffering significant injuries. If Lacy could stay healthy, he might be Arizona's second-round pick.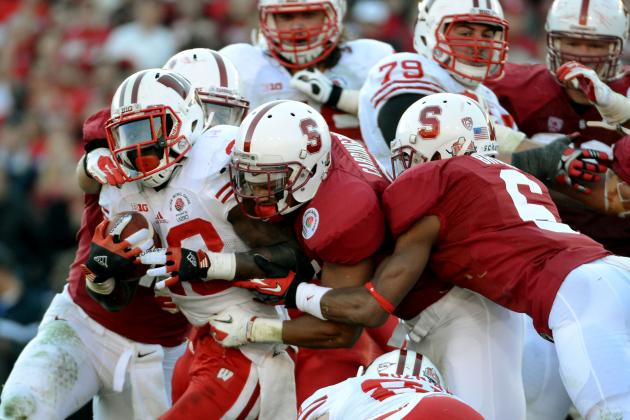 Harry How/Getty Images
Ball looks to break tackles in the Rose Bowl.
Wisconsin running back Montee Ball has that nose for the end zone that everyone wants to see in their running back. Ball, the NCAA's all-time leading touchdown scorer, has a small frame but can be that goal-line back that Arizona hasn't truly had for a couple years.
Arizona should be targeting him as an insurance policy in an injury-plagued backfield. Ball is more likely to be a third-round player but would be worth the wait for the Cardinals.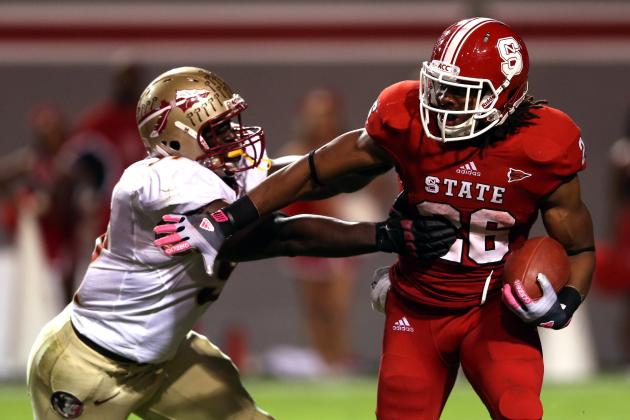 Streeter Lecka/Getty Images
Carradine chases down a ball carrier in ACC action.
Carradine should be a target for the Cardinals if they want to bolster their defensive line. The 6'4", 276-pound lineman is coming off of a torn ACL in November but has recovered nicely.
Carradine was able to record 11 sacks and 13 tackles for loss last season when he got into the starting role. He's got that nose for the quarterback and would be an asset in the pass rush, but he can also perform well out in the open field too.
Best of all, he seems to never take a play off, and that's something that would be a boost to the Arizona defensive line. Being able to learn from Darnell Dockett and Calais Campbell would also add to his value as a target for the second day of the draft.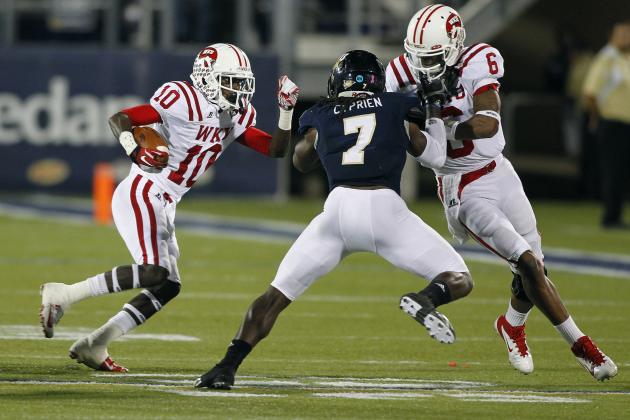 Robert Mayer-USA TODAY Sports
Cyprien tries to fight through a block against WKU.
Cyprien should be targeted by the Cardinals if they want to look for help at the safety position. Arizona lost Adrian Wilson in free agency and could use the boost.
Cyprien loves to hit hard and takes on ball-carriers high. He should be able to bolster the team's run defense if Arizona picks him.
He's also got the ball skills teams want and can do an excellent job covering opposing wide receivers.
Arizona should take a long look at him if he is still there in the second round when Arizona comes up.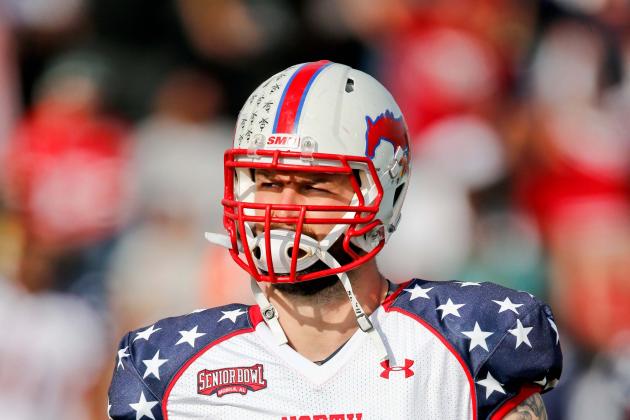 Derick E. Hingle-USA TODAY Sports
Margus Hunt could be a mammoth on the defensive line.
Margus Hunt is a giant of a defensive lineman that the Cardinals should target for the second day. Standing 6'8" and 277 pounds, Hunt is able to use his size and speed to get to the quarterback, as he racked up 11.5 tackles for loss including eight sacks last season.
Hunt is also able to get up and block kicks as he swatted down an NCAA-record 17 kicks (10 of them field goals). While his size is valued, his lack of experience in the game is something to be worked on. He started playing football in 2009 after SMU shut down its track program.
With refinement and time spent on technique, Hunt could blossom into a force to be reckoned with.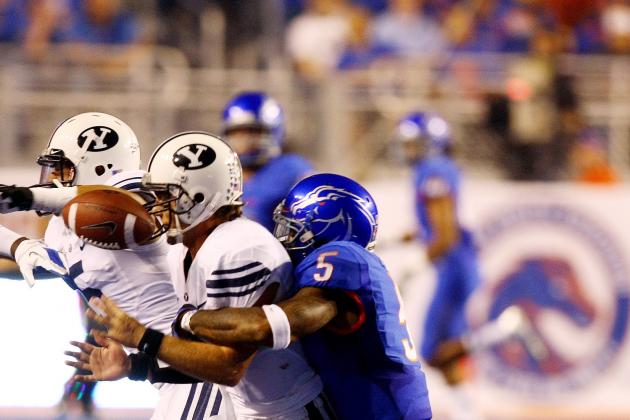 Brian Losness-USA TODAY Sports
Taylor (right) forces a fumble against BYU.
Jamar Taylor should be targeted by the Cardinals on the second day of the draft to give Arizona another option in the secondary. Taylor was part of a secondary that allowed just three passing touchdowns all season and led his team with nine passes broken up and four interceptions.
He's got the speed (4.37-second 40-yard dash) and technique to keep up with his receiver, and he can play well in zone or man coverage.
Even more so, Taylor isn't afraid to come up and defend against the run. He tackles well in the open field so he could be a complete cornerback who would be useful in nickel and dime situations.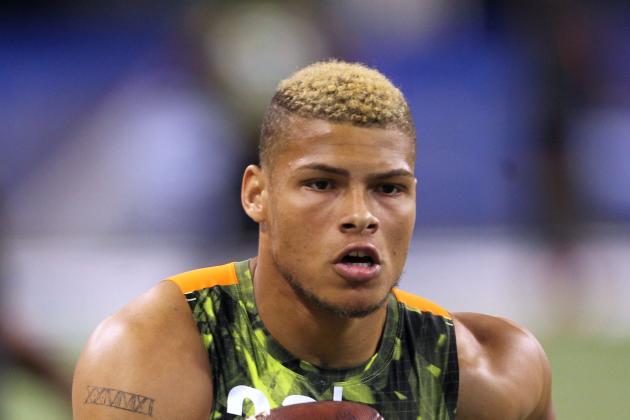 Brian Spurlock-USA TODAY Sports
Mathieu works out at the combine.
Tyrann Mathieu looks like he could be a third-round pickup for the Cardinals if they miss out on the earlier defenders.
On the field, Mathieu has the skills to get the job done in the punt return game. He also forces fumbles, intercepts passes, breaks them up and makes big plays in key moments.
Off the field, it's a whole different story. Mathieu went from Heisman Trophy finalist to being kicked out of the program at LSU for violating team rules in August.
While the talent is there, so is the risk. However, Arizona has a weapon in Patrick Peterson that could minimize that risk. According to Pro Football Talk, Peterson has been mentoring Mathieu, and that might be the kind of calming, familiar influence he needs to be known for his on-field play and not his off-field exploits.