The Worst Picks from Day 1 of the 2013 NFL Draft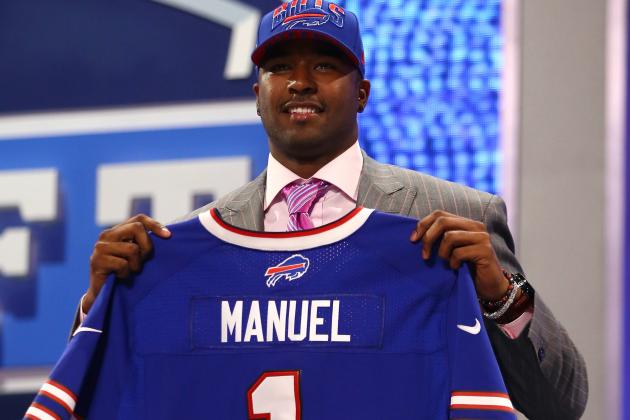 Al Bello/Getty Images

The NFL draft never fails to supply shocking twists and turns.
While the top 10 was relatively uneventful, at least in terms of shocking selections, a number of teams provided some exciting drama as the first round of Thursday's draft wore on.
The story of Round 1 may be the big names falling down the board, but the fates of Manti Te'o and Geno Smith were sealed by the reaches made by teams such as the Bills and Bears.
Here are six first-round picks that could end up costing general managers their jobs in the near future.
Begin Slideshow

»
The Raiders owned the third pick in the draft and had an opportunity to add an immediate impact player. Instead, they traded down and landed an undersized cornerback coming off a serious injury from Conference USA.
That's not exactly the first round Raiders fans were hoping for on Thursday night.
There were a few draft analysts who liked Hayden—Mike Mayock ranked him 14th overall—but the consensus had him valued significantly lower.
Hayden was my seventh-ranked cornerback, and he was No. 9 on Matt Miller's board.
To make matters worse, the Raiders only picked up the 42nd pick in exchange for falling nine spots in the draft.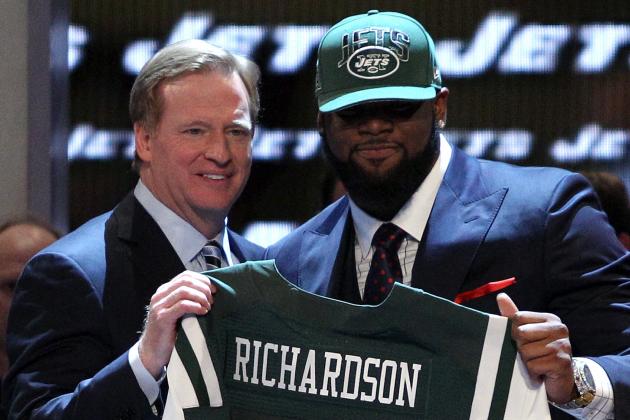 Chris Chambers/Getty Images

This isn't an indictment of Sheldon Richardson, who was No. 8 overall on my final draft board and No. 9 on Matt Miller's board.
But how does he fit in New York?
The Jets have now used a first-round pick on a defensive lineman in three consecutive drafts, having selected Muhammad Wilkerson in 2011 and Quinton Coples in 2012.
All three are better suited to play defensive end rather than nose tackle in Rex Ryan's 3-4 defense, so how will the Jets split up the playing time?
2011 third-round pick Kenrick Ellis and recent free-agent acquisition Antonio Garay are expected to compete for the nose tackle job, so it's unlikely that the Jets will shift one of their ends inside.
Despite having so many holes on both sides of the ball, the Jets addressed one of their few areas of strength with this selection.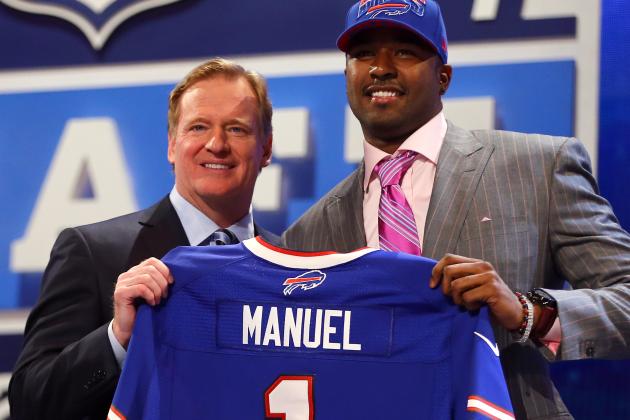 Al Bello/Getty Images

The Bills' selection of EJ Manuel is similar to the Browns' selection of Brandon Weeden a year ago.
In the short term, Manuel may be a viable option at quarterback, but his upside is severely limited, making it a questionable selection for the long-term future of the franchise.
If Doug Marrone can design a simplified read-option offense similar to what the Redskins ran for Robert Griffin III last season, Manuel can make an immediate impact. However, Manuel lacks the potential to develop in the pocket that RG3 possesses.
Of all the top quarterbacks I charted this season, Manuel was the only one with an accuracy percentage below 50 percent on passes thrown at least 15 yards down the field.
While more teams are using a short passing attack, the elite quarterbacks still throw the ball downfield, and Manuel simply lacks the skills to develop that area of his game.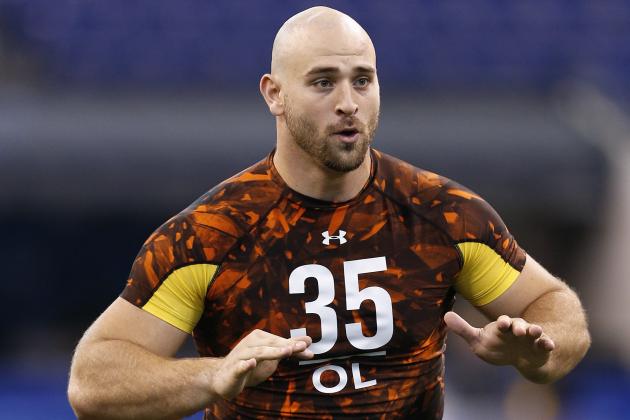 Joe Robbins/Getty Images

Kyle Long is an impressive athlete, but he's a developmental prospect who will be a liability in 2013.
In the second or third round he would have been a nice pickup for a young team hoping to groom him as their future left tackle, but in Chicago he will be forced into a starting role and expected to keep Jay Cutler on his feet.
That's a lot of pressure for a player with just one year of experience at the D-I level.
In three years, Long may turn into one of the better linemen in the game. But the Bears needed help immediately and Long may actually be a downgrade in the short term.
If the Vikings had selected Cordarrelle Patterson with one of their two initial first-round picks, no one would have questioned the value.
However, the Vikings paid a king's ransom to move back up into the first round for a shot at the wide receiver with just one year of experience at the D-I level.
Minnesota gave up picks No. 52, No. 83, No. 102 and No. 229 to move up for Patterson, who will be the No. 2 receiver opposite Greg Jennings.
In a class that's regarded as relatively deep at the receiver position, that's simply an inexcusable number of picks to part with to move back into the first round.
The Vikings could have simply stayed put and landed a similar prospect such as Keenan Allen, Aaron Dobson or Da'Rick Rogers with their second- or third-round pick.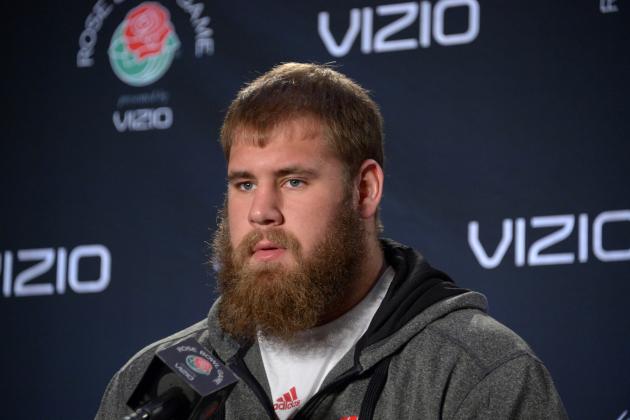 USA TODAY Sports

In my scouting report for Travis Frederick, I specifically mentioned the Cowboys as a team that would love Frederick due to his size and physical style of play. But never did I imagine they would love him this much.
By any reasonable standard, Frederick is a second- or third-round prospect at best, and it would not have been shocking to see him fall into the fourth round.
On top of the fact that the Cowboys reached for Frederick, they only picked up an extra third-round pick from the 49ers in exchange for dropping down 13 spots.
The Cowboys could have stayed put at No. 18 and landed an immediate impact defensive lineman such as Sylvester Williams or Sharrif Floyd.