Texans 2013 Mock Draft: Predictions for Day 2 & Beyond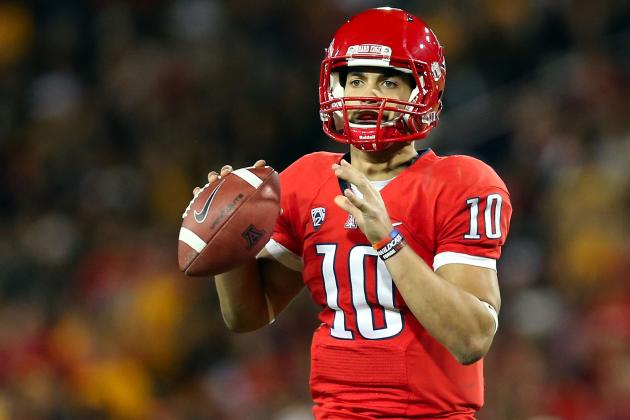 Christian Petersen/Getty Images

With Day 1 of the 2013 NFL draft in the books, the Houston Texans got the wide receiver they both wanted and needed in Clemson's DeAndre Hopkins.
Now that they finally have a wide receiver opposite Andre Johnson, it's time for them to look at other needs. The linebacker corps is still a big question mark both on a fourth-starter level and for depth, and a nose tackle that could start would help as well.
Here are projections for the Texans' picks for Day 2 and 3 of the draft. Do they draft linebackers early, or do they tackle depth at safety and the offensive line first?
Begin Slideshow

»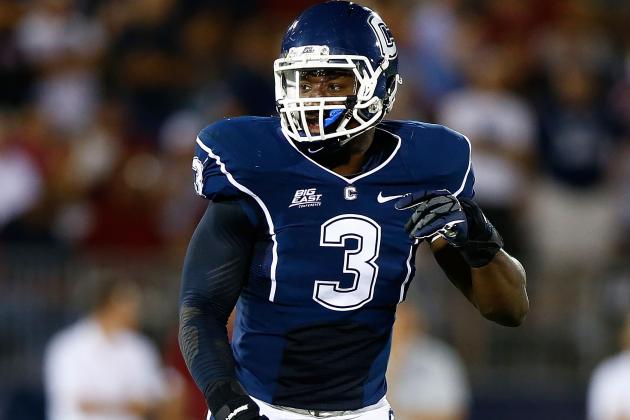 Jared Wickerham/Getty Images

I mocked Sio Moore here last time and considered it as an unlikely possibility given that he was a player projected to go in the middle of the second round.
However, inside linebackers are lasting longer than intended. Kevin Minter and Manti Te'o are still available, and Alec Ogletree did not go until the 30th pick to the Rams. Suddenly, this pick looks far more realistic as a draft option.
Moore is someone who can slide right in at inside linebacker alongside Brian Cushing and can disrupt the running game as well as rush the passer. Cushing can handle dropping in coverage if Moore handles the line, which he was able to do in Connecticut easily enough.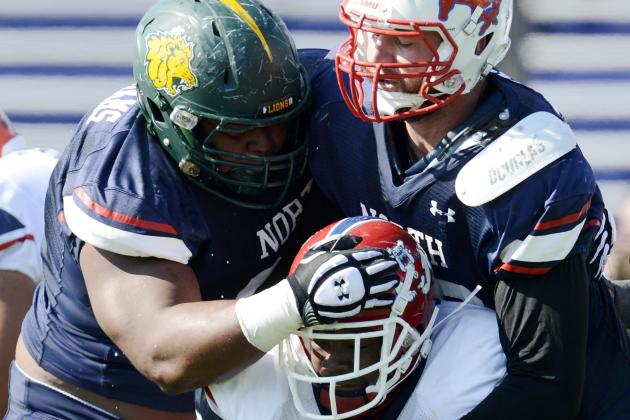 USA TODAY Sports

The Texans need someone who can compete for a starting spot at the nose-tackle position. Earl Mitchell is not going to cut it, even with J.J. Watt and Antonio Smith as the ends.
Brandon Williams is the best value here for the position. The defensive tackle did not play tough competition, attending the Division II Missouri Southern State.
Despite not playing tough competition, Williams looks the part of a nose tackle, is tough and can plug up holes against running backs, and he's athletic enough that he can make moves if needed.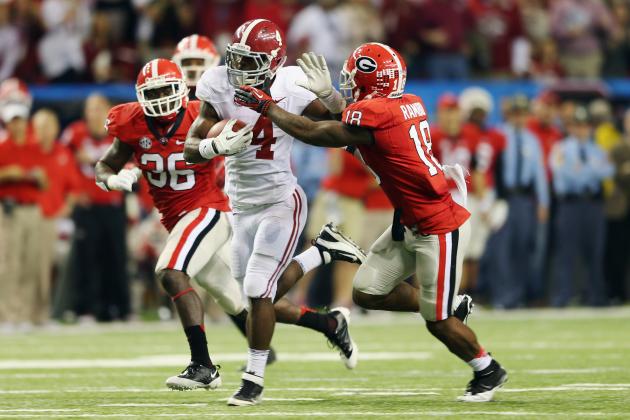 Mike Ehrmann/Getty Images

If TE Vance McDonald out of Rice is still available here, I see him as being the pick. He can work alongside Owen Daniels and take over for him, plus his skill set fits well with Houston's offense.
The Texans need a safety, and while I still like Josh Evans as an option here, I now feel like Bacarri Rambo will be available. If he is, he's an ideal fit since he can learn under Ed Reed and take over for him a couple years from now.
Rambo is a guy who is great at locating the ball and making plays. He is also an aggressive tackler and can make plays downfield. In fact, Reed may be the perfect guy to groom Rambo into a star safety.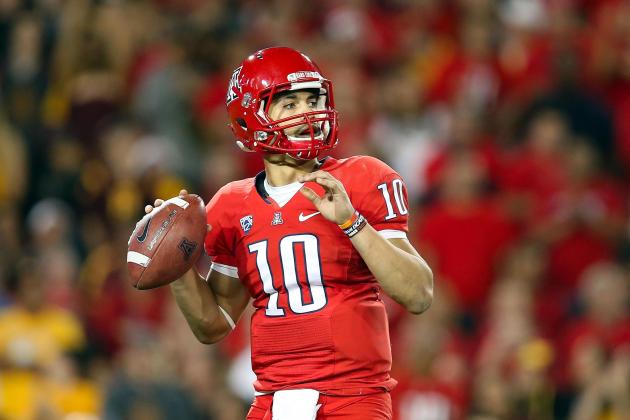 Christian Petersen/Getty Images

I can't make every pick a 100-percent sensible one on needs. With how this draft has gone, it's almost a certainty that at least one pick will be crazy on the surface. As far as those picks go, though, Matt Scott here actually makes sense.
I have no idea if he will be here, but if so, then Scott provides a change of pace option behind Matt Schaub. If Schaub can continue to produce for many years, then that's great, but if he starts to slow down, then Scott can be groomed behind him.
He is mobile with a nice arm, and as a result, he's someone who could, if nothing else, become a trade option should he start a couple games at season's end a year or two from now.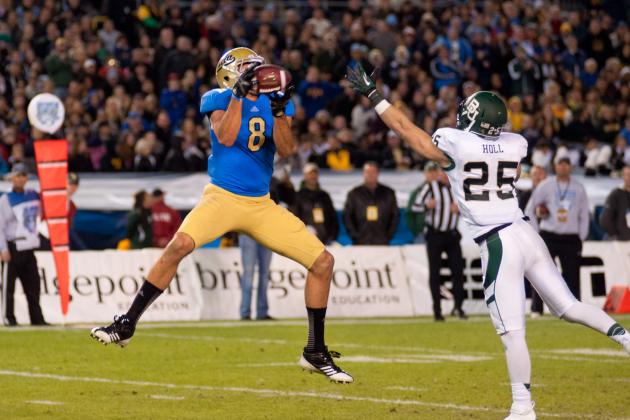 Kent Horner/Getty Images

If the Texans miss out on Vance McDonald, then picking a big tight end earlier rather than later could make sense. As a result, I moved up Fauria from a sixth-round possibility to a fifth, so that they know they'll get him.
Fauria is a huge target, and he and tight-ends coach Brian Pariani both went to UCLA, so they have that connection. For Day 3 guys, even a small connection like that is big.
Is the fifth round a reach for him? Yes, but with some of the picks that were made in the first round, this is not a draft where you can trust players to be where they are projected.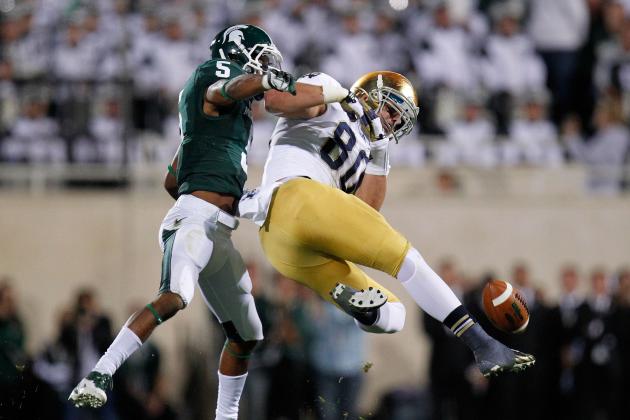 Gregory Shamus/Getty Images

I had Adams in the fifth round last mock, but he's less of a depth need than Fauria would be, and since he's a late Day 3 projection, I felt comfortable switching the two.
Adams is someone who can be a nickel cornerback in the NFL. He is very physical, perhaps overly so, and has no problem making leaping plays for interceptions in the middle of the field.
In the sixth round, you're looking for special-teams contributors and depth players, and Adams fills both of those in spades. While he has major weaknesses, his strengths will easily translate to the NFL.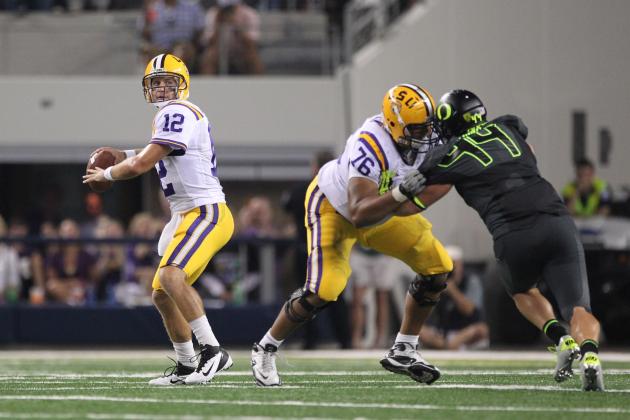 Matthew Emmons-USA TODAY Sports

There are a lot of inside linebackers who would be great pickups here. Will Compton, Michael Mauti and others could contribute big time.
However, I have to think the Texans will find an offensive lineman on Day 3 to groom, even if the trend is them going far earlier than expected. Chris Faulk seems to be a solid target.
Finding a right tackle to compete with Derek Newton is ideal in this deep draft, and Faulk is a guy with a lot of upside. He tore his ACL but declared for the draft, and as a result, his stock is way lower than his talent. Rick Smith can find a Day 3 lineman to groom, and someone like Faulk seems right up his alley.
Ezra Shaw/Getty Images

Ever since reading up on him, I've thought he'd be a perfect Day 3 Rick Smith option, and unless there's a major red flag that comes up, I plan to keep it that way.
Clay is the type of player who will play literally wherever you want to put him. He'll be an outside linebacker, a long snapper, a special-teams guy, anything.
Oregon football players are high-motor players almost by default, and once you add in his high character, it makes this a rather easy pick.