5 Players the Houston Texans Should Target on Day 2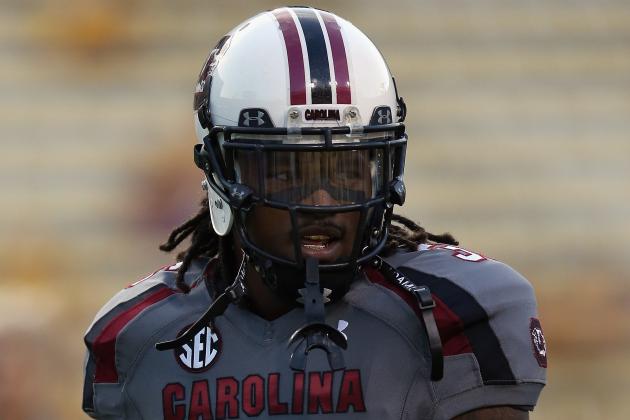 Ronald Martinez/Getty Images

Relax, Texans fans. The long-awaited No. 2 receiver has been drafted. DeAndre Hopkins has arrived. Breathe a sigh of relief.
Let's not dwell on past accomplishments, though. It's time to move on, most specifically to who the Texans should select on day two of the draft.
The Texans have a wide range of needs that must still be addressed, with the most pressing ones being nose tackle, inside linebacker, safety, offensive line and outside linebacker.
Who will the Texans draft tomorrow? I can personally guarantee you that there is a chance that at least one of the players listed in this slideshow might be a future Texan. Or not.
Regardless, here are a few prospects that the Texans should definitely consider.
Begin Slideshow

»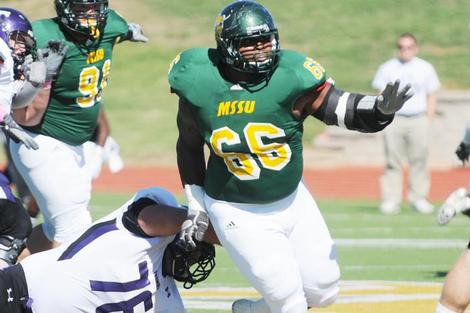 The Texans have a gaping hole in the middle of their defense.
Currently, the starting nose tackle is Earl Mitchell, a long-time rotational player who split time with the infamously mediocre Shaun Cody.
When Cody went down for a few weeks due to an injury last season, Mitchell failed to impress when he was given a chance to start. He failed to make any noticeable impact, and overall, he appeared to be very average.
Aspiring elite defenses do not become elite by permitting average. The Texans need to upgrade the nose tackle position in order to truly rise to the ranks of the best, and Brandon Williams is the answer.
Underrated coming out of Missouri Southern, Williams has been overlooked for playing against inferior competition in college.
The fact that he is considered a second- or third-round pick reveals how talented Williams is; he is the very definition of a playmaker.
Incredibly strong, Williams combines his pure strength with a vast array of hand moves that allow him to repeatedly break into the offensive backfield.
Williams' sheer size will force opposing offenses to double-team him, which would open up huge holes for J.J. Watt, Whitney Mercilus, Brooks Reed and Antonio Smith.
Williams could revolutionize the Texans' defense.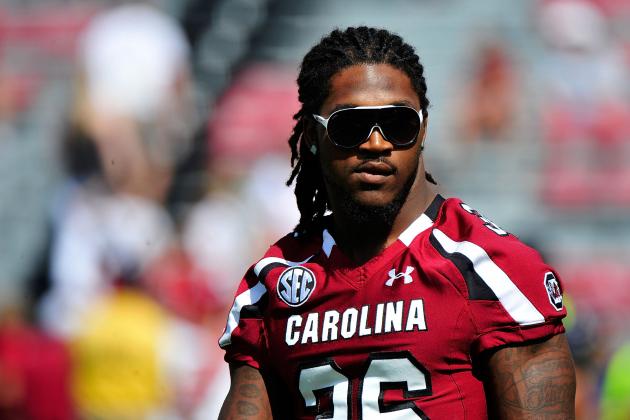 Grant Halverson/Getty Images

At the start of free agency, most experts repeatedly stated that the Texans must do everything in their power in order to retain Glover Quin.
Apparently the Texans did not think as highly of Quin as sportswriters across the nation did. Instead, the Texans let Quin walk, and then they went out and signed future Hall of Famer Ed Reed.
And while Reed is a phenomenal football player who will bring leadership and swagger to the Texans' defense, there are a few downsides to his signing.
First off, he is old. It is unlikely that he will be able to play at a high level for much longer. Reed, also, possesses a very different skill set than Quin: Reed is a ball-hawk and Quin is a run-stuffer.
Having a ball-hawk is great, but the Texans still need a physical run-stopping safety with coverage capabilities who could come in and play effectively if either Reed or Danieal Manning get injured, which is, unfortunately, a likely scenario.
D.J. Swearinger is that guy. A physical beast, Swearinger loves to hit, and he loves to hit hard.
He is excellent against the run, and he is able to, like Quin, diagnose run plays very consistently and attack the hole that the running back will likely attempt to run through.
Swearinger is also capable in coverage, and after an offseason of work with an NFL secondary coach, he could certainly improve minor faults.
Swearinger could be the Texans' safety of the future, and that future is very, very near, due to the advanced ages of both Reed and Manning.
Sam Greenwood/Getty Images

Besides nose tackle, the weakest position on the entire Texans' roster is inside linebacker.
How weak, you ask? Well, the Texans currently only have two capable inside linebackers on the roster. One is Brian Cushing, who, despite being a superstar, is coming off an ACL injury.
The other is Darryl Sharpton, a player who has limited experience as a starter, and whenever he does actually play, he gets injured.
Not very encouraging, is it?
The Texans need to draft inside linebacker depth, and they need to draft it early. Also, it'd be preferable if the inside linebacker that they end up drafting has some semblance of coverage skills, especially after that New England fiasco where Tom Brady picked apart the Texans' pathetic linebacking core.
This is where Jon Bostic comes into play.
Known as a thumper who loves to attack running backs, Wade Phillips would have no problem starting Bostic next to Cushing on first and second down.
Here's the kicker, though. Bostic can actually cover. Yes, that sounds rare for a Texans' linebacker besides Cushing, but he actually can.
Bostic could remain on the field for passing downs, which would enable the Texans to remain in their base defense more often, which would certainly generate more of a pass rush.
Bostic would be a smart pick for the Texans.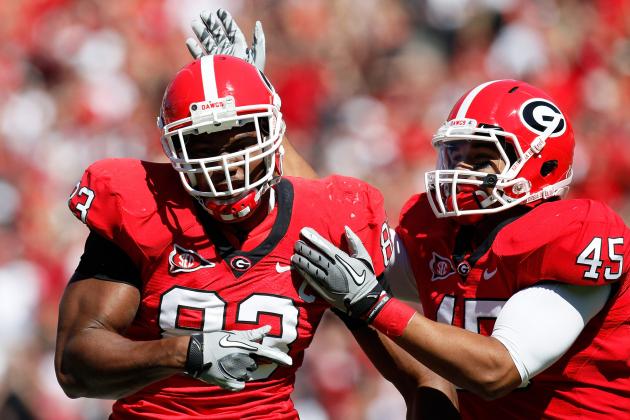 Kevin C. Cox/Getty Images

When Connor Barwin departed for the Philadelphia Eagles in free agency, it seemed like no great loss. And while Barwin was horrific last season, the loss was actually much larger than what his production would suggest.
Both Whitney Mercilus and Brooks Reed are fully capable of taking over the starting duties. That is the not issue.
The problem is that the Texans do not have a proven backup outside linebacker on the roster currently. And while Mercilus and Reed are both young and could play for extended periods of time without rest, if either of them were to go down with an injury, the results could be disastrous.
The Texans need to draft an outside linebacker early, and one guy they should definitely consider is Cornelius Washington.
Washington is the very definition of high-risk, high-reward. Playing on a stacked Georgia defense, Washington's production was minimal throughout his career in terms of stats.
He, however, is a freak athlete. With a little work on his hand skills, he could become an extremely dangerous pass-rusher.
Washington has the physical tools to become a star in the NFL, and if he can polish up his skill set, that dream could become a reality.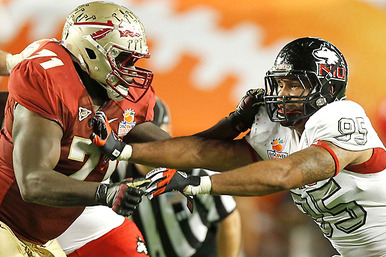 When the Texans collapsed at the end of last season, many fans were quick to blame Matt Schaub. Or Gary Kubiak. Or even Arian Foster.
The true culprit, however, was the offensive line.
Success in the Texans' offense stems from the offensive line's ability to play at a high level. If the offensive line struggles, the Texans struggle.
And the offensive line did much more than struggle at the end of the season. They were horrific in the running game, failing to open up holes for Foster on a consistent basis. And when the running game declines, the Texans' play-action game becomes useless, granting the Texans' passing offense zero chance to succeed.
And to make matters worse, the line was awful in pass protection, giving Schaub little time to progress through his reads and find an open receiver.
Menelik Watson could solve all of these issues.
Extremely athletic, Watson is a perfect fit for the Texans' zone-blocking scheme.
His masterful footwork and quickness allow him to easily reach the second level, which all great zone-blocking scheme linemen must be able to do. His speed, also, allows him to neutralize speed-rushers off the edge.
If Watson falls to the Texans' pick in the second round, they should select him as soon as they're on the clock.