5 Most Telling Statistics from New York Rangers' 2013 Season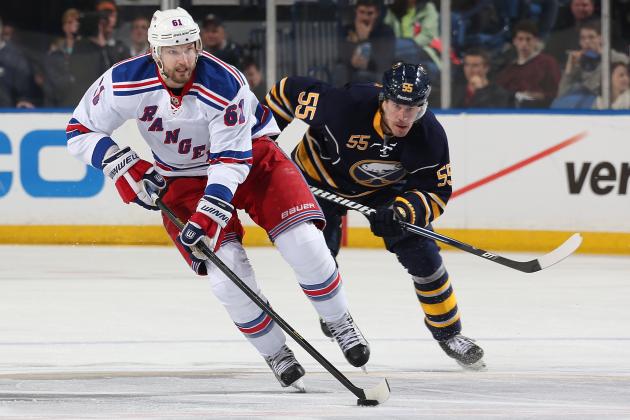 Jen Fuller/Getty Images
Rick Nash looks to evade Jochen Hect of the Buffalo Sabres.
2013 will, for years to come, be remembered by New York Rangers fans as a huge disappointment.
That is unless they miraculously win the Stanley Cup. But, that's a long shot, to say the very least.
The only thing the Rangers have done consistently this year is play inconsistent hockey. Scoring droughts, defensive deficiencies, a miserable power play; this team has seen it all.
Stats can be misleading, but they can also be very telling of a team's performance. In the case of the Rangers, there are five specific numbers that truly tell the story of the unfulfilling 2013 season.
Read on as we take a look at the most telling stats from the Rangers' season thus far, including the implications that brought them about, and/or the implications they've yielded.
Begin Slideshow

»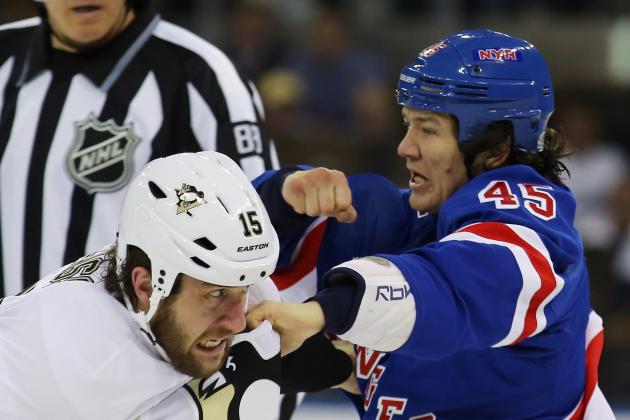 Bruce Bennett/Getty Images
Arron Asham fights Tanner Glass of the Penguins.
The 2011-12 Rangers were a tough bunch, and grit was a hallmark of their game. In 82 games, they were assessed 65 fighting majors, which was tops in the league.
This year, through 47 games, they've only had 18 fights, and that's good for only 22nd.
The Rangers were experts at using fighting to capture momentum. On several occasions, enforcer Brandon Prust would fight as soon as the puck was dropped. At homes games, this got the crowd behind the Rangers early and allowed them to grab the game's initial momentum.
With Prust gone, and Mike Rupp and Stu Bickel following suit earlier this season, the Rangers have been short on fighters. Arron Asham was brought in to shoulder some of the burden, but injury has kept him out for a sizable portion of the season.
As a whole, the Rangers are just not as tough of a team as they were last season, and it's hurt their overall performance. Speak with any New York fan following a rough stretch of games and one of the first things they'll tell you is this team isn't tough enough.
Players haven't stuck up for one another like they have in the past and more games than not, the Rangers get pushed around by their opponent.
Luckily for them, their struggles with momentum shifts and occasional lack of passion can both be solved by a timely bout. That is if they're up to it.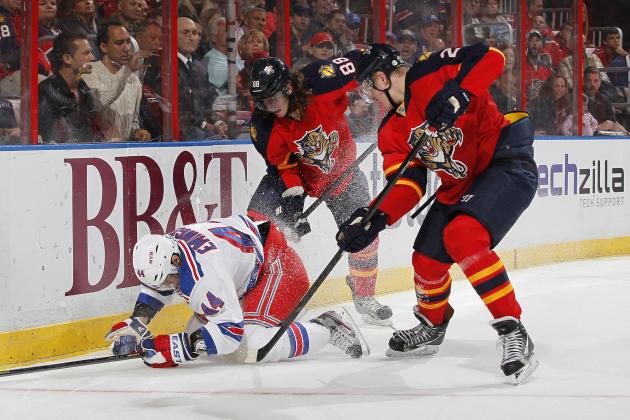 Joel Auerbach/Getty Images
Steve Eminger battles for a puck in Florida.
For much of 2013, there have been two Rangers teams: The one that performs well at Madison Square Garden and the other that almost exclusively comes out of the gate flat on the road.
10-12-2 is their away record, and to put that in perspective, the Rangers were 24-12-5 on the road in 2011-12; a season in which they finished first in the Eastern Conference.
Away records can be indicative of a team's work ethic, ability to win tight games and their preparation. Last season, the Rangers excelled in all of those areas; nobody worked harder than they did, and their ability to come out strong put them in a good position to win one-goal games.
This year they've been famous for starting games on their heels and when they've gone down early, they've struggled to claw their way back. At times, they look completely disinterested.
For the Rangers, this season has been a 47 game journey to find their identity. Weathering any storm any team threw their way, no matter what building they were playing in, was what gave the Rangers that lunch-pail hockey swagger.
This year that culture has faded.
A top team almost always has a strong road record. Not only does it show that they can win ugly games, but winning on the road is vital come playoff time. A team that struggles away from home will go down fast in the playoffs.
It'll take some of that hard-working, New York attitude to get the Rangers anywhere past the first round.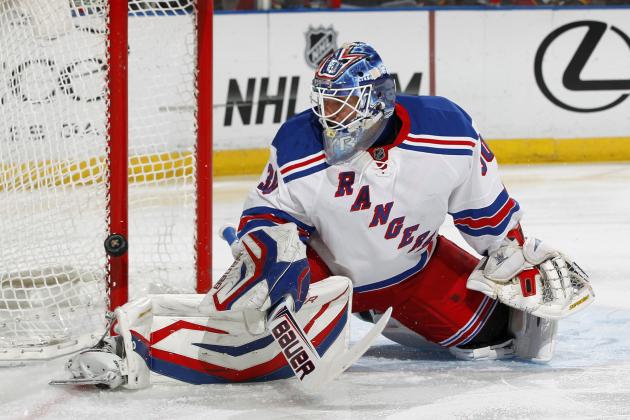 Joel Auerbach/Getty Images
Henrik Lundqvist fights off a save.
The total goals against the Rangers have conceded this season.
112 is good for fifth in the league, and that's what's so telling about this statistic.
The Rangers found themselves in a dogfight to make the playoffs, despite being in the top-five in goals against.
This tells us two things: One, goaltender Henrik Lundqvist has stood on his head all season and two, they would not even be in the playoff conversation without him.
Goals against can be indicative of a team's defense as well as its goaltending, but anyone who's watched the Rangers consistently knows their defense has been troubling this year.
Therefore, this statistic is a testament to Lundqvist and Lundqvist only. He has, yet again, been the team's MVP and, arguably, more important to the Rangers than any other player to their respective team in the league.
He's won games the Rangers have had no business even being in, and he's done it with minimal goal support.
That won't cut it come playoff time, though.
If Lundqvist receives ample offensive support the Rangers will be a tough draw for any team. But up until now it's been a one-man show.
That needs to change.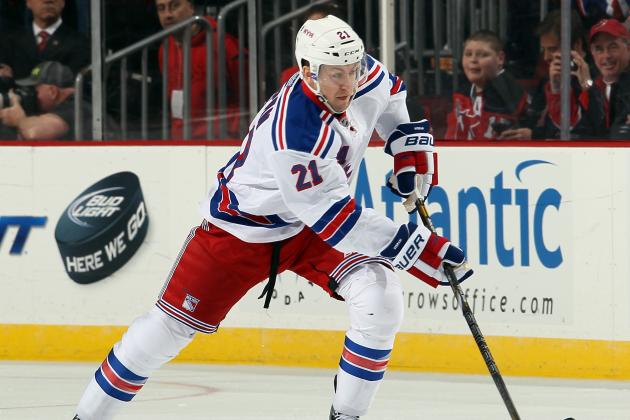 Elsa/Getty Images
Derek Stepan.
2013 has been the breakout season for Derek Stepan that Rangers fans have been waiting for.
In 47 games he's registered 42 points, and on most nights, he's been the Rangers second best player behind Lundqvist.
It wasn't until the seventh game of the season that he scored his first goal, but since then he's been a menace to the opposition.
It's obvious he worked on his shot and skating during the extended offseason because his game has really come together. Stepan has always been a solid defensive player and thinker of the game, but now he can beat opponents in several different ways.
Never considered a goal scorer per se, Stepan is on pace for roughly 30 goals in an 82 game season. Also, his playmaking ability has improved in his third season as he continues to grow accustomed to the speed of the NHL game.
Additionally, his neutral-zone work and forechecking prowess have helped the Rangers counter attack other teams and jump start the Rangers' system.
Stepan's breakout has been quite timely, too. The struggles of supposed first-line center, Brad Richards, have crippled the Rangers for most of the season. If Stepan hadn't upped his game and assumed the first-line role who knows where this team would be today.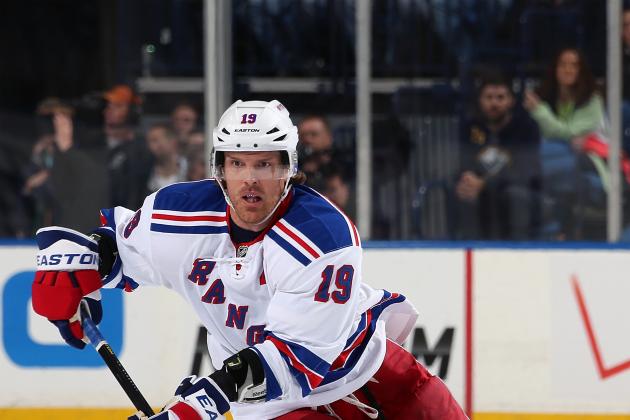 Jen Fuller/Getty Images
Brad Richards carries the puck in a game for the Rangers.
That number represents the Rangers' power-play efficiency this season. It's good for 22nd in the league.
There have been games this season in which the Rangers have scored three power-play goals, but there have also been games where the Rangers can't even carry the puck into their opponent's zone on the man advantage.
It's one thing for a team's power play to be subpar, but when it begins to concede momentum and, on several occasions, is the reason they lose games, then it's totally inexcusable.
For example, on April 23 the Rangers had a chance to clinch a playoff spot against the worst team in the league, the Florida Panthers. They find themselves down 2-1 with less than four minutes to play in the third period when Florida takes a tripping penalty. On the ensuing man advantage, the Rangers don't come anywhere remotely close to scoring a goal.
Their lack of power-play proficiency is also a reason they were, for most of the season, in the bottom five in terms of goal scoring. Their deadline-day moves have helped them move up to 17th, but that comes with no thanks to an improved power play.
The man advantage has been atrocious, and if it were operating near average effectiveness the Rangers would have a couple more wins under their belt and these final few games wouldn't have been so nerve racking.