UFC 159 Weigh-In Results: Jon Jones vs Chael Sonnen Fight Card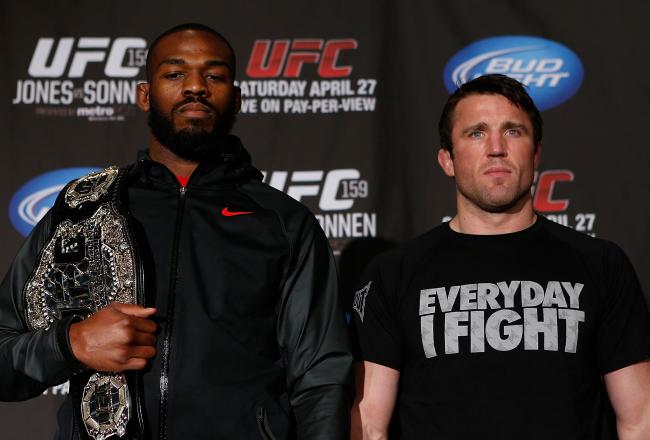 Josh Hedges/Zuffa LLC UFC via Getty Images

UFC 159 will take place this Saturday from the Prudential Center in Newark, NJ. In the main event, UFC light heavyweight champion Jon Jones will put his title on the line, squaring off against Chael Sonnen.
The weigh-ins for Saturday's fight card are wrapped up and full results are below:
UFC 159 Full Weigh-in Results:
Jon Jones (205) vs. Chael Sonnen (205)
Alan Belcher (185) vs. Michael Bisping (186)
Cheick Kongo (237) vs. Roy Nelson (258)
Phil Davis (205) vs. Vinny Magalhaes (205.5)
Pat Healy (155.5) vs. Jim Miller (155)
Johnny Bedford (136) vs. Bryan Caraway (136)
Ovince St. Preux (206) vs. Gian Villante (206)
Sheila Gaff (133) vs. Sara McMann (134)
Rustam Khabilov (156) vs. Yancy Medeiros (155.5)
Leonard Garcia (145) vs. Cody McKenzie (145)
Nick Catone (173) vs. James Head (170.25)*
Kurt Holobaugh (145) vs. Steven Siler (145.25)
*Catone will forfeit 20 percent of his purse after coming in overweight - via UFC.com.
On to the main event. Chael Sonnen comes to the scale first and he wastes no time in getting to the scale and he's in at 205. The champion, Jon Jones, who Rogan announces as undefeated, takes his time in getting to the scale and when he does he weighs in at 205.
A brief bow between the before they break apart.
Grudge match time! Michael Bisping versus Alan Belcher. Belcher is first to the scale and he comes in at 185. Bisping hears a mixed reception from the crowd and weighs in at 186.
Bisping saunters over to Belcher and the jawing begins and Dana White is just waiting for them to break them apart, he does and they separate.
Up to the big boys, Roy Nelson versus Cheick Kongo. Kongo is first to the scale and he weighs 237. Nelson comes in at 258.
Probably one of the biggest disparities in physique since the early days of the UFC in this one.
Up to light heavy for this next one. Vinny Magalhaes hits the scale at 205.5 and flips someone the bird from the scale. His opponent, Phil Davis comes to the scale, takes a picture of the crowd and weighs in at 205.
Pat Healy hits the scale and he comes in at 155.5, while Jim Miller, out to a nice hand from the Jersey crowd weighs in at 155, but he may be 154 or less because he has one hell of a beard going!
Dropping down to lightweight for the next one as Rustam Khabilov meets Yancy Medeiros. Medeiros comes in at 155.5. Khabilov comes in at 156.5, but he was wearing his fight shorts, he drops those and he's 156.
Up to the light heavyweights for the next one. Ovince St. Preux hits the scale first and comes in at 206. Gian Villante comes in at the same weight.
On to the women for the next one. Shelia Gaff hits the stage first and hey, why not, she's wearing heels. Gaff comes in at 133. Sara McMann goes more Diaz brothers with her outfit, hoodie and jeans, she weighs in at 134.
Johnny Bedford requests the towel straight away for his weigh-in, and he makes it at 136. Bryan Caraway comes to the stage and he too asks for the towel and he's in at the same weight.
Cody McKenzie first to the scale for the next bout and he's doing a nice(read: over the top) job shilling for his sponsor. Anyway, he's in at 145. His opponent, Leonard Garcia is in at the same weight. Odd can be the best way to describe the staredown between these two. McKenzie looked like he needed to cut back on the caffeine.
Up to the welterweights for Nick Catone versus James Head. Head makes his appearance first and he comes in at 170.25. Catone hits the scale at 173.
Let's get rolling with a featherweight bout. First to the scale is Kurt Holobaugh and he comes in at 145, his opponent Steven Siler tips the scale at 145.25. I guess we are using decimals in NJ.
This article is
What is the duplicate article?
Why is this article offensive?
Where is this article plagiarized from?
Why is this article poorly edited?