So little credit is given to the coaches and sparring partners and its time to give them their due. It is my hope to list the Top Five MMA gyms in the World based on the fighters that train there.
Number of titles a gym has won, the depth of the gym in Top Promotion fighters (DREAM, UFC, Affliction, Strikeforce, and WEC) and coaches will all be taken into account.
I am by no means an authority in the field of MMA gyms, rather an enthusiastic amateur and if you disagree let me know in a respectful manner.
Honorable Mentions
The closest to making this list:
The Wolfslair with Michael "The Count" Bisping and Rampage Jackson both working out of the UK gym. UFC fighter Paul "Tellys" Kelly and TUF house resident David Faulkner train out the cold gym.
Up and Comer:
Arizona Combat Sports features three former ASU wrestlers and TUF members Mathew Riddle, CB Dollaway and Ryan Bader who are a combined 19-1 in pro MMA fights.
5. Team Quest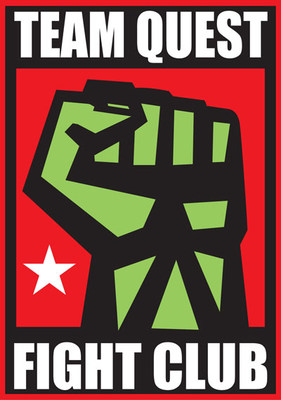 This westcoast based gym has some of the finest ground fighters in the sport.
Dan Henderson is a legend, help both the PRIDE middle and light heavyweight titles and is a major player in both weightclasses in the UFC. Henderson was an elite level wrestler who was able to make a US Olympic Team.
Not to be out done fellow team Quest member Matt "The Law" Lindland won a silver medal at the 2000 Summer games for wrestling and has gone on to a 21-6 career in MMA.
Another ground fighter at Team Quest still looking for MMA success is BJJ World Champ Vinicius Magalhaes who is the virtual BJJ coach at Team Quest.
Other Notable Fighters:
Rameau Thierry Sokoudjou (5-4)
Krzysztof Soszynski (17-8-1)
Josh Burkman (18-8)
Nate Quarry (11-3)
4. American Top Team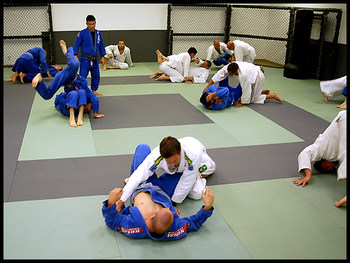 By far the deepest school but their lone title holder is featherweight Mike Thomas Brown, the man that Koed Urijah Faber. There are contenders a plenty in South Florida.
Thiago "Pitbull" Alves is due to fight for the UFC welterweight title this summer and KO artist Thiago Silva both spar with American Top Team. Submission legend Jeff Monson and former WWR star Bobby Lashley also calls Florida home.
Other notable fighters:
Cole Miller (15-3)
Antonio "Junior" Silva (12-1)
Jason "Hollywood" Chambers (18-5-2)
Alessio "Legionarius" Sakara (13-7)
Gleison Tibau (17-6)
Luigi Fioravanti (14-5)
Jorge Santiago (21-7)
3. Team Nogueira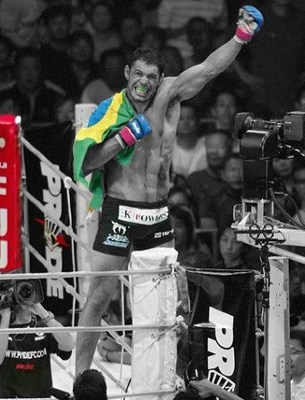 Chute Boxing's decline was the rise of Team Nogueria in Brazil. The star of the school was stolen from the clutches of Cute Boxing, Anderson Silva the No. 1 MMA fighter in the world.
The head coach of the gym is a PRIDE legend, UFC title holder and true Jiu-Jitsu master Antonio Rodrigo "Minotauro" Nogueira.
His brother Antonio Rogerio "Minotoro" Nogueira is not only a fine BJJ master but also one of the finest boxers in MMA and has only 1 loss since 2002.
Also UFC heavyweight contender Junior dos Santos works with the Nog brothers.
One of the best things featured in the most recent TUF season was the coaching ability of the larger of the Nog brothers, and it certainly shows in Team Nog performances. The gym is full of up and coming fighters with solid records but no appearances in the larger promotions.
Other notable fighters:
Marcelo "Grilo" Alfaya (10-5)
Rafael "Feijao" Cavalcante (7-1)
Andre Galvao (3-0)
2. Greg Jackson's Submission Fighting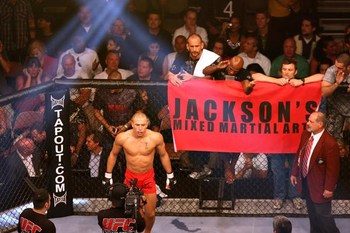 This gym is top heavy but the top is so good it cannot be denied. Pound for Pound standouts George St Pierre and Rashad Evans, both title holders in the UFC.
Right under them are two guys that contender year in and year out in their weightclasses, Keith Jardine and Nathan Marquardt.
The coaching is second to none, Greg Jackson is a master game planner and his fighters are never short on cardio.
Other notable fighters:
Leonard Garcia (11-3)
Brant Gibbs (7-0)
Damacio Page (10-3)
1. Xtreme Couture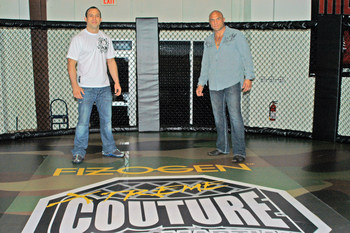 The cream of the crop is the Las Vegas based Xtreme Couture and the quality of fighters is extreme. The founder and UFC legend Randy Couture is the headliner of a great group of fighters.
Former UFC Light Heavyweight champion Forrest Griffin and former PRIDE Champion Wanderlei Silva both call Xtreme Couture home.
Welterweight contender Martin "Hitman" Kampmann and Lightweight powerhouse Tyson Griffin also ply their trade in Las Vegas. Also at Xtreme Couture the hottest thing in MMA Gina Carano.
Other notable fighters:
Stephen Bonnar (11-5)
Gray "The Bully" Maynard (7-0)
Alex Schoenauer (14-9)
Mike "Quicksand" Pyle (17-5-1)
Patrick "Kui" Gonsalves-Kanoho (2-0)
Junie Browning (3-1)
Keep Reading