6 Players the New York Giants Should Target on Day 2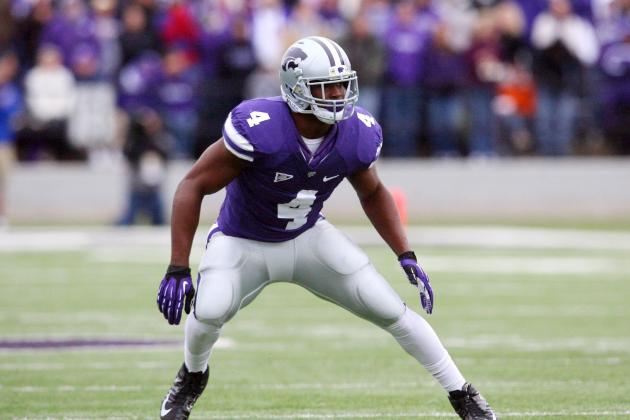 Scott Sewell-USA TODAY Sports
Will Arthur Brown be the answer at linebacker for the Giants in the 2nd round?
If Justin Pugh wasn't who you were thinking the New York Giants would take in the first round of the NFL draft, don't feel too bad.
Not one popular online sports website that produces several mock drafts—such as ESPN.com, CBSSports.com and Bleacher Report to name a few—had Big Blue taking the Syracuse offensive lineman with the 19th overall pick.
This was just one example of what was, overall, an unpredictable first day of the NFL draft.
Thursday night saw several trades and players going much higher then expected (see EJ Manuel to the Bills), as well as much lower then initially predicted (like Sharrif Floyd falling out of the top 10 and into the happy, eager arms of the Vikings at 23).
What will the Giants do in day two, which consists of the second and third rounds on Friday night (6:30 ET; ESPN)? With its offensive line already addressed, New York should solely look at defense tonight.
Here is a look at the defensive players the Giants must look to target in the second and third round. For the second round, the picks are classified as the best ideal pick that could be available, the best ideal pick that should be available and the backup plan selection if the first two players discussed are already off the board.
For the third round, the chosen players are based solely on who Big Blue has already selected. For example, if they go with a linebacker in round two, the pick will likely be a cornerback or defensive end since those are the next two biggest needs on this team that haven't already been addressed in the first two rounds.
All NFL Scouting Combine results courtesy of NFL.com
Begin Slideshow

»
Right now, CBSSports.com is tabbing Johnthan Banks as going in the late 30s (though it is highly unlikely that the Jets will select him considering they took Dee Milliner in the first round). This is not good news for Big Blue since they have the 49th pick in the second round.
If Banks is still available when the Giants are on the clock, they should definitely snatch him. The former Bulldog was a standout in college, recording a school-record 16 interceptions. He had an exceptional senior season, registering 71 tackles, five picks and three sacks.
Banks has great size for a corner at 6'2", but moves surprisingly well for his size, especially when closing in a straight line.
Banks, however, does lack great lateral speed, running the 40-yard dash in a pedestrian 4.61 at the scouting combine, so he can get beat deep if his man gains a step on him. He also has a tendency to peek into the backfield in an attempt to get a read on the quarterback throwing the ball. That leads to him losing sight of the receiver and allowing a big play.
However, Banks addresses a need-position for Big Blue and his rare combination of size and play-making ability outweighs his deficiencies.
Unlike Johnthan Banks, there is a better chance that Arthur Brown will be available at 49.
Robert Rang of CBSSports.com actually has Brown going to Big Blue in the second round.
The biggest knock on Brown is his size. He only stands at 6'1" and 231 pounds, which is certainly not the norm for either the inside or outside linebacker position in the NFL (most teams are looking for him to man the outside).
He makes up for his size, though, by playing with a tenacity and physicality of someone two inches taller and 20 pounds heavier. He is also sound at virtually every aspect of the position.
He tackles well, goes sideline to sideline adeptly on running plays and is more than competent in coverage. Really, the only knock on him concerning his play is his inability to cause turnovers. He only had three interceptions and did not generate a forced fumble in his college career.
It is also important to note how Brown ended up playing for Kansas State. He started his college career at Miami, but he ended up transferring back to his home state (he grew up in Wichita) partly because he was homesick.
He will probably be fine playing for the Giants, despite playing nearly 2,000 miles away from home, since he is more mature now at age 22 after having left Miami when he was 19. It is still worth noting, however, since the last time Brown played outside of the state of Kansas, it did not go so well.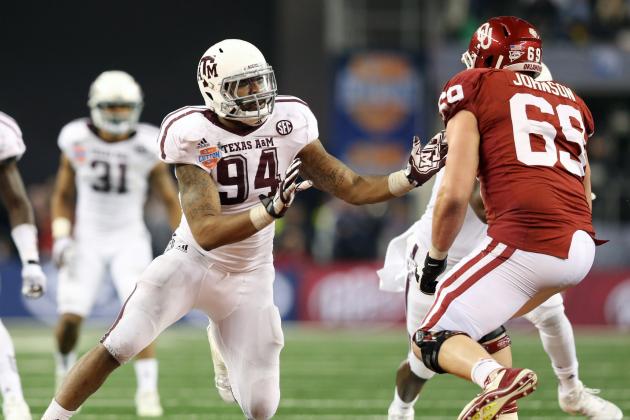 USA TODAY Sports

If Johnthan Banks and Arthur Brown are both off the board, New York should look to address the defensive end position with Damontre Moore at this pick.
Jason Pierre-Paul is a stud and Mathias Kiwanuka is most likely moving back to defensive end to make up for the free-agency loss of Osi Umenyiora.
There are question marks, however, outside of these two guys. Is Justin Tuck past his prime at the age of 30? Are inexperienced players like Adrian Tracy and Adewale Ojomo ready to contribute?
Moore's overall ranking on CBSSports.com is 52nd so he should be around when the Giants pick in the second round.
He does not possess superb athleticism, but he knows how to get to the quarterback both as a speed-rusher and by overpowering offensive linemen. This is a big reason why he had 12.5 sacks his junior season. He is also effective at disrupting running plays with 20 tackles for a loss in 2012.
At 6'5" but only 250 pounds, he still has room to fill out, which would make him an even-more imposing presence and probably better against the run.
This is a real nice value pick with some upside. Given his skill set, size and work ethic, it is hard to imagine Moore not at least being an adequate pass-rusher in the NFL, who can also hold his own against the run.
In terms of sheer of talent, Kiko Alonso is a steal in the third round.
Weighing in at only 238 pounds, he is probably too small at this stage to play middle linebacker, but he is 6'4" so he could add the necessary 10 to 15 pounds to allow him to handle the rigors of playing inside.
He'll do just fine as a weak-side linebacker to start his NFL career. He is naturally explosive and possesses great north/south speed, which allows him to consistently get into the backfield with 14 tackles for a loss in 2012. He is also strong in coverage and has excellent ball skills for a linebacker.
Alonso, however, is projected as a third-round pick for a reason. He has had multiple transgressions with the law (a DUI in 2010 and criminal trespassing in 2011 to name two), but stayed out of trouble during his senior season. He also suffered a torn ACL in his sophomore season and did not participate in the scouting combine due to a wrist injury.
The Giants should look past these red flags because they will desperately need to address the linebacker position here if they don't select one in the second round.
Factoring in just his play on the field, Alonso should be the best linebacker available when the Giants pick at 81.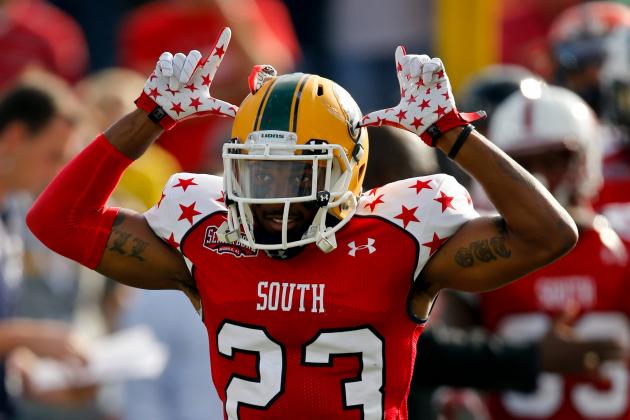 Derick E. Hingle-USA TODAY Sports

This pick makes a lot of sense for one simple reason–speed. The Giants lack it in the secondary and Robert Alford has it in spades.
He ran the 40-yard dash in a blistering 4.39 seconds at the scouting combine. He also has quick feet and turns well when adjusting to breaks by a wide receiver.
He should be able to contribute right away as a nickel corner in the slot, given his skill set. He also has the cover tools to start opposite Prince Amukamara once Corey Webster most likely moves on after his contract is up following the 2013 season.
On the downside, his size and strength are worrisome. He only stands 5'10", which leads to him getting pushed around by larger wide receivers. His tackling can be shoddy as well on run plays and he has a tendency to over-commit, making him susceptible to cutbacks.
Overall, though, his speed is too hard to pass up in the third round for a team that simply needs to get faster on defense. The fact that he can translate that speed into playmaking ability (he had nine interceptions combined in his junior and senior seasons at Southeastern Louisiana) makes Alford an even more enticing selection in this slot.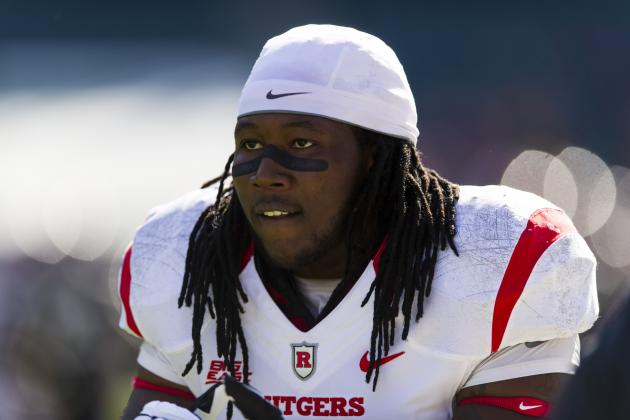 Howard Smith-USA TODAY Sports

While the Giants can obviously go with Kiko Alonso here as well, Khaseem Greene makes for a nice alternative if Alonso is not available or if the Giants are scared off by his off-the-field issues and injury concerns.
Greene is a unique player in that he has exceptional cover skills and sideline-to-sideline speed as a converted safety, but lacks the ability to tackle effectively in the trenches. His only logical fit in the NFL is as a weak-side linebacker in the 4-3 scheme. Luckily for Big Blue, this is their front seven alignment.
Greene is also proficient at wreaking havoc, causing six forced fumbles and registering 5.5 sacks in his senior season at Rutgers.
A playmaking linebacker with speed to cover and cut down runs to the outside is not a luxury that Big Blue has on its current roster. Greene's talent and college career suggests he'll quickly fill that void if the Giants draft him.