Setting Expectations for New York Rangers Stars During 2013 Postseason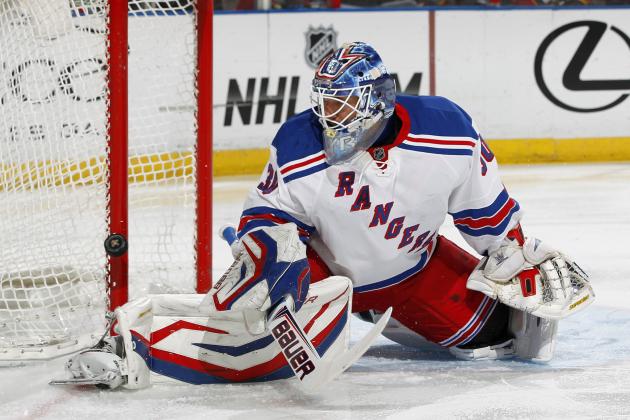 Joel Auerbach/Getty Images

The New York Rangers have clinched a spot in the 2013 postseason after an overtime win against the Carolina Hurricanes. It's been an up-and-down season for the Blueshirts, but now that they're in, what can we expect from the team and its star players in the postseason?
The Rangers have a core of players that will need to be at their best. Led by Henrik Lundqvist, this core—which also includes Rick Nash, Derek Stepan, Ryan Callahan and Brad Richards—has to play well. If they do not, then the Rangers will have a disappointing end to their season.
However, the Rangers are 9-3-1 in the month of April and have shown the type of play that made many think the team could be a Cup contender.
What can we expect from the Rangers' top players in the 2013 postseason? And how will that affect the team as a whole?
Read on to find out.
Begin Slideshow

»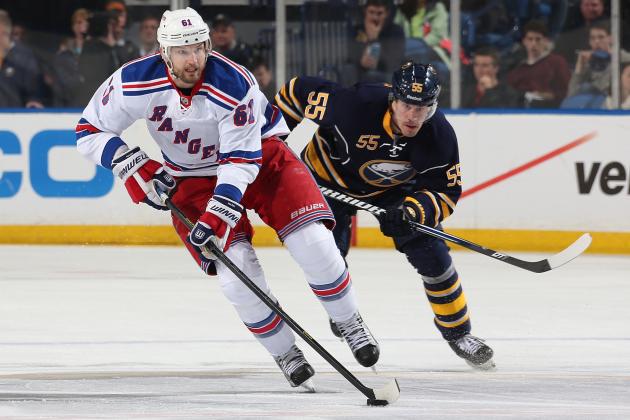 Jen Fuller/Getty Images

Rick Nash has been everything the Rangers have hoped for and more. Despite a slow start in the month of January, Nash has been dominant ever since. He has 19 goals and 21 assists on the season.
In April, Nash was at his best. He has seven goals and five assists and has been a force on the ice.
Nash has limited playoff experience. He has three points in four career playoff games. That said, he's not completely inexperienced with pressure. In 54 international games for Team Canada between the Olympics and the World Championships, Nash has scored 26 goals and has 27 assists. He was the MVP of the 2007 World Championships, where he scored six goals and had five assists in 11 games, leading Canada to a gold medal. He was named to the World Championship All-Star team in both 2007 and 2008.
That said, Nash will be counted upon heavily to produce for the Rangers in the playoffs. If he is not scoring, then the Rangers will struggle. When Nash scores, the Rangers are 12-3-1. He is a key cog in the offense because he can drive the puck to the net, creating offense for himself, as well as setting up his teammates. This is the main reason why Derek Stepan has been so successful this season.
If Nash has a poor playoffs, then the Rangers will have an quick postseason. If he plays well, then the team might have a long run.
Like so many players on the Rangers, Nash is entering the postseason on a hot streak. He should continue that into the playoffs, helping to make the Rangers one of the more feared teams in the Eastern Conference.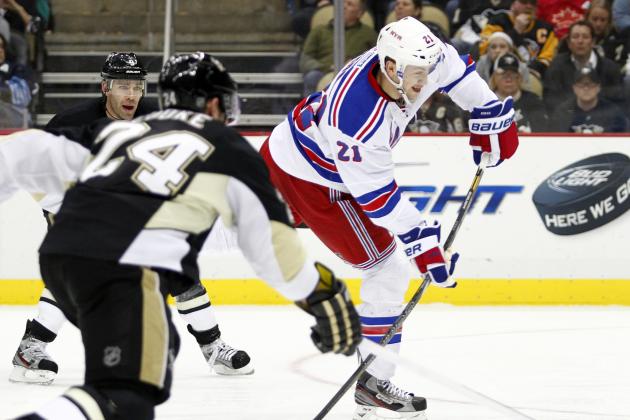 Justin K. Aller/Getty Images

In addition to playing the best hockey of his career, Derek Stepan has probably been the most consistent Ranger all season.
Stepan has 42 points in 47 games this season. His career high in points is 51, and that came in 82 games last season.
Quite simply, Stepan has been a rock for the Rangers. In the month of April, Stepan has scored seven goals and has 10 assists, in just 13 games.
The giant leap in Stepan's development has been quite welcome for the Rangers. He's consistently dangerous, whether it's with his dynamite, accurate passing, or his hard, low slap shot.
I had been critical of Stepan in this space before, as I didn't think his development was coming along at a sufficient speed. Obviously, I was wrong. Stepan is a legit number-one center who is making a case to be on the U.S. Olympic team in 2014. He looks like a perennial All-Star.
Stepan is going to have a remarkable playoffs. Last season, he had only nine points in 20 postseason games. That will change. He's playing with more skill, more confidence and he's benefited greatly from having Rick Nash on his wing.
Look for Stepan to dominate in the playoffs. He's at the top of his game and is having an incredible April. He's a star and the playoffs will be his chance to be introduced in front of the entire league.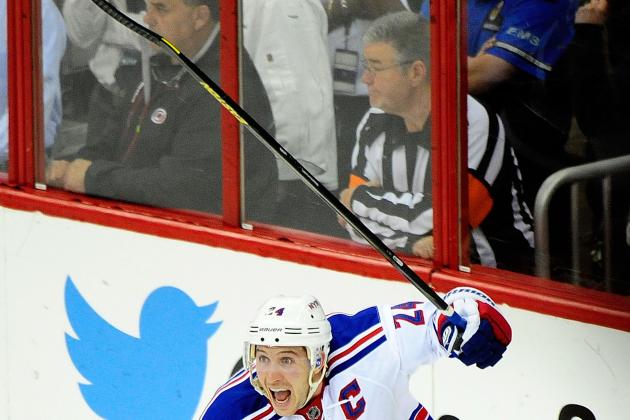 Grant Halverson/Getty Images

Ryan Callahan does what a captain should do—come through big when it matters most. Callahan scored the game-winning, overtime goal against the Carolina Hurricanes that secured a playoff spot for the Rangers.
He's been playing well in big moments all season. In the last six games, Callahan has four goals and five assists. In this crucial month of April, Callahan has scored six goals and eight assists. That's been essential as the Rangers have made a push for the playoffs and played their best hockey this month.
Callahan is so important to this team. He's a terrific penalty killer and sacrifices his body for the team. He has tremendous offensive skill and is a presence in front of the net.
With 15 goals and 14 assists, Callahan should get more notice as one of the best captains in the league. His play in the last month has been essential to the Rangers making the playoffs.
Callahan is entering the playoffs on a roll, which bodes well for the Rangers. If he continues his brand of gritty play with plenty of scoring, then the Rangers have a real chance to go far.
Despite their underachieving all season, the Rangers do have a talented team. At their best, they are a physical, gritty team. That's exactly the kind of player Callahan is. He embodies what the Rangers should be about. The Rangers have been playing that style for the entire month of April. Callahan's play has been a big reason why.
Callahan should have a terrific playoffs. Last season, he scored six goals and had four assists in 20 playoff games. There's no guarantee that the Rangers play that deep into June, but Callahan will undoubtedly produce in the playoffs.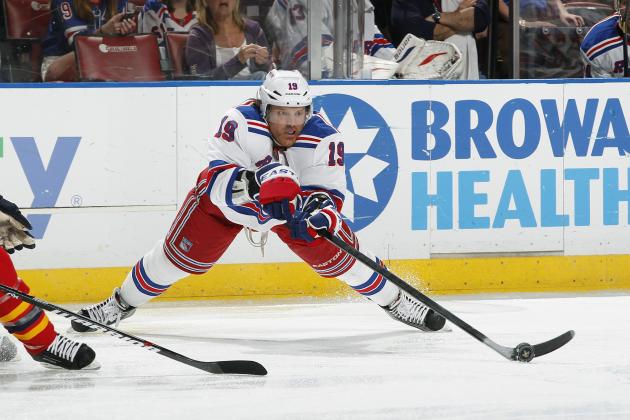 Joel Auerbach/Getty Images

Brad Richards has been on fire of late. He has five goals and four assists in the last five games. In particular, he had the game-tying goal in the playoff-clinching win against Carolina.
The resurgence of Richards in the month of April is one of the main reasons why the Rangers are in the playoffs. The Rangers are 9-3-1 in April and Richards has five goals and eight assists.
Rangers fans have been harping on Richards all season, as he only had five goals through March and only 13 assists. There were numerous calls for him to be bought out.
But to his credit, Richards has stepped up his game at the right time. He looks like the player that the Rangers paid so much to acquire two summers ago.
Quite simply, without the play of Richards, it's hard to imagine the Rangers making the playoffs.
But here they are, and they now possess a surging Richards. If he continues his hot play into the postseason, then watch out. Richards is key to the Rangers because he gives them depth down the middle. With Derek Stepan, Derick Brassard and Richards, the team finally has three centers who can play in every situation.
Brassard has eased the pressure on Richards a bit: Richards doesn't have to do it all. Brassard controls the power play on the half-wall, which allows Richards to use his terrific shot from the point.
A hot and productive Richards is good news for the Rangers. If he keeps it up, then there's no telling what the team can do. Look for Richards to have a big first round.
Elsa/Getty Images

Henrik Lundqvist had another typically fantastic season. Lundqvist has a 22-16-3 record, with a 2.10 goals-against-average and a .925 save percentage.
In the month of April, in particular, he's been at the top of his game. He has a sparkling .931 save percentage, along with nine wins.
The Rangers have surged in April to clinch a playoff spot, and Lundqvist has been a huge reason why. He's played in every game in the month and has been the driving force behind the best hockey they've played all year.
If the Rangers want to make any sort of deep run in the playoffs, then Lundqvist has to be at the top of his game. A hot goalie can take a team very far in the playoffs. If Lundqvist falters, then the Rangers will have a quick exit.
While there's no reason why Lundqvist won't perform well in the playoffs, the one concern is that he's played too much recently. He's played 13 straight games. All these games have been of the utmost importance. That can put a lot of stress on a goalie. That pressure is only magnified in a shortened season.
However, Lundqvist has been dominant all season, including in this most recent stretch, which should mean that he'll continue it into the playoffs.
If he can, the Rangers are a team that no one would want to face. A hot goalie can cure all woes and Lundqvist is perhaps the best goalie in the playoffs. If he can play like he has in April, then there's no reason why the Rangers won't make a deep playoff run.