3 Trades New York Mets Should Already Be Thinking About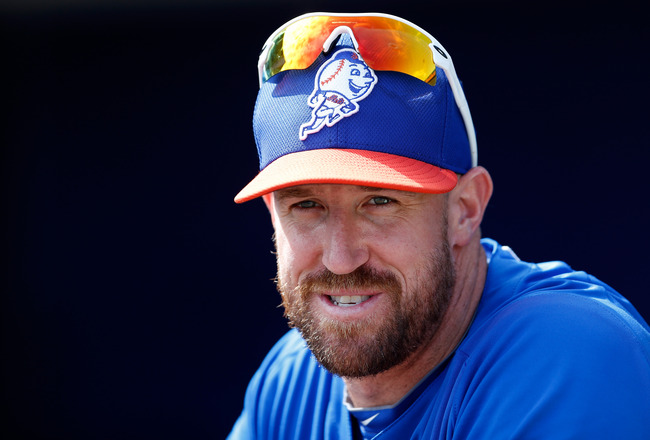 Chris Trotman/Getty Images
This season is a huge year for the New York Mets.
The Mets are in the final stages of rebuilding, and the organization has long said that it is a realistic goal to contend again in 2014.
Thus, if the Mets are to trade any players this season, the goal should be to help the team in 2014 and beyond, rather than a short-term solution. The Mets will be looking to trade an established major leaguer to a current World Series contender in return for a player who should crack the majors within a year or two.
With this in mind, here are three trades the Mets should already be thinking about:
John Buck for Joc Pederson (OF), Dodgers
Photo via: http://2.bp.blogspot.com/-eQ0fiyoCCro/T-DT3gWijwI/AAAAAAAAAj4/4-NcM51vjYk/s1600/Joc+Pederson+stance.JPG
Considering the Los Angeles Dodgers' current outfield consists of Carl Crawford, Matt Kemp and Andre Ethier, there is very little space for a prospect to get playing time for years.
Thus, the Mets may be able to steal a prospect like Joc Pederson for a not-so-big price such as John Buck.
Buck is having a superb first month of the season, but the Mets know he is not in the long-term plans of the team. Once Travis d'Arnaud heals from a broken foot he is the catcher of the future. Buck could be useful in helping d'Arnaud transition to the majors, but with his hot start he could also become good trade bait.
Moreover, Pederson is an excellent all-around prospect. The 21-year-old already has gap power and occasional home run power, and if he hits more home runs Pederson could become a five-tool player.
In his first professional season in 2011, Pederson hit .323 in 84 games with 20 doubles, two triples, 11 home runs, 65 RBI and 26 stolen bases.
Pederson has superb plate discipline, too. He racked up 43 walks in 2011 and 51 in 110 games last season playing in High-A.
Even more, Pederson continued his production last year, hitting .313 with 26 doubles, four triples, 18 home runs, 70 RBI and 26 stolen bases.
This season, Pederson is already tearing it up in Double-A. In 19 games, he is hitting .321 with six doubles, two triples, five home runs, 13 RBI and six stolen bases. He also boasts 19 runs and a 1.027 OPS.
Also, the current starting catcher for the Dodgers, A.J. Ellis, is not nearly as productive as Buck. For a team spending its way into World Series contention, Los Angeles could be looking for a catcher by mid-season.
And since the current Dodgers outfield is jam-packed for the foreseeable future, the Mets could realistically steal away a high-ceiling prospect like Pederson.
John Buck for Melvin Mercedes (RHP) and Kenny Faulk (LHP), Tigers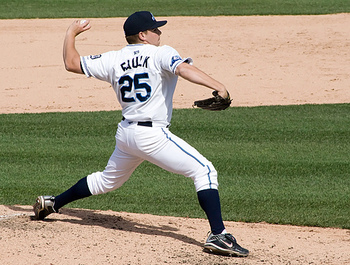 Kenny Faulk. Photo via: http://farm5.staticflickr.com/4048/4514960214_b305720622.jpg
Much like the Dodgers, the Detroit Tigers are a World Series contender that could be in the market for a catcher by midseason.
Their current catcher, Alex Avila, is hitting .177 with 18 strikeouts in 16 games so far.
As for the return package, relievers Melvin Mercedes and Kenny Faulk could soon become key contributors for the Mets bullpen.
Faulk has nothing flashy, but he consistently shows an ability to get strikeouts and get out lefties. Over his career, he averages an incredible 11.2 K/9. This season, pitching in Triple-A, Faulk has an unbelievable zero runs and 12 strikeouts in 6.1 innings. Faulk has consistently improved his command, and his control issues have lessened every season.
Even more, none of the seven lefties he has faced so far have a hit, and six of them have struck out.
Faulk has a career 2.96 ERA, and he could become an excellent lefty specialist or middle reliever.
But since a middle reliever is the peak of the 25-year-old Faulk's potential, the Mets could also land Melvin Mercedes.
Mercedes could become the full-time closer the Mets have long been missing.
He is not a strikeout pitcher like Faulk, but Mercedes does flash a high-90s fastball and a plus slider.
The 22-year-old Mercedes returned in 2012 after Tommy John surgery to post a solid 2.76 ERA and 1.21 WHIP in 65.1 innings at Class-A. He posted only 55 hits and 24 walks, but only recorded 43 strikeouts. The low strikeout rate is surprising considering his powerful fastball, but Mercedes still forces plenty of groundballs to make up for the lack of strikeouts.
This season, Mercedes has three saves and has yet to give up a run in 7.2 innings in High-A.
Mercedes is a flamethrower who can throw strikes and has the ability to close out games—something the Mets desperately need. Faulk is a pitcher who dominates lefties and gets strikeouts when needed, and he could even contribute to the bullpen by the end of the season.
Both of these players could become bullpen contributors for years to come. The Mets continue to find fill-ins every offseason for a bullpen that consistently ranks in the bottom of the league.
Instead, the Mets should look for prospects like Mercedes and Faulk who can contribute for a number of years.
Trading Buck for these two relievers would greatly benefit the future Mets.
Lucas Duda for Tim Berry (LHP), Orioles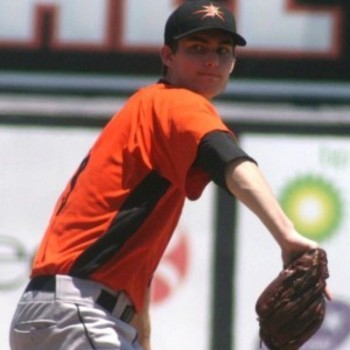 Photo via: http://orioles-nation.com/wp-content/uploads/2011/11/Tim-Berry1-300x300.jpg
In my opinion, the other most realistic trade bait is Lucas Duda.
At 27, Duda still has plenty of years left. But he has yet to fill his potential so far as a Met, and this team must start planning for next season and beyond when it plans to contend again. Duda's days are not doomed as a Met, but at this point the organization must consider trading him to a contender for a promising prospect.
Enter Tim Berry.
Berry was a 50th-round pick of the Baltimore Orioles in 2009.
At 6'3" and 180 pounds, the 22-year-old is skinny and underwhelming in size. But he makes up for it with an 88 to 92 mph fastball with movement, as well as an above-average curveball and changeup.
Berry is a good prospect for the Orioles, but he began his career with Tommy John surgery in 2009.
Thus, Berry may be able to come for only the price of Duda even though he has since put up two healthy seasons in a row.
Also, the main knock on Berry has been his command. Over four seasons, Berry has averaged 3.7 BB/9, as well as a 4.67 ERA and 1.41 WHIP. This could further lower his trade value, and the Mets must take advantage.
However, Berry has been magnificent this season in the Class-A Advanced Carolina League. In four starts, he has a 2.86 ERA, as well as 27 strikeouts and just four walks in 22.0 innings. Aside from an amazing 1.6 BB/9, Berry also sports a 0.91 WHIP.
He may still be regarded as a pitcher with command issues, but the numbers show that he improves every season with his command and ERA.
The Orioles are a realistic contender in the disappointing AL East, and Duda could serve as a spot outfielder and DH. The current DH, Nolan Reimold, is hitting .211 with a .292 on-base percentage and 18 strikeouts in 18 games.
By contrast, Duda is hitting .275 with an incredible .471 on-base percentage and five home runs in 18 games. Duda also has 18 strikeouts, but that can be forgiven if he gets on base nearly half of his at-bats.
If Berry's numbers continue all season, and if Duda continues to get on base and climb toward 20 to 25 home runs this season, then a midseason trade should certainly be considered.
Keep Reading

New York Mets: Like this team?