Detroit Lions 2013 Mock Draft: Predictions for Day 2 & Beyond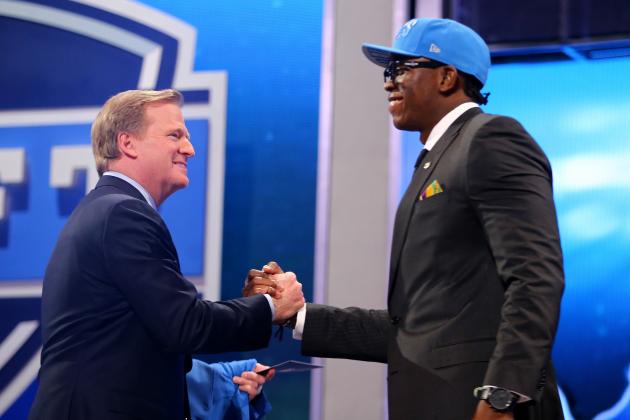 Al Bello/Getty Images

Now that Ezekiel Ansah is the newest member of the Detroit Lions, we can now turn our attention to prognosticating the events of Day 2 of the 2013 NFL draft.
And you should pay attention to what I have to say. I nailed the Ansah pick.
Wait, did I just jinx myself? Have I reversed it by mentioning it? My head hurts.
Anyway, there are still plenty of holes that the Lions need to address. Of particular importance are the offensive line and the pass rush.
So will they find the right fits to meet their needs? Click through to find out.
Begin Slideshow

»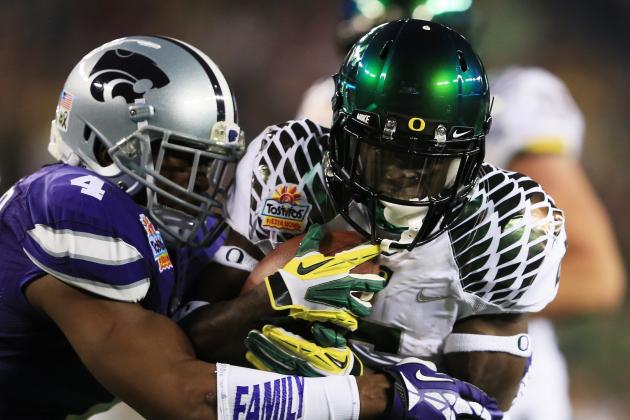 Doug Pensinger/Getty Images

Twice I tried to mock a receiver here for the Lions, but Cordarrelle Patterson and DeAndre Hopkins didn't last long enough to warrant the pick. There are other possible wide receivers here, but I don't see anyone with the downfield ability that would make sense.
With that in mind, Detroit is going to turn to another area of need: outside linebacker. Thus, the pick is Arthur Brown.
Brown has great side-to-side range and will be a true asset in the running game. Since the Lions have at least one linebacking position open for competition, it would make sense that they'd find a player who can help plug the holes against the run.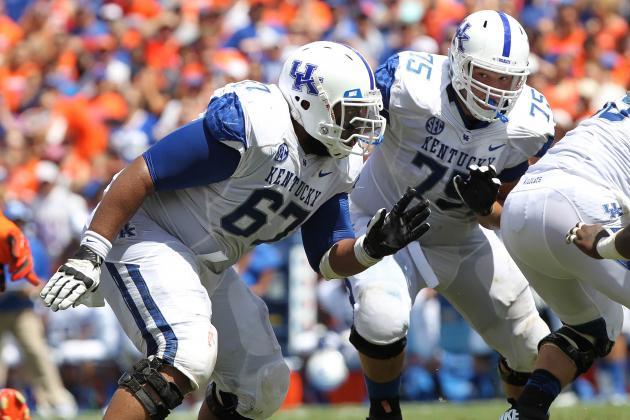 Kim Klement-USA TODAY Sports

It was no surprise that the two top offensive guards were drafted early on in the first round. Jonathan Cooper and Chance Warmack were top-tier talents.
But that doesn't mean there aren't any potential first-year starters left. Larry Warford, the big guard (318 pounds) from Kentucky, has enough talent to be a solid contributor for years.
The Lions need to address the hole that still exists now that Stephen Peterman is gone. Note that I said still exists, because it was there even when Peterman was a Lion.
Grabbing Warford will allow Detroit to keep Riley Reiff at tackle. I know there is some concern since Justin Pugh and Kyle Long went in the first that he won't be there, but the phrase "run on guards" has never been uttered before. And that just left a lot of talented players at the other positions that will take up the second round.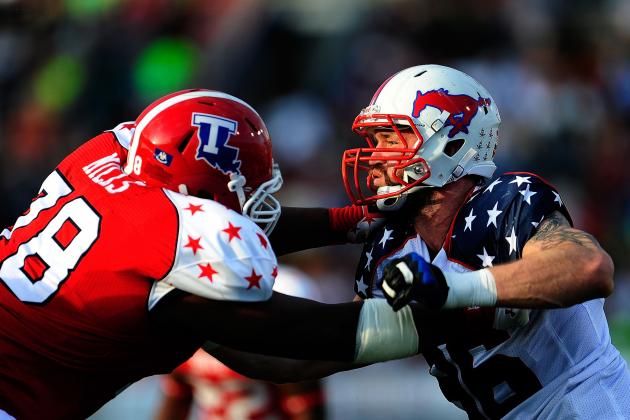 Stacy Revere/Getty Images

To an even higher degree than the last pick, the draft will have to shake out in a very fortuitous manner for the Lions to grab Jordan Mills in the fourth round. But it's certainly possible.
Many Lions fans are still in mourning that all three of the top tackles were gone by the time Detroit made their first pick. And it's understandable. All of those guys were special.
However, so is Mills. He is an almost sure-thing right tackle who should be able to help right away. At the least, he will give Jason Fox a run for his money.
Go do some research on David Bass. Read about his measurables and watch the tape. You'll love this pick before you're done.
Bass has earned a sixth-round grade from most experts, but Detroit would be smart to snap him up in the fifth to avoid losing him. The opportunity cost of other long shots to make the roster is nothing compared to the gem Bass could turn out to be.
He's a natural pass-rusher. His athleticism allows him to get by tackles and he closes with controlled speed. What I mean is that he arrives at the quarterback quickly, but also under control so he can finish the play.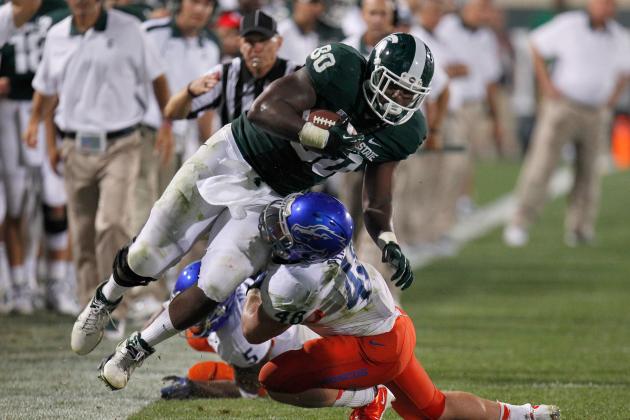 Gregory Shamus/Getty Images

Look, we're in the sixth round now. Worrying about finding that starting cornerback here is about as useful as a banking on a Matt Millen draft pick: It just isn't happening.
So the Lions would do well to think about finding a third tight end, and Dion Sims would be a great fit.
He's big enough to handle the blocking duties that most backup-to-the-backup tight ends draw. Plus, he's a solid pass-catcher who will at least hold on to the ball if it's thrown his way.
Sims isn't a game-breaker in the mold of the new-age tight end, but he'd be a nice, strong selection in the sixth round.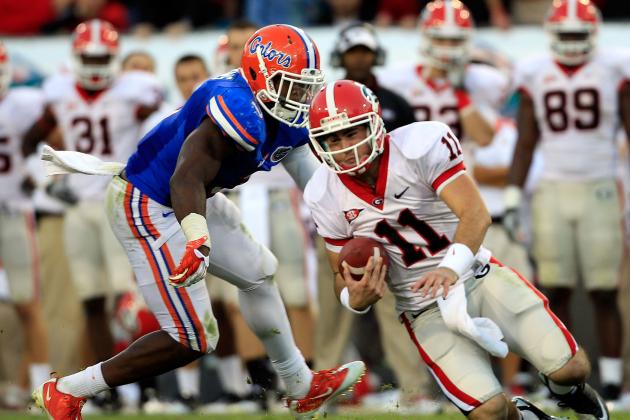 Sam Greenwood/Getty Images

A lot of people don't think Jelani Jenkins will be available this late in the draft. They may very well end up correct, but look at how the first round has played out. It's extremely possible that the Lions can add some linebacking depth with this pick.
Jenkins might not be able to crack the starting lineup right away, but he has plenty of the attributes that Schwartz covets. He's comfortable playing any type of coverage and has the speed to hang with tight ends.
Most importantly, he doesn't miss tackles. For a team that relies on its linebackers to stuff the run, Jenkins might be the right tonic for Justin Durant's departure.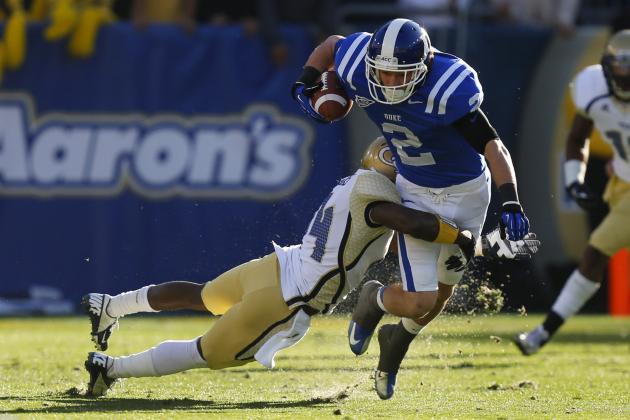 Josh D. Weiss-USA TODAY Sports

When you get to the end of the seventh round, you stop worrying about needs. It's time to find kids who could possibly make the roster as special teams contributors and have one specific skill that could translate to long-term success.
That's why Conner Vernon makes a ton of sense here.
Vernon can contribute on special teams right away and has an invaluable attribute in the form of his hands. If you watched his Senior Bowl performance, you saw a player who catches everything that is thrown his way.