NFL Draft 2013 Results: Full Recap and Order of Selection from Day 1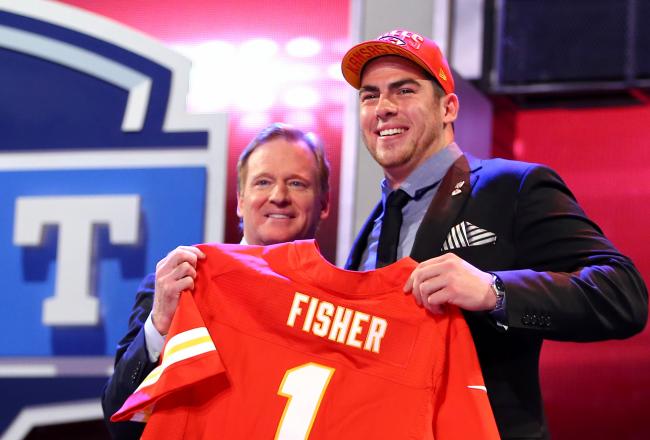 Al Bello/Getty Images
After all of the mock drafts, scouting reports and speculation, the NFL draft finally got underway on Thursday night. And boy, did it have its share of surprises.
Beyond the trades that already happened before the draft, there were five trades in the first round on Thursday. Offensive linemen dominated the early portion of the round, while the offensive skill positions were largely ignored, as no running backs were selected and just one quarterback and three wide receivers were picked.
As was expected, the Kansas City Chiefs opened the draft by selecting an offensive tackle, though they perhaps surprised some folks by taking Eric Fisher over Luke Joeckel. The Texas A&M tackle didn't last long, however, going No. 2 to the Jacksonville Jaguars.
The first trade and huge shocker of the draft came with the No. 3 pick, when the Oakland Raiders cut a deal with the Miami Dolphins. The belief was that offensive tackle Lane Johnson would be the pick, but instead, it was Oregon's outside linebacker Dion Jordan that was selected by the Dolphins.
Jim Wyatt of The Tennessean has the details of that trade:
The #Raiders get Miami's 12th (1st round) and 42nd (2nd) pick #tntitans

— Jim Wyatt (@jwyattsports) April 26, 2013
It was obvious that teams felt the strength at the top of this draft was on the offensive line and with the pass-rushers. The top seven picks fit those positions, with the Eagles taking tackle Lane Johnson, the Detroit Lions selecting defensive end Ezekiel Ansah, the Cleveland Browns nabbing outside linebacker Barkevious Mingo and the Arizona Cardinals taking guard Jonathan Cooper.
It wasn't long before we saw another huge trade, as the St. Louis Rams moved up to No. 8 to select electrifying wide receiver Tavon Austin. The Buffalo Bills received quite a bounty in that trade, according to Albert Breer of NFL.com:
Complex trade ...Bills get a 1 (16),2 (46), 3 (78), 7 (222); Rams get Tavon Austin at 8 and Bills' 3 (71).

— Albert Breer (@AlbertBreer) April 26, 2013
It was all about the offensive linemen early, as six of the first 11 picks were big uglies.
The Carolina Panthers would get one of the steals of the draft at No. 14, as stud Star Lotulelei fell to them, filling a huge need with one of the draft's best early values.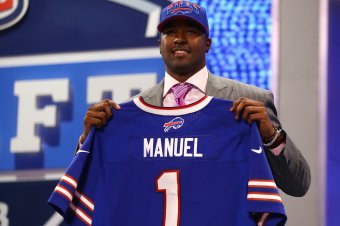 The next major surprise came at No. 16, as the Bills selected quarterback EJ Manuel with Geno Smith and Ryan Nassib—whom Bills boss Doug Marrone coached at Syracuse—still on the board. The Bills' plan to trade back and draft a quarterback worked out perfectly, as the team added draft picks and still got the guy they wanted all along.
The Pittsburgh Steelers would then grab an excellent value themselves, nabbing Jarvis Jones, who led the nation with 14.5 sacks and 24.5 tackles last year for Georgia but fell down boards after his slow 40-yard dash time at his pro day.
After that selection, we would get another trade, as the San Francisco 49ers traded up with the Dallas Cowboys before selecting safety Eric Reid. Dan Graziano of ESPN has the details on the trade:
Dallas gets picks 31 and 74 (3rd round) for pick 18.

— Dan Graziano (@espn_nfceast) April 26, 2013
The next trade would come at the No. 22 pick, as the Atlanta Falcons would move up in a trade with St. Louis, who, of course, obtained the pick from last year's Robert Griffin III trade with the Washington Redskins. The Falcons selected cornerback Desmond Trufant. Got all that?
Jason La Canfora of CBS has the trade information:
The Rams pick up 92nd overall pick and a 6th, while the Falcons move up and get a 7th rounder in 2015

— Jason La Canfora (@JasonLaCanfora) April 26, 2013
One of the most surprising drops of the first round would end at No. 23, as the Minnesota Vikings selected Florida defensive tackle Sharrif Floyd, a player that was being mocked as high as No. 3 before the draft. At No. 25, the Vikings would again improve the defense, selecting cornerback Xavier Rhodes.
And Minny wasn't done. The team then traded back into the first round, nabbing the No. 29 selection from the New England Patriots. At this point, there was plenty of speculation that the team would select Manti Te'o, but instead, the Vikings selected wide receiver Cordarrelle Patterson, a freakish athlete from Tennessee who is a bit of a project.
Jeff Howe from the Boston Herald has the info on the bounty the Vikings gave up to make the trade:
Pats get 52, 83, 102 and 229 from the Vikings.

— Jeff Howe (@jeffphowe) April 26, 2013
If you're a Vikings fan, you have to feel great about this draft.
If you're a fan of Geno Smith or Te'o, however, you're surely disappointed, as the two hyped prospects dropped out of the first round. Smith could feasibly be the first player off the board in the second round to the Jaguars or go early to the Eagles, while Te'o shouldn't last long into the second round either.
Every pick from Thursday night's draft can be found below.
Draft Results
1. Kansas City Chiefs: Eric Fisher, OT, Central Michigan
2. Jacksonville Jaguars: Luke Joeckel, OT, Texas A&M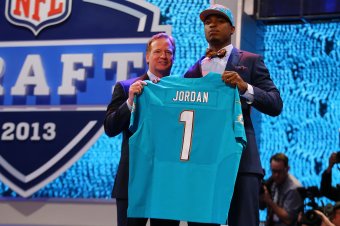 3. Miami Dolphins (from Oakland Raiders): Dion Jordan, DE/OLB, Oregon
4. Philadelphia Eagles: Lane Johnson, OT, Oklahoma
5. Detroit Lions: Ezekiel Ansah, DE/OLB, BYU
6. Cleveland Browns: Barkevious Mingo, DE/OLB, LSU
7. Arizona Cardinals: Jonathan Cooper, OG, North Carolina
8. St. Louis Rams (from Buffalo Bills): Tavon Austin, WR, West Virginia
9. New York Jets: Dee Milliner, CB, Alabama
10. Tennessee Titans: Chance Warmack, OG, Alabama
11. San Diego Chargers: D.J. Fluker, OT, Alabama
12. Oakland Raiders (from Miami Dolphins): D.J. Hayden, CB, Houston
13. New York Jets (from Tampa Bay Buccaneers): Sheldon Richardson, DT, Missouri
14. Carolina Panthers: Star Lotulelei, DT, Utah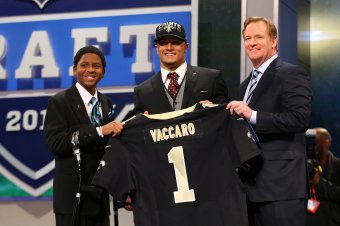 15. New Orleans Saints: Kenny Vaccaro, S, Texas
16. Buffalo Bills (from St. Louis Rams): EJ Manuel, QB, Florida State
17. Pittsburgh Steelers: Jarvis Jones, OLB, Georgia
18. San Francisco 49ers (from Dallas Cowboys): Eric Reid, S, LSU
19. New York Giants: Justin Pugh, G, Syracuse
20. Chicago Bears: Kyle Long, G, Oregon
21. Cincinnati Bengals: Tyler Eifert, TE, Notre Dame
22. Atlanta Falcons (from St. Louis Rams via Washington Redskins): Desmond Trufant, CB, Washington
23. Minnesota Vikings: Sharrif Floyd, DT, Florida
24. Indianapolis Colts: Bjoern Werner, DE, Florida State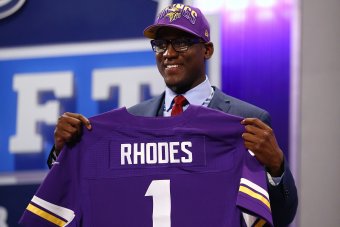 25. Minnesota Vikings (from Seattle Seahawks): Xavier Rhodes, CB, Florida State
26. Green Bay Packers: Datone Jones, DE, UCLA
27. Houston Texans: DeAndre Hopkins, WR, Clemson
28. Denver Broncos: Sylvester Williams, DT, North Carolina
29. Minnesota Vikings (from New England Patriots): Cordarrelle Patterson, WR, Tennessee
30. St. Louis Rams (from Atlanta Falcons): Alec Ogletree, LB, Georgia
31. Dallas Cowboys (from San Francisco 49ers): Travis Frederick, C, Wisconsin
32. Baltimore Ravens: Matt Elam, S, Florida
This article is
What is the duplicate article?
Why is this article offensive?
Where is this article plagiarized from?
Why is this article poorly edited?