Which Cuse Players Had Disappointing Careers After High NFL Draft Picks?
Use your ← → (arrow) keys to browse more stories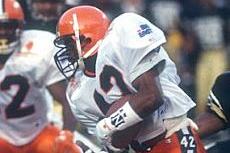 With the NFL draft just one day away, we're picking out some of the best and worst draft selections in Syracuse history. Tuesday, we highlighted the good, the ones who perhaps overachieved when considering their slotting in the NFL Draft.