The NBA playoffs will hit crunch time of the opening round over the weekend. Teams looking to advance quickly must take care of business while those hoping to make a comeback need to start turning the tide in their favor.
So far, the biggest disappointment of the first round has been the lack of drama. Some of that's due to the lack of competitiveness in certain matchups, but even those that were expected to be close haven't quite reached the a playoff intensity quite yet.
It wouldn't be a surprise to see that change over the weekend. It's time for things to heat up. Here's a look at the schedule for both days of playoff action followed by some storylines to watch. For a complete look at the Round 1 schedule, visit the league's official site.
Weekend Schedule
Saturday
| | | | |
| --- | --- | --- | --- |
| Time (ET) | Road Team | Home Team | Channel |
| 2 p.m. | Nets | Bulls | TNT |
| 4:30 p.m. | Clippers | Grizzlies | TNT |
| 7 p.m. | Pacers | Hawks | ESPN |
| 9:30 p.m. | Thunder | Rockets | ESPN |
Sunday
| | | | |
| --- | --- | --- | --- |
| Time (ET) | Road Team | Home Team | Channel |
| 1 p.m. | Knicks | Celtics | ABC |
| 3:30 p.m. | Heat | Bucks | ABC |
| 7 p.m. | Spurs | Lakers | TNT |
| 9:30 p.m. | Nuggets | Warriors | TNT |
Key Storylines
Will any top seeds get challenged?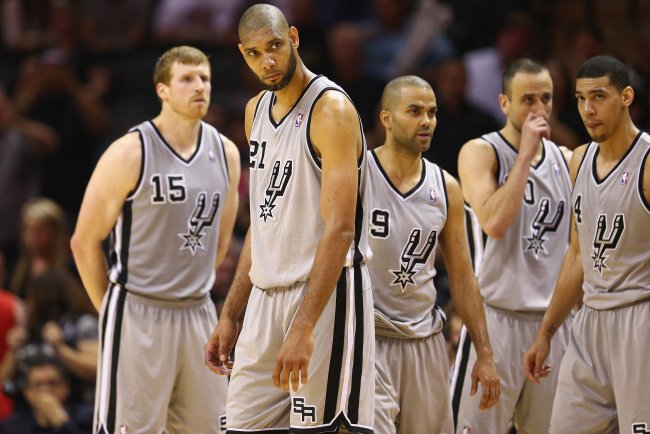 Ronald Martinez/Getty Images
In the early going, the top two seeds in each conference have been on cruise control. The defending champion Miami Heat are still playing in first gear and are still on top of the Milwaukee Bucks, which isn't good news for the rest of the league.
Out west, the Oklahoma City Thunder and San Antonio Spurs are on a collision course. Both teams took care of business at home in the first pair of games by showing off the depth and talent that carried them throughout the regular season.
That leaves the the New York Knicks. If one of the top four seeds is going to endure a fight, it's probably them. They head into Friday night's game up 2-0, but the Boston Celtics were a much better team at home this season and could make it interesting.
Which stars are going to step up?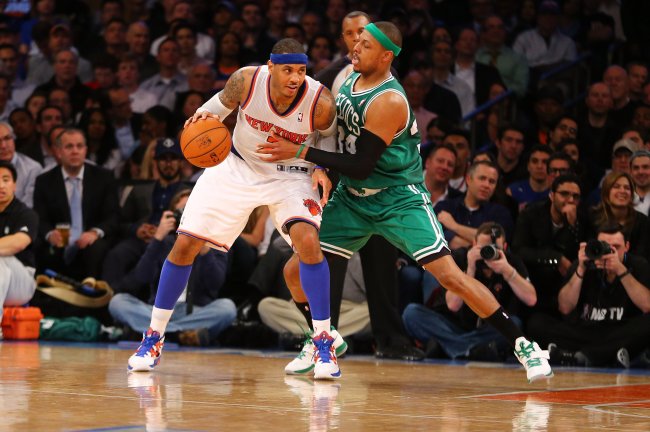 Al Bello/Getty Images
The playoffs are about star power. Depth can help a team get in position to win, but when the going gets tough, it comes down to which players are going to hit the big shots. As the business end of the opening round arrives, it's time for those key players to shine.
One name to keep an eye on is Carmelo Anthony. As mentioned above, that's one series that could get close if the Celtics can find some rhythm at home. Everybody knows Anthony can fill it up, but he needs to start getting his teammates more involved if they are going to make a deep run.
Chris Paul is off to a terrific start in the Los Angeles Clippers' series with the Memphis Grizzlies. He made the game-winner in Game 2 and if he can continue to build off the quick start, the Clippers will become a dangerous group.
Is any series going the distance?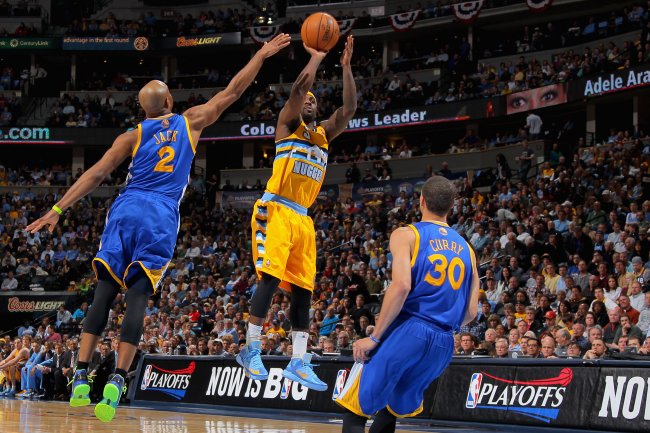 Doug Pensinger/Getty Images
Right now, the Denver Nuggets and Golden State Warriors seem like the most likely pairing to reach Game 7. It was clear from the outset that the teams were pretty evenly matched, and with those two explosive offenses, fans would probably love a long series.
Otherwise, there doesn't look like much extended series potential. Unless something changes, it looks like the round will be highlighted by the higher seeds taking care of business. That wouldn't necessarily be a bad thing, however.
It means there would be more talented teams left for the second round. Under that scenario, the likely tremendous play in that round across the board would more than make up for what's setting up to become a pretty lackluster first. The picture will be more clear after the weekend.