4 Biggest Things That Went Wrong for Philadelphia Flyers in 2013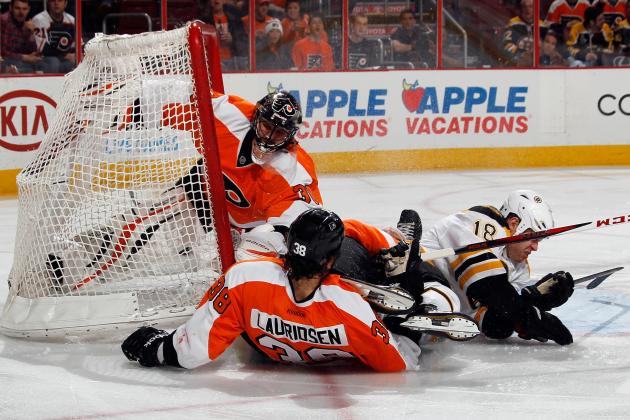 Bruce Bennett/Getty Images

A season that began with so much anticipation, hope and promise will end with a whimper for the Philadelphia Flyers this Saturday in Ottawa.
A team that returned so many pivotal pieces from a group that made it to the Eastern Conference semifinals a year ago won't even qualify for the playoffs following this lockout-shortened 48-game campaign.
In the weeks to come, fingers will be pointed and blame will be doled out, but here are the four biggest things that went wrong for the Flyers in 2013.
Begin Slideshow

»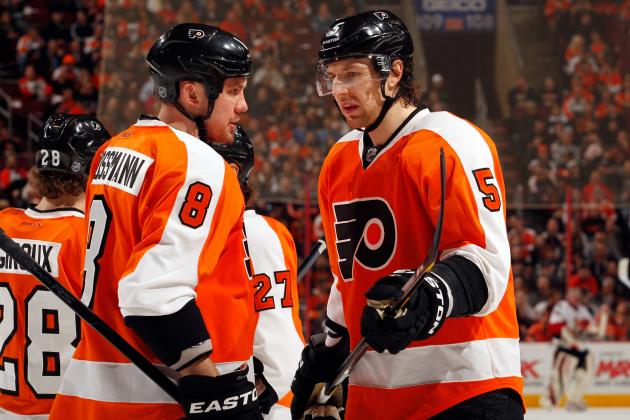 Rob Carr/Getty Images

Injuries impact every team every year.
And while they can't be used as an excuse, the reality is that man-games lost due to injuries played a significant role in Philadelphia's struggles this season.
The biggest blows came on the back end, where an already suspect defensive group became exposed after injuries to Andrej Meszaros, Braydon Coburn and Nicklas Grossmann.
Meszaros, a solid two-way defender who can play in all situations, dressed in just 11 games this season after injuring his shoulder twice in a span of less than three months. Meanwhile, Coburn will miss the final 15 games of the year with a left shoulder separation, while Grossmann loses out on the final 18 games of this abbreviated campaign after sustaining a concussion in mid-March.
The loss of three projected regulars on defense forced the Flyers to give regular minutes to depth blueliners like Bruno Gervais, Kent Huskins and Kurtis Foster and forced youngsters like Oliver Lauridsen and Brandon Manning into action sooner than anticipated.
But the injury bug didn't just impact the Flyers on defense.
Scott Hartnell, the team's leading goal scorer from a season ago, injured his left foot in just the third game of the year and subsequently missed 16 games. As a result of the early setback, the power forward just never really got on track this season, as he's managed just eight goals and 10 points in 27 games since returning.
Meanwhile, Danny Briere missed 10 games during a critical stretch from mid-March to mid-April with a concussion. He has registered just two assists in six games since returning, which has done little to improve a terribly disappointing year for the 35-year-old veteran, who has notched just five goals and 15 points in 32 games this year.
Injuries alone certainly aren't to blame for Philly's poor performance this season, but it's awfully difficult to recover when so many critical bodies miss so much time.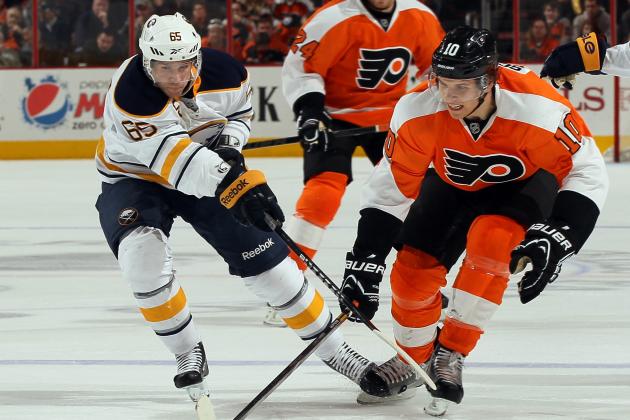 Elsa/Getty Images

The Flyers certainly enjoyed some nice seasons from several skaters this year.
Unsurprisingly, Claude Giroux is currently leading the team in scoring and while he hasn't been otherworldly this season, he's been steady and consistent, recording 47 points in 46 games to date. If the current scoring structure holds, it will be the third straight season in which Giroux has paced the Orange and Black in scoring.
Meanwhile, Philadelphia has enjoyed very nice campaigns from both Jake Voracek and Wayne Simmonds. Voracek (21 goals) will very likely finish the season as the Flyers' top goal scorer and has already set a new personal-high for goals in a single season despite the lockout-shortened year. He has developed into the dynamic offensive talent that made him the seventh overall selection in the 2007 draft.
And while Voracek brings a finesse offensive touch to Philadelphia, Simmonds has emerged as one of the preeminent power forwards in the game today. After a career-high 28 goals and 49 points in a full 82 games last season, Simmonds has responded with another solid campaign registering 15 goals and 32 points in just 43 games this year.
But when the Flyers haven't received scoring from those three, they just haven't scored this season.
As previously mentioned, Hartnell has just eight goals this season after a career-best 37 conversions a year ago. Briere seems to have completely lost his ability to score having tallied just five times this season while Max Talbot has followed up a career-high 19 goals last season with just five goals this year.
What's worse, sophomores Brayden Schenn and Sean Couturier haven't taken the offensive step forward this season the Flyers were counting on them to take. Schenn has just eight goals in 45 games this year while Couturier has only four conversions in 44 games.
Giroux, Voracek and Simmonds have accounted for nearly 38 percent of Philadelphia's goals scored to date, and while your best players need to be your best players, they also must have help. That help simply wasn't there this season.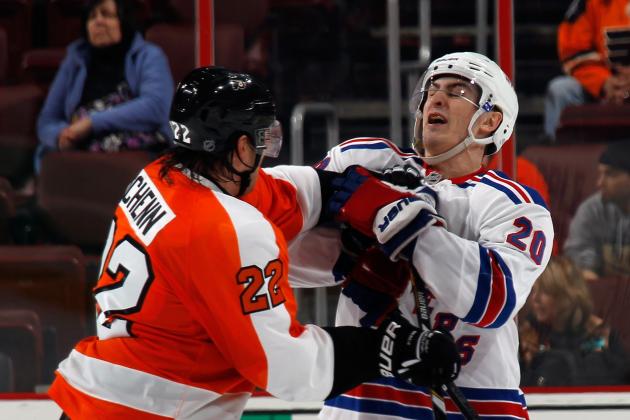 Bruce Bennett/Getty Images

Another area of tremendous concern this year for Philadelphia has been its struggles against opponents within the Atlantic Division.
With the shortened 48-game season came enhanced inter-divisional play and a schedule that exclusively featured conference opponents.
By the time the season ends this weekend, the Flyers will have played 18 games against Atlantic Division opponents (they host the New York Islanders tonight), and they have won just five of those outings to date.
Of a possible 34 standings points available in divisional play so far, Philadelphia has claimed just 12, which stands as the single biggest contributing factor as to why the Flyers are currently last in the Atlantic and mathematically eliminated from postseason contention.
The warning signs for this were there from the start when Philly dropped contests to the Pittsburgh Penguins and New Jersey Devils within the first four days of the new campaign. The Flyers currently do not have a winning record against a single divisional opponent and won back-to-back games within the Atlantic just once this year.
Philadelphia will finish the season 1-4 against New Jersey, 1-2-1 versus Pittsburgh, 2-3 against the New York Rangers and are 1-1-1 versus the Islanders heading into tonight's clash.
The stretch that ultimately doomed the Orange and Black came March 5 to April 9, when the team dropped seven of eight games within the division.
The importance of divisional games cannot be overstated. A regulation decision is effectively a four standings point-swing. Unfortunately for the Flyers, they've been on the wrong side of those swings far too often this season.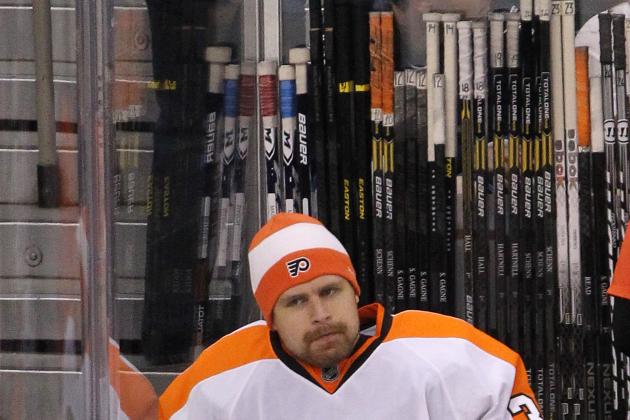 Marianne Helm/Getty Images

It wouldn't be a season of Flyers' hockey without some sort of goaltending controversy.
The reason this is the last of the four aspects referenced as to what went wrong for the Flyers this season is to emphasize the fact that goaltending is not exclusively to blame for Philadelphia's forgettable season.
The fact remains, however, that while goaltending isn't solely blame, it also wasn't a significant difference maker for the Flyers either. In fact, more often than not, it was below average.
Philadelphia's goaltending situation was a nightmare from the beginning. The enigmatic Ilya Bryzgalov was clearly the team's starter, but there was no safety valve to allow Bryzgalov to rest or any contingency plan should his traditionally inconsistent play continue.
Philadelphia inked Michael Leighton on the first day of free agency last summer to serve as Bryzgalov's back up. That signing resulted in one appearance this season: a brutal 5-1 loss at Tampa Bay in late January.
The Flyers then orchestrated a trade for now four-time Philadelphia Flyers netminder Brian Boucher before finally coordinating a transaction to bring Steve Mason over from Columbus at the trade deadline.
All the while, Bryzgalov was Bryzgalov.
There were certainly flashes of brilliance from the Russian netminder this season. Sixteen times this season, Bryzgalov allowed two goals against or fewer to go along with nine outings this year with 30 or more saves.
In the end though, the numbers don't lie.
Bryzgalov's 2.84 goals-against average currently ranks 37th among all NHL netminders, while his .898 save percentage is 42nd overall. He's managed just one shutout this season and has lost more games (20) than he's won (17).
What's worse, Bryzgalov faltered most noticeably during the most critical point of the season. In 10 starts from mid-March to mid-April, Philadelphia's $51 million goaltender allowed 30 goals against while registering a 3.10 goals-against average coupled with a .894 save percentage.
Those were all must-win games for the Flyers and instead of rising to the occasion and stealing a game or two for his team, Bryzgalov produced numbers even more disappointing than his already pedestrian season totals.