Given the quality and depth of the 2013 NFL draft class, there should be plenty of wheeling and dealing during Thursday evening's first round in Radio City Music Hall.
Plenty of intriguing reports are being leaked by insiders, but it's always difficult to distinguish which ones are legitimate. Smokescreens are prevalent in an effort to gain leverage on a prospective trade—especially at this critical juncture before teams officially go on the clock.
Let's take a look at the latest buzz, which indicates that plenty of moves will be made.
Kansas City Chiefs Torn on No. 1 Overall Selection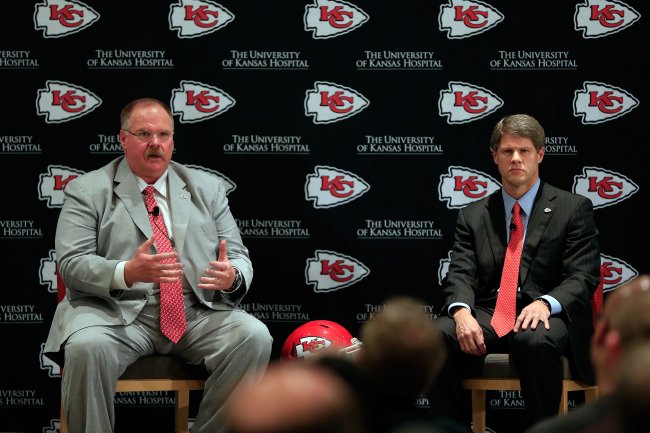 Jamie Squire/Getty Images
It appears that the Chiefs' new regime is set on acquiring a top-flight offensive tackle with the top choice. However, there is conflict between the coaching staff and front office as to which player is the best fit.
Jason Cole of Yahoo! Sports reports that Andy Reid and the coaches prefer to choose Central Michigan's Eric Fisher, while GM John Dorsey and the Kansas City scouts would like to nab Texas A&M standout Luke Joeckel:
Debate in KC is coaches want Fisher, scouts want Joeckel. Not a rift, just a debate. Dorsey is from Ron Wolf tree, prefer big school player

— Jason Cole (@JasonColeYahoo) April 25, 2013
This isn't such a bad problem to have, and Cole notes that it isn't causing major conflict within the organization. Both players should become franchise left tackles and instant starters—depending, of course, on the Branden Albert trade situation.
Jay Glazer of FOX Sports indicates that the Chiefs are still fielding calls about a prospective trade, but if they hold onto the top spot, he believes Fisher will be the one to be taken:
Chiefs are still fielding calls about top pick but if they don't trade it, again, I believe Fisher will be the guy

— Jay Glazer (@JayGlazer) April 24, 2013
Fisher played every position on the offensive line with the Chippewas, according to the Detroit Free Press' Dave Birkett. That makes him a better right tackle prospect, which would be either player's position should Albert return.
On the other hand, Joeckel doesn't have any concerns about lack of competition and is more technically sound, albeit less athletic. It will be interesting to see what the Chiefs do, that's for sure.
Cleveland Browns May Trade Up to No. 3 overall Pick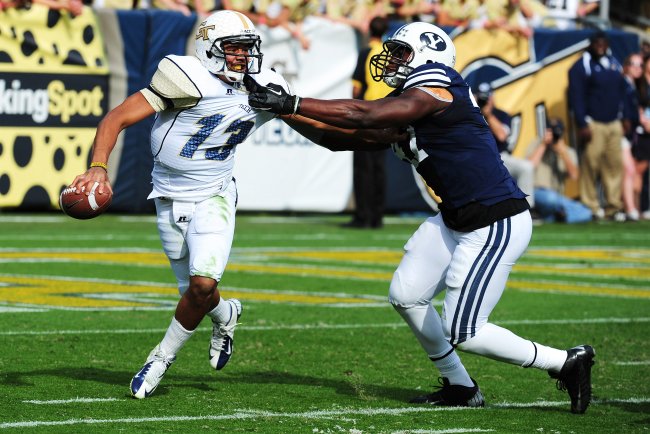 Scott Cunningham/Getty Images
Speculation has been that the Browns would move down in order to acquire more assets—particularly the second-round pick lost in the 2012 supplemental draft with the selection of Josh Gordon.
Apparently the new, bold front office led by GM Mike Lombardi and CEO Joe Banner aren't shying away from dealing their sixth overall pick to the Oakland Raiders for the third pick.
NFL Network's Albert Breer broke news of this potential development:
The rumor out there that Browns could reverse field and deal up to third overall? Would likely be to jump Eagles/Lions for a pass rusher.

— Albert Breer (@AlbertBreer) April 25, 2013
Michael Silver of Yahoo! Sports supported Breer's assertion of the Browns' interest in a pass-rusher and provided his opinion as to whom Cleveland might take:
If Cleveland trades up to get the Raiders' pick at 3, I believe Browns are targeting Ansah

— Michael Silver (@MikeSilver) April 25, 2013
Ezekiel Ansah of BYU is an extremely versatile player and has the freakish athleticism to thrive in Ray Horton's new, attacking 3-4 scheme at either defensive end or outside linebacker. Another player to watch at this slot would be Oregon's Dion Jordan, who has similar physical gifts with a little less strength, but a little bit better football savvy and coverage ability.
Tavon Austin: No. 1 Prospect on Buffalo Bills' Big Board; GM Not Ruling out QB at No. 8

Matt Miller Breaks Down Tavon Austin
Here's something interesting: despite being just 5'8" and 174 lbs., Austin is considered the best football player by the Bills' brass, according to NFL Network's Ian Rapoport:
The No. 1 overall player on the #Bills board? Tavon Austin. So... Would they trade that? Intrigue #NFLDraft

— Ian Rapoport (@RapSheet) April 25, 2013
That makes it a serious possibility that the slot dynamo will go in the Top 10, which would be surprising but not out of the question considering Austin's versatility. The former Mountaineer caught over 100 passes in his final two college seasons and displayed outstanding durability despite his diminutive stature.
Austin is also capable of taking handoffs out of the backfield and being a dangerous return man. Buffalo could use a dynamic playmaker to place alongside star WR Stevie Johnson.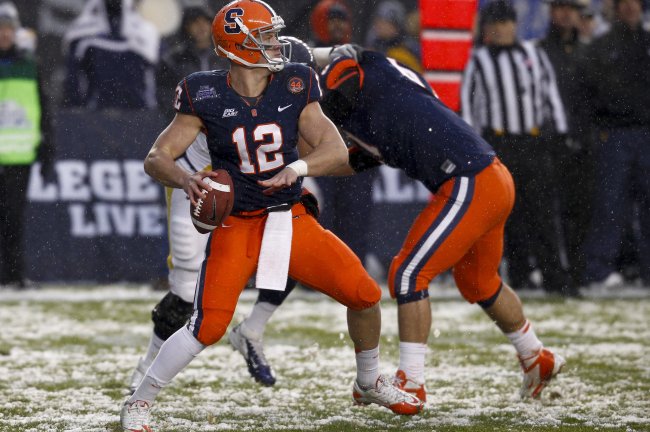 Jeff Zelevansky/Getty Images
Someone needs to throw the ball to those weapons, though, and GM Buddy Nix indicated on that this quarterback class is better than many believe, per Chris Brown of BuffaloBills.com:
This quarterback class is better than everybody thinks it is. There's about five or six of those guys, maybe seven, that do a lot of things good and do them good enough to win. I said this from the start that two or three of these guys will be franchise quarterbacks
That won't silence the possible match between Syracuse QB Ryan Nassib and his college coach Doug Marrone, who now coaches the Bills. There is reportedly competition for Nassib near the top in the form of Buffalo's AFC East rival, the New York Jets (h/t ESPN).
No. 8 overall may seem too high for Nassib, but if he or another signal-caller is the answer for the future, Nix doesn't seem hesitant to pull the trigger.
San Francisco 49ers Looking to Move Up, Manti Te'o to the NFC North and Other Buzz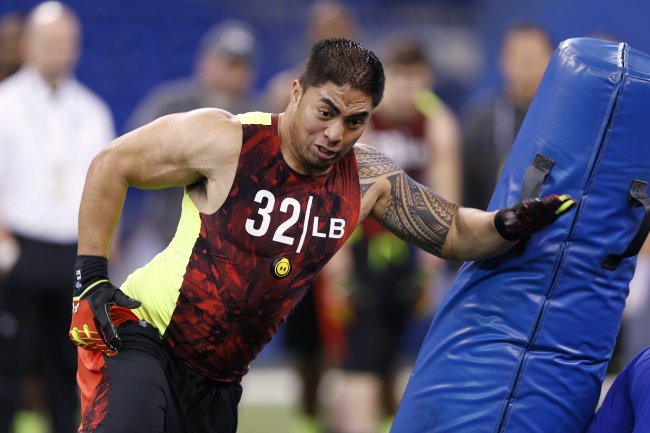 Joe Robbins/Getty Images
The Niners have 13 total picks, including two at Nos. 31 and 34. That gives them the ammunition to move up and acquire a marquee prospect.
ESPN's Adam Schefter reports that GM Trent Baalke is considering moving as high as the Top 15:
Increasing chatter of SF coming up into top 15. 49ers looking to strengthen an already tough defense.

— Adam Schefter (@AdamSchefter) April 25, 2013
Missouri defensive tackle Sheldon Richardson appears to be the most likely target, according to Yahoo! NFL insider Jason Cole:
It increasingly sounds like SF wants a DL via trade up with Sheldon Richardson as the likely target.

— Jason Cole (@JasonColeYahoo) April 25, 2013
Richardson would make a lot of sense for the Niners, whose defense wasn't quite the same when veteran star Justin Smith suffered a torn triceps muscle. Smith is going to turn 34 during the season, and there isn't much depth across the defensive front.
As far as former Notre Dame All-American Manti Te'o is concerned, the Minnesota Vikings and Chicago Bears are vying for his services, per NFL Network's Ian Rapoport:
The #Vikings and #Bears love Manti Te'o. If Minnesota wants to grab him, they'll need to jump up over Chicago. That's what they plan to do

— Ian Rapoport (@RapSheet) April 25, 2013
The Bears no longer have Brian Urlacher in the heart of their defense, and Te'o seems like a strong candidate to replace him. However, the Vikings hold the Nos. 23 and 25 selections and could leap frog Chicago at No. 20 with those type of assets.
Schefter reports that another team with a second first-round pick, the St. Louis Rams, are looking to trade out of that spot:
Rams' second-first round pick, No. 22 overall, clearly is for sale. STL looking to deal out of 22.

— Adam Schefter (@AdamSchefter) April 25, 2013
A sensible trade suitor would appear to be the Atlanta Falcons, who are targeting a pass-rusher with either the 22nd or 23rd pick, according to Cole:
Hearing that goal for ATL in possible trade up is a DE/pass rusher. Best ATL can do is prob 22 or 23, putting them in range for Bjorn Werner

— Jason Cole (@JasonColeYahoo) April 25, 2013
Werner may appear like a solid choice, but there are a couple of his ex-teammates that are creating even more of a stir than he is.
Late Risers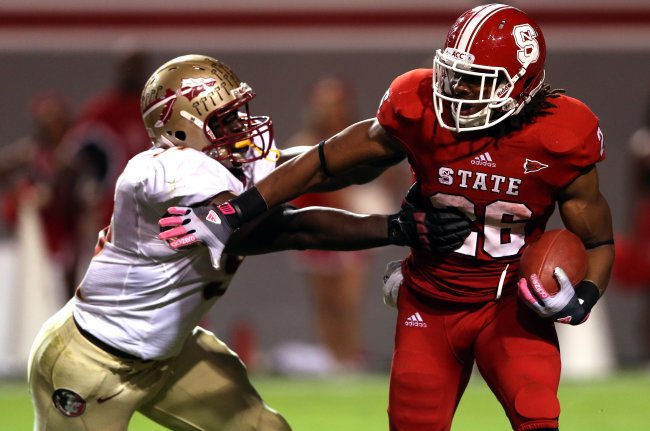 Streeter Lecka/Getty Images
Several prospects are experiencing rapid ascents on draft boards, and CBS Sports' Pat Kirwan listed six players who are doing so based on conversations he had this past week.
Which late riser do you like most?
OT Menelik Watson of Florida State was labeled as one of the best right tackle prospects one coach had evaluated in 10 years. Houston cornerback D.J. Hayden drew concerns about a torn blood vessel, but since checking out medically, his stock is soaring.
A renowned secondary coach dubs Hayden as the No. 2 cornerback prospect in the draft—better than Watson's highly touted teammate Xavier Rhodes and Washington's Desmond Trufant.
Another Seminole has popped out into first-round contention: DE Tank Carradine, who tore his ACL in the regular season finale. Kirwan indicates that he ran well recently and may have leapfrogged potential first-round teammate Bjoern Werner, who also plays defensive end.
NFL Network's Albert Breer and his colleague Steve Wyche seem to be in agreement that Carradine could go as high as No. 19 overall to the New York Giants:
Heard @wyche89 say it on NFLAM this morning, and I'd concur -- Florida State DE Tank Carradine would make a lot of sense for the Giants.

— Albert Breer (@AlbertBreer) April 24, 2013
Speedy CB Darius Slay is considered by one secondary coach to have more upside than his coveted Mississippi State teammate Johnthan Banks. Slay received a late invitation to New York City, which seems to indicate he'll go late in Round 1 or early in Day 2.
Two other Pac-12 standouts round out the rest: Southern California wideout Robert Woods, praised for his polish and football IQ, and Oregon's Kyle Long, whose versatility as a guard and offensive tackle has him as a buzz-worthy candidate to land somewhere in the top 32.