Miami Dolphins 7-Round Mock Draft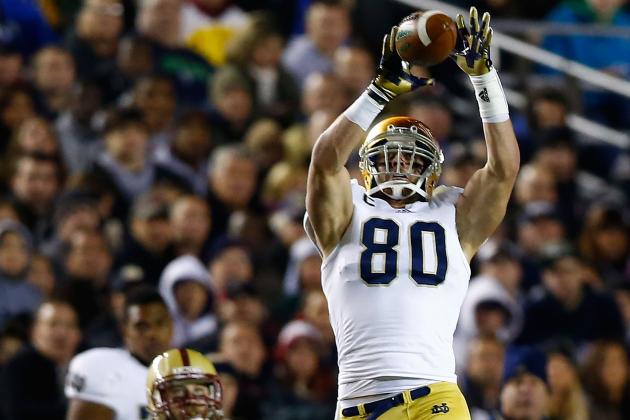 Jared Wickerham/Getty Images

With the 2013 NFL draft taking place just hours from now, fans are counting down the minutes until they hear who will become the latest members of their team's roster.
The Miami Dolphins currently have 11 picks in this year's draft, and a strong draft class would help put the finishing touches to their rebuilt roster.
This mock draft will include my predictions of whom Miami will select in every round of the draft, and also add a few undrafted free agents who might fit their needs too.
On the final page, I will include my own personal preferences for every selection, just to add to the debate!
Just a point of clarification: I will not be predicting any trades. It is too difficult to guess what may happen on draft day, and as such, all my selections will take place using Miami's current positions in the draft.
So, without any more talk, here is my seven-round mock draft for the Miami Dolphins.
Begin Slideshow

»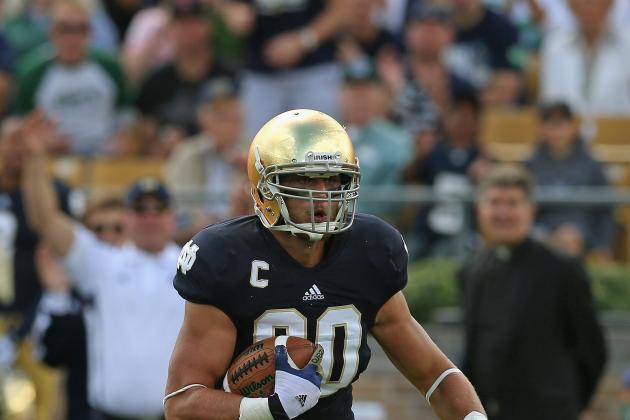 Jonathan Daniel/Getty Images

If the Dolphins want a left tackle, they will have to trade up for Lane Johnson, Eric Fisher or Luke Joeckel. It's a possibility on draft day, but as I'm not predicting trades, it means the first-round pick will be made at No. 12.
If Miami fails to trade up, I can see the Dolphins looking to trade down, as there is very little on offer with the twelfth pick that would help them immediately, and would offer good value. Whether they will find a trading partner is a different question.
The best value pick at 12 might be to select a defensive tackle, but it isn't a huge need. If Star Lotulelei falls to 12, Miami may take one of the elite prospects in the draft. Sheldon Richardson would also be a good pick and is projected by some as a 4-3 end too, but there are concerns about a suspension in college.
Bjoern Werner, Tank Carradine and Xavier Rhodes fill needs but are considered to be reaches and may not be scheme fits, while Jonathan Cooper and Tyler Eifert are system fits and elite talents, but play at undervalued positions in the NFL. In my humble opinion, there aren't any other real candidates for the pick; Tavon Austin is the popular wild card, but I don't see him getting to 12 either.
Cooper has the size (6'4", 309), character and ability to instantly become a starter in Miami and fits the zone-blocking scheme perfectly. However, the chances he falls to 12 are now looking slim. If he does, expect him to be the pick, but if he's off the board, then there only seems to be one obvious candidate.
Miami need a tight end who can do everything; particularly one who can block. Tyler Eifert would fill this need. He has good hands and exceptional size (6'6", 250). He would bring Miami a red-zone threat and is capable of helping the run game by blocking on the line. Only Travis Kelce has the
blocking ability of Eifert, but Kelce's character concerns are a big red flag. Eifert doesn't come with baggage.
Miami Dolphins select Tyler Eifert, Tight End, Notre Dame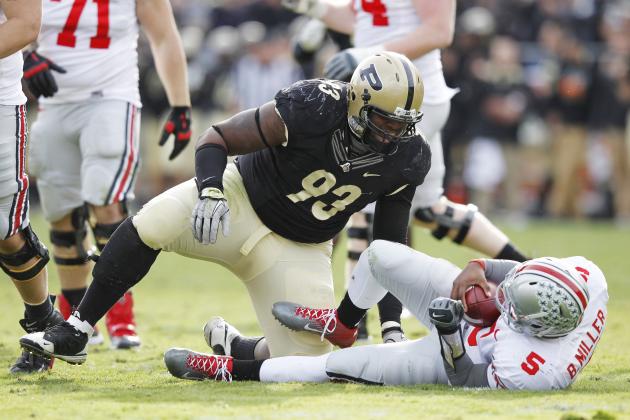 Joe Robbins/Getty Images

The man I believe Miami wants here is FIU safety John Cyprien, but I have a hard time believing he gets past San Francisco, who have the 31st and 34th picks. Versatile lineman Justin Pugh would also be a favourite if he makes 42, but I don't see that happening either.
DJ Hayden, who is coming off a freak injury that almost killed him, would be a possible candidate if his medical checked out, but if he's healthy, he too might be off the board. Miami would have to trade up if it anted any of those three players.
There would be value at this pick for cornerbacks, defensive tackles and offensive linemen too, but most of the tackles at this point are athletic and very raw. If Miami want an immediate starter, it might be better off signing a free agent after the draft or trading for Albert (although I'm against that idea personally).
If Jeff Ireland is marrying need with talent when making his picks, then a defensive tackle may be on the radar considering Randy Starks and Paul Soliai are both free agents in 2014, and there is a lot of talent at the position in this year's draft.
Kawann Short is very strong, with good size (6'3", 300) and speed and can stuff the run and rush the passer. He is also versatile, and a team captain, which would appeal to the front office. His technique needs some work, but defensive line coach Kacy Rodgers is one of the best in the business and
could make Short a dominant defender in Miami.
Miami Dolphins select Kawann Short, Defensive Tackle, Purdue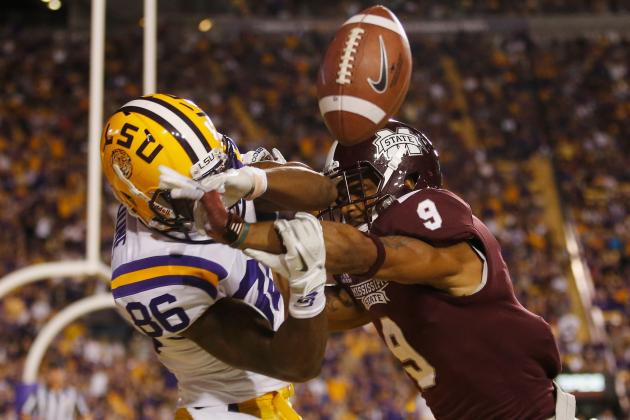 Chris Graythen/Getty Images

There would most likely still be defensive and offensive linemen worthy of this pick available, but if Miami was after immediate starters, the defensive line might make more sense for Miami, although there will be some top prospects available at less valuable positions too.
Terron Armstead, Arkansas Pine-Bluff's tackle, is very raw, and Alex Okafor is a defensive end who fits Miami's needs, but has a 2012 arrest to his name that might concern Ireland and Philbin.
Behemoth nose tackle John Jenkins might be seen as a direct replacement for Paul Soliai, and in complete contrast, Robert Alford could be chosen although his size (5'10", 186) might be a concern and limit him to the slot.
Darius Slay (6'0", 192), the cornerback from Mississippi State, is bigger than Alford and fits Jeff Ireland's needs perfectly. His size, and 4.38 forty, are what Ireland likes in a player, and he has experience in zone and man coverage, with six college interceptions (five in 2012). However, he only
started for one year, and that inexperience is a concern.
Slay also struggles in the run game, both as a tackler and getting off blocks, but his coverage skills would make him a candidate to contribute early on defense, and he is good value with this pick.
Miami Dolphins select Darius Slay, Cornerback, Mississippi State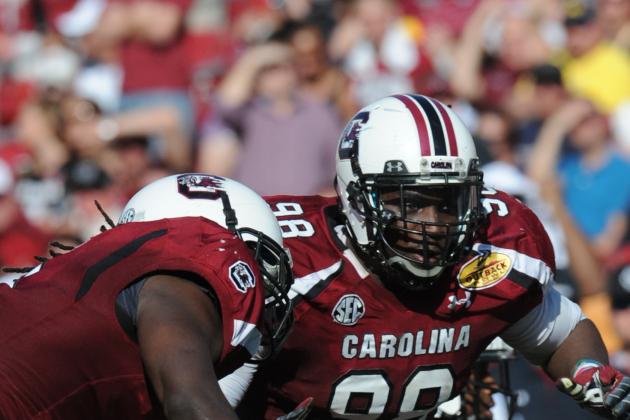 Al Messerschmidt/Getty Images

Having added help on both sides of the ball, Ireland will continue to look for value, and now might be the right time to add a playmaker; but it could be on defense or offense.
Stephan Taylor or Giovani Bernard could be options at running back. Bernard is the more dangerous runner but has an upright style which could get him hurt in the NFL, while Taylor is a strong back and solid in pass protection, but lacks top-end speed.
Quinton Patton fits the west coast offense perfectly, and Stedman Bailey might be considered, but Ireland appeared to opt out of this year's receiver class with his free agency additions. Miami need to add a pass-rusher at some point in the draft, and I expect an addition on the second day.
Corey Lemonier has 17 college sacks and would be good value here but may not have the size to transition to a 4-3 end full time. Devin Taylor, a tall and rangy pass-rusher from South Carolina, fits the bill nicely.
His size (6'7", 265) has advantages and disadvantages, but he has great speed at the position and really impressed at the East-West Shrine Game. His big issue in college was inconsistency, and his stats match this, with just three sacks in 2012, following six sacks in 2011 and 7.5 in 2010.
However, while he failed to live up to expectations, this could have been influenced by his move from right to left end to accommodate freshman phenom Jadeveon Clowney. The Dolphins would be gambling on any pass-rusher in this year's draft, but Taylor could fill the void nicely. Miami can replicate the success of his very popular namesake, Jason.
Miami Dolphins select Devin Taylor, Defensive End, South Carolina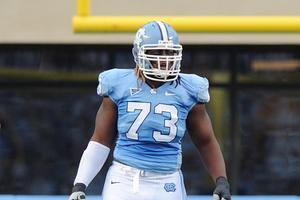 While there are intriguing prospects who will still be on the board, particularly at cornerback, the Dolphins are running out of time to add a top offensive lineman and could use the third right to set this right.
Brian Winters is a college tackle who projects as a guard in the NFL. He is slightly bigger than the ideal for Miami, at 6'4", 320, but is also very agile and would fit a zone-blocking scheme.
David Quessenberry was a left tackle at San Jose State but also looks like a guard in the NFL due to his size. However, he is agile, good blocking in the second level and would fit the Dolphins' scheme nicely.
The Dolphins could also choose to reunite Brennan Williams with fellow Tar Heel, Cooper, in the third round. Williams is an athletic right tackle who is coming off a torn labrum but fits the zone-blocking scheme and is capable of getting to the second level to make blocks.
He has great size (6'6", 320) and long arms but remains a little raw. However, he has the size, speed and power to become a starter in Miami, and could ultimately be considered at left tackle if Jonathan Martin can't make the transition.
He might not have the upside of the raw tackles, Menelik Watson or Terron Armstead, but with Miami needing linemen to start immediately, Williams makes a lot of sense.
Miami Dolphins select Brennan Williams, Offensive Tackle, North Carolina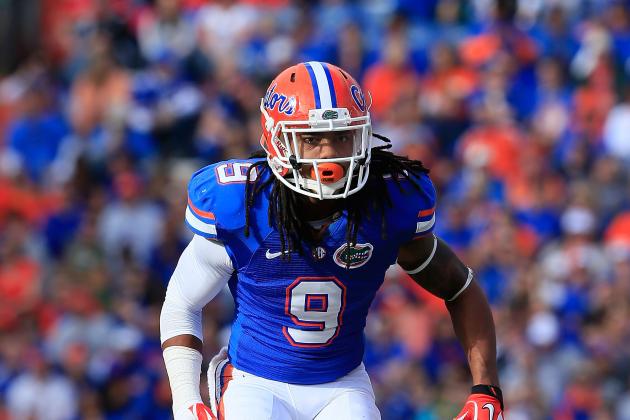 Sam Greenwood/Getty Images

Several players stand out in the fourth round, including athletic Cal center Brian Schwenke, who could play guard in the NFL and also offer backup to Mike Pouncey. On the defensive line, Jordan Hill is an undersized tackle from Penn State, but is a threat against the run and pass. His tape against Wisconsin showcased his talents nicely.
Lavar Edwards would help at defensive end if Taylor isn't the pick at 82. He has great size (6'4", 277), and impressed in limited opportunities at LSU, even forcing Barkevious Mingo and Sam Montgomery off the field at times. Sean Porter, an outside linebacker from Texas A&M, has outstanding college statistics, and could fit in a 4-3 as a weakside linebacker. Mike Sherman should know all about him, but there are bigger positions of need for Miami.
Secondary help still remains the order of the day, and the front office can find safety help early on the third-day in Florida's Josh Evans.
The Gators' star projects as a free safety in the NFL, but is versatile, a good tackler and likes to lay a hit. Evans left college with five picks and decent production and would be an excellent option to play alongside Reshad Evans and challenge Chris Clemons for a starting role in Miami.
He has good size (6'1", 207), speed (4.58) and no known character or injury flags, so he fits the right criteria for Jeff Ireland. There are a number of safeties who could be options on Day 3, but Evans looks the best of the lot.
Miami Dolphins select Josh Evans, Safety, Florida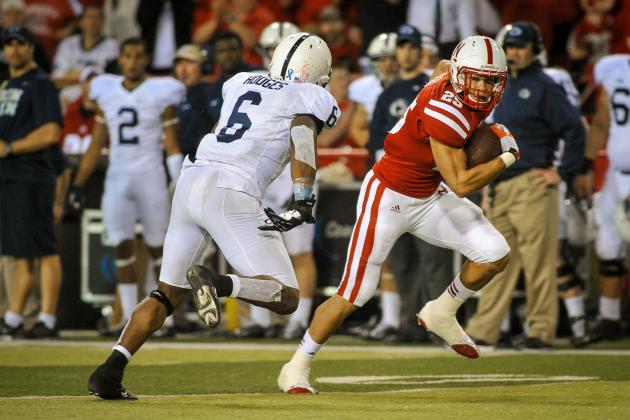 Eric Francis/Getty Images

Athletic UVA offensive lineman Oday Aboushi might be a good value pick up here as he fits the zone scheme perfectly, but a disastrous Senior Bowl (at guard and tackle) might hurt his chances, while Nick Kasa would be a good option at tight end if Tyler Eifert is not the pick.
However, linebacker offers good value here, with Miami needing depth at the position and Koa Misi out of contract in 2014.
Missouri's Zavier Gooden is arguably the most athletically gifted prospect at the position, running a 4.4 and being very dangerous in coverage. However, he is raw and undersized and would need
development at the position.
Small-school prospect Keith Pough, from Howard, also has a great motor and athleticism and comes with natural leadership ability.
A more well-rounded prospect is Gerald Hodges from Penn State. At 6'1", 243, he has good size, but his 4.78 forty was disappointing. However, he is agile on the field, and makes plays all over the field. He made 106 tackles in 2011, and 109 in 2012, as well as recording 5.5 sacks, three picks and 11 passes defensed.
Miami Dolphins select Gerald Hodges, Linebacker, Penn State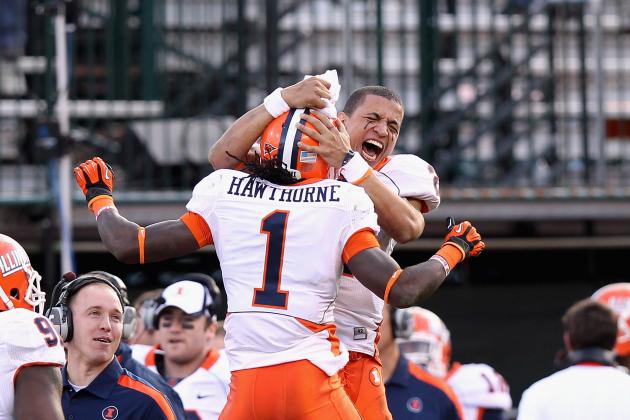 Ezra Shaw/Getty Images

If Miami still needs a safety, Earl Wolff could be a candidate. Staying in the secondary, depth at cornerback is vital, and with Miami expected to double down, Terry Hawthorne offers excellent value in
the late fifth round.
He has the size (6'0", 190), speed (4.4), and fluid hips and backpedal that Miami are looking for and has experience in both man and zone coverage. His physicality will impress scouts, although it did lead to a concussion last season, which dropped his stock.
He impressed in the East-West Shrine Game and recorded six interceptions at college. Personally, I'm a big fan of Hawthorne, and I can him fitting the Dolphins' scheme nicely, although there will
definitely be some concern over injuries, particularly after his concussion.
A running back might also be an option, but Marcus Lattimore had two severe knee injuries and Zac Stacy has nagging concerns as well.
Miami Dolphins select Terry Hawthorne, Cornerback, Illinois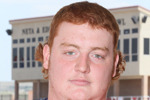 Three intriguing prospects are Samford's Nicolas Williams, a defensive tackle who fits Jeff Ireland's requirements nicely, Kayvon Webster, a corner from UCF whose skills look like they might translate to the NFL, and Dexter McCoil, a 6'4" safety from Tulsa with 18 college interceptions (and 24 pass deflections).
However, Miami still need depth on the offensive line, and Ryan Jensen fits the mold nicely. He is 6'3",
317, but left college at closer to 300 pounds and quite possibly added weight to increase his chances of being drafted.
He is an athletic, agile player who looks like a guard in the NFL and has very sound technique. He isn't the strongest guard either, which means he is definitely a fit in the zone-blocking system Miami operate.
While Jensen is a small-school prospect, there is little risk drafting him late on and seeing if they can develop him into a NFL-calibre player.
Miami Dolphins select Ryan Jensen, Guard, Colorado State-Pueblo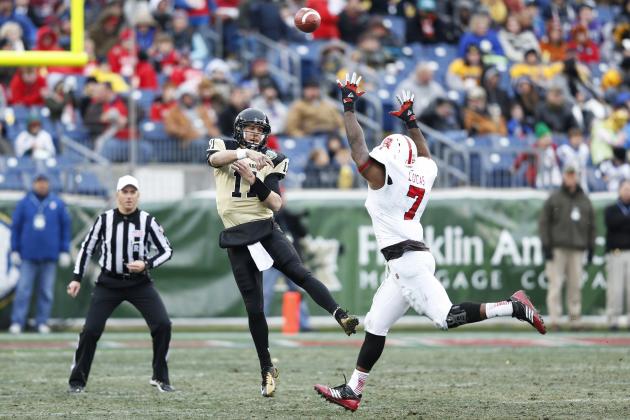 Joe Robbins/Getty Images

It would not be a surprise if Miami used a late-round pick on a quarterback to try and groom them as Ryan Tannehill's backup, and there are a couple who catch the eye late in the draft.
Jeff Tuel, Ryan Griffin and Sean Renfree are all late-round options, however, the most high profile name is Jordan Rodgers, younger brother of Green Bay's Aaron, might well be the best fit for the Dolphins.
He lacks ideal size at 6'1", 212, but has good technique and the athleticism to operate the west coast offense nicely. His arm isn't the strongest, but he can buy time in the pocket with his athleticism, and is leads his receivers to the ball.
In 2012 he completed nearly 60 percent of his passes and threw 15 touchdowns and only five picks, but his deep ball needs work. That being said, his leadership qualities and clean character will appeal to Miami, and he might well be worth investment late in the draft.
Miami Dolphins select Jordan Rogers, Quarterback, Vanderbilt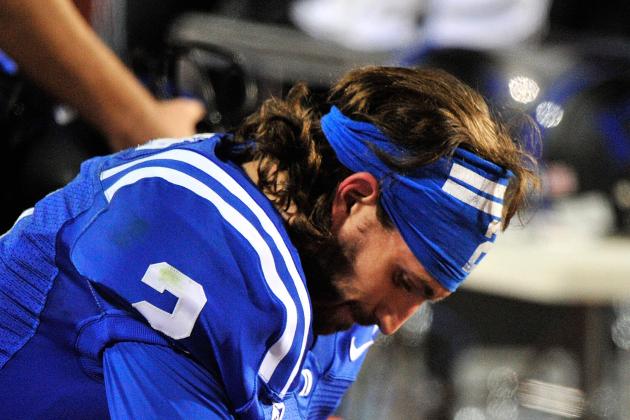 Grant Halverson/Getty Images

Miami might be interested in Chris Jones, an undersized defensive tackle from Bowling Green with 12.5 sacks in 2012, and Latavius Murray, a 6-3 running back from Central Florida who runs a 4.38 forty, with 22 lifts of 225 pounds, but I don't think Jeff Ireland is done adding receivers.
I can't see Miami using an early pick on a receiver, unless one falls right into their lap, but a late-round prospect would make sense, and I believe Connor Vernon, from Duke, could be their man.
Vernon impressed at the Senior Bowl, and is a Miami native. He is not the fastest, but has reliable hands, and managed to become the all-time reception leader in the ACC at college.
He has a clean character and is a hard worker, but might not be versatile enough for Joe Philbin's offense. However, a late-round flier on Vernon would make sense, particularly if Davone Bess is traded.
Miami Dolphins select Connor Vernon, Wide Receiver, Duke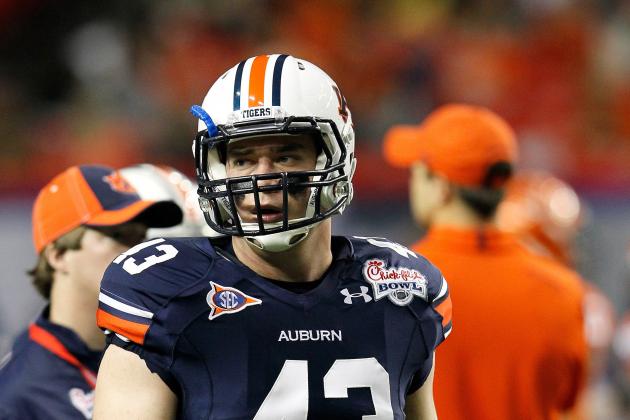 Kevin C. Cox/Getty Images

Kicker
Miami will likely add competition for Dan Carpenter. When Carpenter won the job, he was added as an undrafted free agent, and Miami might go the same route this year to save a draft pick. Brandon McManus, Casey Barth and Dan Conroy could all be options.
Nathan Herrold, Linebacker, Arkansas State
Leader of the Red Wolves defense who has the potential to be a three-down linebacker and would add depth to the position at the very least. Questionable level of competition in the Sun Belt Conference, but Herrold was a playmaker at college, with 114 tackles, two sacks, four interceptions and five pass deflections in college.
Philip Lutzenkirchen, Tight End, Auburn
Recovering from a hip surgery in October, but this blocking tight end brings a very physical approach to his play. Played on the line and as H-Back in college, but could be worth an investment for a team who badly needs a tight end to block.
John Major, Linebacker, Colorado
The former Buffalo is a fast linebacker with a great motor and the agility to make tackles all over the field. He wraps up his opponents and looks like he has great special team potential at the very least.
Braden Brown, Offensive Tackle, BYU
6'6", 310 and athletic, Brown lacks power but his agility would help him fit Miami's zone-blocking system well, and is a good blocker at the second level.
Ryan Spadola, Wide Receiver, Lehigh
Small school prospect, with decent size (6'1", 204) and speed (4.48) who racked up great stats at college. 78 receptions for 1,130 yards and nine touchdowns in 2010, 96 catches for 1,614 and 15 touchdowns in 2011, and 57 catches for 851 yards and four scores in 2012; averaging over 15 yards per catch in college.
Rex Burkhead, Running Back, Nebraska
Not the fastest back, but Burkhead has good size at 5'10", 215, and is solid in pass protection and catching out the backfield. He would be a nice backup to Daniel Thomas.
Omoregie Uzzi, Guard, Georgia Tech
A tough guard, but has injury red flags. The physical run blocking (6'3", 305) fits zone-blocking schemes perfectly with his good athleticism and ability to block on second level.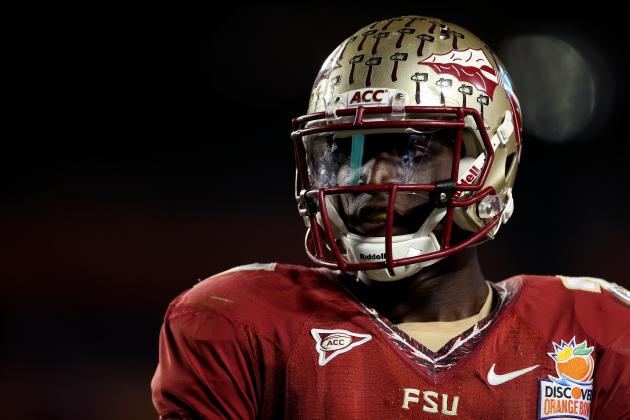 Streeter Lecka/Getty Images

First Round: Xavier Rhodes, Cornerback, Florida State
Forget what you might have heard about scheme fits; Xavier Rhodes can play zone coverage. It isn't the best aspect of his game, but he has the instincts and athleticism to play there. Also, whether the Dolphins move to zone coverage or not, they will still need to mix in man-coverage assignments,
and Rhodes is capable of covering big receivers where others are not.
Second Round: Jonathan Hankins, Defensive Tackle, Ohio State
At 6'3", 320, the sheer size and power of Hankins makes him hard to move in the run game. He has speed, athleticism, strength and versatility, and if he could improve his pass rush in the NFL, then the Dolphins would have an incredible talent. The only concern I have is injury-related, as Hankins played
much of his college career with a knee brace.
Second Round (from Indianapolis): Darius Slay, Cornerback, Mississippi State
For the same reasons I mocked him to Miami.
Third Round: Khaseem Greene, Linebacker, Rutgers
Greene is just too good to pass up. His stats speak for themselves, with 137 tackles, six sacks and two interceptions, and he would give Miami another playmaker on defense, He might not be at a major position of need, but he is a game-changer. Greene is solid in coverage (former safety), a great tackler, has good closing speed, is quick rushing the passer and rips the ball to try and force fumbles. An excellent motor further helps his cause.
Third Round (from Chicago): David Quessenberry, Offensive Lineman, San Jose State
David Quessenberry played left tackle at college, but looks more like a guard in the NFL. His versatility could be of use. He has the size Miami covet (6'5", 302), fits a zone-blocking scheme, and his agility means he is excellent getting second-level blocks. Quessenberry is a great value pick
and could start in Miami from Day 1.
Fourth Round: Josh Evans, Safety, Florida
Similar reasons to the Dolphins' pick.
Fifth Round: Xavier Nixon, Offensive Tackle, Florida
A late-round pick, but one who could add depth if he doesn't make it as a starter. He can play right or left tackle, and has all the physical tools needed to play in the NFL. In 2012, he had good games
against future NFL pass-rushers in Jadeveon Clowney, Damontre Moore, Jarvis Jones and Tank Carradine.
The knock on Nixon is the occasional mental lapse which will see him give up a poor sack, or not even block a rusher, but teams will hope to coach that out of him. He might not be the finished article, but with the right coaching and development, he will be put to use in the NFL.
Fifth Round (Compensatory Pick): David Bass, Defensive End, Missouri Western State
David Bass is a risky small-school prospect, but has tremendous upside. With a fifth-rounder, teams don't often find starters, so Bass would be well worth the risk having been a playmaker in college. Bass is 6-4, 270, and fits as a 4-3 end. He runs a 4.8 forty, and has good size for the role. He has violent hands, great awareness, reads the quarterback well, bats down a lot of balls at the line, and can even drop into coverage, which makes him very versatile.
There are rightly a lot of questions about his level of opposition in college, but he's worth a shot for the following reasons: 2010—47 tackles, eight sacks, 10.5 TFLs, four pass breakups, two interceptions. 2011—55 tackles, 14.5 sacks, 20 TFLs, four pass breakups. 2012—61 tackles, including 16 TFLs, seven pass breakups, two interceptions, 11.5 sacks and a forced fumble.
Seventh Round: Marcus Davis, Wide Receiver, Virginia Tech
At 6'3", 233, Davis has incredible size and although not the fastest (4.56), he has enough speed to get separation. Good hands and concentration make him well worth a late round pick, although he is still very raw.
Seventh Round (from Dallas): Levine Toilolo, Tight End, Stanford
Huge target (6'8", 260) and great blocker but very inconsistent hands which could cut short his NFL career. Either way, he could provide Miami the blocking tight end they need, and an extra red zone threat, at little risk.
Seventh Round (Compensatory Pick): George Winn Jr, Running Back, Cincinnati
Not a burner (4.75), but the former Bearcat has good size (5'10", 218) and is a physical blocker. He is good in short-yardage situations too, and would fit in a zone-blocking scheme nicely. He only started one year at college too, so has plenty of mileage left.