Oakland Raiders 2013 Mock Draft: Predictions for Day 2 and Beyond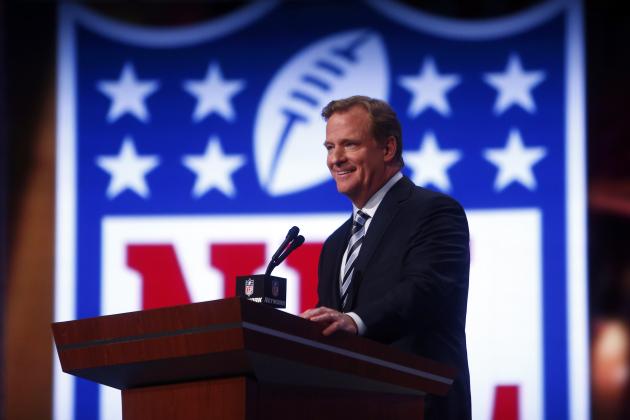 Jerry Lai-USA TODAY Sports

The Raiders kicked off their 2013 draft day by taking CB D.J. Hayden out of Houston, filling a big need early in the draft while also picking up an additional selection.
Raiders GM Reggie McKenzie selected Houston at the No. 12 overall position, but per Raiders GM Reggie McKenzie, they would have taken him at No. 3 overall if they hadn't been able to trade down and still get him.
McKenzie said, ""We targeted him. To pick up an extra pick was a bonus."
The Raiders targeted Hayden after trading back with Miami. The trade netted them not only the No. 12 overall selection but also the 10th selection in the second round, 42nd overall.
The Raiders will now re-group overnight and look back to their board to see who they can get in tomorrow's second and third round.
Click ahead to see some players who the Raiders may target in Day 2 of the 2013 NFL Draft.
Begin Slideshow

»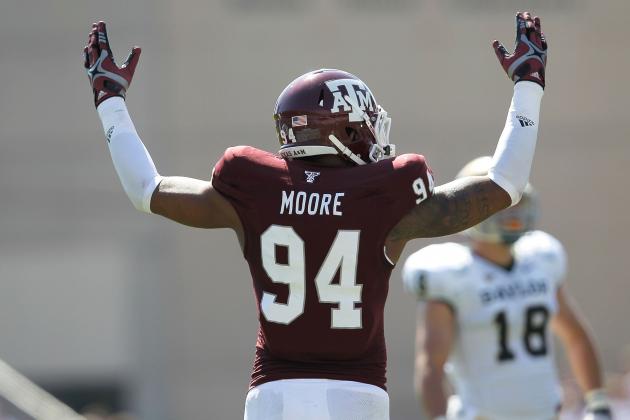 Sarah Glenn/Getty Images

There was a time where Moore was in the conversation as the top pass-rusher in the draft. Then he had a terrible combine—looking both slow and weak, a draft-killing combo—and his stock plummeted.
However, Reggie McKenzie doesn't put as much stock in the combine workouts as some (Al Davis, anyone?).
McKenzie's philosophy on the importance of the combine as weighed against the importance of a college career's worth of game tape is pretty simple: "You can never dispel what you see on tape," McKenzie has said.
Moore fills an immediate need as a pass-rushing threat for the Raiders, and he probably will still be on the board when Oakland picks.
Other defensive ends still available who may be selected instead include Cornellius "Tank" Carradine, Alex Okafor and Margus Hunt.
It seems unlikely that Carradine, who is Bleacher Report's top-rated defensive end per draft specialist Matt Miller, will make it to the 10th selection in the second round, and it's also highly unlikely that McKenzie would choose to trade up to get him or anyone.
Instead, I look for the Raiders to take Moore's production and versatility and continue to rebuild one of the worst defenses in the league in recent years.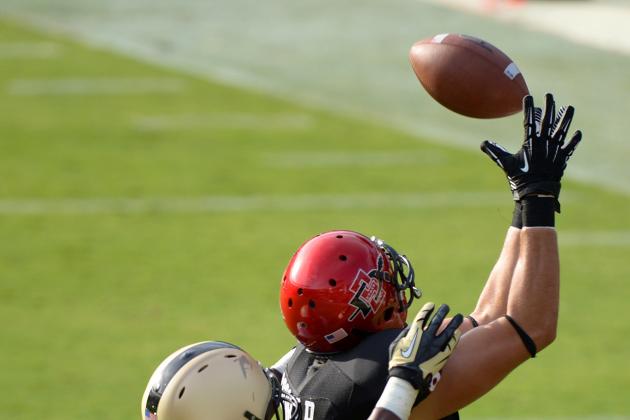 Jake Roth-USA TODAY Sports
Gavin Escobar vs. Army
In my pre-first-round mock draft, I had the Raiders taking CB Blidi Wreh-Wilson in the third, because they needed secondary help at that point.
With the Raiders having addressed their secondary in the first round with the D.J. Hayden selection and addressing their pass-rushing needs in the second round with Damontre Moore, they can now move to other positions.
Escobar is a player who I loved on tape. He's a large guy at 6'6", 254 pounds. He showed up well as a blocker on the line, and the team can play him on both running and passing downs.
As a blocker, he was able to get into his man and wall him off from the runner. He used angles well and understood leverage needed to knock defensive ends from their pursuit.
He's inconsistent as a blocker—lunging at times or allowing ends to get into his body—but he's shown improvement over his college career, and he has the physical tools to succeed as a blocker in the NFL.
Escobar showed good explosion off the line and consistent hands. He is able to make adjustments with the ball in flight and pluck the ball out of the air.
Escobar is a complete tight end who can play on all downs, and he's a weapon in the passing game.
Last year's starter for the Raiders, Brandon Myers, walked in free agency earlier this offseason. If drafted, Escobar would come in with the fast track to being the Raiders' new starting tight end.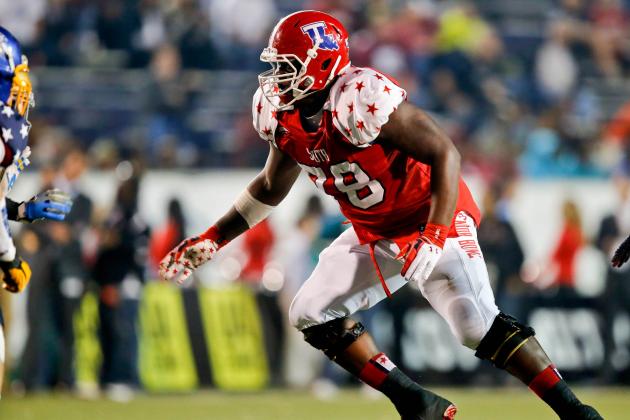 Derick E. Hingle-USA TODAY Sports
Jordan Mills at the Senior Bowl.
The 6'5", 316-pound Mills is a cause for a lot of disagreement among draft evaluators.
Many, like myself, think he projects well to the NFL only at right tackle, which is the position he played in college.
Mills is a large and strong player, and he has good, long arms that measured in at 34".
He is a hard worker who plays to the whistle on every snap.
However, Mills is slow coming out of his snap, and he will struggle with fast defensive ends in the NFL.
In the fourth round, he is worth a selection for his potential, and he will compete with Khalif Barnes to line up at RT for the Silver and Black in 2013 and beyond.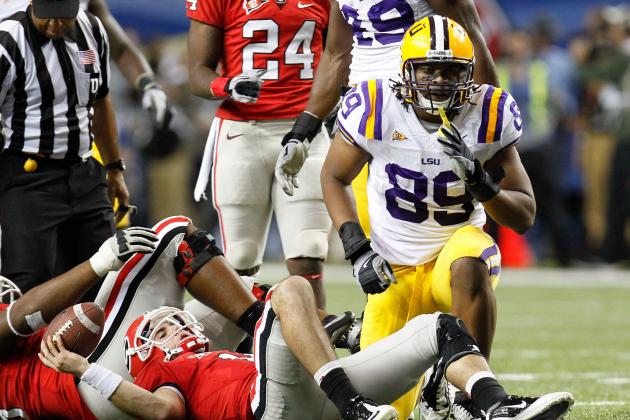 Kevin C. Cox/Getty Images

Edwards would probably be a better-known name had he been on a team with less depth than LSU. Instead, he was the first end off the bench behind Barkevious Mingo (who went No. 6 overall to the Cleveland Browns) and Sam Montgomery (who may go as high as the second round).
Edwards has great size for a 4-3 defensive end, weighing in at 277 pounds and standing 6'4".
The biggest concern with Edwards is that he doesn't have starting experience, and so it's unclear how he'll hold up when given a bigger role.
However, he did get a good amount of snaps in the rotation, and he showed solid run defense skills and decent pass-rushing abilities.
Edwards has a strong upper body and will be able to hold the point of attack against NFL tackles and guards, and his non-stop motor will get him his share of sacks.
He's not an electric pass-rusher, but he does use a variety of moves to get around his opponent, and he's able to use his strong hands to disengage from initial contact with the tackle.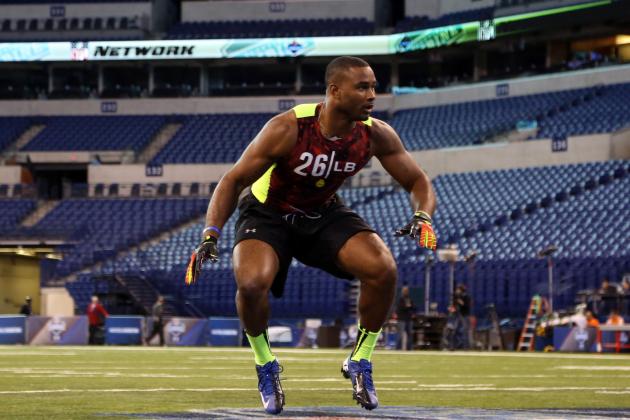 Brian Spurlock-USA TODAY Sports

Pough is a bit on the lean side, but he's an extremely quick sideline-to-sideline player. He's able to use his quickness to get into the backfield and make tackles for loss.
Because of his more slight build, it's worth asking if he'll be able to hold up against stouter NFL offensive players, but his production in college likely means he'll be able to find ways to be productive in the NFL as well.
More of a coverage linebacker, Pough may struggle in run support in the NFL. He should be able to serve well rushing the QB or dropping into coverage, and he operates well in space.
To his credit, he willingly takes on blocks and puts his body into the mix against larger blockers.
He can also serve a solid role on special teams, a necessity for later-round selections.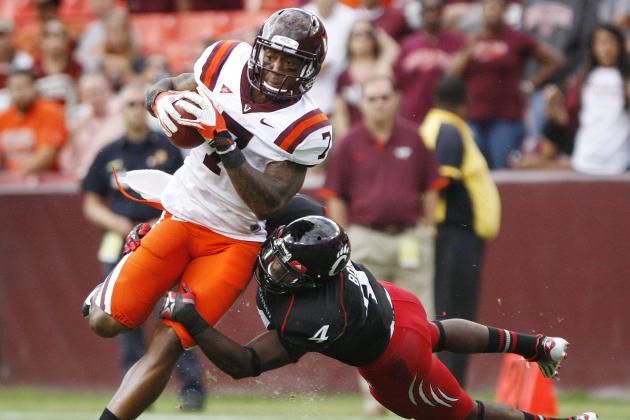 Jonathan Ernst/Getty Images

Davis is a prospect at the receiver position but a prospect with upside. Standing 6'3" and weighing 233 pounds, he is definitely a physical specimen.
Despite that size, he still ran a 4.56 40-yard dash, and his size and speed make him comparable to Brandon Marshall in the NFL.
Davis played quarterback in high school, and he is still learning the receiver position, but he possesses the size necessary to succeed in the NFL. He also has good acceleration to run under balls or break away from a defender when necessary.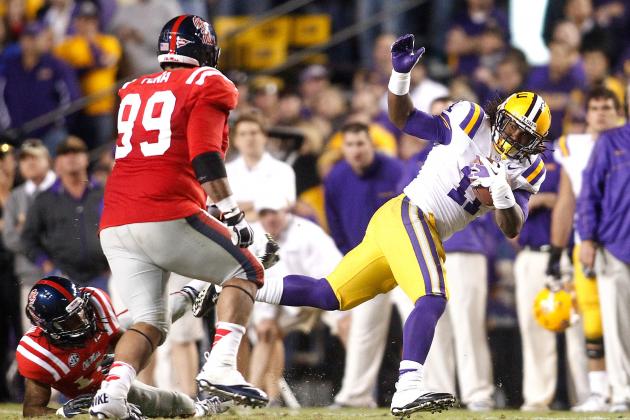 Crystal Logiudice-USA TODAY Sports

Pena is the only player who remained the same from my last mock to this—the first-round trade and pick of Hayden changed the direction of the draft completely for me.
Pena is a large tackle at 6'2", 330 pounds. He would play in the nose position in both the 3-4 and the 4-3.
He lacks the upper body strength that teams would like from a player his size, and he doesn't offer much in the way of pocket-pushing pass-rushing ability.
However, he is very stout against the run, and he fits a need on the Oakland squad.