Introducing the Next Wave of MLB Superstars Currently in the Minors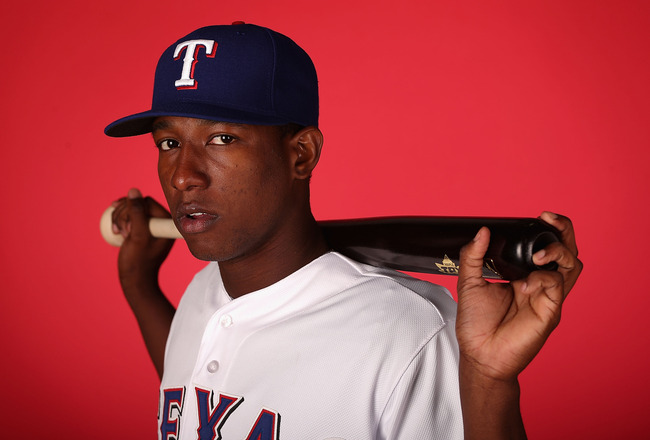 Texas' Jurickson Profar leads the next great wave of elite talent in the minor leagues.
Christian Petersen/Getty Images
"Superstar talent" is a phrase that gets thrown around too often in baseball, especially when it comes to prospects.
Everyone hears about the ceiling for their favorite team's best minor leaguer and just assumes that is the kind of player they will turn into. But things are never as black and white as all that.
If it was, there would be a lot more great players in the sport than there are.
As we look through the minors right now, there is a clear divide between the best of best and everyone else. That is not a slight on anyone—just a statement of how great the top tier of the prospect world is at the moment.
What we wanted to do is round up all the players in the minors who have true superstar talent, as well as a better-than-zero chance they will actually reach it. These are players who will be on All-Star teams for a decade and win, or be in the conversation, for MVP and Cy Young awards.
That is the bar we are looking at.
Without further ado, here is a look at the next great wave of superstars floating around in the minors right now.
Note: All stats courtesy of MiLB.com and prospect rankings courtesy of B/R's Mike Rosenbaum's Top 100 Prospect list released in February.
Jurickson Profar, SS, Texas Rangers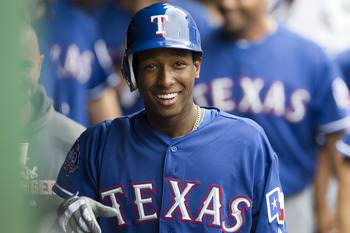 Jurickson Profar was all smiles after hitting his first career homer in his first at-bat last year, but the next time he comes up we will see the full extent of his talents.
Jason Miller/Getty Images
Age: 20
2013 Level: Triple-A (Round Rock Express)
Preseason Prospect Ranking: No. 1
Why Profar will be an MLB Superstar
Profar is the consensus top prospect in baseball entering 2013.
He earns high marks for his performance on the field, advanced approach and feel for the game that are far beyond what you will see from a typical 20-year-old.
Playing with Texas, Profar will be forced to move positions thanks to the long-term extension the Rangers gave to Elvis Andrus at the start of the season. Going from shortstop to, presumably, second base does put more pressure on Profar's bat to perform.
But the good news is he has the skills to handle almost any role.
Profar projects to be a plus hitter thanks to his ability to recognize pitches and drive the ball to all fields. He will hit for better-than-average power thanks to a late uppercut in his swing and excellent hip rotation to launch the ball. He has plenty of range and more than enough arm for shortstop, so a transition to second will be a walk in the park.
Given his age and tools, Profar is going to be an MVP-caliber player in the middle of the diamond for a long time as soon as the Rangers decide to call him up.
Oscar Taveras, OF, St. Louis Cardinals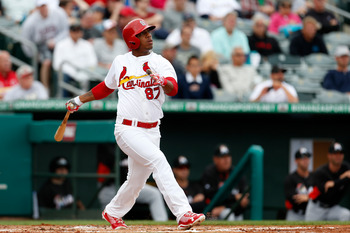 St. Louis' Oscar Taveras is the best pure hitter in the minors right now.
Chris Trotman/Getty Images
Age: 20
2013 Level: Triple-A (Memphis)
Preseason Prospect Ranking: No. 3
Why Taveras will be an MLB Superstar
If you project to be a corner outfielder, you have to be able to hit.
A lot.
Oscar Taveras is definitely the top prospect in a loaded St. Louis system. And all the love he is getting is a testament to his ability with the bat.
The strange thing about Taveras is that he hits in a way you would never want to teach. He has a violent swing, where he basically puts every ounce of energy he has in to getting the bat through the zone.
Yet somehow it looks easy and natural when he is doing it.
Taveras also has a hacking nature, in that he won't walk a lot. But because his bat speed and plate coverage are so good, he also doesn't strike out much.
His power arrived in a big way last season at Double-A when he mashed 23 home runs, 67 RBI and slugged .572 in a career-high 124 games.
Even though the Cardinals have Taveras playing in center field right now, he doesn't have the range to handle the position at the next level. He has a good, accurate arm that will play in right field. With his ability to hit .300 with 25-30 homers per year, his value won't drop moving to a corner spot.
Dylan Bundy, SP, Baltimore Orioles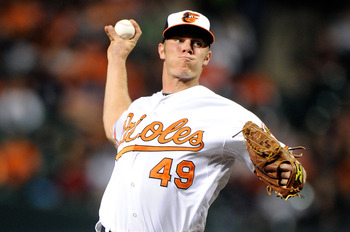 The Orioles have to be sweating about the status of Bundy, who has yet to pitch this season due to elbow discomfort.
Greg Fiume/Getty Images
Age: 20
2013 Level: Double-A (Bowie)
Preseason Prospect Ranking: No. 2
Why Bundy will be an MLB Superstar
I debated including Dylan Bundy on this list because we don't know what's going on with his elbow. The last word from Buck Showalter (h/t Baltimore Sun) was that Bundy will see Dr. James Andrews on Monday.
The worst name in sports is Dr. James Andrews, because that usually means something has gone really, really wrong. Until we know exactly what is ailing Bundy, we can still feel relatively comfortable about his potential superstar status.
Bundy is a workout warrior, as anyone who has ever seen video or read anything about him would know. He is in incredible shape with some of the biggest legs you will ever see, which allows him to use that lower half to pump mid-90s fastball at you.
But beyond his physique and fastball, Bundy has an incredible feel for all of his pitches.
He has a power curveball that drops off the table with great shape, a solid-average slider and a plus changeup with depth, fade and arm speed.
To find a high school player Bundy's age who has the arsenal he does and plus command to go with it is incredibly rare.
Hopefully there is nothing seriously wrong with him because he can be as fun as any pitcher to watch for the next decade.
Wil Myers, OF, Tampa Bay Rays
Wil Myers is the power bat the Rays need in the middle of their lineup. The only question is when they will bring him up.
J. Meric/Getty Images
Age: 22
2013 Level: Triple-A (Durham)
Preseason Prospect Ranking: No. 4
Why Myers will be an MLB Superstar
Once the prized piece in a loaded Kansas City system, Myers' unique talents made him perfect for the Tampa Bay Rays.
The Rays started Myers in Triple-A this season for two reasons.
First—and most obvious—is the financial ramifications of keeping him in the minors until June 1. That will give them another year of control over him, which is so precious for a small-market club.
Second, Myers is still not a finished minor league product. He tore the cover off the ball last season with 37 home runs across two levels, but he also struck out 140 times in 522 at-bats and is learning to play right field.
Myers has the bat to be a superstar. He has quick hands that get the bat head through the zone so fast, and a more upright stance in his swing helped him tap into the raw power everyone always thought he would have.
The problem is the slight tweak in his swing mechanics came at the expense of some contact.
But he is a good enough hitter with plenty of discipline and a good approach to overcome the swing-and-miss part of his game.
As long Myers hitting in the .280 range, which is probably a bit on the low end of the totem pole for him, with 30-plus homers and a .360 on-base percentage, he will be one of the best players in baseball for a long time.
Taijuan Walker, RHP, Seattle Mariners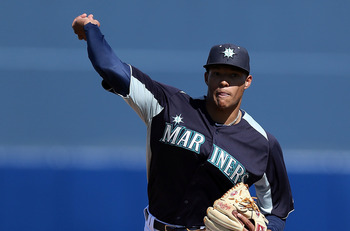 Taijuan Walker's combination of size, stuff and pitchability make him a future ace.
Christian Petersen/Getty Images
Age: 20
2013 Level: Double-A (Jackson)
Preseason Prospect Ranking: No. 5
Why Walker will be an MLB Superstar
Even though Walker's overall performance last season didn't do much to wow fans (4.69 ERA, 118 strikeouts in 126.2 innings), you have to remember that he was just 19 years old and holding his own at Double-A.
It also helps that Walker's raw stuff was as good as it has ever been.
He has a great workhorse body at 6'4", 210 pounds. His fastball and curveball are plus offerings right now, as he controls both in the zone and has improved command—especially off the breaking ball.
Finding a consistent third pitch was going to be the key to determining Walker's ultimate ceiling, which he did last year. His changeup developed into at least a solid offering that he can use to get left-handed hitters out.
As long as Walker is able to fine-tune the changeup and get a little more consistent with his command, he will pitch at the top of a rotation.
That is not an easy thing to do with a team that already has Felix Hernandez locked into a long-term deal.
Xander Bogaerts, SS, Boston Red Sox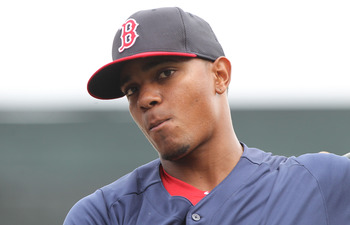 Xander Bogaerts has rare offensive potential for a player who can stay at shortstop.
Kim Klement-USA TODAY Sports
Age: 20
2013 Level: Double-A (Portland)
Preseason Prospect Ranking: No. 9
Why Bogaerts will be an MLB Superstar
Oscar Taveras may be the best pure hitter in the minors, but Xander Bogaerts isn't far behind him.
The Red Sox farmhand doesn't have the kind of plate coverage Taveras does—very few prospects in history do—but as far as making hard contact consistently and driving the ball to all fields, Bogaerts is incredible.
What makes Bogaerts such an electrifying talent is the way his bat has played everywhere he has gone.
Two years ago at Low-A, he hit .260/.324/.509 with 16 home runs in 72 games. Then last year he unloaded in 127 games between High-A and Double-A, posting a .307/.373/.523 slash line with 20 home runs.
One area of concern is that Bogaerts is still learning to be patient and wait for his pitch. But with his bat speed and power already playing in games, it is hard to argue with what he is doing.
Another question mark, at least before last year, was whether Bogaerts had any shot to stay at shortstop. He is listed at 6'3", 185 pounds with more room to add weight on his frame, possibly limiting his range too much for short and pushing him to third.
Bogaerts' bat will play at the hot corner, but for now he still has a better-than-zero chance to stay at shortstop as an adequate defender. You put his offensive potential, which includes a .300 average and 30 home runs, at that spot on the field and you have an MVP-level player at his peak.
Zack Wheeler, RHP, New York Mets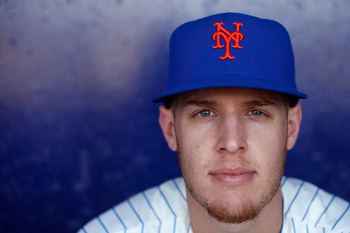 As good as Matt Harvey is, Zack Wheeler has the potential to be even better.
Chris Trotman/Getty Images
Age: 22 (Turns 23 on May 30)
2013 Level: Triple-A (Las Vegas)
Preseason Prospect Ranking: No. 7
Why Wheeler will be an MLB Superstar
The Mets appear to have fleeced the Giants by giving up a few months of Carlos Beltran to acquire Zack Wheeler in 2011.
We didn't know that at the time, as he was still a young pitcher in A ball trying to turn some of the raw talent into actualized skills.
But nearly two full years later, Wheeler has improved his game in almost every area and will soon be pitching at the top of a rotation that includes wunderkind Matt Harvey.
Boasting an ideal frame at 6'4", 185 pounds, Wheeler has no problem generating velocity on his fastball. He threw it as high as 99 in last year's Futures Game, but will sit more 92-96 with late movement as a starter. His tall frame helps him stay on top of the ball and keep down in the zone to prevent hitters from elevating it. He has given up just 11 home runs in 264 innings the last two years.
He also throws a hard power curveball in the low 80s that really got better last season and looks like a plus pitch.
Developing the changeup will be the final task for Wheeler, who will likely be up later this season as long as he stays healthy. Even though the Mets don't have a lot of offensive talent to get excited about, Wheeler and Harvey could turn into one of the best 1-2 punches in baseball in two years.
Francisco Lindor, SS, Cleveland Indians
One of the best all-around talents in baseball, Francisco Lindor could debut as soon as 2014.
Jamie Squire/Getty Images
Age: 19
2013 Level: High-A (Carolina)
Preseason Prospect Ranking: 12
Why Lindor will be an MLB Superstar
One noticeable difference between Francisco Lindor and the rest of the prospects on this list is the projection with the bat.
While the players already discussed—and those still to come—have at least above-average home run power, Lindor is not likely to turn into that kind of hitter.
But that isn't to say Lindor is bad with the stick. Far from it, actually.
He has a great swing from both sides of the plate, one that is geared more for contact and hitting the ball into the gap. He just doesn't have the body to drive the ball over the fence more than 10-15 times per season, and 15 is on the optimistic side.
Like Profar, Lindor has a feel for the game and approach far greater than someone his age normally would. Even though he wore down in the second half last year, the Cleveland shortstop posted a .352 OBP with a 78-61 strikeout-to-walk ratio in his first season in pro ball.
Defensively is where Lindor really earns his status because he is tremendous with the glove. He has range, arm strength/accuracy, tremendous footwork and some of the best instincts you will see in a shortstop.
Add to that the fact Lindor is 19 years old and projects to hit for average and get on base, you have a rare talent at shortstop.
Christian Yelich, OF, Miami Marlins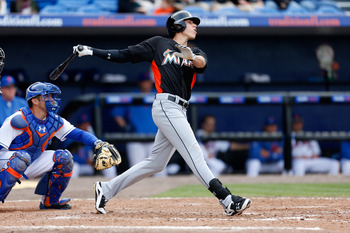 Christian Yelich's ability to hit for average and power in center field is a rare commodity.
Chris Trotman/Getty Images
Age: 21
2013 Level: Double-A (Jacksonville)
Preseason Prospect Ranking: No. 13
Why Yelich will be an MLB Superstar
What you want to see from a prospect making his way through the minors is constant progression. It's important to know that a player is getting better, even as the competition they are facing gets more difficult.
Christian Yelich is the epitome of that.
He has improved his on-base and slugging percentages the last two years as he has gone from Low-A in 2011 to High-A and Double-A last season. He has such a great, fluid swing from the left side with balance and plus power.
He should have no problem hitting .300 in the big leagues, but now his stock has risen thanks to continued development with his power and likelihood he can play at least average defense in center field.
Being an up-the-middle talent with an elite-level bat shows All-Star potential—and someone who will garner significant MVP votes in his career.
Miami is disappointed with baseball right now, but between Jose Fernandez and, eventually, Christian Yelich, there is exciting talent to watch in the future.
Gerrit Cole, RHP, Pittsburgh Pirates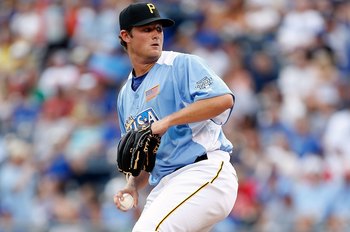 Gerrit Cole's stuff makes him one of the best prospects in baseball, but there are a few red flags to keep an eye on.
Jamie Squire/Getty Images
Age: 22
2013 Level: Triple-A (Indianapolis)
Preseason Prospect Ranking: No. 6
Why Cole will be an MLB Superstar
If we were grading pitching prospects just on raw stuff, no one would grade out higher than Gerrit Cole.
He has a plus-plus fastball that has been clocked over 100 mph and a plus-plus changeup. He also has a plus slider with excellent tilt and two-plane break.
At 6'4", 240 pounds, Cole certainly looks the part of a No. 1 starter. The biggest things he has to work on are consistency and commanding the fastball in the zone.
The fastball always has great velocity, but issues start happening when Cole gets in trouble. He tends to overthrow the pitch, robbing it of movement and leaving it in the middle of the plate where it is easy to square up.
This is because there isn't a lot of deception in his delivery.
Despite the slow start this season (14 strikeouts to 11 walks) and mediocre results from 2012, Cole's stuff is so good that he can pitch at the front of the Pittsburgh rotation very soon.
Addison Russell, SS, Oakland Athletics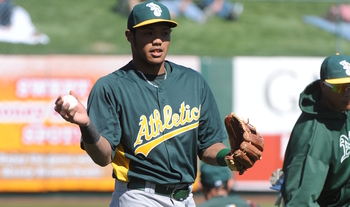 Addison Russell's makeup and phenomenal start in pro ball make him look like a future MVP candidate.
Rich Pilling/Getty Images
Age: 19
2013 Level: High-A (Stockton)
Preseason Prospect Ranking: No. 44
Why Russell will be an MLB Superstar
I freely admit that I may be high on Russell at such an early point in his career.
But looking at the strides he made in playing at three different levels last season and his strong work ethic, how do you not love what he can do?
For those that don't know, Russell faced questions about whether he was going to be too big to stay at shortstop in his senior year at high school. He was so intent on staying at the position he reportedly dropped 20 pounds and did so without sacrificing any of the offensive upside.
That is what made him the No. 11 pick in last year's draft.
On the field, Russell hit an astounding .369/.432/.594 with seven home runs and 26 extra-base hits in 55 games in the Arizona Rookie League, New York-Penn League and Midwest League.
As far as tools go, Russell is a terrific hitter. He has great hands, bat control through the zone and hand-eye coordination.
But he is still learning to read pitches, which is not unusual for a player less than a year removed from high school.
Defense is also an area of strength, as Russell displays strong instincts, a plus arm and soft hands. He wants to stay at shortstop and projects as an above-average defender at the position.
Miguel Sano, 3B, Minnesota Twins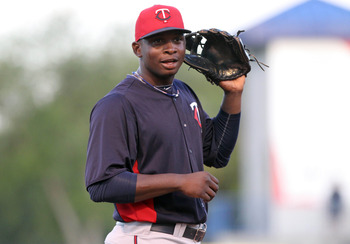 Miguel Sano's bat was always his calling card, but it looks even better than expected.
Kim Klement-USA TODAY Sports
Age: 19 (Turns 20 on May 11)
2013 Level: High-A (Fort Myers)
Preseason Prospect Ranking: No. 16
Why Sano will be an MLB Superstar
Miguel Sano is one of the few elite-level prospects with a ton of power.
Being able to hit the ball over the fence is a luxury that only a handful of teams really have, either in the big leagues or in the minors. So that shows just how valuable the 19-year-old Dominican is.
What also adds to Sano's value is the way his bat continues to get better the higher up the ladder he moves. It was always expected that he would hit for a ton of power, but no one was sure about his ability to make enough contact to hit better than .250-.260.
That appears to be changing.
Sano is still striking out a lot but he is also making more than enough loud contact to keep his average in the .270-.280 range with a great on-base percentage.
Defensively, Sano is going to keep getting bigger and could end up moving off third base. He is listed at 6'3" and 195 pounds, but when I saw him in the Midwest League late last year he looked bigger than that.
He is athletic so it's not like he's carrying bad weight, just a lot of it.
Third base is a reactionary position that depends on footwork and arm strength. Sano certainly has enough arm to handle it, but his accuracy comes and goes. He is still learning to read the ball off the bat, which leads you to think he could end up at first base in the future.
Regardless, a high-average hitter with true plus-plus power and patience is a treasure in today's game. Sano is a rare talent who will be a fixture in the middle of the Minnesota lineup for a long, long time.
Byron Buxton, OF, Minnesota Twins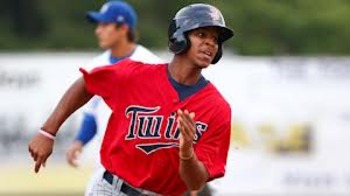 Minnesota's five-tool stud Byron Buxton has a long way to go, but he could be a game-changing player. Courtesy of Matt Burton, MiLB.com
Age: 19
2013 Level: Low-A (Cedar Rapids)
Preseason Prospect Ranking: No. 31
Why Buxton will be an MLB Superstar
Like Addison Russell, Buxton is another player I could be very early on, causing me to look foolish in a few years.
But Buxton has true five-tool potential. He has elite speed, plus-plus range and plus throwing arm that will play nicely in center field.
With the bat, Buxton profiles as an offensive monster. He has plus bat speed and plus raw power that should show up in games down the road. He is slugging .514 with two home runs already this season. He also has the aforementioned plus-plus speed to beat out infield hits and turn singles into doubles, doubles into triples, etc.
Buxton's swing is very quiet and his ability to let the ball travel deep before committing will help him tap into his power. He is still incredibly raw and will have to show he can react to the kind of velocity and off-speed stuff he will see in pro ball.
But there is no doubt the tools are there.
The Twins have been aggressive with Buxton by starting him in Low-A this season—a move that could payoff huge if he takes to it. His timetable would be accelerated and the Twins would have their best all-around player in Minnesota before 2015.
There is still a lot of this season to go, so let's not get ahead of ourselves. But in terms of raw talent, Buxton could easily jump into the top-three prospects in baseball by the end of the year if things start to click.
Players Who Could Join This List Very Soon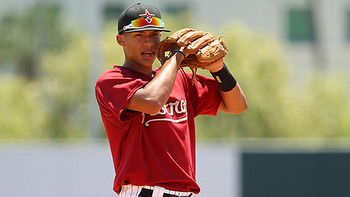 Houston's Carlos Correa has a special bat that will be even better if he can stay at shortstop, but that's a big if. Courtesy of Cliff Welch, MiLB.com
These are a few names who could easily make the jump onto this list before the end of this season:
Carlos Correa, SS, Houston Astros
He is the best pure hitter in the 2012 draft, but still learning to put his tools on display at Low-A.
Jameson Taillon, RHP, Pittsburgh Pirates
The other high-profile pitcher in Pittsburgh's system has the stuff to dominate, but the results leave a lot to be desired.
Anthony Rendon, 3B, Washington Nationals
Making a cameo (presumably) in the big leagues until Ryan Zimmerman returns, Rendon just has to stay healthy in order to join the elite ranks of prospect talent.
Javier Baez, SS, Chicago Cubs
No one in the minors can touch Baez on bat speed. He just has to learn to control himself by taking a pitch here and there to reach his full offensive potential.
Billy Hamilton, OF, Cincinnati Reds
I love the Reds moving Hamilton into center field to make better use of his speed. However, I still wonder if he will hit enough to use those jets on the base paths.
Archie Bradley, RHP, Arizona Diamondbacks
After Dylan Bundy, Bradley was the other Oklahoma high school pitcher teams loved in the 2011 draft. He struggled throwing strikes as a 19-year-old in the Midwest League last year, but the stuff was still top-of-the-rotation quality.
In a small sample size this season, Bradley looks like a different pitcher with 35 strikeouts against just 18 hits and seven walks in 23.2 innings at High-A.
For more prospect talk, or anything else you want to know about baseball, be sure to follow me on Twitter.
Keep Reading