Amar'e Stoudemire's Return Will Only Help New York Knicks' Title Campaign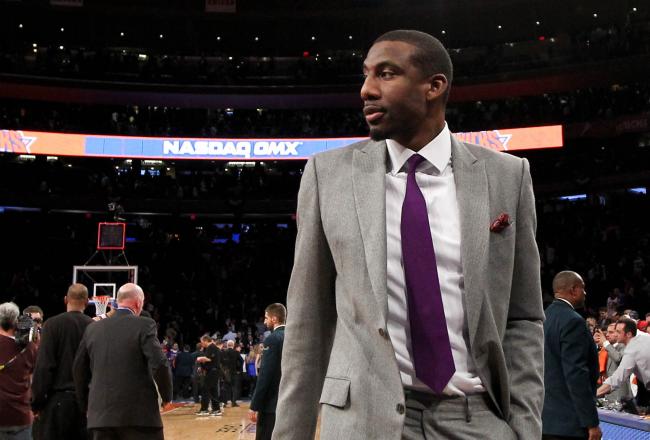 There are mixed feelings about Stoudemire returning, but he can be a big part of the Knicks' run at the title.
USA TODAY Sports
The New York Knicks have played some fantastic basketball in the absence of Amar'e Stoudemire, but that doesn't mean his eventual return from injury can't make the team even better.
According to ESPN, Stoudemire is eyeing a return to action in time for the second round of the playoffs, which could be a major boost for the Knicks in their quest for a title.
Right now, New York owns a commanding 2-0 lead over the Boston Celtics in the first round and should be able to advance if they can get a win from the next two road games.
In the second round, the Knicks will likely meet the Indiana Pacers, an elite defensive team that also has a two-game lead against the Atlanta Hawks.
Looking at the teams in the Eastern Conference playoffs, defense is clearly a strong point. The Knicks will need all the help they can get offensively, and Stoudemire can provide a big chunk of that.
Despite their offensive success this season—they finished third in efficiency and broke the NBA record for three-pointers made—the Knicks have been labelled as a one-dimensional team.
Whether you agree with that or not, STAT gives the Knicks a reliable option other than Carmelo Anthony, J.R. Smith and three-point shooting, which could be invaluable against teams like the Pacers and Miami Heat.
When Stoudemire does come back, it's inevitable that there will be an adjustment period, which is obviously not ideal in the middle of the postseason. This time around, however, that adjustment may be a little quicker, as Stoudemire has already had a chance to play with his new teammates this season.
If he can adjust quickly, Stoudemire should be a productive player for the Knicks, as evidenced by his play earlier in the season.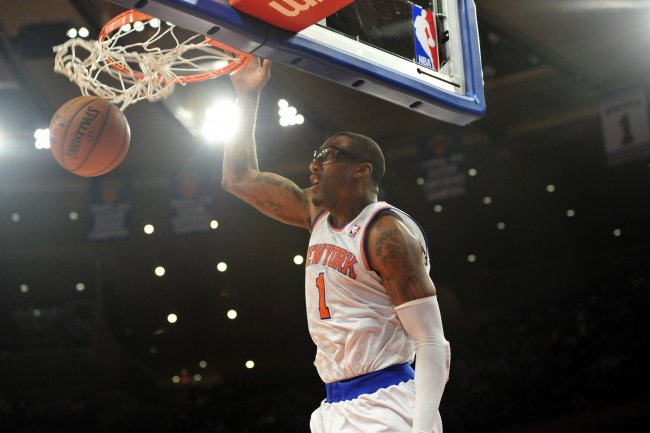 Joe Camporeale-USA TODAY Sports
In the 29 games he played, Amar'e averaged 14.2 points on 58 percent shooting, doing so in only 23.5 minutes per game. That's just the kind of efficient offense the Knicks could use off the bench.
Clearly, Stoudemire did well on a personal level when he played, but the problem people seem to have with him is that the team was only 16-13 with him in the lineup.
Stoudemire came back at a bad time, and his return ended up coinciding with the team's midseason .500 slump, making it seem like he was the problem.
The truth of the matter is that injuries were the problem for the Knicks. Raymond Felton missed 10 of those games, while Jason Kidd struggled with his own injury problems.
Felton and Kidd are so important to the Knicks' offense that having them out of the lineup—or just not producing—has an adverse effect on everyone. When the Knicks have won this season it has been because of ball movement initiated by the two point guards, which they just didn't have when STAT was healthy.
It's also important to understand that Stoudemire isn't going to be playing major minutes if he returns. The Knicks aren't going to shape their offense around him, or even have him on the court in crunch time, so if you don't think he's going to be a perfect fit it's not a big deal.
To put things simply, Stoudemire is a fantastic offensive player with a strong playoff resume, so having him healthy and available to play can only help.
Considering the injuries the frontcourt has faced in recent weeks, having that extra body is essential, especially when that same player is one of the team's three best offensive players.
Stoudemire and the Knicks understand what is at stake here. Egos aren't going to get in the way, and his talent and experience will provide a much-needed boost.
STAT is the man who paved the way for this championship-caliber team, and it's fitting that he's going to get a chance to contribute down the stretch. Fitting, not just symbolically, but from a basketball perspective as well.
This article is
What is the duplicate article?
Why is this article offensive?
Where is this article plagiarized from?
Why is this article poorly edited?

New York Knicks: Like this team?