Miami Dolphins Big Board: Final Pre-Draft Update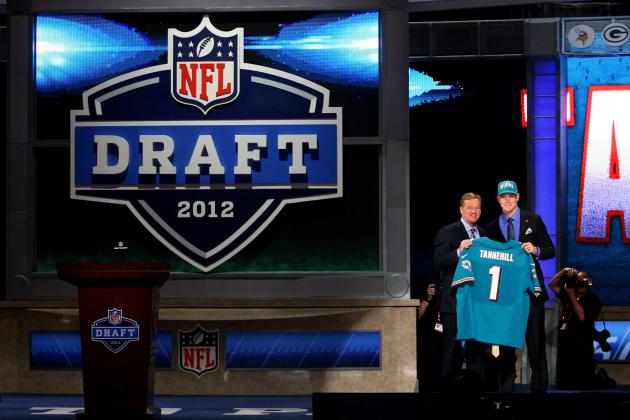 Chris Chambers/Getty Images

The 2013 NFL draft is finally here, and for Dolphins fans this could be a cause for celebration, apprehension, excitement, nausea or some combination of the four feelings mentioned.
The main question of the draft doesn't so much revolve around what the Miami Dolphins do with their first-round pick at No. 12, but rather what they do with their second-round pick at No. 54. The reason for this is deciding whether to keep the No. 54 pick, use it to trade up or trade it to the Kansas City Chiefs in exchange for Branden Albert will eventually lead to what Miami decides to do at No. 12.
But who will be on Miami's board at No. 12 (assuming that's where they stay, as there's a possibility that Miami either trades up or down) and who should they choose with that pick?
Here's a look at the final Miami Dolphins' 2013 NFL draft big board.
Begin Slideshow

»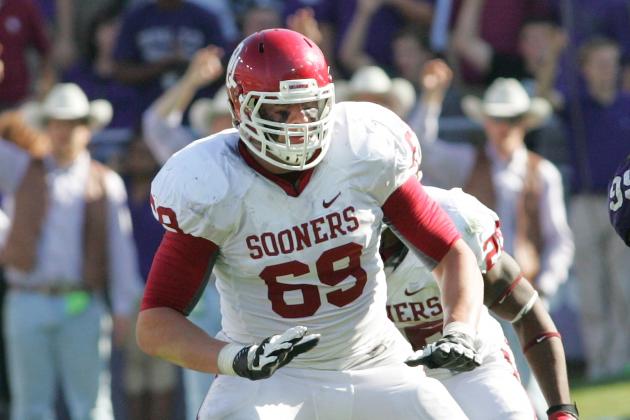 R. Yeatts/Getty Images

1. Luke Joeckel, Offensive Tackle (Texas A&M)
2. Eric Fisher, Offensive Tackle (Central Michigan)
3. Lane Johnson, Offensive Tackle (Oklahoma)
All three of these gentlemen are potential first-round picks and probably the three best overall players available in the NFL draft. Miami might (or might not) need an offensive lineman, and they really can't go wrong with either of these three.
It would require the Dolphins to trade up, and if the Dolphins wind up accepting the trade with the Chiefs to acquire Albert, you could start the big board with the next name on the list. However, if no deal between Miami and Kansas City is imminent, Miami could trade up to acquire either of these tackles.
4. Ezekiel Ansah, Defensive End (BYU)
Ansah might be a bit too much of a challenge for the Dolphins, yet he seems like he's a permanent fixture in every mock draft's top 10. The raw power and skills of Ansah make him intriguing, but for a win-now team like the 2013 Dolphins, he seems more like someone Miami hopes another team will reach for if he's still available at No. 12.
5. Tavon Austin, Wide Receiver (West Virginia)
I am firmly against the Dolphins drafting Austin as high as many Dolphins fans want him to be drafted. He doesn't add as much to the offense as one might think, and the majority of the time he has scored has come as a running back in college (and even then, you'll notice Austin doesn't look as good against premier defenses).
But for the Dolphins to dangle Austin as trade bait to move down and acquire another second-rounder? Then I love the idea! If he's available at No. 12, Miami should cold-call every team picking behind them (except New England because that's likely the only place Austin will become a star, especially in his two games a year against Miami) asking if they're interested in giving up their first and second-rounder for Austin.
6. Tyler Eifert, Tight End (Notre Dame)
We've finally reached the part of the big board where we have someone that will A) be available for Miami to pick, and B) I'd like to see Miami acquire. Eifert should be the first-round pick if the Dolphins stay at No. 12 and will likely be available anywhere between Nos. 12-20.
7. Jonathan Cooper, Offensive Guard (North Carolina)
So the thought is that the 12th pick in the draft is too high to pick a guard. Keep in mind, once upon a time it was considered smart to draft a running back in Round 1 (nowadays you only do that if the running back is Adrian Peterson), and once upon a time you never looked in Round 1 for a quarterback (compare that to now when you have to go in Round 1 to pick a franchise quarterback).
If Eifert isn't available but Cooper is at No. 12, this should be where Miami goes, even though I love the next guy on the list despite all of the red flags.
8. Dee Milliner, Cornerback (Alabama)
Does Milliner's medical pass bother me? Of course it does. His fall on every board (at one point something I could only hope for) is indicative of how much it scares other NFL teams as well.
I still don't see him available at No. 12, but if he is, he does have the skills Miami will need in a position where they do need help.
9. Tank Carradine, Defensive End (Florida State)
I once thought that Carradine would be knocked out of Round 1 due to his torn ACL last season.
I should also mention that there was some semblance of "hope" with that thought. But at the time, every mock had Carradine going as low as the third round, only due to the injury.
However, now it's looking like Carradine might even leapfrog his own teammate Bjoern Werner and get drafted first among the two.
I'd love to see him in a Dolphins uniform, and with a trade down, it could be possible. Carradine (better suited as the right defensive lineman complimenting Cameron Wake than Werner is) is the better pass-rusher of the two and has a bit more upside than Werner.
10. Kenny Vaccaro, Safety (Texas)
The top safety available in this year's class, Vaccaro would be a great compliment to Reshad Jones in Miami's defensive backfield.
While that could be a possibility, safety-needy teams like the Cowboys, Bengals or Rams might be tempted to move up to grab Vaccaro at No. 12, which is the real reason he's on the draft board: his availability at No. 12 could make him great trade bait.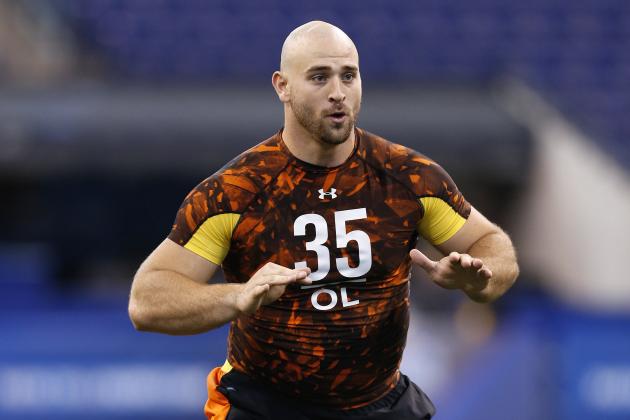 Joe Robbins/Getty Images

1. Luke Joeckel, Texas A&M
2. Eric Fisher, Central Michigan
3. Lane Johnson, Oklahoma
The top three tackles available, likely also the top three players available.
4. D.J. Fluker, Alabama
Fluker has the potential, but his footwork doesn't fit Miami's zone-blocking scheme and questions about his maturity and work ethic seem to follow him around. That's a huge red flag; how would he do without being under Nick Saban's thumb?
5. Menelik Watson, Florida State
I could easily see Watson being available for Miami in Round 2, so why panic to get Branden Albert and instead use the first second-round pick on Watson, then the second second-round pick on a cornerback?
6. Kyle Long, Oregon
Here's a tackle that better fits Miami's zone-blocking scheme than Watson, but doesn't have as much upside. He's probably worth the same second-round pick Miami would use to trade up in the draft or acquire Albert. It wouldn't be a bad idea to keep that pick and use it on Long though.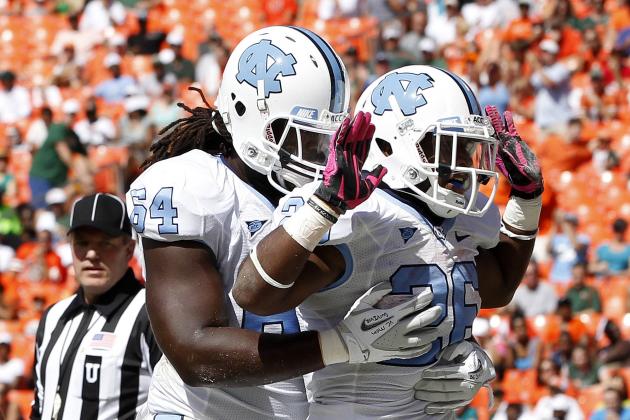 Joel Auerbach/Getty Images

1. Jonathan Cooper, North Carolina
Best guard prospect in the draft (apologies to our No. 2 guy), the best fit for Miami's blocking scheme and the most athletic guard available.
2. Chance Warmack, Alabama
Not a zone-blocking scheme fit. He'll be a great player, but he fits Tony Sparano's mold, not Joe Philbin and Mike Sherman's.
3. Justin Pugh, Syracuse
If available in Round 2, he should be the pick for Miami. However, he likely won't be available in Round 2.
4. Larry Warford, Kentucky
Much like Alabama's Warmack, Warford is a big, bruising guard that fits into what Miami wanted to do in 2010. It's 2013 now, so sadly, Warford won't be a fit despite having some athleticism and being available possibly in the third round.
5. Earl Watford, James Madison
A possible Day 3 sleeper for the Dolphins, Watford has the athleticism and skill to succeed in the zone-blocking scheme.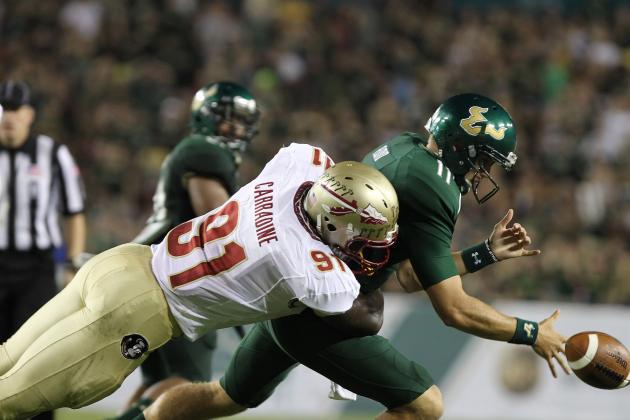 Kim Klement-USA TODAY Sports

1. Dion Jordan, Oregon
Why is he not on the Dolphins' big board? I don't see him slipping to No. 12, nor do I see Miami trading up for him. He shows flashes, but I'm still not 100 percent sold on Jordan anyways due to the fact that at Oregon I saw him standing up and lining up as a linebacker more so than I saw him lining up from the three-point stance.
2. Ezekiel Ansah, BYU
Not someone I want on the Dolphins, but if he's there at No. 12, he should be used as trade bait—possibly with the Atlanta Falcons (in need of a pass-rusher) for their 2013 first and second-round picks, as well as their 2014 first-rounder.
3. Tank Carradine, Florida State
If Miami does trade down, he should be available, and if Eifert isn't available, he should be the pick.
4. Bjoern Werner, Florida State
There's still the chance that Werner is available at No. 42 for Miami. Just putting that out there.
5. Alex Okafor, Texas
Okafor might be available at No. 42 as well. Once again, just putting that out there.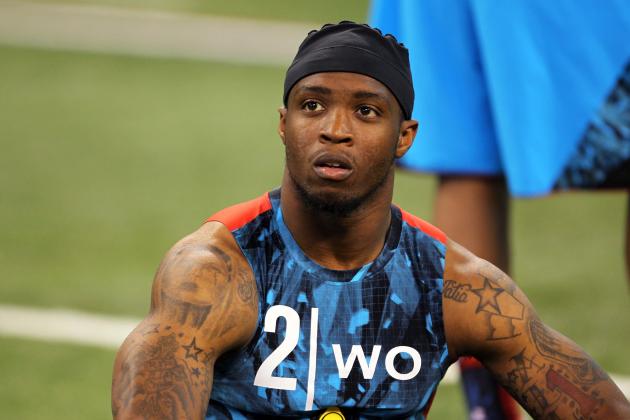 Brian Spurlock-USA TODAY Sports

1. Tavon Austin, West Virginia
I already said my piece about him earlier in the slideshow, and I actually considered turning this space over to one of our loyal readers who believes Miami should choose him.
But I'll just let him comment on Austin in the comments section.
2. Cordarrelle Patterson, Tennessee
I run the gamut of emotions here when it comes to Patterson. To me, he's either going to be a bust or a big bust. He's not too great at catching the ball and his routes are sloppy. He has upside, but somehow I don't see him meeting that upside.
But hey, if anyone wants Patterson at No. 12, call Miami up!
3. Keenan Allen, California
I don't buy the whole "next Anquan Boldin" buzz generated from Allen. So, he's slow he's like Anquan Boldin; Allen does have great hands, but while Boldin wasn't the fleetest of foot coming out of Florida State in 2003 (and while overlooking Boldin for Eddie Moore is one of Miami's biggest draft day blunders of all time), he wasn't coming off of a knee injury that forced him to miss the final part of his senior season either.
4. Quinton Patton, Louisiana Tech
Patton will be the best wide receiver to come out of this draft. I'm even willing to bet on it. He stands at 6'4" 204 pounds, runs great routes, has great hands and while not the fastest, he just gets open. I'd love for the Dolphins to acquire him, but alas, there are bigger needs to tackle when Patton is available in Round 2.
5. Stedman Bailey, West Virginia
By every statistical measure, Bailey was the better receiver at West Virginia than Austin. He's a steal and will likely have a better NFL career than Austin when all is said and done.
6. Ryan Swope, Texas A&M
Swope is another reason why picking Austin at No. 12 doesn't make much sense. In Rounds 3 or 4, Swope can give you the same thing as Austin, but with the built in knowledge of Miami's playbook and chemistry with Ryan Tannehill.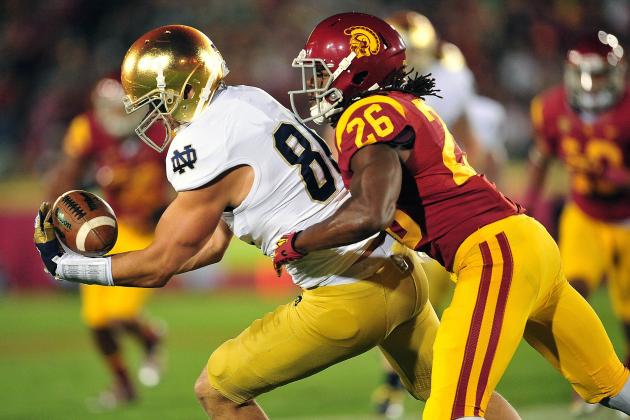 Gary A. Vasquez-USA TODAY Sports

1. Tyler Eifert, Notre Dame
Eifert, Cooper, Milliner and the three top offensive linemen are my guaranteed "you have to pick them" guys for Miami with the 12th pick.
2. Zach Ertz, Stanford
Ertz has potential in Round 2, but he does have to work on his blocking. If he doesn't, he's no different from Dustin Keller, Charles Clay and the immortal Michael Egnew.
3. Gavin Escobar, San Diego State
Go on his NFL.com page and look at Escobar's weaknesses. Keep in mind Miami is looking for a blocker.
4. Travis Kelce, Cincinnati
Kelce probably is the second-best fit for what Miami wants to do at the tight end position, but also possesses the biggest risk. Kelce has had discipline problems in the past but does seem over them. The question is how long will it take for him to develop?
5. Dion Sims, Michigan State
Say Miami goes with either Cooper, Milliner or any of the big three offensive linemen (assuming they're available). Who should be Miami's tight end?
My suggestion is to wait until Round 4 and grab Dion Sims. Sims has great hands and is a great blocker. He's an end-zone target (6'5", 262 pounds) that's almost impossible to miss.
If Eifert isn't the pick in Round 1, Sims should be the pick in Round 4.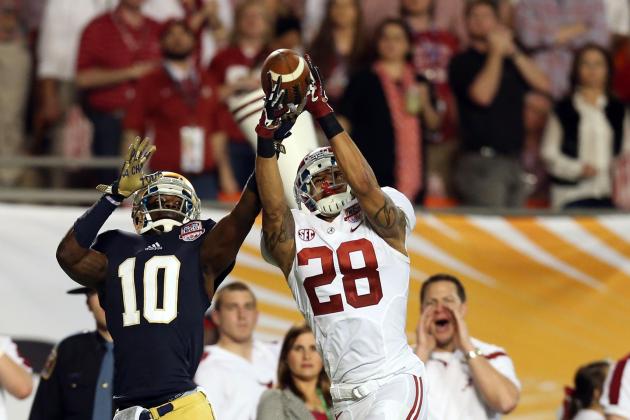 Matthew Emmons-USA TODAY Sports

1. Dee Milliner, Alabama
If available at No. 12, he should be the Dolphins' draft pick. (Unless Eifert is also available).
2. Desmond Trufant, Washington
So, say the Dolphins do trade back and neither Milliner, Cooper or Eifert are available (we know the linemen won't be), Trufant has to be the pick for them due to his knowledge of the zone coverage scheme as well as the fact that he is likely the most NFL-ready corner in the group.
3. Xavier Rhodes, Florida State
If taken, I won't be too upset. Rhodes is a young and smart player, and he can learn Miami's zone scheme, so it won't exactly be Sean Smith 2.0. The only problem is Trufant will be ready the second he gets to Davie, Rhodes will need about a year to reach his potential.
4. D.J. Hayden, Houston
The injury was a freak occurrence, but prior to that, he did look great. Despite what many draft experts think, I don't see Hayden being picked in Round 1. In fact, I could see him slipping further into Round 3.
5. Jordan Poyer, Oregon State
I've only been beating the drum on this guy for how long? He'd be a great use of the 54th draft pick (assuming it doesn't become Kansas City's pick) or even early in Round 3 if he makes it that far.