Browns 2013 Draft Picks: Results, Analysis and Grades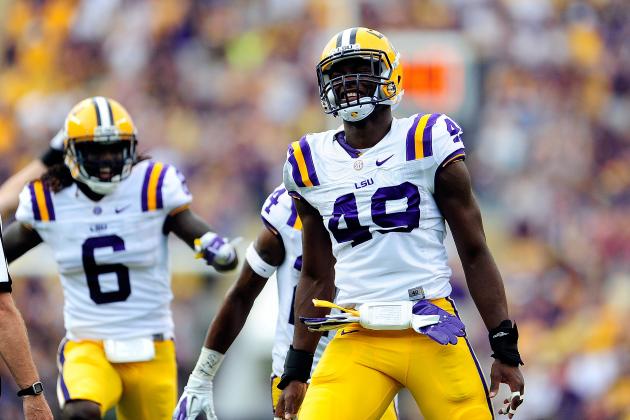 Stacy Revere/Getty Images

Browns fans, it's finally time. The time that Cleveland fans wait for all year, hoping to finally add the players who will put the team over the top. It's the 2013 NFL draft.
No one ever knows what to expect from the draft. But one thing draft analysts are good at is reacting. And that's exactly what we will be doing here. Live.
This post will be updated with grades for each pick made by the Browns as they happen. There will be grades, and there will be analysis.
So, Browns fans, stay tuned and keep checking back as the draft progresses. Just remember, this is the draft that will turn it all around.
Location: Radio City Music Hall New York, NY
Dates: 25-27 April 2013
Round 1: Thursday, 25 April at 8:00 PM
Rounds 2 & 3: Friday, 26 April at 6:30 PM
Rounds 4-7: Saturday, 27 April at 12:00 PM
TV Coverage: ESPN & NFL Network
Begin Slideshow

»
The Browns went into the draft needing a pass-rusher, and they got the best one in the draft. Barkevious Mingo is one of the most explosive pass-rushers at any level of football, and, as crazy as it sounds, has 20-sack potential.
The 6'4", 241-pounder is a perfect fit outside in Ray Horton's 3-4 defense. He has limited experience in coverage, but he excelled at the Scouting Combine and is smooth enough to adjust.
Off the edge, Mingo can be a 10-sack player as a rookie. He isn't great against the run, but he is underrated there. He's stronger than most think, and he shows solid technique in containment. He is good enough to start immediately.
This is a high-upside pick for Cleveland. Many have labeled Mingo as a boom-or-bust pick, but his motor, pass-rush repertoire and physical ability make him a surefire hit as a pass-rusher. This pick addresses a huge need and is a great value.
Grade: A
Entering the draft, Cleveland's biggest need was at cornerback. Buster Skrine was slated as the team's starter opposite Joe Haden. Skrine, quite simply, is not good.
Leon McFadden, on the other hand, is quite good. The 5'10", 193-pounder isn't the fastest guy, and there are bigger cornerbacks, but he can play. McFadden was probably the most physical cornerback in the draft.
At the line of scrimmage, McFadden can play press coverage, and his smooth hips allow him to run and adjust with wide receivers. His speed isn't ideal, though, and he will struggle to keep up with faster wide receivers.
As a rookie, McFadden could start out in the slot, but he seems likely to supplant Skrine on the outside, for the simple reason that McFadden is better.
Grade: A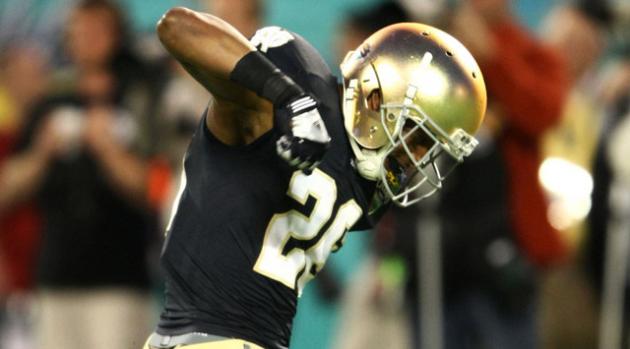 This is a bit of a puzzling selection. With Bacarri Rambo still on the board, Cleveland chose for another safety in Jamoris Slaughter.
There's no denying that the Browns needed a safety. The team is essentially without a starter next to T.J. Ward, but this pick may not have changed anything.
At 6'0", 195 pounds, Slaughter isn't particularly big and may lack a true position in the NFL. Slaugher is a physical player, but he isn't big or athletic enough to have a great fit at either safety position.
Slaughter's tape is incomplete. He tore his Achilles tendon in 2012, causing him to miss most of the season. Slaugher was a good college player, but it's difficult to see how he projects in the NFL.
Grade: C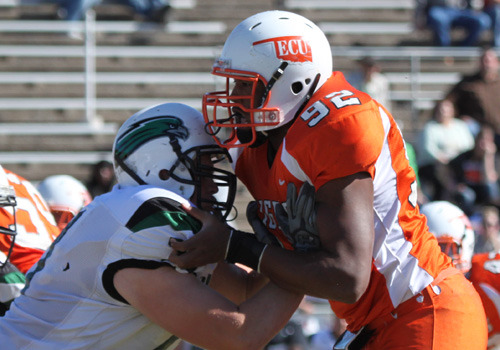 In the seventh round, why not?
Armonty Bryant fell due to character concerns, but he's talented. The 6'4", 263-pounder is naturally athletic with strong pass-rushing ability and terrific length.
Cleveland has made it a priority to upgrade its pass rush, and though he won't immediately help, Bryant could make an impact in the future.
It's difficult to find a player in the seventh round as talented as Bryant is. In a couple years, he could be ready to compete for a starting job.
Grade: B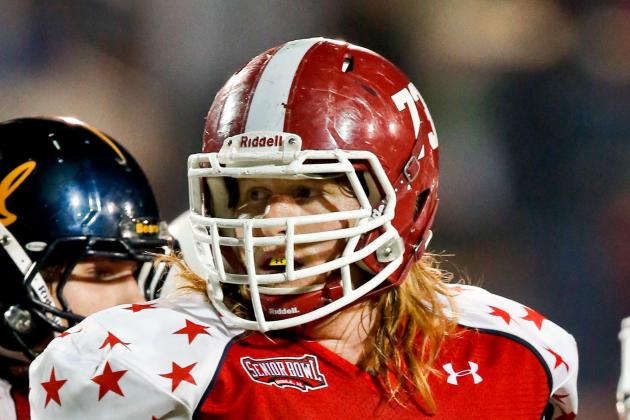 Derick E. Hingle-USA TODAY Sports

Another small-school player, Garrett Gilkey is a developmental guard. He played offensive tackle at Chadron State, but his short arms and lack of athleticism should force him inside.
Cleveland's interior offensive line depth was lacking, and right guard Shawn Lauvao could use some competition. The position definitely makes sense for Cleveland.
At 6'6", 318 pounds, Gilkey is a big player with a nasty streak. He is constantly fighting and attacking. He plays with power and strength, making him a strong run-blocker.
In pass-protection, Gilkey is nothing special. He isn't a great athlete, and his feet need some work. He also has a tendency to overextend.
Right now, Gilkey isn't ready to seriously contribute for Cleveland. In a year or two, though, his size and strength could make him a starting guard.
Grade: B