Detroit Lions 2013 Draft Picks: Results, Analysis and Grades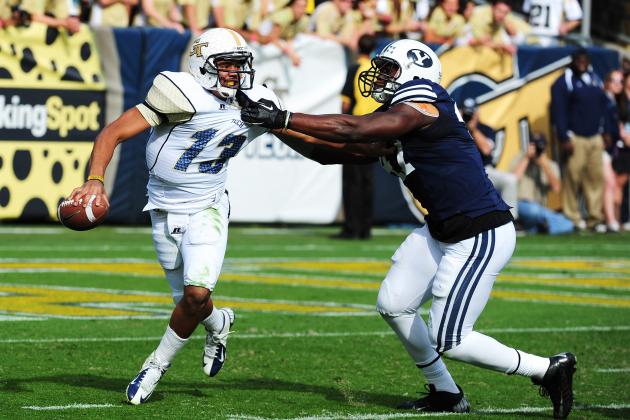 Scott Cunningham/Getty Images

Detroit Lions fans have been waiting for the 2013 NFL draft since midseason, meaning every one of you is going to want the lowdown on each pick immediately after they happen.
And that's awesome, because that's exactly what I want to do.
Shortly after each pick is announced, check back here for details about the player recently selected, including how they fit into the Lions' plans and how well (or poorly) Martin Mayhew and Jim Schwartz did.
Enjoy the hope that the NFL draft provides since there won't be any definitive winners and loser for years. And as Lions fans, that should be something you can appreciate.
Follow me for live analysis of the draft!
Begin Slideshow

»
I gave it to you in my mock, and you mocked me. Sorry, couldn't help myself.
Anyways, this is exactly what the Detroit Lions needed to do. The defensive line has declined dramatically in the last year and the cupboards had become extremely bare.
Ezekial Ansah was the best answer here. The 6'5", 271-pound defensive end has great speed (4.63 40-yard dash) and incredible quickness (4.26 20-yard shuttle).
The Lions had to add some explosiveness on the outside to exploit the single blocker Detroit's ends will face due to Ndamukong Suh and Nick Fairley in the middle. Now, offensive line coaches will have to account for another first-round pick on the defensive line.
Yes, there will be a learning curve for a guy who has only played football for three years. However, he's gone from just trying to tackle the man with the ball to reading plays and getting stops. With Suh, defensive line coach Kris Kocurek and Gunther Cunningham tutoring Ansah, he'll reach his ridiculously high ceiling sooner rather than later.
With both of the top tackles gone, this was the right move. The secondary had already been improved with new blood (Quin Glover) and restored health. Well done, Martin Mayhew.
Grade: A
The Lions didn't hesitate to find another possible difference-maker on defense that has limited top-level experience (13 starts at Mississippi State). In the second round, Detroit tagged cornerback Darius Slay.
I didn't have an immediate reaction as I was thinking that Tank Carradine or Menelik Watson were the likely draftees left. However, after thinking about it a touch, I like it. I'm just not blown away either.
Slay is a speedy talent who led the SEC with five interceptions last year. He won't be an impact player in his first year, but he won't have to be if his fellow defensive backs can stay healthy.
There is also the concern over his torn meniscus. He won't be getting surgery, but it isn't comforting either.
All in all, cornerback is still a need and Slay is a better prospect than the young corners currently on the roster. Still, it's a bit of a gamble considering the other options.
Grade: B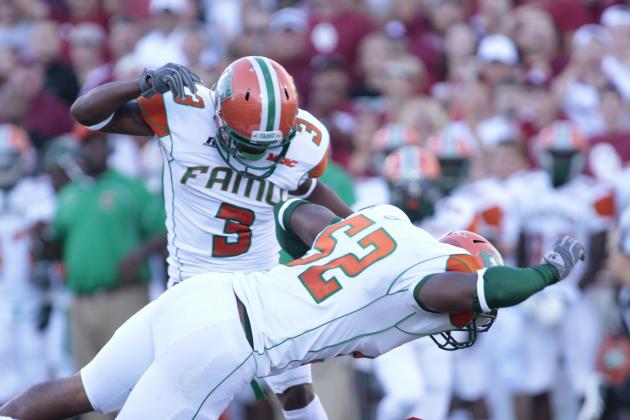 Brett Deering/Getty Images

Meh, okay. That's about the most descriptive words I can use to describe the selection of Brandon Hepburn.
From everything I've read, the man is a great human being, so congratulations to him on being drafted. His track record includes volunteering, graduating and working in a biochemistry research lab.
As for his play, he's got a chance to make the roster, but that has more to do with the poor state of Detroit's linebackers. However, I do like his speed (4.54 at his pro day, according to www.nfldraftscout.com) and his senior year stats were decent, just not overwhelming (86 tackles, 5.5 sacks).
There were some other interesting options available at this spot, notably Da'Rick Rogers. So that brings this grade down slightly.
Grade: C
After drafting two guys with limited experience, Mayhew grabbed an oak with his third rounder. Larry Warford is the proud owner of 37 straight starts at Kentucky, meaning he has almost more than twice as many starts as the first two picks combined.
Anyways, this is a great pick all around. Warford will be a starter from Day 1 for the Detroit Lions, which is good since they have a huge hole at the guard position.
Warford is a big man (331 pounds) who won't be getting pushed around on the inside. That's imperative considering he'll be lined up next to the aging and undersized Dominic Raiola.
Mikel Leshoure, Reggie Bush and Joique Bell are going to love this guy. He's a pile-driving run blocker who will clear the road, whether he's firing off the line or pulling.
Lastly, this is a great value for the Lions. Many didn't think he'd be available in this spot.
Although, I would like to point out that one such analyst thought he'd be there. That makes two out of three for me.
Grade: A+
I was okay with the first two gambles on Ansah and Slay, but you have to wonder if Mayhew is playing with too much fire here.
Defensive end Devin Taylor is a guy who has all the physical tools you want in a defensive end. He's 6'7", runs a 4.72 40-yard dash and has a ridiculous 4.30 20-yard shuttle.
However, he never produced much in college. His senior season ended with 8.5 tackles for a loss and three sacks. And he was playing opposite of Jedeveon Clowney.
His pass rushing skills are not on par with his physical attributes. However, the Wide 9 should help him out since he can use his speed and agility to get up the field quickly.
Still, Mayhew is again putting a lot of stock in potential over production with this pick. It makes me uneasy.
As for value, Taylor was likely to be there in either of the next two rounds. Mayhew would have been wise to grab defensive tackle Jesse Williams or offensive tackle Jordan Mills if he wanted to build line depth.
Grade: C-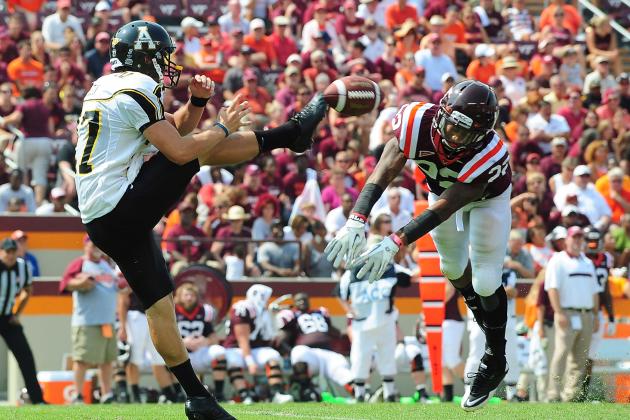 Andrew Weber-USA TODAY Sports

Once you get towards the back of the draft, it's time to start taking flyers on talented guys who could develop into something while contributing on special teams.
However, taking a punter is not in line with this paradigm, so I'll return to my first reaction: a punter?
I don't see the value in taking a punter, unless you believe the guy will make the Hall of Fame debate enshrining him.
This isn't even the same as drafting a kicker, who can increase the offense's striking distance. It's a punter.
Yes, punters can prove beneficial in terms of field position, but you can get one much later in the draft or even as an undrafted free agent.
Well, at least the Lions addressed a need.
Grade: D
While it will take time before I can come around to the idea of a punter in the 5th round, there will be no need for discussion here. Corey Fuller was a solid pickup.
The Lions have been dying for a big receiver who can run in a straight line and draw a safety away from Calvin Johnson. If said safety opted to stay with Megatron, the big wideout needed to make them pay.
Fuller can do that. He's 6'2" and a former track athlete that knows how to locate the ball on deep throws. Matthew Stafford will give him a few shots a game with his love of the long ball, so the offense might have located their last weapon.
There's still some work to do on the offensive line, but the rest of the lineup is rounding into shape.
Lastly, it should be noted that Fuller is another guy with limited big-time experience. He ran track for two years before joining the Virginia Tech Hokies in 2011.
Grade: B
With their last pick of the sixth round, the Lions picked up some Reggie Bush insurance. Smart.
Theo Riddick is a quick, versatile "running back" that has many of the same attributes as Bush, just not at the same level. He's capable of catching the ball out of the backfield and could step in right away as a kick returner.
At this point, value isn't much of concern. You find players that you like who might not make it to free agency.
He'll be moved all over the field whenever he's inserted into the game, which probably won't be often at first. As for getting any actual carries, I wouldn't bet on it.
The Lions needed someone to return kicks and punts while providing a backup for Bush's presence in the passing game. They got it.
Grade: B-
Kevin C. Cox/Getty Images

The Lions aren't ignoring their needs this year and just drafting the best player available. It looks like they've evaluated the roster and are specifically targeting players to fit certain roles.
Tight end Michael Williams is a great example of this philosophy working well.
Detroit needed a third body behind Tony Scheffler and Brandon Pettigrew, and it was important that he had the ability to block and catch. That sums up Williams well.
He's often thought of as another offensive tackle. His run blocking will serve the team well in short-yardage situations.
Lastly, Williams won't be able to win one-on-one coverage battles, but he can catch whatever is thrown his way if teams ignore him.
For this late in the draft, that's a nice haul.
Grade: B+