Mets' 5 Biggest Surprises so Far This Season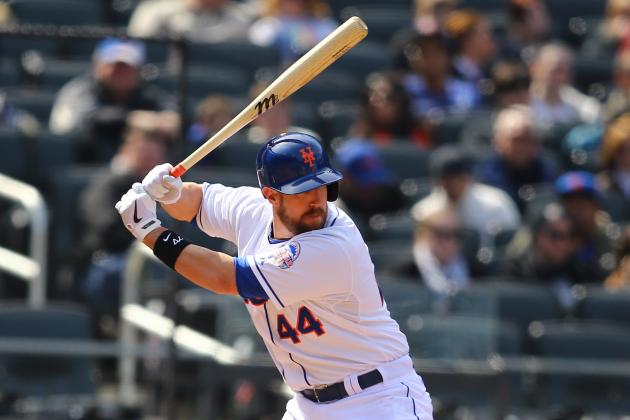 Al Bello/Getty Images

The Mets' season thus far has been rather uneven at 10-9. At times, and particularly in the first few games of the season; the Mets were getting great pitching and scoring a lot of runs. But in other games, these same Mets have been unable to score runs to support the pitching staff, while in other moments, the pitchers have looked lost on the mound and have performed poorly.
Despite what has happened thus far in the first 19 games, the Mets have certainly gotten some surprisingly good starts from a few of their players. Here is a rank of the five biggest surprises for the Mets so far.
Begin Slideshow

»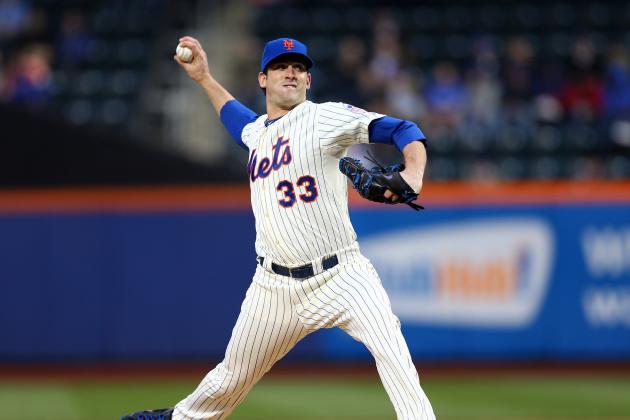 Elsa/Getty Images

Season Statistics: 4-0, 1.54 ERA, 5 GS, 35.0 IP, 0.69 WHIP
This is not to say that Matt Harvey being successful is a surprise in itself because it is not. This is more of a measure of just how spectacular Harvey has been in his first five starts.
Harvey has not just been great on the mound. He has completely dominated the opposition. He already has 39 strikeouts, which is by far the most among Mets pitchers and second in the National League. Harvey's 0.69 WHIP is the best in all of baseball, while his four wins are tied for the most in baseball.
Harvey has been expected to be a great pitcher in the National League, but not as many people would have likely expected Harvey to be as dominant as he has been. If Harvey can put up these kinds of numbers throughout his career, the sky is the limit for his potential.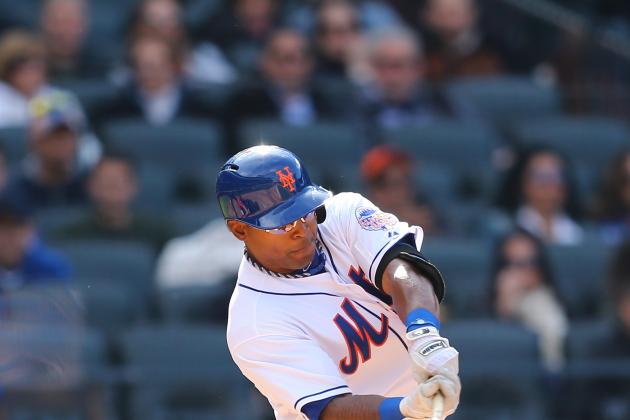 Al Bello/Getty Images

Season Statistics: .246 BA, 1 HR, 10 RBI, .681 OPS
Although he has cooled off more recently, Marlon Byrd got off to a good start with his season this year.
After batting just .210 in 2012, Byrd had two RBI on Opening Day and then hit very well during the Mets' road trip to Minnesota and Colorado.
Byrd came into this season with little to no expectations to rebound into the former All-Star he once was, but with some more patience at the plate and a good number of opportunities, Byrd definitely has a chance to redeem himself this season.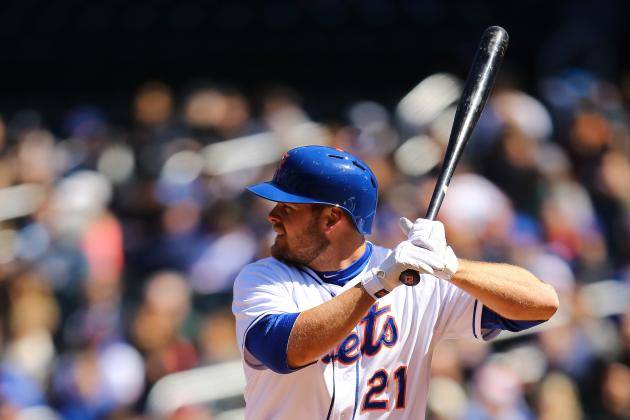 Al Bello/Getty Images

Season Statistics: .275 BA, 5 HR, 8 RBI, 17 BB, 1.099 OPS
After underachieving in the second half of the 2012 season, Lucas Duda is off to a great start to his 2013 season. This is something the Mets have been waiting to see from their big slugger and if he keeps it up, the Mets' offense could really go somewhere this year.
With just 15 home runs and 57 RBI a year ago, Duda certainly underperformed compared to the 25-30 home run and 90-100 RBI potential he has had for quite some time. With the way he has started his season this year, it's definitely possible that Duda could get a lot closer to his full potential.
Another great thing about Duda right now is that despite striking out a lot, he has shown patience at the plate with 17 walks already. His hitting profile is very similar to that of Adam Dunn in both size (although not to the exact same degree as Dunn) and the fact that they both hit home runs, draw walks and strike out a lot.
The Mets' offensive future is currently built around David Wright and Ike Davis as the cornerstones. They have arguably been the two most consistent run producers in the past few seasons. If Duda can really get his bat going, he would certainly take the Mets' lineup to another level and that could be a key ingredient to an eventual World Series championship down the road.
A lineup that includes Wright and Davis, plus Daniel Murphy and Ruben Tejada as table setters is already a solid top of the order. If Duda can reach his potential and Travis d'Arnaud hits well once he gets called up, the Mets could easily have one of the strongest lineups in the National League. The pieces are there and the hitters just need to produce.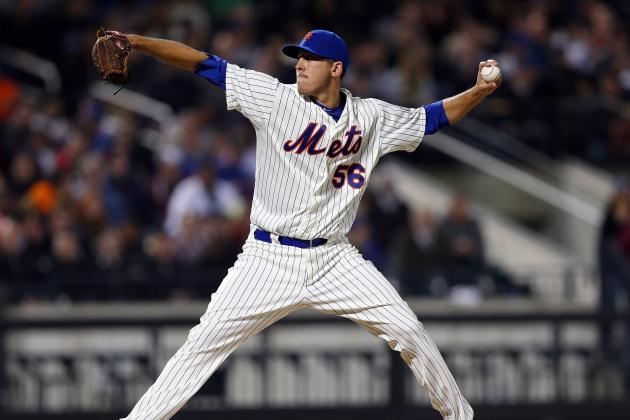 Elsa/Getty Images

Season Statistics: 1-0, 0.87 ERA, 10.1 IP, 1.16 WHIP
The story of Scott Rice is certainly one worth hearing. Rice is a 31-year old rookie who had spent 14 seasons in the minor leagues before finally catching a big break this year with the Mets as their second left-handed reliever.
To thank the Mets for giving him a chance, Rice has performed exceptionally well so far. He has only allowed one earned run in 11 appearances and has a miniscule 0.87 ERA, which is great for someone that was not widely expected to be a major contributor to the Mets' bullpen.
Thanks to his success and the struggles of Josh Edgin, Rice has more recently been pitching in high pressured late-inning situations, which shows how much Terry Collins already trusts Rice.
It remains to be seen whether Rice can turn into a big steal for the Mets or if he will regress later in the season. But Rice has already been impressive in his rookie season, despite having all the minor experience he has. Hopefully, Rice's great story has at least a few chapters to go.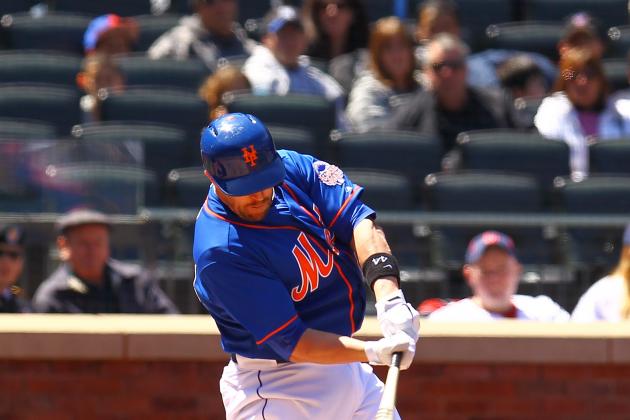 Mike Stobe/Getty Images

Season Statistics: .271 BA, 7 HR, 22 RBI, .893 OPS
Despite Scott Rice's amazing story, John Buck's season has definitely been by far the biggest surprise for the Mets so far. The fact that Buck had batted just .193 in 2012 certainly played a big role in why Buck got the nod over Rice.
Buck came out of the gate swinging like there no was no tomorrow. He had six home runs and 15 RBI within his first nine games and now has seven home runs and 22 RBI. He is tied for second in the National League in home runs and leads the National League in RBI.
Buck was mostly acquired to be a placeholder and mentor for top catching prospect Travis d'Arnaud until d'Arnaud is ready for his eventual major league call-up. But the fact that Buck is hitting so well has been a bonus for the Mets. Buck's hitting has been a big reason why the Mets got their first few wins. While Ike Davis was expected to carry the Mets in the power department and has been slumping, Buck has simply picked up the slack and carried the Mets offense through its first 19 games.
It's unknown what the Mets will eventually do with Buck, who is on the final year of his original three-year contract with the Marlins. The Mets could keep him around as the backup catcher once d'Arnaud is up, or if the Mets are struggling by late July, the Mets could look to trade Buck to a contending team in need of catching depth.
For now though, Buck has been a great presence in the Mets' lineup and has worked very well with the pitching staff. To put it all in perspective, Buck has already provided more production for the Mets behind the plate than any of the Mets' catchers in 2012 did.