Ravens 2013 Mock Draft: Final 7-Round Predictions for Baltimore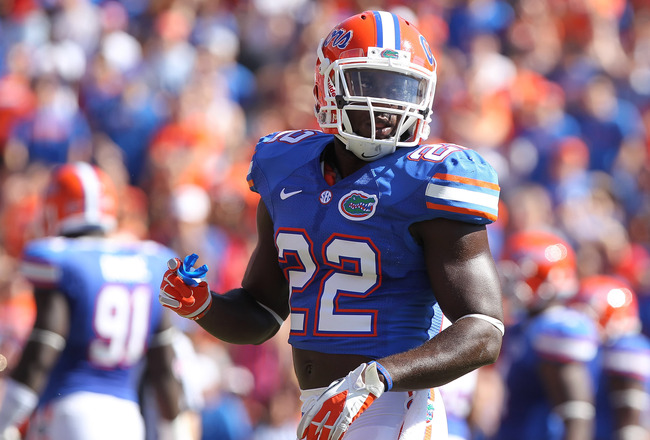 Kim Klement-USA TODAY Sports
The Baltimore Ravens have 12 picks in the 2013 NFL draft, but don't expect them to leave with 12 players. Other than four compensatory picks that are not tradeable, expect the Ravens to be very active as they move up and down the draft board to go after the players they covet most.
The Ravens have the following overall picks: 32, 62, 94, 129, 130 (comp), 165, 168 (comp), 199 (from SF), 200, 203 (comp), 238, 247 (comp).
In the following slideshow, I'll give an in-depth look into some of the prospects I expect the Ravens to look at and explanations of how they fit with the team.
Round 1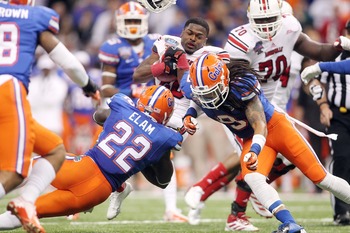 Matt Elam
USA Today Sports
32: Matt Elam, SS, Florida
The Ravens' current starting strong safety is James Ihedigbo, who played for the team last season and did a decent job. After that, the safety position is a mystery.
Second-year player Christian Thompson was expected to step up and play a backup role, but was recently suspended for the first four games of the season for violating the league's substance abuse policy. Because of this, the Ravens add depth and a likely upgrade to their entire secondary with the pick of Elam in the first.
Elam offers the Ravens an instant upgrade in the secondary to pair with Michael Huff, the replacement for Ed Reed at free safety. The Ravens let both Ed Reed and Bernard Pollard go because they felt there were coverage issues and tackling issues at times. Both Huff and Elam are solid tacklers with great range. This addition could potentially give the Ravens a dominant defense again.
Other possibilities for the first round include: Jonathan Cyprien, Eric Reid, DeAndre Hopkins, Kevin Minter, Kenny Vacarro, Menelik Watson or Alec Ogletree.
Round 2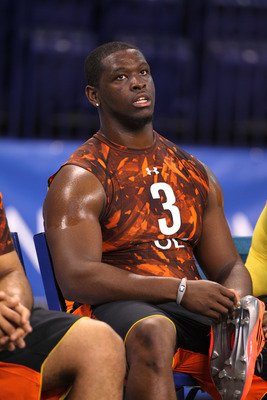 Terron Armstead
Brian Spurlock-USA TODAY Sports
64: Terron Armstead, OT, Arkansas-Pine Bluff
Arguably the biggest question mark for the Ravens right now is, who will start at left tackle?
It's no secret that the Ravens have no proven left tackles on the roster, and at the moment the best options are Michael Oher, Kelechi Osemele and Ramon Harewood.
New offensive line coach/run-game coordinator Juan Castillo was known for turning late picks into starters on the Eagles offensive line, and some believe he'll try to do the same thing in Baltimore. Still, the Ravens would like to bring someone in to try and groom as the next left tackle for Joe Flacco.
In this scenario, it is also likely that the Ravens will re-sign Bryant McKinnie to play left tackle until Armstead or someone else is ready.
Round 3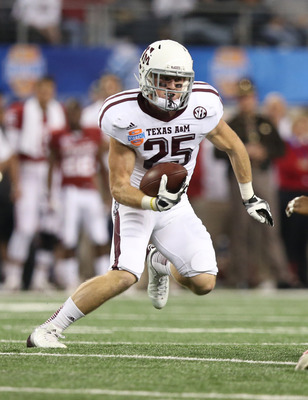 Ryan Swope
USA TODAY Sports
94: Ryan Swope, WR, Texas A&M
The Ravens need a receiver who is capable of playing on the outside and in the slot, and Swope could be that type of player. Swope is an underrated player who will be an instant contributor to any offense, has toughness and is a willing blocker. My guess is that if he's available at this point in the third round, Ozzie Newsome will take a hard look at him or another receiver like him.
If Swope is not available, the Ravens could target Da'Rick Rogers, Stedman Bailey, Markus Wheaton or Chris Harper in this area of the draft as well.
Round 4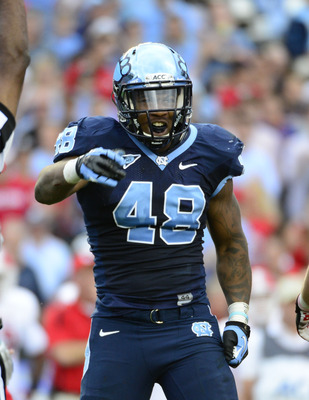 Kevin Reddick
USA TODAY Sports
129: Kyle Juszczyk, FB, Harvard
130 (comp): Kevin Reddick, LB, North Carolina
It may seem confusing to some of you why the Ravens would take a fullback in the fourth round when they already have Pro Bowl fullback Vonta Leach. However, Leach has a very rich contract this year and they might have to unload him to make room for someone else (like Bryant McKinnie or another free-agent tackle).
It is also known that after Jim Caldwell took over the offense last year, Leach's role decreased and some speculate that the coaches might not want to pay a part-time fullback so much money. Juszcyzk has visited the Ravens this offseason and would offer a solid replacement for Leach.
Reddick would be tremendous value at this point in the fourth round. The Ravens desperately need an inside linebacker with coverage skills and Reddick offers that and starting potential. He's very fluid in coverage and good in traffic, which is extremely important to the Ravens scheme. It's even possible that the Ravens would target him earlier than this if he started to fall.
Round 5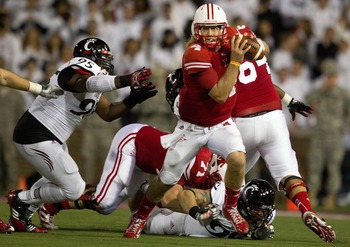 Zac Dysert, QB, Miami (Ohio)
Rob Leifheit-USA TODAY Sports
165: Denard Robinson, WR, Michigan
168 (comp): Zac Dysert, QB, Miami (Ohio)
In the fifth round I had the Ravens go after Denard Robinson, who offers some versatility as a playmaker. Robinson can play running back, wide receiver, quarterback and even return kicks for the Ravens. The Ravens haven't had someone with his versatility on offense in a long time (if ever?), and it would add a new dynamic.
Robinson has great potential as a slot receiver, but will take some time to develop. Jacoby Jones will see a lot more snaps on offense in 2013, which means the Ravens could be in the market for a new kick returner. Robinson would most likely compete for that job immediately.
Next I had the Ravens taking QB Zac Dysert. I've watched Dysert play at Miami (Ohio) since his redshirt freshman year and I even wrote a short piece on him back then for DraftBreakdown.com. The Ravens current backup quarterback is Tyrod Taylor and his only competition at the moment is Caleb Haine.
The Ravens want to groom a solid backup for Flacco in case he gets injured, and Dysert has starting potential if he's in the right system with good coaching. Dysert could be selected anywhere from the late third to the late fifth round, and at this point the value is too good for the Ravens to turn down.
Round 6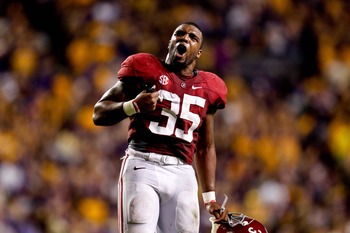 Nico Johnson
Derick E. Hingle-USA TODAY Sports
199 (from San Francisco): Nico Johnson, ILB, Alabama
200: Kwame Geathers, DT, Georgia
203 (comp): Ryan Jensen, OG, Colorado State-Pueblo
Nico Johnson is a solid inside linebacker from Alabama, a school that has seen several defensive players selected by the Ravens in recent years (in part due to Ozzie Newsome's connection to the school). Johnson doesn't seem like he'll ever be a star, but he could be a solid contributor and rotational player for a defense and the special teams unit.
Kwame Geathers is another player the Ravens have had contact with this offseason that would instantly add depth to their interior defensive line. The 3-4 end positions in the Ravens defense is stacked with talent, but after Haloti Ngata and Terrence Cody, there isn't anyone else who could play nose tackle.
Geathers split playing time with John Jenkins, who will be picked in the first two days of the draft, so he didn't really have much time to show what he's capable of. However, the physical tools are certainly there for him to become a solid player.
Ryan Jensen first came on the radar of most draftniks at the Colorado pro day where he met with several teams, including the Ravens. The Ravens need depth on their offensive line, and Jensen seems like he has potential (although admittedly, I've never seen a Colorado State-Pueblo football game). However, Jensen has all the measurables you look for in a guard and could be a good late-round flier for the Ravens.
Round 7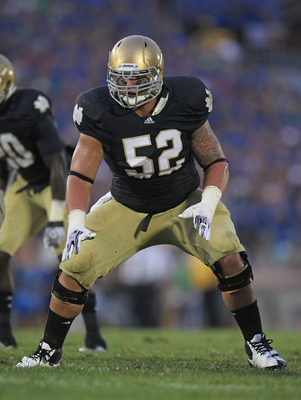 Braxston Cave
Jonathan Daniel/Getty Images
238: Onterio McCalebb, RB, Auburn
247 (comp): Braxston Cave, C, Notre Dame
Onterio McCalebb is another versatile player like Denard Robinson that would offer a lot to the Ravens' offense and special teams. I doubt the Ravens would draft both of these players because their skill sets are similar; however I expect the Ravens to draft a player like this at some point. McCalebb was a dangerous return man for Auburn as well as an explosive offensive weapon at times.
Braxston Cave played on a pretty impressive offensive line at Notre Dame this past year and is fairly underrated. He's limited athletically but has solid fundamentals and is supposedly a smart player too. The Ravens don't have much competition for new starting center Gino Gradkowski, and Cave would probably come to Baltimore competing to be the backup. As a comp pick in the seventh round, Cave is good value and could develop into a solid backup.
DraftBreakdown.com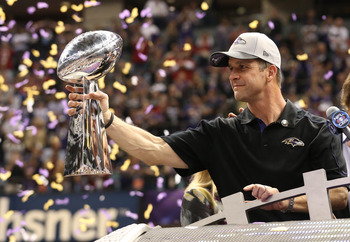 Matthew Emmons-USA TODAY Sports
Rob Engle is the co-founder of www.DraftBreakdown.com
Check out DraftBreakdown for in-depth analysis, mock drafts, scouting reports and video breakdowns of hundreds of NFL prospects.
Keep Reading

Baltimore Ravens: Like this team?