Buffalo Bills Big Board: Final Pre-Draft Update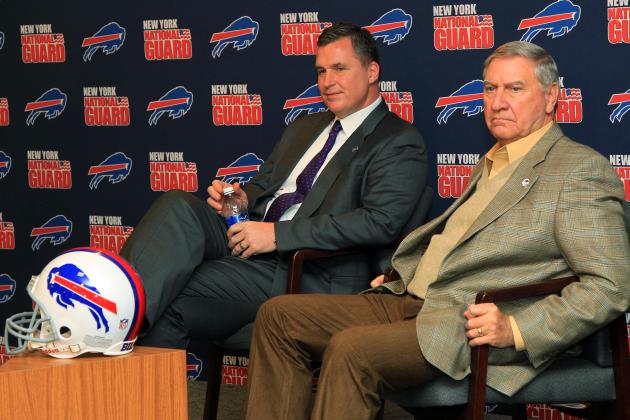 Kevin Hoffman-USA TODAY Sports

The time has come.
All the mock drafts, player rankings and hours combing over grainy small-school game tape have fulfilled the craving for months, but now it is finally here.
In less than 24 hours, Commissioner Roger Goodell will march to the podium standing at the center of the Radio City Music Hall stage. He will welcome players, families and fans alike to this marvelous annual event before declaring that the Kansas City Chiefs are now on the clock with the first pick in the draft.
An hour or so of the premier event of the NFL offseason will pass before the Buffalo Bills have a chance to make their anticipated first selection.
Mystery surrounds the eighth selection in the 2013 draft, as no one seems to agree with the direction that the new regime in Buffalo will go in.
That uncertainty may make some Bills fans nervous about adding another flop to a decade full of them, but the beauty of the 2013 draft is how unsettled it is at the top.
Fans will be sitting on the edge of their seats with each passing pick, wondering who will trade up or who will be the surprise pick. With the lack of "star power" at the top of the first round, NFL fans are about to be treated with three days of riveting, drama-filled television.
Over the next few slides we will take a look at players the Bills could potentially be looking at over the course of the draft. Certain positions, like defensive tackle and running back, will be omitted because of the high-level talent at those positions.
Also do not be surprised if top prospects at their respective positions do not make the big board. Positions that have a chance to be filled with the eighth pick will have the necessary prospects in those big-board rankings, while secondary needs will have mid-round talent listed.
Here's the final Buffalo Bills big board of the offseason.
Begin Slideshow

»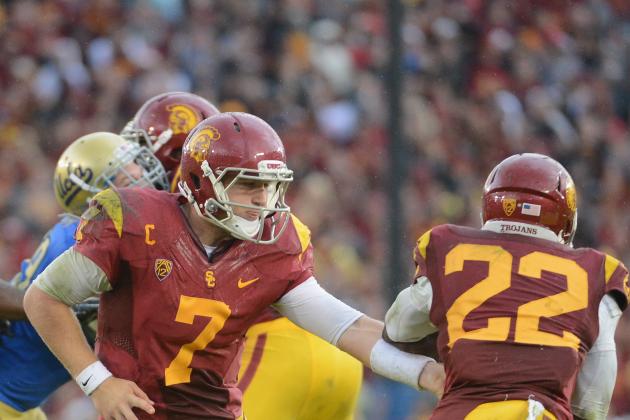 Harry How/Getty Images

1. Dion Jordan, Oregon
2. Tavon Austin, West Virginia
3. Ryan Nassib, Syracuse
4. Matt Barkley, Southern California
5. Chance Warmack, Alabama
6. Jonathan Cooper, North Carolina
7. Dee Milliner, Alabama
8. Kenny Vaccaro, Texas
9. E.J. Manuel, Florida State
10. Kevin Minter, Louisiana State
Derick E. Hingle-USA TODAY Sports

1. Ryan Nassib, Syracuse
2. Matt Barkley, Southern California
3. E.J. Manuel, Florida State
4. Mike Glennon, North Carolina State
5. Tyler Wilson, Arkansas
No Geno Smith?
When it comes down to it, I believe that Smith will be gone before Buffalo gets on the clock, but there also has been talk that Buffalo likes Barkley or Nassib better. Whether any fan of the team agrees or disagrees with that sentiment, it could very well be reality in the Buffalo war room.
Nassib or Barkley would be reaches based on public perception, but if the Bills believe that either one will be "the guy" then it might validate such a high selection. There also is the possibility that whatever guesses we have seen about the quarterback pick could be based on the perception that Smith would not be available at No. 8.
Either way it will be an interesting story to see develop over the next two days.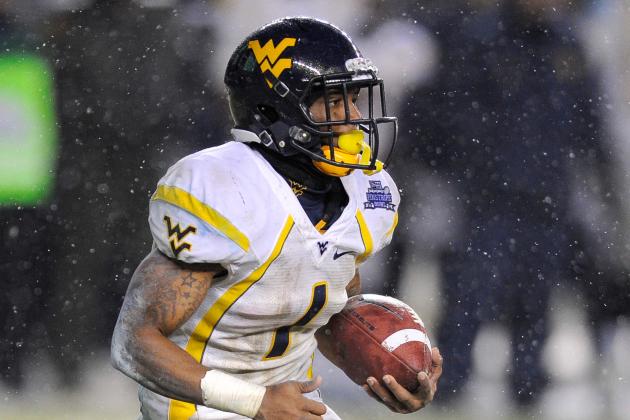 Rich Barnes-USA TODAY Sports

1. Tavon Austin, West Virginia
2. Justin Hunter, Tennessee
3. DeAndre Hopkins, Clemson
4. Da'Rick Rogers, Tennessee Tech
5. Aaron Dobson, Marshall
An interesting collection of players for sure. Austin is the only player that has a shot at being drafting in the top 15 in the draft this year. NFL Network's Mike Mayock mocked Austin to Buffalo during his annual draft special on Wednesday night, but that might be a bit of a stretch.
The rest of the players are bigger receivers that the team might covet considering their lack of size at the position. Hunter and Rogers were brought in for pre-draft visits to Orchard Park, but Dobson could provide some good value in the third round.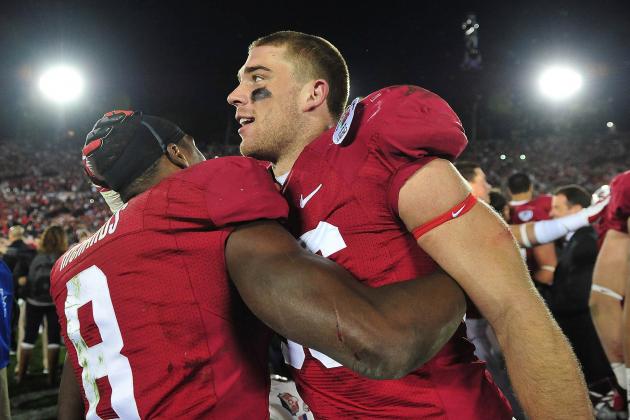 Gary A. Vasquez-USA TODAY Sports

1. Zach Ertz, Stanford
2. Vance McDonald, Rice
3. Travis Kelce, Cincinnati
4. Dion Sims, Michigan State
5. Nick Kasa, Colorado
Ertz may be a bit of a stretch in the second round considering other needs that Buffalo has, but the value would be hard to pass on if he falls to No. 41. McDonald was a pre-draft visit for the Bills, while the other three would provide good depth and size at the position in the middle of the draft.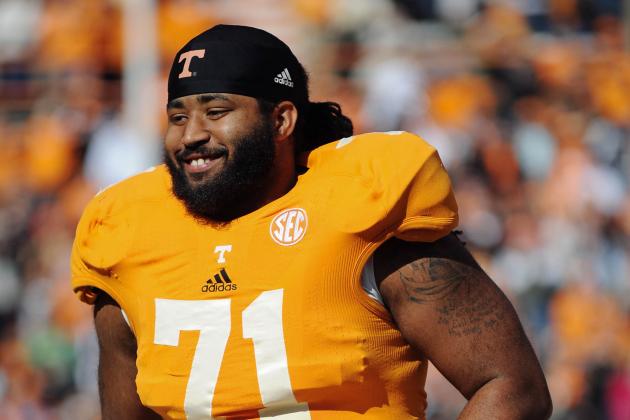 Randy Sartin-USA TODAY Sports

1. Dallas Thomas, Tennessee
2. Jordan Mills, Louisiana Tech
3. Reid Fragel, Ohio State
4. Ricky Wagner, Wisconsin
5. Xavier Nixon, Florida
Tackle should not be a high priority for Buffalo in the draft, if they even select one at all. In fact, the Bills did not bring in a single lineman to Orchard Park for a visit over the last few weeks. That could be a smokescreen, but it might be more telling about the happiness with the players already on the roster.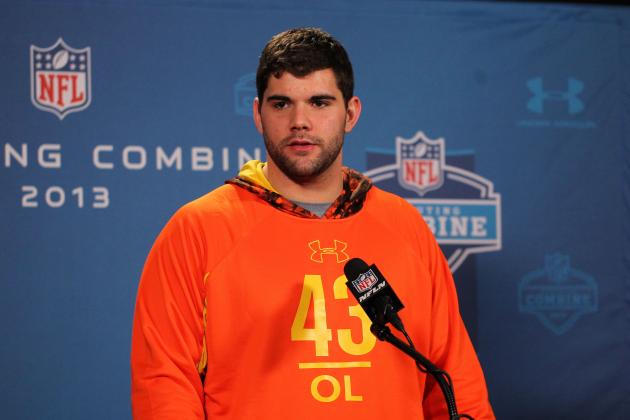 Brian Spurlock-USA TODAY Sports

1. Justin Pugh, Syracuse
2. Kyle Long, Oregon
3. Brian Winters, Kent State
4. Earl Watford, James Madison
5. J.C. Tretter, Cornell
Andy Levitre's departure to Tennessee has left a large hole in the interior part of the line, but not enough for the Bills to spend a high pick on Chance Warmack or Jonathan Cooper. Pugh was a tackle for Doug Marrone's Orange, but he could be a better fit by sliding inside. Long could be a sleeper pick to get into the back of the first, but would be a huge upgrade in the second.
Watford and Tretter are mid- to late-round selections with plenty of upside.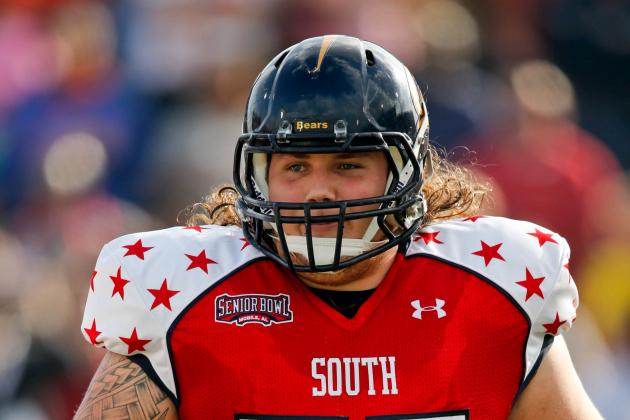 Derick E. Hingle-USA TODAY Sports

1. Brian Schwenke, California
2. Barrett Jones, Alabama
3. Braxston Cave, Notre Dame
4. Matt Stankiewitch, Penn State
5. Eric Kush, California (Pa.)
Center is a position I could see the Bills addressing at some point either late in the draft or as a priority position in post-draft free agency. Jones is kind of the headliner of the list because of his college notoriety, but medical concerns linger there.
Brendan Maloney-USA TODAY Sports

1. Alex Okafor, Texas
2. William Gholston, Michigan State
3. Lavar Edwards, Louisiana State
4. David Bass, Missouri Western
5. Joe Kruger, Utah
Defensive end is another position that is not a huge need from a starter standpoint, but the Bills are sorely lacking in depth. Okafor would be a solid but unpopular pick in the second round. Everyone else on the list is a rotational player with starter upside down the road.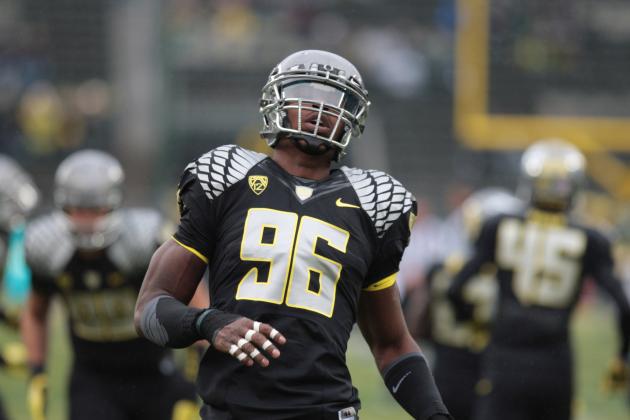 Scott Olmos-USA TODAY Sports

1. Dion Jordan, Oregon
2. Barkevious Mingo, Louisiana State
3. Arthur Brown, Kansas State
4. Sio Moore, Connecticut
5. Jamie Collins, Southern Mississippi
Neither Jordan nor Mingo will likely be the pick at No. 8, but do not doubt that there would at least be some conversation about the two, more so about Jordan. The linebacker spot is sorely lacking with the Bills, and they could use a guy who can fit multiple schemes in the new defense.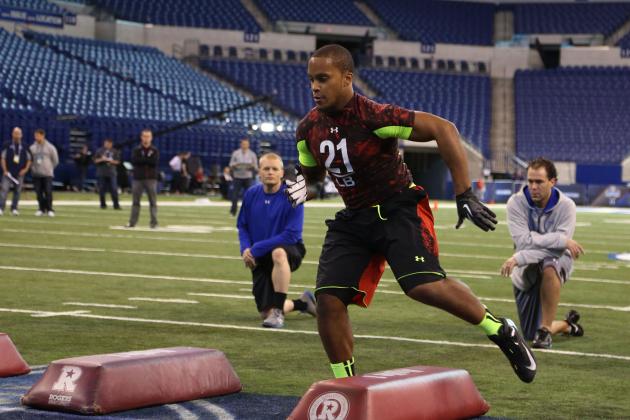 Brian Spurlock-USA TODAY Sports

1. Kevin Minter, Louisiana State
2. A.J. Klein, Iowa State
3. Kiko Alonso, Oregon
4. Kevin Reddick, North Carolina
5. Keith Pough, Howard
The news about Karlos Dansby visiting the team this week could change the interest in inside linebacker, but no agreement has been reported as of yet. Minter is a real possibility in the second round depending on what the team does in the first round. If a quarterback is the first selection, then the team could afford to wait on receiver until Round 3.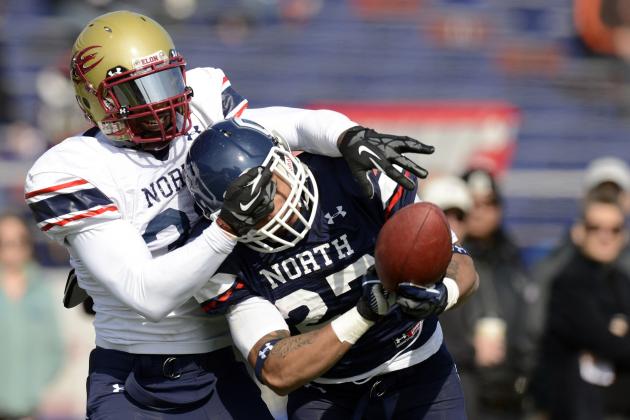 USA TODAY Sports

1. Dwayne Gratz, Connecticut
2. David Amerson, North Carolina State
3. Darius Slay, Mississippi State
4. Jordan Poyer, Oregon State
5. Robert Alford, Southeastern Louisiana
Buffalo could use another corner to add to a hodgepodge mix in the middle rounds. Leodis McKelvin is currently penciled in as the starter opposite of rookie sensation Stephon Gilmore, but he played better in the slot last season. The team's second-round pick from two years ago, Aaron Williams, is moving to safety, according to multiple reports.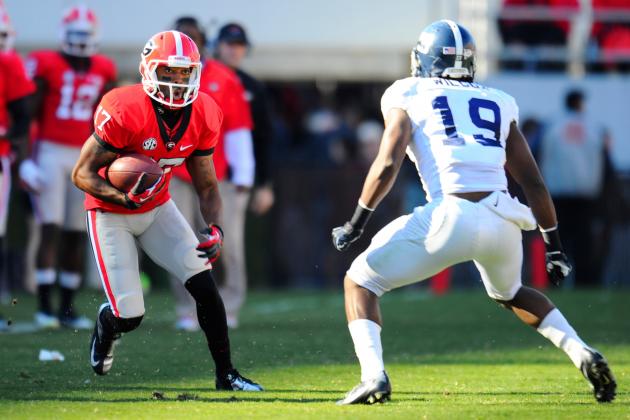 Dale Zanine-USA TODAY Sports

1. J.J. Wilcox, Georgia Southern
2. Shamarko Thomas, Syracuse
3. Shawn Williams, Georgia
4. Robert Lester, Alabama
5. Cooper Taylor, Richmond
Buffalo cut George Wilson in the week before free agency, which leaves Da'Norris Searcy as the only viable option at the position. Free safety should be set assuming the team and Pro Bowl player Jairus Byrd can come to a long-term agreement sooner rather than later.
Wilcox is an unheralded player from the FCS ranks, while the coaching staff has the obvious connection to Thomas. Taylor is a late-round sleeper who made a pre-draft visit to the Bills' facilities a few weeks ago.