Oakland Raiders 2013 Draft Picks: Results, Analysis and Grades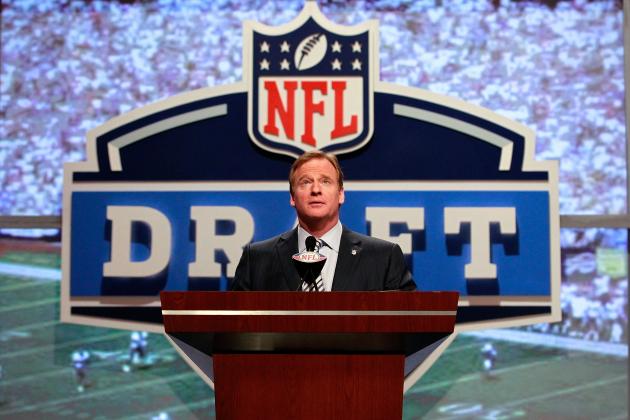 Chris Trotman/Getty Images

For the first time since 2010, the Oakland Raiders have a first-round draft choice.
The last first-round pick of the Raiders, LB Rolando McClain, was cut earlier this offseason and the Raiders are sorely in need of impact players on both sides of the ball.
Raiders GM Reggie McKenzie has only one pick in the top 65 selections at this point and, barring a trade, after picking the No. 3 overall player, he won't pick again until the fourth selection in the third round, 66th overall.
It's imperative that the Raiders have a solid 2013 draft to set the foundation for the team's future.
So, check in here throughout the draft as we update news, analysis and grades of each and every trade or pick by the Oakland Raiders.
Begin Slideshow

»
With his first ever first-round pick, Raiders GM Reggie McKenzie chose former Houston cornerback DJ Hayden with the No. 12 overall selection.
Hayden has good but not great size at 5'11", 191 lbs. He displays good footwork, has the fluid hips that scouts like in the cornerback position and is able to change direction and stay with receivers in man coverage.
Hayden has a wiry frame and can miss on tackles at times. He is in his element in man coverage and has good awareness of the ball in man or zone coverage.
The biggest risk with Hayden is his injury history. He was tackled in practice and tore a major vein in his heart. He's been medically cleared but the injury concern must remain.
Additionally, the Raiders probably could have gotten Hayden at a lower pick, so the Raiders may not have drafted the best valued player but Reggie McKenzie was rumored to love Hayden, so he got his targeted player.
Click on to see trade details and grades for both the trade and the pick.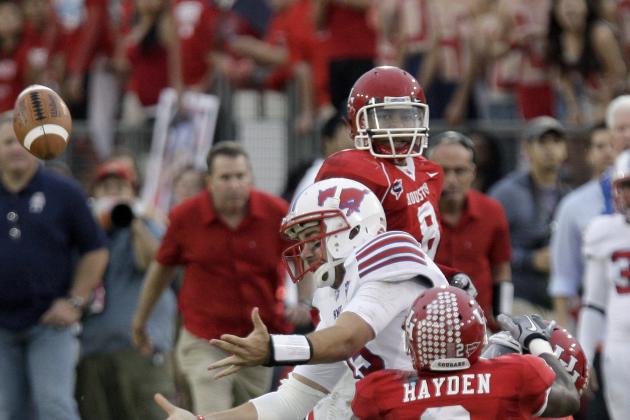 Thomas B. Shea/Getty Images

The Raiders started the night with the No. 3 overall pick but traded the selection to the Miami Dolphins, literally at the last minute.
The Dolphins used the pick to draft coveted pass rusher Dion Jordan.
The Dolphins gave up their first round pick, No. 12 overall, as well as one of their two second-round picks, No. 42 overall, to move up.
By the old Jimmy Johnson trade chart, the Raiders did not get a good deal. The No. 3 overall pick is worth 2,200 points, which is what the Raiders gave up.
The No. 12 pick is worth 1,200 points on the chart and the No. 42 is worth only 480 points, so the Dolphins gave up only two picks worth only 1,680 points on the chart and got a pick with 2,200
However, although the draft chart doesn't give the Raiders much value, they still won in this particular instance. They had to get more picks in the draft.
Therefore, I deem the trade a win/win.
Trade grade: C
DJ Hayden pick grade: B-
With the No. 42 overall pick in the draft the Raiders added a large, physical offensive lineman in Menelik Watson.
Watson is fairly new to the sport of football, having grown up in England and not taking up football until 2011 when he played the sport for the first time in his life at Saddleback Junior College.
His performance and incredible athleticism caught the eye of the coaching staff at Florida State and he was brought to Tallahassee in 2012 where he earned the starting right tackle position. Despite only having one year playing D1 football, he declared for the NFL draft at the end of the season.
Watson is 6'5" 310 lbs and he possess long enough arms, measured at 34", to keep defensive players from getting into his body.
He boasts great upper body strength and he moves very well for a such a large man. Although he played RT in college, many scouts believe he can eventually make the transition to LT because of his athletic gifts.
Prior to trying football, Watson played soccer growing up, transitioned to basketball in his late teens and tried his hand at boxing early in his 20's as well.
The consensus among draft evaluators was that he was a late first round or early second round pick so the Raiders took him right where he was projected to go.
The Raiders have an above average LT in Jared Veldheer but he's in the final year of his contract in 2013. They have a need for an upgrade at RT where Khalif Barnes is a false start machine.
Grade: B
With their 3rd round selection, the Raiders chose versatile linebacker Sio Moore from the University of Connecticut.
Moore, who's first name is actually Snorsio but who goes by Sio, has seen his draft stock rise since the end of the college football season.
He lacks the size that most teams would like their linebackers to have, checking in at only 6'1" and 245 lbs, but he was nothing if not productive at UConn.
A 3 year starter for the Huskies, he notched over 70 tackles all three seasons that he was a starter. He also is credited with 15.5 sacks in his 3 years as a starter and had multiple passes defended.
He's a solid player who understands his assignments and executes them. He stays in his lane on running plays with good gap control and he has the ability to drop into space as well.
He doesn't have elite speed but he has a good motor and his skills should be able to transition to the NFL well as a solid, if not spectacular, starter.
Grade: B+
The Raiders initially traded back from the third pick in the fourth round, moving back 12 spots and gaining an extra sixth-round pick from Tampa Bay in the process.
With the 112th overall pick, the Raiders selected former Arkansas QB Tyler Wilson.
Wilson once looked like a superstar in the college ranks but a disappointing 2012 season caused his draft stock to plummet.
There were multiple issues outside of Wilson's control that likely had an effect on the entire Arkansas team including head coach Bobby Petrino leaving in disgrace, Wilson losing a number of valued wide receivers and a terrible offensive line.
Though there were difficulties, Wilson showed great toughness, battling through multiple hits behind the shaky offensive line and although the team had only a 4-8 final record in 2012, he still completed over 62% of his passes for 3300 yards and a 21 to 13 TD to INT ratio.
Wilson is tall enough for the NFL at 6'2" and 218 lbs and he has a NFL-caliber arm, too, especially on short to intermediate routes.
The Raiders needed to look to the future where it's unlikely Matt Flynn or Terrelle Pryor will be the franchise QB and the value was right with this pick.
Grade: A-
Early in the sixth round, the Raiders picked up a large target in Kasa, who came out of his high school as a highly-touted defensive end prospect only to move to tight end when at Colorado.
Kasa, being new to the tight end position, is still learning the nuances of route running and catching passes as well but he's considered a very physical blocker due to his time spent at defensive end.
Kasa will not have pressure to start right away but the tight end position is wide open for the Raiders and if he shows an accelerated learning curve, he could earn the starting spot.
Kasa is 6'6" and 269 lbs but despite all of that weight, he has surprising straight-line speed, meaning he can still be a big mismatch on seam routes against slower linebackers. He probably won't be split out into a slot but can be used in short yardage or red zone situations - both of which caused the Raiders problems in 2012.
Because of his learning curve, he isn't a slam-dunk player at TE but he is still a decent pick because he has the physical abilities to be a difference maker at TE if he can acclimate to the position and the NFL.
Grade: B-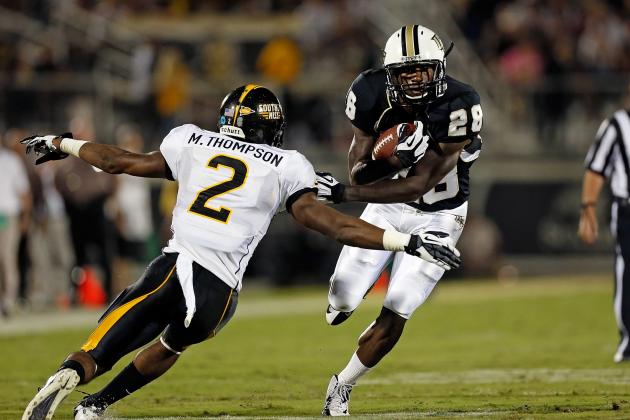 J. Meric/Getty Images

The Raiders again went with size and athleticism in the sixth round, taking RB Latavius Murray out of Central Florida.
Murray is very large for a running back at 6'2" and 223 lbs. Despite that size he is also very fast - he reportedly ran sub 4.4 seconds in his forty yard dash on his Pro Day.
In his four years at Central Florida, he carried the ball 453 times and averaged 5.4 yards per carry and earned 37 rushing TDs. He added, over that span, 50 receptions for over 10 yards per reception, on average, and another 6 receiving TDs.
Grade: B+
The Raiders picked their second TE prospect of the sixth-round, nabbing Rivera out of Tennessee with the sixteenth pick in the sixth round.
Rivera is 6'3" 242 lbs. In three years playing at Tennessee, he caught 76 receptions at an average of 13.4 yards per reception. He only scored 6 TDs, however, so he was not a red zone threat for the Volunteers.
Rivera is a willing blocker but doesn't have the size or athleticism to excel at it. Still, he throws his body into the fray to take out defenders.
He can serve an H-back role and also has been a lead blocker so is a versatile option for the Oakland offense.
Grade: C+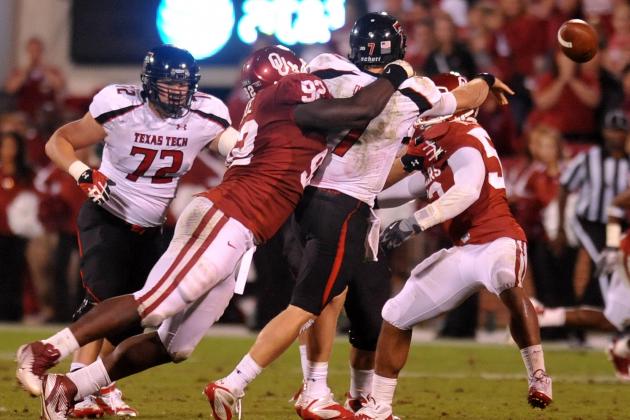 Mark D. Smith-USA TODAY Sports

The Raiders finally addressed their defensive line needs but did it with a player that is a huge question mark in DT Stacy McGee.
McGee has a lot of character red flags and is a departure from the norm for Raiders GM Reggie McKenzie.
He's been arrested for possession of marijuana and drug paraphernalia as well as other arrests for DUI and driving with a suspended licenses.
Not only that but he wasn't particularly effective when he was on the field, although he's shown flashes at times.
All in all, this is a very puzzling pick for the Raiders. He's likely been drafted purely on his potential as he does have good size and was a highly recruited defensive tackle coming out of college.
Grade: D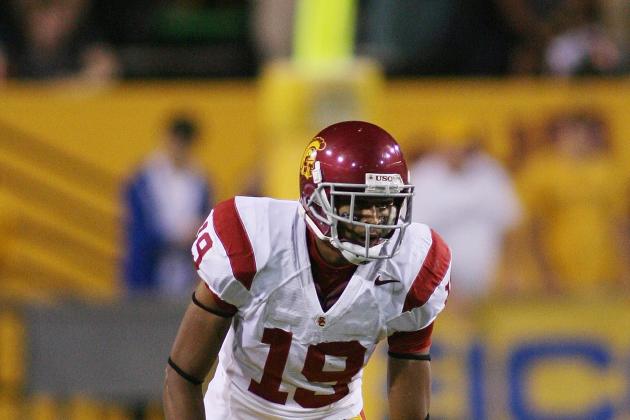 Jeff Golden/Getty Images

The Raiders went with size again in the seventh - taking the 6'3" former San Diego St receiver.
Butler is fast- he ran a 4.36 forty yard dash at his pro day - but he's very thin at only 214 lbs.
He's has a longer stride, which makes it harder to make clear breaks on routes but he has decent hands.
It's also possible that he will transition to cornerback in the NFL, a position his father, Bobby Butler, played for the Atlanta Falcons in the early '80's.
Brice was a transfer from USC to San Diego St.
Grade: C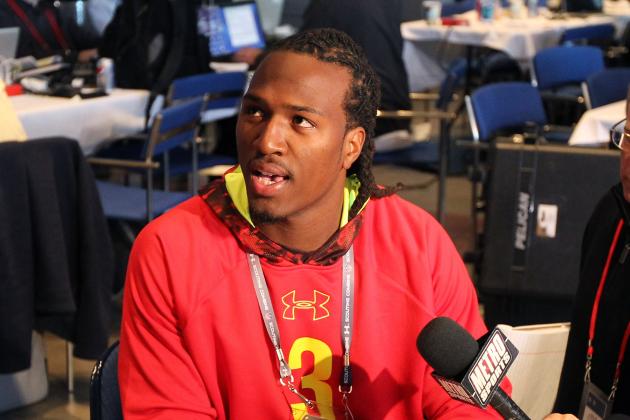 USA TODAY Sports
David Bass at the NFL Combine in February
A D2 prospect, Bass broke records as a pass-rusher at Missouri Western, ending with 39.5 sacks. He was very durable as well, logging 50 consecutive starts - another record.
Bass has enough size to fit as a pass-rushing defensive end at 6'4" 262 lbs.
He was a standout at DE at the East-West Shrine game.
Defensive end was a big need for the Raiders and Bass looks to be a good fit as a pass-rusher.
Grade: B+