L.A. Lakers vs. San Antonio Spurs: Postgame Grades and Analysis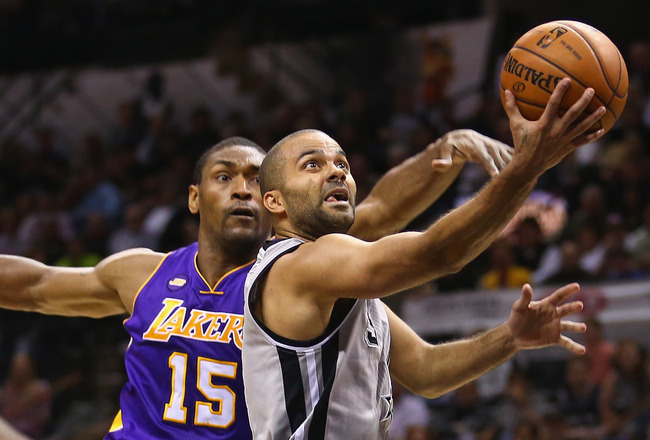 Ronald Martinez/Getty Images
There seems to be little the Los Angeles Lakers can do to stop the San Antonio Spurs through two games of their opening round playoff series.
The Spurs brought their offensive A-game to go up 2-0 in the series, courtesy of a 102-91 win.
San Antonio shot 51.2 percent from the field, and were led by Tony Parker's 28 points. The Spurs point guard went through a couple lengthy scoring binges, putting the game out of reach for Los Angeles.
Tim Duncan and Kawhi Leonard chimed in with 16 points of their own, while Manu Ginobili had another strong game off the bench, with 13 points and seven assists.
For the Lakers, it was another confusing outing. Dwight Howard and Pau Gasol both played well in the first half, but fell off the map after the intermission. Howard and Steve Blake led the team with 16 points each, but they could do little to stop the San Antonio machine.
Things turn to Los Angeles as these two teams take to the Staples Center Friday night for Game 3. The Lakers need more from their big names, as well as some sort of defensive strategy to stop the San Antonio backcourt from burning them up.
Let's hit the Bleacher Report classroom and see how the teams graded out in the Spurs' Game 2 win.
Point Guards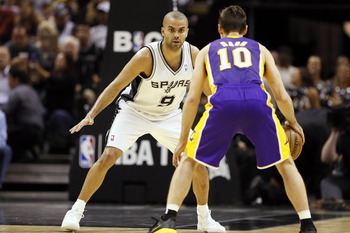 USA TODAY Sports
Tony Parker, SAS PG: A
Tony Parker had a slow first half, and is still in the process of recovering from a sprained ankle and sore neck. In the second half, Parker looked more like himself.
He went on multiple runs where he was clearly the best player on the floor. Courtesy of those lengthy runs of dominance, Parker tallied 28 points and seven assists. He scored when and how the Spurs needed him to. Additionally, he was able to get to the line, going 9-of-10 from the charity stripe.
Parker scored 12 straight points in the third quarter, absolutely decimating the Steve Nash-Steve Blake combo. He was able to professionally locate and attack major weaknesses of the Lakers defense.
Late in the fourth quarter, the Lakers made a run to get within single digits, but Parker cranked up the intensity and scored nine straight points to put the game out of reach.
Steve Nash, LAL PG: C+
There are not many flaws in the defense of the San Antonio Spurs, but when they were there, Nash found and exploited them.
He managed nine points and six assists in 31 minutes. It was a quietly effective game, shooting 4-of-8 with two turnovers, but overall still looked hurt.
Unfortunately for Los Angeles, Nash resembled an injured cornerback on defense, and Tony Parker just picked him apart for much of the second half.
Shooting Guards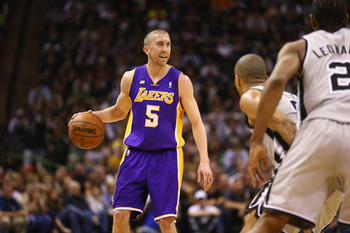 Ronald Martinez/Getty Images
Steve Blake, LAL SG: B-
The Lakers need perimeter scoring badly in this series, and Steve Blake hit shots in the first half of Game 2.
Rarely was he able to get good looks at the rim, but he did well with what he was granted. His inability to get open really caught up with him in the second half. That, coupled with some tough chances caused by teammates, really hampered his shooting percentage.
Before heading to the bench with a strained right hamstring, Blake hit 6-of-15 shots, including three treys. He finished with 16 points and six rebounds, but when Blake is taking more shots than anyone else on your playoff team, you aren't going to win many games.
Danny Green, SAS SG: F
Danny Green still hasn't shown up for the postseason.
He didn't score in Game 2 until the final minute of garbage time, and finished 1-of-5 on the night.
Green picked up two boards and two assists in his 20 minutes, but to half a minus-nine mark when your team wins by 11 is disappointing.
Small Forwards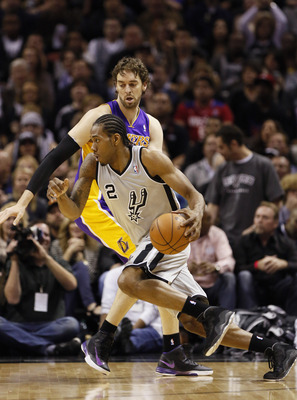 Soobum Im-USA TODAY Sports
Kawhi Leonard, SAS SF: A-
Kawhi Leonard took control of the offensive responsibility of the the first half for the San Antonio Spurs.
He scored 14 points before the break, flying around the court to get open looks. He used superior athleticism early on to get the Spurs numerous fast-break points. He caught the Los Angeles Lakers' defense sleeping numerous times, getting to the rim on some hard cuts.
Leonard's defense was stellar as well, which kept him relevant into the second half when his scoring dried up. He finished with 16 points on 8-of-12 shooting and grabbed seven rebounds. In addition to that, he helped hold Metta World Peace to a horrific 1-of-6 from beyond the arc.
Metta World Peace, LAL SF: C-
It was a particularly sloppy first half for World Peace. He suffered multiple unforced turnovers, and was slow with help defense on the Spurs' bigs.
He made up for it with a solid fourth quarter. Trailing big in the final frame, World Peace helped the Lakers claw back to within striking distance down the stretch. He tallied six points in the fourth quarter, going for 13 overall.
It took him 13 shots to get his 13 points, and he was unable to muster anything from outside after a first-quarter trey. The Lakers are dying for some three-point shooting to loosen things up in the paint, but World Peace's 1-of-6 outing isn't going to do it.
Power Forwards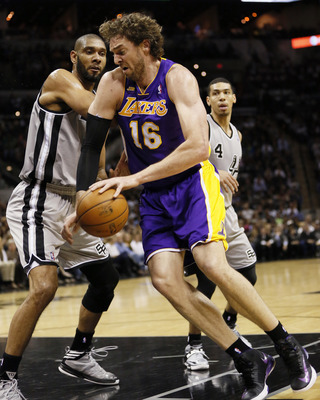 Soobum Im-USA TODAY Sports
Tim Duncan, SAS PF: B+
By the time the final horn blew on the San Antonio Spurs' Game 2 win, Tim Duncan could essentially pick any spot on the floor and score.
He got his 16 points from all over the floor, including five buckets from mid-range. He got his shot off at will over smaller defenders on pick-and-pop plays with Tony Parker. He was also able to use his body and long arms to score in the traffic of the paint.
Duncan finished with a respectable 16 points and five rebounds, but it seemed like he was involved in a lot more of the Spurs offense. He also picked up a customary pair of blocked shots.
Pau Gasol, LAL PF: C
Pau Gasol dropped off the face of the planet in the second half.
It was a disappointing development for a player who was scoring at will during the first portion of the game. After tallying 10 points and eight rebounds in the first half, Gasol finished with just 13 and nine at the final buzzer.
He'll need to draw on that first half if the Los Angeles Lakers are to have any chance at getting back into this series. He beat Tim Duncan down the floor a couple times for easy buckets, and worked a few nice pick-and-rolls with the Laker guards.
Centers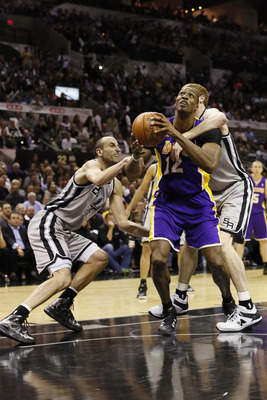 Soobum Im-USA TODAY Sports
Dwight Howard, LAL C: B
Howard came into the game with a solid understanding on what he needed to do. He attempted eight shots in the first quarter, trying to get things going in the paint for Los Angeles early on.
After that, however, the fire went away. He didn't get a few calls and was being ridden by the Spurs defenders, but only put up four shots after the first quarter. Foul trouble then put him out of his misery and onto the bench for much of the third quarter.
By the time he returned in the final frame, it was too late to mount any serious comeback. Howard finished with 16 points and nine rebounds, but the Lakers need far more from him than that.
The Lakers were pitiful defensively with Howard on the bench, but had some impressive stands with him anchoring the paint in the first half.
Tiago Splitter, SAS C: B-
He didn't see a ton of minutes, but Tiago Splitter had a very quiet and very efficient night for the San Antonio Spurs.
The starting center posted eight points on 4-of-5 shooting in just 21 minutes.
He saw some decent playing time early, but then was buried on the bench until what appeared to be garbage time down the stretch.
Sixth Men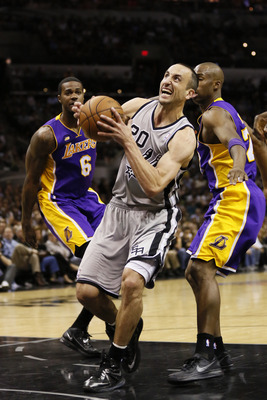 Soobum Im-USA TODAY Sports
Manu Ginobili, SAS SG: A-
It is looking like those nine missed games at the end of the regular season were just a minor blip on the trajectory of Manu Ginobili.
After hitting three treys and scoring 18 points in Game 1, the Spurs super-sub came up big again. Ginobili scored an efficient 13 points, including 3-of-4 from beyond the arc. He also chipped in five rebounds and tied for a game-high seven assists. All that came in just 19 minutes of action.
Everything went as planned for Ginobili and the Spurs. Danny Green got the start and supplied some nice defense at the outset, but had his crunch minutes usurped by Ginobili's offensive efficiency and familiarity.
Antawn Jamison, LAL PF: D
With Dwight Howard finding himself in some minor foul trouble, the Los Angeles Lakers really needed Antawn Jamison to step up and have a good game.
However, Jamison continued to let the Lakers down. He completed his 20 minutes of playing time with a pedestrian six points on two threes. He grabbed just two rebounds, and was generally just a major drag.
Jamison may have been a minor disappointment in the regular season, but he is lowering himself even further in the playoffs.
Benches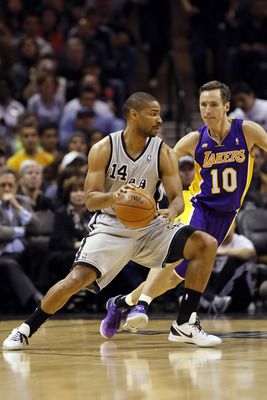 Soobum Im-USA TODAY Sports
San Antonio Spurs Bench: B
This matchup continues to be dominated by the San Antonio Spurs reserves.
On top of Ginobili's important contributions, Gary Neal tallied seven points and two assists, and the Spurs bench outscored that of Los Angeles, 32-24.
In the most interesting development of the series, Matt Bonner again played a huge role for San Antonio. After averaging just 13 minutes per game in the regular season, Bonner has managed 29 minutes in each of the two playoff games.
In Game 2 he scored 10 points on 4-of-5 shooting. Even the Matt Bonner on Dwight Howard experiment worked out a few times. He came up with three steals at the defensive end.
The Spurs help defense is tremendous and that extends to their bench players.
Los Angeles Lakers Bench: D+
Antawn Jamison wasn't the only disappointment on the Lakers bench in Game 2.
Earl Clark was going to be an interesting player come postseason time, but he has been little more than a fill-in guy for Los Angeles so far. Mike D'Antoni has completely gone away from him, granting Clark just 13 minutes.
Darius Morris saw extended time in mop-up duty, scoring seven points in 23 minutes.
Keep Reading

Los Angeles Lakers: Like this team?