Titans 2013 Draft Picks: Results, Analysis and Grades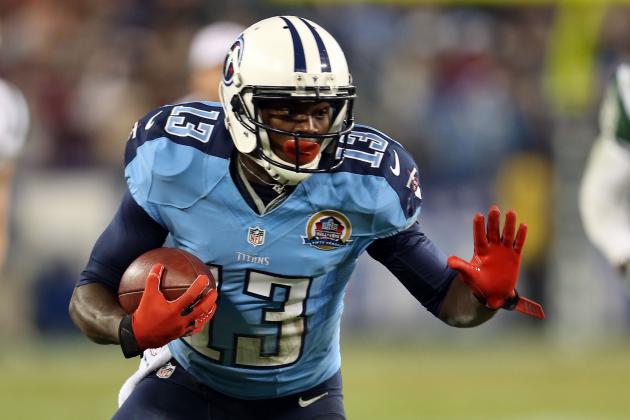 Andy Lyons/Getty Images
The Titans surprised with Wright in the first round last year. What's next?
Welcome to the headquarters for all things Tennessee Titans on this 2013 NFL draft weekend. This article will be updated throughout the weekend with scouting reports, analysis and grades of all drafted players.
The coaching staff and front office is on notice. The 2013 season will be Mike Munchak's 32nd year with the franchise, and it will be his last if the team doesn't make major strides from last year's 6-10 train wreck.
The 10th overall pick has been the focus of rumors and innuendo for many months, but the three second-day picks are just as important, as well as the five picks on day three of the draft. Most teams draft with thoughts of the immediate and longer-term future in mind, but this brain trust knows that there must be instant improvement from this draft class.
Even though the team needs to make up a talent gap to be a playoff franchise, free agency moves shored up the depth so that the draft focus can be on best player available instead of obvious need. It's unlikely that more than one rookie will start on opening day.
Begin Slideshow

»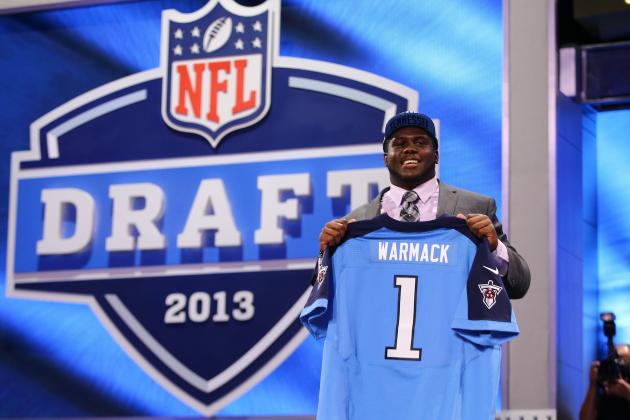 Al Bello/Getty Images
The wide-angle lens was necessary to make Warmack look small.
The Titans had nine picks entering the 2013 NFL Draft. They traded their #40, #216, and a 2014 third-round pick to the San Francisco 49ers for pick #34.
2012 Record: 6-10
Team Needs: Guard, Defensive End, Safety, Cornerback
Popular Targets: Chance Warmack, Jonathan Cooper, Barkevious Mingo, Ezekiel "Ziggy" Ansah, Sharrif Floyd, Star Lotulelei
Picks:
1 (10): Chance Warmack, Guard, Alabama
2 (34): Justin Hunter, Wideout, Tennessee
3 (70): Blidi Wreh-Wilson, CB, UConn
3, comp pick (97): Zaviar Gooden, OLB, Missouri
4 (107): Brian Schwenke, C, California

5 (142): Lavar Edwards, DE, LSU

6, comp pick (202): Khalid Wooten, CB, Nevada
7 (216): Traded to San Francisco 49ers
7, comp pick (247): Daimion Stafford, S, Nebraska
With the #10 overall pick, the Titans took the fifth offensive lineman off the board. Chance Warmack fills the one gap the Titans had in their starting lineup. He will be the starting right guard in Pittsburgh on opening day.
Let's hear what fellow B/R writer Ryan Lownes has to say about Warmack:
"Though on the short side by NFL standards, he looks the part. He is built for power, short and squatty at 6'2" 317 pounds, with a thick lower body and extremely long 34.75" arms.

While he is far from a track athlete, Warmack is light on his feet. He moves around the line very well and rarely, if ever, appears inferior against some of the best in the country."
When the Cardinals took Jonathan Cooper off the board with pick #7, there was only one guard left who was worthy of the pick.
Warmack's going to get a quick introduction to the difference between the SEC and the NFL when he faces off against J.J. Watt and the Texans in week two. The last time the Titans were in Houston, Jake Locker re-injured his shoulder and missed five games.
Detractors say that Warmack has no position versatility. He's a guard. The Titans need a guard. The Andy Levitre/Chance Warmack duo is already one of the best in the league.
Grade: A
If the Titans are trying to bring in their SEC fans, the first two draft picks should do the trick. After a night to think about it, the Titans couldn't wait and engineered a trade with the San Francisco 49ers to get the 34th overall pick. The 49ers got picks 40, 216, and next year's 3rd-round pick.
Tavon Austin gets a lot of love for being a Wes Welker/Danny Amendola type with a lot more speed. Cordarrelle Patterson is a freak of nature. DeAndre Hopkins is a fine technician. Justin Hunter has the most upside of any wide receiver in this draft.
None other than the esteemed Greg Cosell recently wrote that Hunter is "the most intriguing receiver off the board".
Hunter averaged 22.1 yards a catch in his first two years at Tennessee. His sophomore year was cut short by an ACL injury, and he was slowed down a bit last year. The upside remains. If Hunter can put a little meat on his bones (he's 6'4 and less than 200 pounds), the Titans may have found their replacement for Kenny Britt.
I have to drop the grade a tad because the Titans mortgaged a bit of their future in that 2014 3rd-round pick.
Grade: B
After making a surprising move up in the second round, the Titans finally picked a defensive player with their first third-round pick of the evening. Blidi Wreh-Wilson has the size to play outside and could eventually start over Alterraun Verner.
Wreh-Wilson does have versatility, playing inside and outside at UConn along with having experience in man and zone coverage schemes. The Titans traditionally play zone but might incorporate some press man concepts with Gregg Williams on the defensive staff.
Here's what Matt Stein has to say about Wreh-Wilson's ability to play man coverage:
Wreh-Wilson has the length to press wide receivers at the line of scrimmage in man coverage. However, he's better when asked to play off and give space to receivers.

When Wreh-Wilson gets beaten, he lacks the fluidity and change-of-direction speed to get back into the play. Against faster receivers or more polished receivers in their route-running ability, he'll often find himself getting beaten.

Wreh-Wilson simply doesn't posses the overall skills to be trusted in strictly man coverage in the NFL.
The Titans were looking for additional size in their secondary and Wreh-Wilson was the best cornerback on the board to fit their needs. He could move past Coty Sensabaugh and Tommie Campbell to be the team's third cornerback as soon as opening day.
The Titans could use some help at defensive end, but cornerback was a need, so let's go with another good grade.
Grade: B
Last year the Titans surprised many by taking athletic wonder Zach Brown in the second round. Brown was fast, agile, and talented. There was doubt as to whether he would make a starting linebacker. A season finale performance for the ages with 109 interception return yards, two touchdowns, and a sack was his coming-out party.
Zaviar Gooden used an excellent NFL Combine to help bolster his draft stock. He's relatively small for a linebacker at 6'2 and 234 pounds, so he's going to be an outside linebacker in a 4-3. His speed is the main tool. The Titans used second-round picks in the past two drafts to get two starting-quality linebackers, so Gooden looks like a backup.
He has great straight-line speed, which means he should be able to help on special teams. For a team that still needs some help at defensive end and safety, this feels like a luxury pick. It's not the best usage of an extra third-round pick.
Grade: C-
After an injury-riddled season with most of the interior offensive line, the Titans weren't messing around and selected Brian Schwenke of California in the fourth round.
Fernando Velasco, former undrafted free agent, signed his tender and is penciled in as the starter. He played guard before taking over at center last year when Eugene Amano tore a triceps muscle in training camp.
Schwenke has experience in all three interior offensive line positions, so even if he doesn't earn a starting job as a rookie, he's going to help the team with depth. He's a slightly better pass protector than run blocker, but overall he looks like a starter-caliber player, and that's what you're hoping for out of a fourth-round pick.
Grade: B+
One position that Titans fans were clamoring for more than any other in the last day of the draft was defensive end. The front office finally acquiesced and selected Lavar Edwards of LSU with the 142nd pick.
It's somewhat rare for a player who never started in college to make it to the NFL. The Tigers were that stacked, and of course no position rotates its players more than defensive line.
Edwards is a little undersized at 6'4, 258, but he's not just a speed rush guy which is what you'd expect for a player taken so late in the draft. The advantage the Titans get in taking Edwards is that they don't have to put him on the field in a specialist's role. He can play all three downs.
Two advantages of drafting a college backup defensive end is that he can play both sides of the formation and he's used to coming in "cold" and making an impact. Edwards also can play defensive tackle on passing downs and that's a useful skill.
Grade: B
Once all immediate needs were taken care of, it's time for the Titans to go best player available with their sixth-round compensatory pick.
Khalid Wooten played QB and safety in high school, so he's a certified athlete. He moved to cornerback at Nevada and started there for his final two years of college. He also was his team's punt returner.
Because of his history at the position, Wooten could be moved to safety in the NFL and challenge Markelle Martin to back up Michael Griffin. He'll start at cornerback, competing with Coty Sensabaugh and Tommie Campbell for a roster spot.
Grade: B-
The final Titans' draft pick of 2013 is the second straight selection to bolster the secondary. Daimion Stafford is a big guy (6'0, 221 pounds) who projects as a strong safety.
He played mainly in the box for the Cornhuskers. Despite being primarily a run defender, he was pretty solid in coverage and had four interceptions.
The Titans wanted more of an attitude and physicality out of their defense this year and Stafford fits that template. He'll have an uphill battle to make the roster, but with the older safeties, he has a good shot.
Grade: B