Pittsburgh Steelers: 5 Potential Draft Picks in Each Round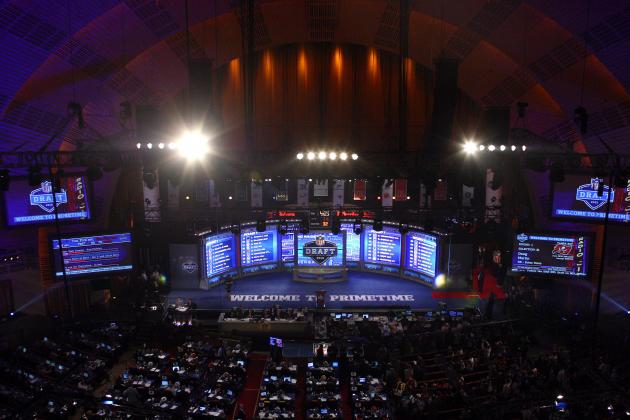 Chris Chambers/Getty Images

After months of preparation, the 2013 NFL draft is finally here. As always, this is the time of year that the Pittsburgh Steelers build their roster.
In most years, it is fairly easy to pin the Steelers' first-round selection down to two or three prospects. However, with room for improvement all over the roster, there are at least 10 prospects whom they could realistically consider as their top choice.
Earlier this week, I broke down the prospects that the Steelers had pre-draft visits with, and now it is time to put that information to good use.
With these visits as well as the needs of the team in mind, here are five potential draft picks for the Steelers in each round.
Note: All NFL Combine stats are courtesy of NFL.com.
Begin Slideshow

»
Arthur Brown, ILB, Kansas State
The 6'0" Brown is an undersized linebacker prospect, but his size has not limited his ability. He is one of the best inside linebacker prospects in the draft. NFL.com's scouting report of Brown compares him to San Francisco's NaVorro Bowman.
Strong against the run and pass, Brown would be able to come in and start immediately over Larry Foote. Paired with Lawrence Timmons, the Steelers would have one of the best inside linebacker duos in the league.
Tyler Eifert, TE, Notre Dame
The 6'6" tight end from Notre Dame has terrific size and good speed, running the 40-yard dash in 4.68 seconds. He may not be a top blocker, but he is a dangerous threat in the passing game.
Eifert was named the top tight end in college football after making 50 receptions for 685 yards and four touchdowns last season. He would provide Ben Roethlisberger with a huge target who could make tough catches in traffic or stretch the middle of the field.
Jarvis Jones, OLB, Georgia
Jarvis Jones told NFL.com's Ian Rapoport that he does not believe that he will fall beyond the Steelers. Given the Steelers need at outside linebacker, that could very well be the case.
Jones is Bleacher Report's Matt Miller's 16th-best prospect. He dominated last season with 15.4 sacks, 24.5 tackles for loss and seven forced fumbles.
Cordarrelle Patterson, WR, Tennessee
The wide receiver position is stacked in the first round, and the Steelers could go with Patterson, Tavon Austin or DeAndre Hopkins.
Hopkins is the safest bet, while Austin is the most electrifying option. Patterson, however, gets the nod because he has the highest upside with his 6'2" size and 4.42 speed.
The Pittsburgh Post-Gazette's Gerry Dulac believes that Patterson is the top receiver on the Steelers' draft board (via PG+ subscription site).
Xavier Rhodes, CB, Florida State
Rhodes and Desmond Trufant are two cornerback options, but Rhodes' size and physical style of play give him an advantage.
The Steelers have two quality starters here already, but they could use depth behind them. Not only would Rhodes upgrade the team's depth, but he could eventually take over for Ike Taylor as the starter.
Kenny Vaccaro, S, Texas
Vaccaro is Matt Miller's 10th-ranked prospect and could quickly become a starter.
NFL.com's scouting report of Vaccaro praised his man-coverage skills, which would fit nicely against the lethal passing attacks in today's NFL. He can contribute immediately in the nickel set and eventually start at free or strong safety.
Who Will They Select?
The Steelers have needs all over the place, and their first-round draft board should indicate this. In fact, they have so many needs that I listed more than five prospects.
So who will the Steelers select?
Tyler Eifert.
I anticipate that Jones and Vaccaro—whom I believe the Steelers would select if available—will both be off of the board, leaving Eifert as the top remaining prospect.
Eifert would allow the Steelers to effectively throw the ball out of the two-tight end set. Nothing against David Paulson or Matt Spaeth, but Eifert would be an upgrade.
Having Heath Miller and Eifert would provide Roethlisberger with two massive targets who could effectively work the middle of the field.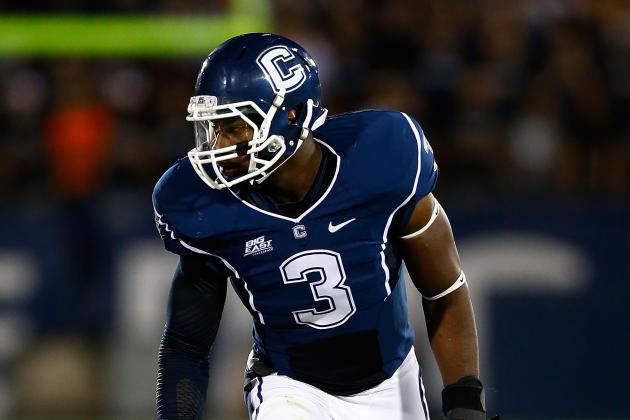 Jared Wickerham/Getty Images

Johnathan Franklin, RB, UCLA
Franklin is Matt Miller's top-rated running back. He has the speed to get to the outside and has the ability to be a good receiver out of the backfield.
Justin Hunter, WR, Tennessee
Hunter has terrific size at 6'4" and would provide Roethlisberger with a terrific outside receiver. He has the potential to develop into a No. 1 option.
Kevin Minter, ILB, LSU
Minter is small (6'0") but is very physical against the run. The problem is he may not be quick enough to defend against the pass. He still projects to be a very good linebacker and would be a steal at this point.
Sio Moore, LB, Connecticut
Not the biggest, strongest or fastest linebacker, Moore is just a good football player. He has the ability to play inside or outside linebacker in the Steelers system.
Robert Woods, WR, USC
Woods put up big numbers as a receiver at USC, and this productivity should translate to the NFL. He is a good route-runner. He will probably be best suited as a No. 2 option, but he could also contribute in the return game.
Who Will They Select?
The Steelers like versatility, and Sio Moore provides just that.
While Kevin Minter may be the better pure linebacker, Moore's ability to play both inside and outside linebacker will make him an attractive option for the Steelers.
Moore was a terrific player at Connecticut and would have a season to develop behind either Jason Worilds or Larry Foote.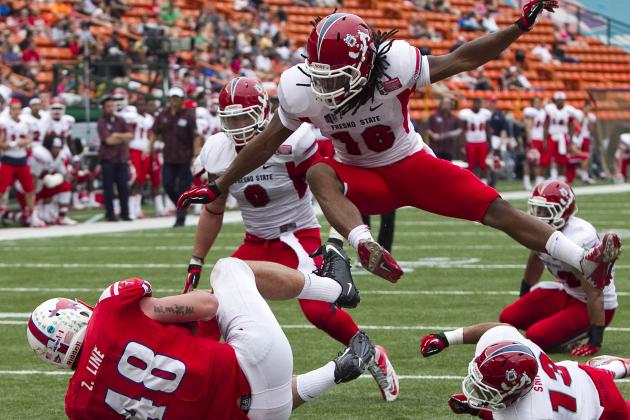 Marco Garcia-USA TODAY Sports

Stedman Bailey, WR, West Virginia
Bailey was tremendous last season with 113 receptions for 1,627 yards and 25 touchdowns. He does not have elite size or speed, but his production cannot be denied.
Jamie Collins, OLB, Southern Miss
Collins is a quality pass-rusher who is still developing. Unlike other outside linebacker prospects in this draft, he is already strong against the run.
Sean Porter, LB, Texas A&M
Porter has experience at both inside linebacker and outside linebacker. He does a lot of things very well and would add some much-needed depth to the position.
Da'Rick Rogers, WR, Tennessee Tech
Rogers may be one of the most exciting receiver prospects in the draft with his combination of size and speed. However, he will have to overcome character concerns if the Steelers are going to draft him (h/t Don Banks of SI.com).
Phillip Thomas, S, Fresno State
Thomas is a terrific playmaker from the safety position with eight interceptions, four sacks and four forced fumbles last season. He is very good near the line of scrimmage and against the run, but he doesn't have elite speed, as shown by his 4.65-second 40-yard dash.
Who Will They Select?
The third round will be loaded with talent, meaning that the Steelers will have a number of options. Rogers and Bailey will be tempting options here, but Thomas is the best pick.
Thomas would be able to contribute in nickel and dime packages as a rookie and could potentially start at either safety position.
The hope will be that he can transfer his playmaking abilities from the college game to the pros.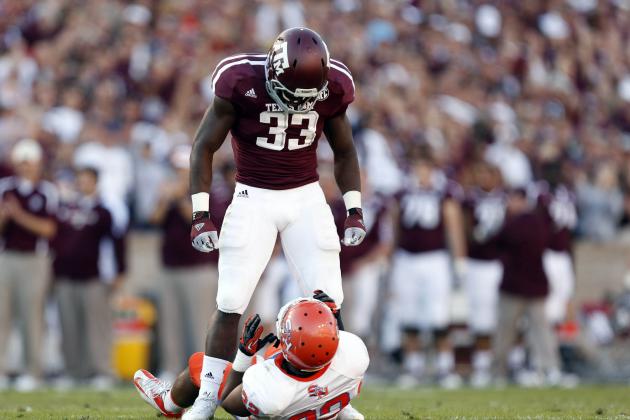 Thomas Campbell-USA TODAY Sports

Marcus Lattimore, RB, South Carolina
Lattimore is coming off his second major knee injury. He is very talented and could be a feature back if he recovers. Beyond his play, Lattimore is a terrific locker-room presence.
Christine Michael, RB, Texas A&M
Michael has a good combination of size and speed. He can run both inside and outside, and if he's motivated, he could develop into one of the better running backs from this class.
Bacarri Rambo, S, Georgia
Rambo has a good combination of size and speed. He can develop into a quality playmaker in the secondary, but he does have character concerns (h/t ESPN.com).
Ryan Swope, WR, Texas A&M
Swope has terrific speed, running the 40-yard dash in 4.34 seconds. He is a good blocker and is an ideal fit in the slot.
B.W. Webb, CB, William & Mary
Webb is a good small-school cornerback prospect. He has the potential to develop into a starter and can contribute in the return game.
Who Will They Select?
Christine Michael has the combination of size and speed that the Steelers should be looking for in their next running back. He has the ability as a cut-back runner to explode through the line.
He will have to improve his blocking, but that is something that can be taught or passed off to another running back until he is ready.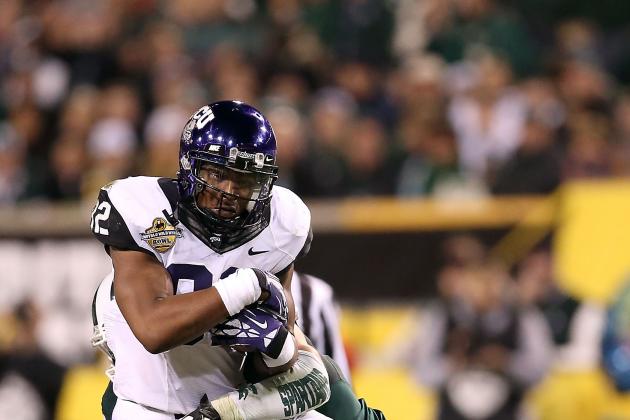 Christian Petersen/Getty Images

Josh Boyce, WR, TCU
Boyce has the speed to stretch the field and can block.
Gerald Hodges, ILB, Penn State
A leader at Penn State, Hodges is an inside linebacker prospect who is well schooled at the position.
Khaled Holmes, C, USC
Holmes is very intelligent and has the ability to play center or guard at the next level.
John Simon, OLB, Ohio State
Simon is not very athletic, but he works hard and is a leader. He is a quality outside linebacker prospect at this point of the draft.
Stepfan Taylor, RB, Stanford
Taylor is limited athletically, but he was very productive running in a pro-style offense.
Who Will They Select?
The Steelers had success in drafting Antonio Brown in the sixth round. Now they will try to repeat history by selecting Josh Boyce in the fifth.
Boyce has the speed that the Steelers need to compensate for the loss of Mike Wallace; he also has the ability to compete as a return man.
Another huge plus is Boyce's ability to block. Neither Brown nor Sanders are strong blockers, and Boyce's presence could help restore some pride in that particular skill.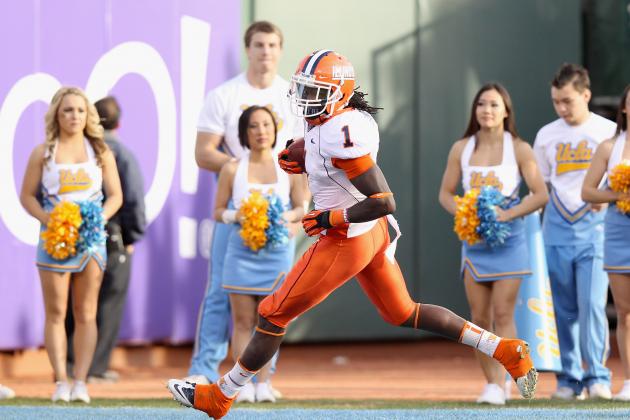 Ezra Shaw/Getty Images

Kenjon Barner, RB, Oregon
Barner is small but very fast. He plays faster than his timed speed of 4.52 seconds. He could contribute as a returner and as a role player on offense.
Dion Sims, TE, Michigan State
Sims is big and can block. He can even offer a little in the passing game.
Josh Evans, S, Florida
Evans' play in Florida's defensive backfield helped Matt Elam run all over the place to make plays. He basically was in Ryan Clark's role.
Terry Hawthorne, CB, Illinois
Hawthorne has the ability to be a starting cornerback, but he will have to get back to his 2011 form when he was honorable mention All-Big Ten.
Earl Watford, G, James Madison
Watford is a physical guard who will have to prove that he can play against top competition.
Who Will They Select?
Even in the sixth round, the Steelers will have areas of depth to address. Luckily, there are two selections in this round.
With these two selections, Terry Hawthorne and Earl Watford should be the picks.
Hawthorne gets selected over Evans because of his potential as a future starter at cornerback. He has the size and the speed to match up with top receivers, and in a few seasons, he could be a starter.
Watford would provide some much-needed depth to the interior of the offensive line.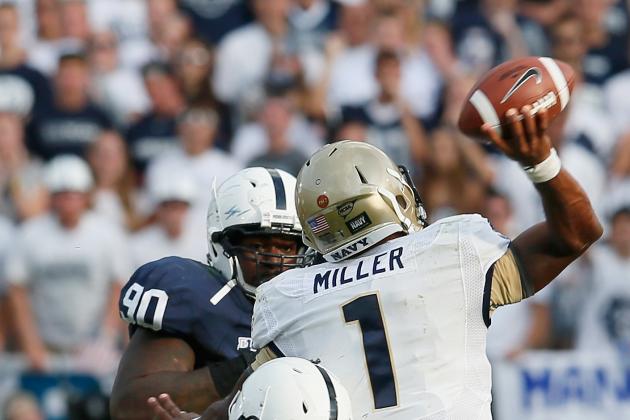 Rob Carr/Getty Images

Nik Embernate, OL, San Diego State
Embernate is a versatile lineman who will probably settle in at guard for the Steelers.
Quinton Dial, DL, Alabama
Dial can contribute at either nose tackle or defensive end in the Steelers defense.
Michael Mauti, ILB, Penn State
Mauti is a pure football player who is a leader and a great locker-room presence. However, multiple major knee injuries are a concern.
Rodney Smith, WR, FSU
Smith has terrific size at 6'4" and the ability to stretch the field. However, he does not always use his height to his advantage.
Vince Williams, ILB, FSU
Williams is a run-stopping linebacker who is limited in pass coverage.
Who Will They Select?
Though he has had a number of injuries, Michael Mauti is more than worth the risk this late.
How many seventh-round selections even make the final roster? The answer is not many.
At least Mauti—when healthy—has a high upside. At worst, his knee does not recover, and he gets cut. At best, he develops into a quality starter, which will far and away exceed the expectations of a seventh-round pick.