Tampa Bay Buccaneers 2013 Draft Picks: Results, Analysis and Grades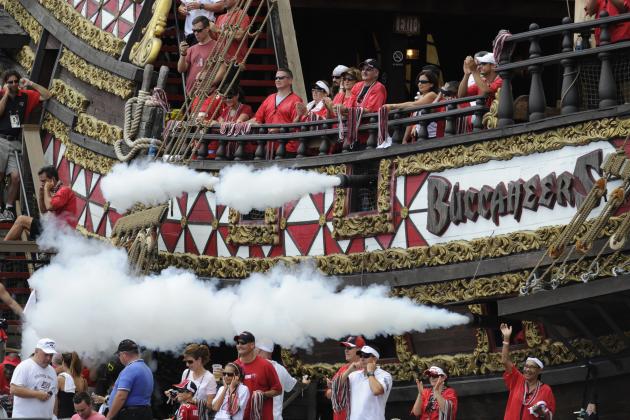 Al Messerschmidt/Getty Images

Day 3 of the 2013 NFL draft has started and can be seen on ESPN, NFL Network and even right here on Bleacher Report, where our team of analysts will continue to provide wall-to-wall live coverage of every single pick made over the course of the remaining four rounds.
The Tampa Bay Buccaneers had a busy Day 2, selecting CB Johnthan Banks in the second round (No. 43rd overall) before drafting QB Mike Glennon with the 73rd overall selection in round three. Today, they've added DT Akeem Spence (No. 100 overall), DE William Gholston (No. 126 overall), DE/OLB Steven Means (No. 147 overall) and RB Mike James (No. 189 overall).
With six picks in, the Bucs have officially wrapped-up their draft for 2013.
So, how have they fared with their picks? Read on for analysis and grades.
Begin Slideshow

»
The Bucs continue to address their league-worst pass defense, which allowed nearly 300 yards per game and 69 plays of 20 or more yards through the air in 2012.
Johnthan Banks (6'2", 185-lbs) isn't the fastest defensive back in this class, but what he lacks in speed, he makes up for in pure ball skills and tackling ability, as evidenced by his 16 career interceptions at Mississippi State. Banks was the Jim Thorpe Award winner in 2012, given to the nation's top collegiate defensive back after posting impressive numbers, including four interceptions and 11 passes defended.
Banks is also a willing participant in run defense, showcasing an ability to not only work around receivers block attempts downfield, but also knife into the backfield off the line of scrimmage, as well.
The knock on Banks is his lean frame, but that is something the Bucs clearly felt comfortable with nonetheless. It's worth noting that taller defensive backs like Brandon Browner (6'4") and Richard Sherman (6'3") have become en vogue around the NFL, so count the Bucs as the latest team to jump on the tall cornerback bandwagon.
Overall, the addition of Banks not only addresses an obvious need for Tampa Bay, but it comes at great value because there was some speculation that the Bucs were interested in Banks at No. 13 overall. The recent additions of Darrelle Revis and Dashon Goldson will give Banks a pair strong mentors in the defensive secondary to look up to and learn from. That said, Banks has the ability to eventually supplant current starting cornerback Eric Wright, opposite Revis. How quickly he'll get there, however, falls squarely on the shoulders of the coaching staff.
Pick Grade: B+
The Bucs, mindful of the inconsistent play of Josh Freeman, decided to draft Mike Glennon with the 73rd overall pick as someone they feel is capable of pushing their fifth-year signal-caller to become a complete quarterback.
Glennon (6'7", 225-lbs) has the arm strength teams covet at the NFL level, but, like Freeman, he has been dogged by inconsistency and an inability to make routine throws. That's not to say Glennon is a bad choice, just that he is a bit of a project and someone that is realistically a few years out from truly competing for playing time.
The former Wolfpack quarterback had a very good senior season in 2012, throwing for more than 4,000 yards and 31 touchdowns, although he added 17 interceptions, as well. His height allows him to effectively scan the field, giving him the ability to spot targets downfield.
While some fans may question the pick, especially with players available at positions of need, the Bucs accomplished their goal of adding a quarterback who not only gives them quality depth behind Freeman, but who is talented enough to motivate his up-and-down play, as well.
For what it's worth, I would have rather seen them address their defensive line or linebacker depth and save a QB for later in the draft, especially with the several big names still available midway through the third-round.
Pick Grade: C+
Tampa Bay finally addressed their razor-thin defensive line with the second pick of the fourth round (100th overall), choosing DT Akeem Spence from Illinois. The selection came after trading their fourth (No. 112) and sixth-round (No. 181 overall) picks to Oakland in order to move up.
Spence (6'1", 305 lbs.) has been a productive tackle the last three seasons, starting in 38-consecutive games to end his career and tallying 72 tackles (seven for loss) in 2012 for the Fighting Illini.
Widely considered a three-technique, currently occupied by Gerald McCoy, Spence has the versatility to play the one-technique as well, though doing so would not fully maximize his potential as a lineman. That said, if Spence were to bulk up it would go a long way towards helping the transition to the one-technique.
If nothing else, Spence gives the Bucs quality depth up front along the defensive line, which isn't a bad thing considering the health concerns that followed McCoy around the first few seasons of his career. All told, a solid pick with their first selection on Day 3.
Pick Grade: C+
After ignoring their depleted defensive front on Day 2, the first two picks in Day 3 by the Bucs have been dedicated to their defensive line, with Michigan St. defensive end William Gholston the latest draft choice at No. 126 overall in the fourth round.
Gholston (6'7, 281 lbs.) is a monster of a man, but despite his towering stature, he struggles as a pass-rusher and does not use leverage to his advantage nearly often enough. Not only that, but his work ethic has been questioned, as it appears as though Gholston will take off entire stretches of plays.
With that said, his 30 career tackles for loss shows he is above-average in run defense and can be disruptive at times, which is something the Bucs will look to build on with this choice.
Overall, a good pick-up for a thin defensive line, although I'm not sure taking Gholston with this choice wasn't a tad premature. It does add a much-needed body up front and at the very least, gives Tampa Bay some insurance behind Adrian Clayborn and Da'Quan Bowers, both of whom have injury concerns heading into 2013.
Pick Grade: D+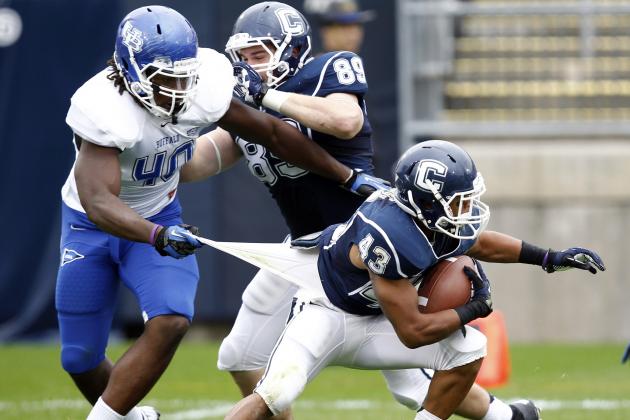 Mark L. Baer-USA TODAY Sports
Means (No. 40) has raw pass-rushing skills.
For the third-consecutive pick on Day 3, the Bucs addressed their defensive front by drafting DE/OLB Steven Means with the 147th overall selection in the fifth round.
Means (6'4", 250 lbs.) is freakishly athletic, but is equally as raw and unpolished as a defensive player. That said, Means has the potential to become a pass-rushing specialist for Tampa Bay, as last season he registered 6.5 sacks and 11 tackles for loss.
With their secondary concerns addressed, the Bucs have clearly decided improving their ability to get after the quarterback is of the utmost importance. After all, they have just 50 combined sacks over the last two seasons, so that probably isn't a bad idea.
To that point, the addition of Means only further illustrates that thought process. However, the pick comes off as a bit of a reach and coupled with the amount of coaching that will have to go into getting Means prepared at this level, I'm not a fan of the pick in round five.
Pick Grade: D-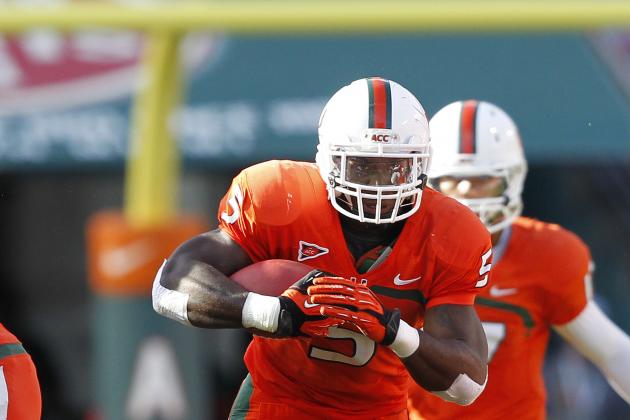 Joel Auerbach/Getty Images

Despite trading for RB Jeff Demps late Saturday afternoon, the Bucs then used the draft pick they obtained as part of that deal to select RB Mike James with the 189th overall pick.
James (5'10", 223 lbs.) is a big, thick running back who is more dominant in short-yardage distances than as a game-breaking, every down back. Last season he rushed for 621 yards and six touchdowns, while also hauling in 344 yards and three touchdowns through the air.
The addition of James gives the Bucs five running backs on roster and sets the table for a competitive training camp come August.
With that said, the pick makes little sense, especially considering it came just moments after trading for Demps, who has great speed and is equally as lethal as a kick-returner. While an argument could be made that Tampa Bay was in need of a short-yardage back, hence the choice of James, my question then is, why make the deal for Demps? Why add two backs within a matter of moments?
In the end, James will compete for playing time, particularly in short-yardage situations, where the Bucs have notoriously struggled in recent years.
Pick Grade: D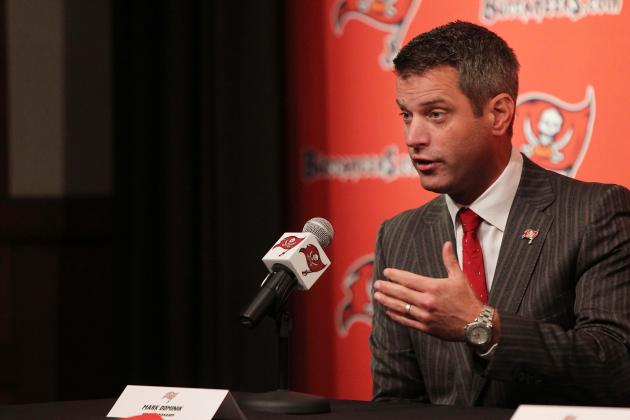 Kim Klement-USA TODAY Sports

2013 Draft Choices:
2nd Rd (No. 43): CB Johnthan Banks

3rd Rd (No. 73): QB Mike Glennon

4th Rd (No. 100): DT Akeem Spence; (No. 126) DE William Gholston
5th Rd (No. 147): DE/OLB Steven Means
6th Rd (No. 189): RB Mike James

Banks and Spence will likely see the most significant playing time this season, especially early on.
Adding Glennon and Gholston give the Bucs good depth behind the first-team units, and eventually could see their roles increase next season depending upon the performance and health of those in front of them on the depth chart.
With that in mind, the selections of Means and James make me scratch my head a little bit. Means, while athletic and with tons of raw potential, wasn't worth a fifth-round choice, in my opinion. He needs tons of coaching to become a well-rounded linebacker and more than likely should've been an undrafted free agent signing.
As I touched on in the previous slide, the James pick makes no sense coming just moments after Tampa Bay traded for RB Jeff Demps. Sure, he's a brusing back and the Bucs need that, but if they had an idea they were going to go that direction, why trade for Demps? As a returner? They already have RB Michael Smith, who showed himself last preseason as a potentially lethal return man.
Overall Draft Grade: C