Houston Rockets vs. OKC Thunder: Postgame Grades and Analysis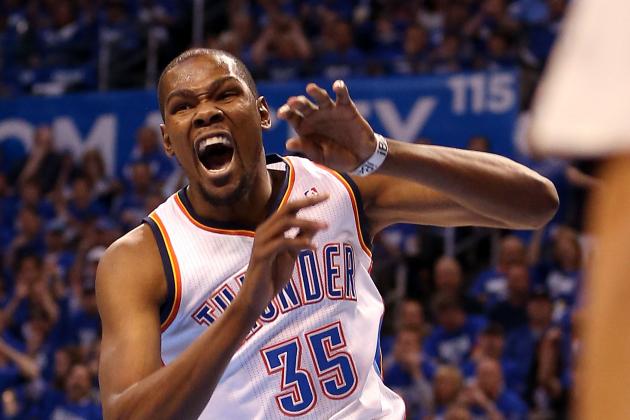 Christian Petersen/Getty Images

For the Houston Rockets, it's too bad almost doesn't count.
The Oklahoma City Thunder managed to hold off James Harden and the Rockets, securing a 105-102 victory to take a 2-0 series lead.
This game was close from almost start to finish. And I only say "almost" because the Rockets fell down by as much as 15 in the fourth before they came storming back to take the lead.
Kevin Durant and crew were just too much for Houston, though. Their shots were falling when it mattered most while many of the Rockets' caromed off the rim.
Harden and friends put forth an admirable effort in this one, but it just wasn't enough.
Oftentimes against the Thunder, it never is.
Begin Slideshow

»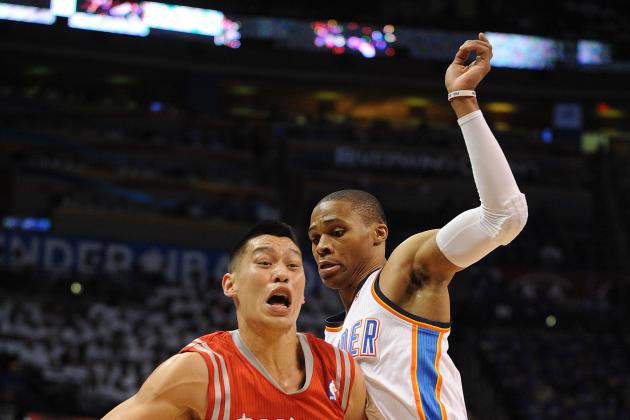 Mark D. Smith-USA TODAY Sports

Jeremy Lin, PG, Rockets: Incomplete
Jeremy Lin left the game with a contusion in his chest and wound up logging just 20 minutes.
Prior to being forced out, Lin was 3-of-7 from the floor for seven points. He had three assists but was having trouble keeping a tight handle and committed two turnovers.
For someone who played just 20 minutes, Lin also found himself defending Durant much too often. An ability to fight through screens left him guarding one of the best scorers in the game. The mismatch of all mismatches, if you will.
If I had to put a letter to Lin's performance, it would be a C+. He's still struggling to convert from the perimeter and his defense awareness (a la rotations) needs to improve.
Jeremy Lin has a muscle contusion in his right chest. Questionable to return.

— Jason Friedman (@JasonCFriedman) April 25, 2013
Russell Westbrook, PG, Thunder: B+
Russell Westbrook was his usual self and then some.
He finished with 29 points on 10-of-26 shooting and was a monster at the free-throw line (8-of-10). Westbrook also pitched in four assists, five rebounds and four steals.
I'm not going to lie, at times, I was astounded by his defense. He does such a good job defending spins and locking down anyone not named James Harden off the dribble.
Turnovers were once again an issue (four). Westbrook was a tad reckless in transition at times and was forcing unnecessary action within some half-court sets.
You've got to appreciate his motor, though. His impassioned effort can often result in him attempting to do too much, but most of what he does helps the Thunder win.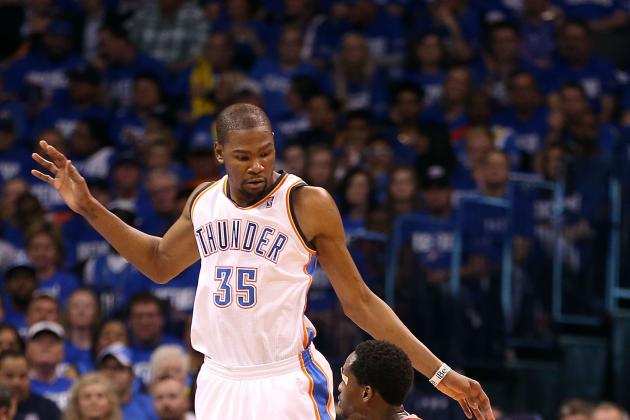 Christian Petersen/Getty Images

Patrick Beverley, SG, Rockets: A
I love Patrick Beverley's energy. He served as a spark plug on both ends of the floor and, along with James Harden, was a pivotal part of the Rockets nearly pulling out a victory.
Beverley scored 16 points on 7-of-13 shooting to go along with 12 rebounds, six assists, two steals and one block. He does need to take better care of the ball and make better decisions on the break (three turnovers), but that's about all you could gripe about here.
What impressed me most was his defense. He can get a bit handsy when defending on the ball, but he managed to avoid being exploited by unfavorable matchups.
And did I mention the kid is fearless? He went to help Russell Westbrook up late in the first half only to have his hand smacked away. That little confrontation didn't change anything he did defensively.
Which was awesome.
Thabo Sefolosha, SG, Thunder: B
Thabo Sefolosha had the most Thabo Sefolosha of games.
Well, not entirely. He didn't have as much of an impact defensively as he normally would have, but he was one of the many forced to guard the runaway train that was Harden.
Sefolosha finished with 11 points on 4-of-9 shooting, including a 3-of-7 showing from downtown. His shot wasn't falling in the fourth quarter (though he did hit a big trey late in the game), but what he lacked in accuracy, he made up for in rebounds (seven).
He, along with the rest of the Thunder, will have to figure out a blueprint to keep Harden out of the paint moving forward, but he was a fundamental lift for Oklahoma City in this one.
Christian Petersen/Getty Images

James Harden, SF, Rockets: B
James Harden's performance was a perplexing one.
He shot just 9-of-24 from the floor but finished with 36 points. A relentless rim attack allowed him to go 17-of-18 from the foul line. He had six assists as well, yet complemented those with six turnovers. He'll need to pick his spots better in the ensuing games and adjust when he draws contact, because it doesn't always get called.
The guard-turned-small forward did put forth a valiant effort on the glass. He finished with 11 rebounds and was as aggressive as anything when corralling Oklahoma City's misses.
Harden never got into any sort of a flow defensively, though. He saw time opposite Kevin Durant and Russell Westbrook, among others. The assignments were difficult, and he was unable to effectively cut off the Thunder's dribble penetration.
Turbulent outings like these aren't what Houston needs from Harden, but he's why the Rockets nearly pulled this one out.
Kevin Durant, SF, Thunder: A-
Like Harden, this was a topsy-turvy outing for Durant as well.
He scored 29 points on 10-of-25 shooting (2-of-9), which is very unlike him. He hit a huge three-pointer late in the game, though, that helped secure Oklahoma City's victory.
His shot wasn't falling at the rate he is used to, so Durant elected to put an emphasis on playmaking. He dropped nine dimes and committed just one turnover.
I would have liked to have seen him be more aggressive in looking for his own shot in the fourth, but he still did what he had to when called upon.
The Durantula was also effective on the defensive end. He blocked one shot and he, along with Serge Ibaka, provided the best help defense of anyone on the Thunder.
No, it wasn't a normal Durant performance. We're used to him being far more efficient. But he was still incredible and managed to lead Oklahoma City to victory.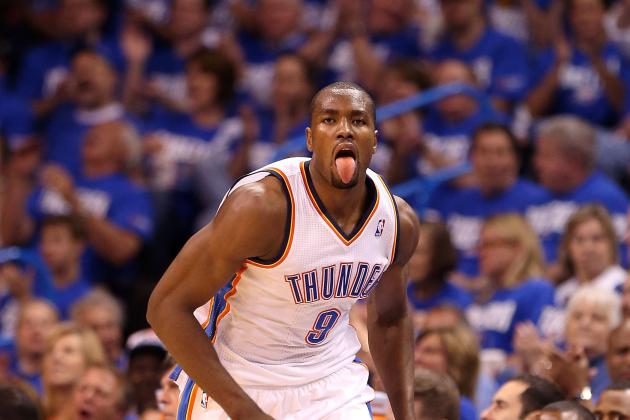 Christian Petersen/Getty Images

Chandler Parsons, PF, Rockets: C-
It was not a good night for Chandler Parsons.
He played well on defense, especially considering how often he was matched up against Serge Ibaka. He didn't shy away from playing physical in the post (seven rebounds), holding his own against one of the NBA's best power forwards.
Parsons did get burned on a few unnecessary switches and failed to close out on Ibaka's jumpers, but again, considering what he was tasked with doing, he did it well.
He did not play well on offense, though.
Parsons shot 7-of-23 from the field (3-of-10 from three) for 17 points. He got a lot of good looks at the basket but just couldn't knock them down. I think he'd benefit from integrating a nice up-fake into his repertoire. He's becoming a bit too predictable.
And had he done anything that would have allowed him to knock down a few more of his shot attempts, the Rockets may have won this game.
Serge Ibaka, PF, Thunder: A-
Ibaka had an outstanding game.
He allowed the Rockets' defense to take him out of the offense for stretches at a time, but he finished with 12 points on 5-of-6 shooting.
With Houston playing small, Ibaka did excellent work in the post on defense. He grabbed 11 total rebounds (eight defensive) and blocked six shots. His timing was just insane in this one.
Credit Ibaka with providing effective help defense as well. His rotations were solid and his pick-and-roll defense was exquisite. That he committed just two fouls when just about everyone and their mother was pummeling James Harden was an added bonus.
Considering how often he was pulled in and out of the paint, the Thunder couldn't have asked for a better performance from Ibaka on the defensive end.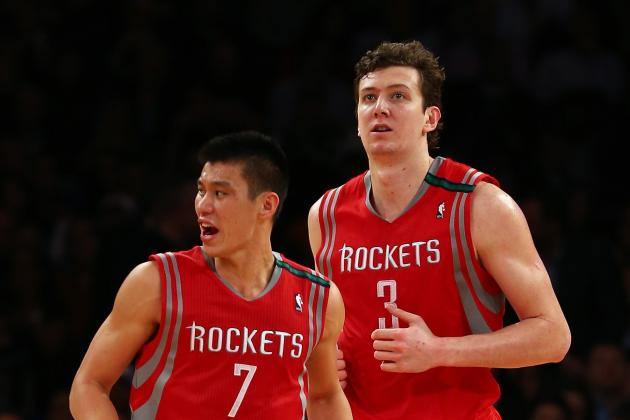 Elsa/Getty Images

Omer Asik, C, Rockets: B+
To no one's surprise, Omer Asik was a beast on the glass. He grabbed 14 rebounds, three of which came on the offensive end.
What I liked most here (because I'm weird like that) is how aggressive Asik was after grabbing one of those offensive boards. All season he had a tendency to either send a pass out to the perimeter or put the ball on the floor after snagging an offensive rebound. It was refreshing to see him go right back up with it and attempt to finish strong.
Asik does need to become more of a force on offense overall, though. He can't just be someone who scores off putbacks; otherwise, there's no reason for the Thunder to defend him off pick-and-rolls. And they didn't. That he attempted just six shots in 34 minutes is indicative of how much of a non-factor he can be.
I'd also like to see Asik be a bit more aggressive on defense. He doesn't crowd his man enough. Sometimes, he even turns his back before they shoot just to position himself for the rebound.
Still, it was a solid performance from the big man.
Kendrick Perkins, C, Thunder: C+
I'm not going to lie. I almost went lower.
Kendrick Perkins went 2-of-3 from the floor for four points in 28 minutes. But that's not surprising. He's not with the Thunder for his offense. I don't think he's there to commit four turnovers in limited touches, though.
He wasn't as effective on defense as you would like, either. Perkins grabbed six rebounds, forced two steals and blocked a shot, but he used his fouls too liberally (he had five).
Going up against Asik for much of the game, he didn't do a good enough job boxing out. Too many of Omer's defensive boards came without anyone around him.
Had Perkins not committed an inordinate amount of turnovers, this performance would have looked much better.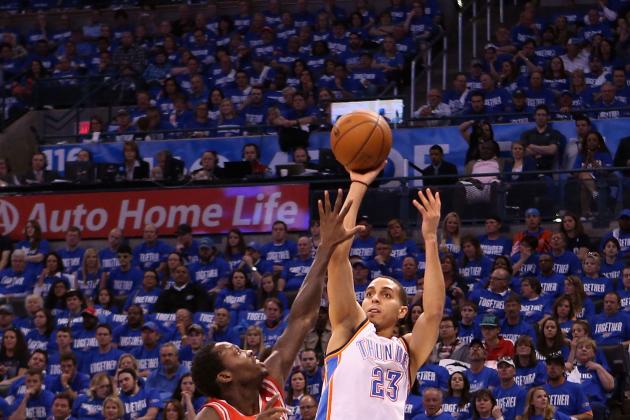 Christian Petersen/Getty Images

Carlos Delfino, SG, Houston Rockets: C
I probably would have been harsher on Carlos Delfino had he not buried a three in the fourth quarter when it looked like the Thunder were going to pull away and then hit another monstrous one later on to put the Rockets ahead by four.
Delfino shot just 4-of-13 from the floor (3-of-10 from deep) for 11 points. Though I liked that he didn't hesitate to shoot when he was open, the arc on his shots just wasn't there. At all.
I'd also like the Rockets and him to find some balance on the offensive end. He's used primarily as a spot-up shooter, but his off-ball movements are nonexistent. He stands in the corner for large chunks of the shot clock. If Houston could afford him some opportunities to create his own shots, he would be more likely to stay mobile. Just a thought.
On defense, he wasn't much of a factor. He did an alright job of closing out shooters, but I thought he played too far off the ball even when he wasn't providing help.
The focus here has to be his poor shooting. If the Rockets are to pull off the improbable upset, they need him to hit his threes.
Kevin Martin, SG, Oklahoma City Thunder: C
Kevin Martin did drill three treys, but didn't do much else.
He was just 3-of-9 from the field overall and found himself off the floor late in the fourth because his offense just wasn't offsetting his rotational discrepancies on defense.
When Martin's shots aren't falling, he's unable to have a positive impact on the game. While he wasn't shy about shooting during his 21 minutes on the floor, his shots weren't falling. He was rushing them and a few looked like knuckleballs; there was not enough rotation.
This was only Martin's eighth career playoff game, so I'm inclined to chalk his offensive struggles up to postseason jitters. That said, Oklahoma City needs him to be more accurate from the field in tight games like this one.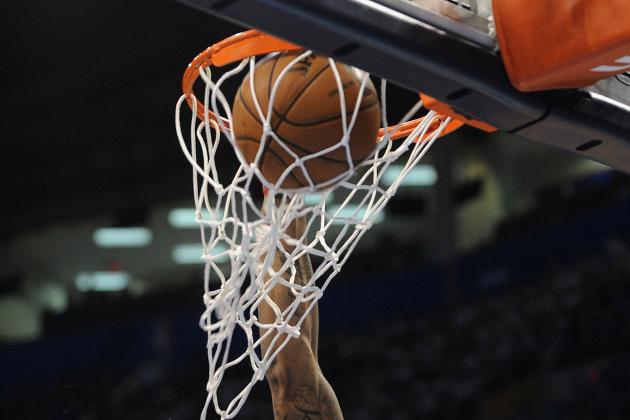 Mark D. Smith-USA TODAY Sports

Houston Rockets: B-
The Rockets aren't known for their bench play, but I thought some of the reserves did a nice job in this one.
Greg Smith provided instant energy off the bench. He was active on the glass (five rebounds) and his dunk on Serge Ibaka was electrifying.
I had a problem with him getting called for a technical following his display of flexing. Russell Westbrook had just slapped Patrick Beverley's hand away when he tried to help him up off the floor (after Westbrook exaggerated some light contact, in my opinion), and there was no call there.
But I digress.
Aaron Brooks came in after Beverley was forced out of the game with his fourth foul and Jeremy Lin was in the locker room, and he provided a couple of nice defensive sets in his four minutes of action.
I thought Francisco Garcia would be utilized more for his distance shooting, but I was wrong. He logged just six minutes and missed his only shot. He wasn't moving his feet well on defense, either.
Oklahoma City Thunder: B
You really can't measure Nick Collison's impact. He pitched in three rebounds in 12 minutes of action, but the effort he brings on defense is incredible. He's constantly following the ball, and he's one of Oklahoma City's best transition defenders.
Reggie Jackson had a nice game as well. He scored six points on 2-of-4 shooting from the floor in 19 minutes. He also pitched in three assists and four rebounds.
Jackson can be overly aggressive on defense, but I love his tenacity. He's a better off-ball defender than most give him credit for. He broke up some screens that would have initiated pick-and-rolls.
I also love that Scott Brooks isn't using Derek Fisher as freely as he was. Fisher saw just seven minutes of burn, missed his only shot and looked out of place on defense. Hopefully, his locker room presence is better than his defensive rotations.