Walter Stewart: Video Highlights for Former Cincinnati DE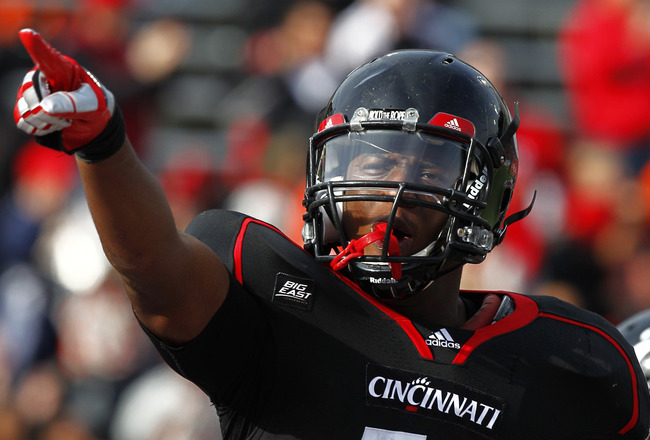 Tyler Barrick/Getty Images
Walter Stewart is a solid defensive end prospect. NFL.com has given the former Cincinnati Bearcat a 61.0 draft grade, and CBSports.com ranks him as the 36th best defensive end and the 421st prospect overall.
Stewart has been clocked at 4.70 in the 40-yard dash, but he seems to play much faster than that, as you will see in the highlights. Stewart plays fast and uses his speed to get into the backfield.
Although he is not rated very highly, Stewart could be considered a diamond in the rough and therefore a good value in this year's draft.
NFL.com had this to say about the talented defensive end:
Tall, long edge rusher who comes off the ball smooth, quick and low despite his height. Sits into his three-point stance very well, has flexibility to turn the corner and closing speed to finish the play. Uses length and powerful hits to separate the ball from quarterbacks from the blind side. Also lines up on the strong side. Has quickness to jump inside when tackles lean to stop his edge rush. Has quick hands to get inside the tackle's jersey and leverage them backwards. Shows good backfield awareness and flashes violence to shed blocks when ballcarriers come his direction, tight ends and fullbacks have little chance to keep him out of plays. Stands up regularly, shows good get-off some decent movement skills in space for his build to handle short-area zones. Willing to hit tight ends to knock them off their route.
Stewart Gets a Sack, Fumble and Touchdown
This might be Stewart's best highlight. Watch him use his speed, quickness and agility to beat the offensive line, blow by the running back and get to the quarterback.
Stewart could have just hit the quarterback and called it a day, but as you will see his situational awareness kicks in.
Sack Against Virginia Tech

This play ends in just a few seconds

Stewart is lined up on the left side. He is made visible thanks to a nice square box.
Again you will see Stewart use his quickness, this time to get a "plain" sack.
Sack and Forced Fumble
The great thing about Stewart is that he forces turnovers. He doesn't just go for the big hit. Turnovers are game changers.
Watch Stewart make the strip in a game against Pitt.
Poor Pitt...
Stewart made the lives of the Pittsburgh Panthers miserable—especially their quarterback.
We have seen his speed, quickness and nose for the ball, but here we see Stewart's nasty streak as he plants his target.
Getting to the Best
Geno Smith is considered by most to be the best quarterback in this year's draft. He's fast, mobile and therefore difficult to bring down.
Stewart does not seem to have too much trouble. Watch him bring down the "best."
Keep Reading