Wisconsin Football: Post Spring-Game 2-Deep Depth Chart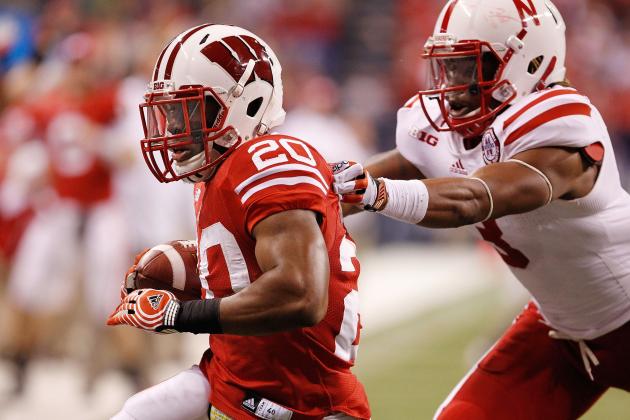 Gregory Shamus/Getty Images

The Wisconsin football spring game featured a rather unique scoring system, and despite only two touchdowns being scored all afternoon, the Cardinal team defeated the White team, 61-47.
It was Joel Stave who orchestrated each touchdown drive for the White team, but otherwise, the defense had its way all afternoon, led by some inspiring efforts from its underclassmen.
The spring game may have led to a few changes on the two-deep depth chart, but with so many players held out due to injury or for precautionary reasons, there wasn't much shuffling around.
Still, that's no reason not to take a look at Wisconsin's current roster situation and analyze the two-deep for the 2013 season before high school and junior college recruits arrive on campus.
Begin Slideshow

»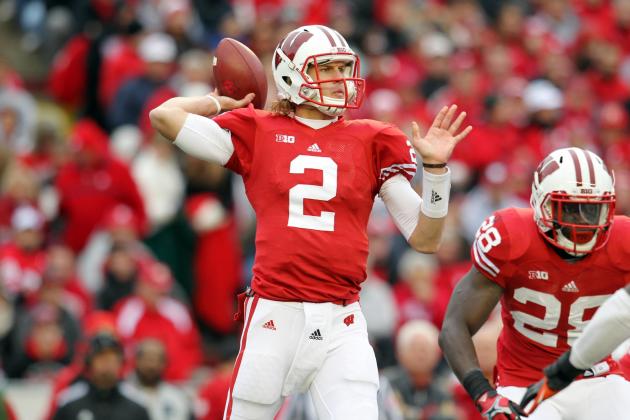 Brace Hemmelgarn-USA TODAY Sports

Starter: Joel Stave
Backup: Curt Phillips
Entering the spring, Curt Phillips was the No. 1 quarterback, simply because that's where he ended the season. Joel Stave was faced with the task of earning the job all over again after breaking his collarbone in late October.
After the April 20 spring game, it was pretty apparent who should be No. 1 on the depth chart—Joel Stave.
Not only did he lead the only touchdown drives, but he completed 75 percent of his passes for 161 yards and a touchdown. Phillips wasn't bad himself, going eight-of-13 for 82 yards, but Stave shined, and considering how close these two were throughout the spring, Stave separated himself and enters the summer as the starter.
But we all know who arrives this summer.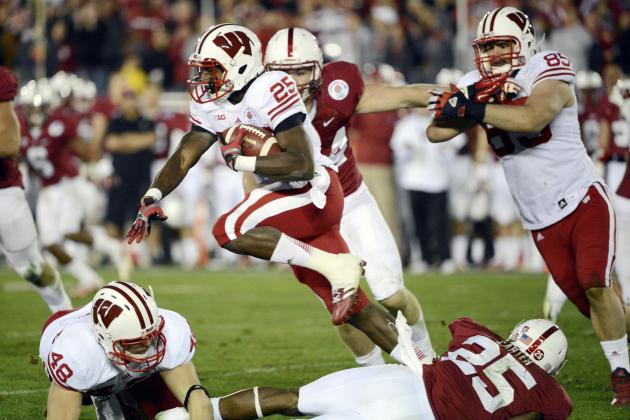 Richard Mackson-USA TODAY Sports

Starter: James White
Backup: Melvin Gordon
Senior tailback James White was among the six players held out of the spring game for precautionary measures, so Melvin Gordon received the bulk of the carries. He had a relatively productive day, rushing 17 times for 74 yards and a score behind a shorthanded offensive line.
Other backups such as Vonte Jackson and Jeff Lewis were out with injury and should be healthy come the fall, but for the most part, it should be a two-man show in the Badgers' backfield. One would imagine the carries will be split pretty evenly, but White has earned the starting distinction for his solid three years thus far at Wisconsin.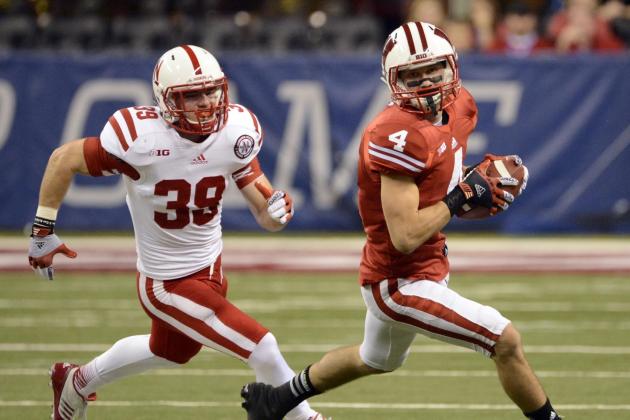 Richard Mackson-USA TODAY Sports

Starters: Jared Abbrederis, Jordan Fredrick
Backups: Kenzel Doe, A.J. Jordan
The spring game was a great opportunity for wide receivers to cash in and show why they deserve to start alongside Jared Abbrederis next season, especially with Abby sitting out.
Jordan Fredrick, who was the No. 2 receiver last season but largely failed to do much of anything, made a couple of nice grabs for 35 yards. Kenzel Doe, who is expected to be the slot receiver, got his hands on the ball often as well, catching eight passes for 93 yards.
Long story short, nobody really did anything to take away Fredrick's distinction as a starter, and Doe will also see plenty of the field next season in the slot. Beyond that is really just a bunch of receivers struggling to put it all together.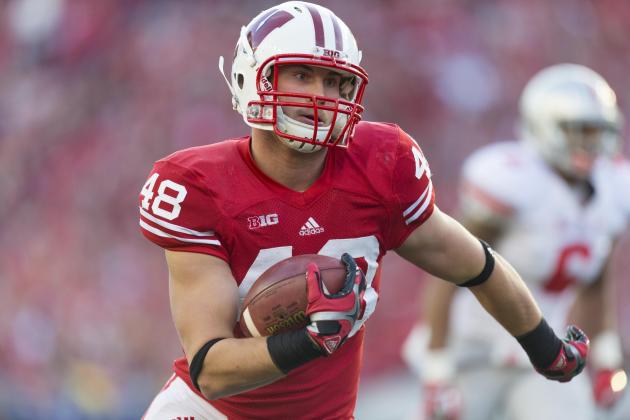 Jeff Hanisch-USA TODAY Sports

Tight End
Starters: Jacob Pedersen, Brian Wozniak
Backups: Sam Arneson, Austin Traylor
Fullback
Starter: Derek Watt
Backup: Kevin MacCudden
The Badgers bring back all of their top tight ends from last season, and not much has changed in regards to how they line up on the depth chart.
Pedersen has been the No. 1 for the last two seasons and will be one of Wisconsin's biggest threats in its aerial attack in 2013. Wozniak should also see plenty of the field because of the Badgers' power running attack and his excellent blocking ability.
Wisconsin should also have no problem going to three tight end sets with Sam Arneson on the roster, as he is a downfield threat as well.
Just like last year—and probably for the next three years—it will be Derek Watt at fullback. Watt caught the lone touchdown pass of the spring game and tallied 22 yards in all.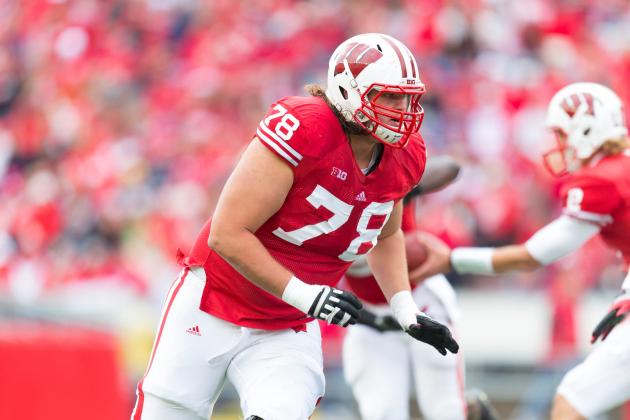 Jeff Hanisch-USA TODAY Sports

Offensive Tackle
Starters: Ryan Groy, Rob Havenstein
Backups: Tyler Marz, Zac Matthias
Offensive Guard
Starters: Dallas Lewallen, Kyle Costigan
Backups: Ray Ball, Trent Denlinger
Center
Starter: Dan Voltz
Backup: Jacob Ninneman
Center Travis Frederick and left tackle Rick Wagner are trying their luck in the NFL draft, leaving a few vacancies to be filled on the offensive line.
It's not quite set in stone yet, but it's probably safe to say that Groy, Voltz, Costigan and Havenstein will be starting next season, with Groy playing either left guard or left tackle. The final spot should be a healthy competition between Lewallen, Marz and Matthias.
As usual, they are all enormous human beings and should continue the tradition of a dominant running attack at Wisconsin. A few years down the road, however, we could see some more petite linemen considering coach Gary Andersen's desire to implement some read option.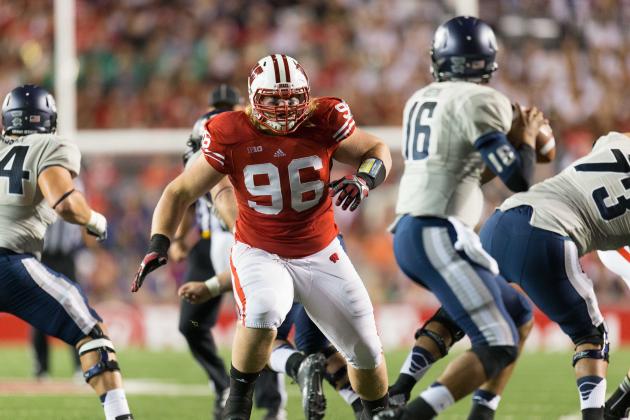 Jeff Hanisch-USA TODAY Sports

Defensive End
Starters: Ethan Hemer, Pat Muldoon
Backups: Konrad Zagzebski, Jake Keefer
Nose Tackle
Starter: Beau Allen
Backup: Warren Herring
Wisconsin will line up three seniors on the defensive line—that's opposed to the usual four, as the Badgers will be primarily running the 3-4 defense.
Beau Allen's size and push up front makes him an ideal fit at nose tackle, and his backup Warren Herring made great strides during spring practice as well. On either side of him, Ethan Hemer brings plenty of experience and defensive end Pat Muldoon remains on the line rather than shifting to outside linebacker.
With Muldoon weighing more than guys like Brendan Kelly and Tyler Dippel, remaining on the line makes sense, and his pass-rushing ability will add an interesting dimension to the front three.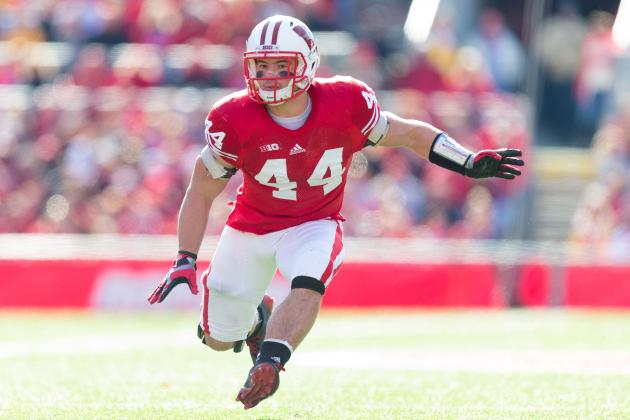 Jeff Hanisch-USA TODAY Sports

Starters: Brendan Kelly, Chris Borland, Ethan Armstrong, Vince Biegel
Backups: Tyler Dippel, Derek Landisch, Conor O'Neill, Jesse Hayes
There aren't any surprises in this unit until you get to that last name, and even that shouldn't really be that big of a surprise if you watched redshirt freshman Vince Biegel in the spring game.
He led the Cardinal team with two sacks and had four tackles in all, showing why he was so highly regarded out of high school. He'll join some familiar faces in the linebacker corps, including converted defensive end and pass-rushing specialist Brendan Kelly and an All-Big Ten performer in Chris Borland.
Ethan Armstrong will move into one of the middle linebacker spots from outside linebacker, but it shouldn't result in much of a transition period because of his high motor and great tackling ability.
Two other names to keep an eye on are Jesse Hayes, as well as one player who didn't make the two-deep, Joe Schobert. The converted safety amassed seven tackles and a sack in the spring game.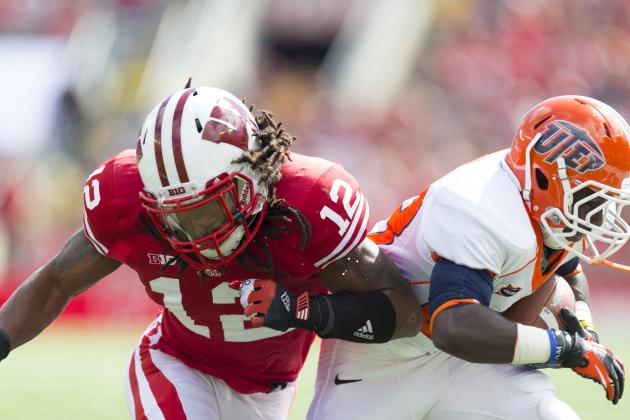 Jeff Hanisch-USA TODAY Sports

Cornerback
Starters: Peniel Jean, Sojourn Shelton
Backups: Darius Hillary, Hugs Etienne
Safety
Starters: Dezmen Southward, Reggie Mitchell
Backups: Michael Trotter, Kyle Zuleger
There isn't a single position on the roster that features more fresh faces than in the secondary. Only senior safety Dezmen Southward returns, and he will be expected to anchor an inexperienced group of defensive backs.
With such a crowded cornerback group, redshirt freshman Reggie Mitchell moved from corner to safety, and it looks like the switch will pay off immediately. Another freshman slated to start is true freshman Sojourn Shelton, who looked tremendous in the spring game and has taken advantage of enrolling early at Madison.
He takes over the starting job from Darius Hillary, who struggled a bit in coverage during the spring game. Junior Peniel Jean will join Shelton after missing the start of 2012 with an injury, costing him a shot at a contributing role.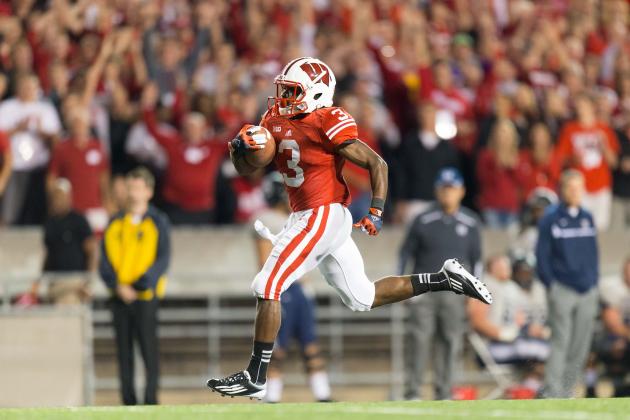 Jeff Hanisch-USA TODAY Sports

Punter
Starter: Drew Meyer
Backup: Matt Salerno
Place-kicker/Kick-off specialist
Starter: Kyle French
Backup: Jack Russell
Kick returners: Melvin Gordon, Kenzel Doe
Punt returner
Starter: Jared Abbrederis
Backup: Kenzel Doe
Special teams hindered the Badgers last season, especially in the place-kicking department. They will need much more consistency from Kyle French, or else it could wind up biting them in the rear.
Sophomore Drew Meyer was pretty effective in his freshman year at Wisconsin, earning a consensus honorable mention All-Big Ten, and should hold onto the punting job for the remainder of his college career.
Melvin Gordon, Kenzel Doe and Jared Abbrederis have all showed they have big-play potential in the return game, so it should be exciting to see how these three are able to impact games outside of their normal roles on the offense.