UFC welterweight champion recently released his first book, The Way of the Fight. The book is an interesting read. St-Pierre could have taken the easy way out and written a fluff biography that did nothing but extol his greatness—God knows that type of sports book has been written multiple times in the past—but he opted for a different approach.
The Way of the Fight comes across as part biography, part self-help and part philosophy, as St-Pierre involves the five most important people in his life in telling his story. St-Pierre told Bleacher Report, "This book is me talking about myself and the five people that have had the biggest influence on my life talking about my life.
"It's not a biography, it not a book only for MMA hardcore fans, it about the tactics that I have used to meet my goals from where I started to where I am right now. I say right now because my career's not finished yet."
That career began in 2002, and since then St-Pierre has posted a record of 24-2 while becoming one of the greatest fighters the sport has ever seen. One thing that may have helped St-Pierre reach his lofty status was the advice of his father. When a young Georges wanted to quit karate, his father refused to allow that to happen, telling his son, "Don't quit until you reach the end."
St-Pierre's view of his MMA career is that it is not near that point. "For my MMA career I want to be known as the best of the best, and right now I'm not there yet. I want to be the guy that makes a difference in the sport. I can still do a lot of things, and I still have a lot to do in my career."
One thing that St-Pierre feels he has to do is continue to innovate as a mixed martial artist. This innovation is as much for his own growth as it is to prepare for his next opponent. "I work on getting better for myself and to find holes in my opponent's game to take him out of his comfort zone. I work on myself, and I study my opponent, and I'm going to use my strength to take the fight to his weaknesses and fight where I'm at my strongest, but I have to work on myself as well."
As he works to improve and prepare for his next opponent, St-Pierre knows he is at a disadvantage. "It's hard to become champion, it even harder to stay champion."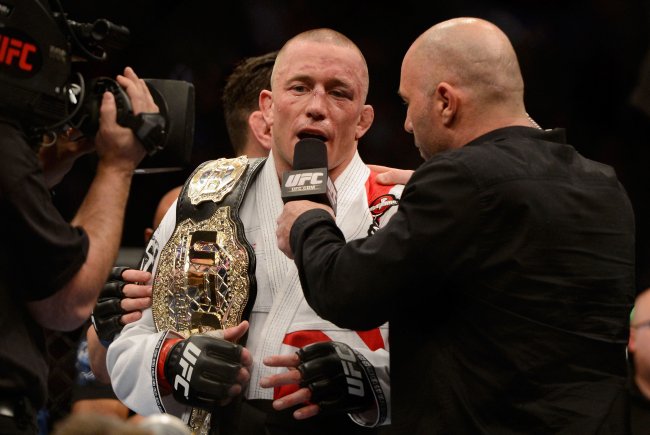 Eric Bolte-USA TODAY Sports
Many athletes have used that refrain in the past, so St-Pierre explained why that fact is true in his case. "One of the reasons is that I'm training for my next opponent, but all the guys that are contenders for my title are training every single day to beat the champion, to beat me.
"They've been preparing themselves for a long, long time. I've been on their mind for a long time. The person that been on my mind is my next opponent, but these fighters that are coming up through the ranks have been visualizing me, they've been seeing me inside their minds for a longer time than I have."
St-Pierre prepares for his opponents by working harder than everyone else and adapting to changes as they come. In The Way of the Fight, interesting analogies are used when discussing these traits, namely ants and cockroaches.
When asked which of the insect analogies is most suitable for him, St-Pierre said, "I'm a little bit of both. The ant is always working, he never stops, that how I am in my life. I never waste a second of my life, I always do things that help me advance in my life.
"In other ways I'm like a cockroach. Sixty-five million years ago the dinosaurs died out. They were the strongest creatures that ever roamed the earth, but they were not able to adapt after the Cretaceous era. The cockroach did survive and adapt.
"It's not always the strongest person that will survive that will adapt themselves at life. As the cockroach, I try and adapt myself to different environments in my life and also in my sport in order to evolve."
In order to evolve, St-Pierre had to overcome what he says is both his biggest strength as well as his biggest weakness: his pride. "I'm a very proud person and that can be a strength and a weakness."
St-Pierre first discussed how his pride was a weakness early in his career. "When I fought Matt Serra I got stunned in the fight by a punch, and instead of stepping back and focusing on getting back to my senses and not get into a war, when I got stunned I got so angry. I wanted to give it back to him right away, so I stepped into a slugfest with him, but I was already stunned, so my pride allowed me to lose the fight by TKO."
As for how pride can be a strength, the UFC welterweight champion said, "How it can be a good thing, is that you can use your pride as a perseverance factor to overcome obstacles and grow from that."
A great deal of The Way of the Fight focuses on the obstacles that St-Pierre has overcome during not just his MMA career but also his life. "All the obstacles that I faced made me the man that I am. But when you face an obstacle and overcome that obstacle, the next time you face a similar obstacle it will be easier to overcome."
Which in a way harkens back to the words of his father: "Don't quit until you reach the end." You could say St-Pierre has followed that credo since that day.
**All quotes were obtained first hand unless otherwise noted.