Pittsburgh Steelers Big Board: Final Pre-Draft Update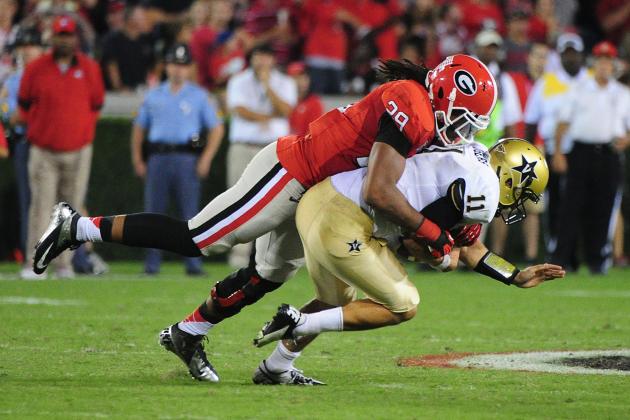 Scott Cunningham/Getty Images

The Pittsburgh Steelers will, tonight, begin to create the most important draft class during the tenure of both head coach Mike Tomlin and GM Kevin Colbert. What happens in this draft will determine much of the team's fortunes in the coming seasons.
The Steelers believe that they are simply retooling a talented roster to make sure it remains competitive as a contender for the next several years. If they are to live that belief, they must make all eight picks in this draft count.
Here's the big board Pittsburgh should be using when tonight's draft begins.
Begin Slideshow

»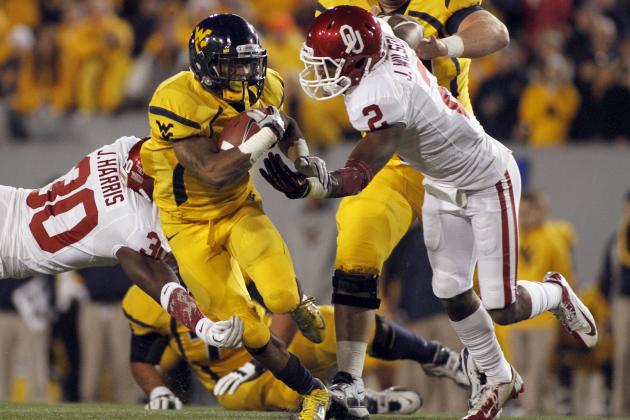 Justin K. Aller/Getty Images

Tavon Austin, WR, West Virginia
Tavon Austin is the top receiver in this draft, and his speed would give the Pittsburgh Steelers the ability to stretch the field and would make the entire offense more dangerous. He will likely go before they pick at 17th overall, but if he falls to them, they'd be foolish to pass.
Dee Milliner, CB, Alabama
The injury concerns that have come out are worrisome and could cause a draft-day tumble. If a player with Dee Milliner's shutdown skill gets near Pittsburgh, they need to find a way to grab him. He probably doesn't slip out of the top 10, but you never know on draft night.
Kenny Vaccaro, S, Texas
The best safety prospect in this draft, but he comes with some concerns about how his game will transition to the next level. He's a big-time athlete and very physical and aggressive. Those are traits Dick LeBeau will want in his team.
Cordarrelle Patterson, WR, Tennessee
A big, physical target who also has the speed to stretch the field, he would be the long-awaited big target Ben Roethlisberger wants. He has all of the skills, but Pittsburgh could see another position as more needy and let him pass.
Jarvis Jones, LB, Georgia
Jones is the player most often mocked to Pittsburgh, but the spinal concerns are troublesome. The sentiment is that he doesn't get past the Steelers at 17th overall, but he could even go higher. If there were no health concerns, he'd be a top-10 pick.
Tyler Eifert, TE, Notre Dame
Is tight end a need in Pittsburgh? Heath Miller's injury has that question being asked. If the Steelers answer yes and miss out on other targets, Tyler Eifert makes sense. If they trade down in the round, he'd be the perfect selection in the mid-20s.
Xavier Rhodes, CB, Florida State
Keenan Lewis left in free agency. The jury is out on Cortez Allen. Ike Taylor's days are numbered as he ages and becomes more susceptible to injury. Xavier Rhodes is a talented player with the ability to create big plays. Pittsburgh could use that in a backfield that doesn't create turnovers.
D.J. Fluker, OT, Alabama
A long shot to get to 17th overall, D.J. Fluker could be an answer for the left tackle position. The Steelers have Marcus Gilbert and Mike Adams there long-term, but it never hurts to have another good tackle, and Adams was far from successful in his rookie season.
Eddie Lacy, RB, Alabama
The one starting job that is completely bereft of a good candidate is at running back. Eddie Lacy is a tough runner who could give Pittsburgh its first true feature back since Jerome Bettis or Willie Parker roamed the backfield.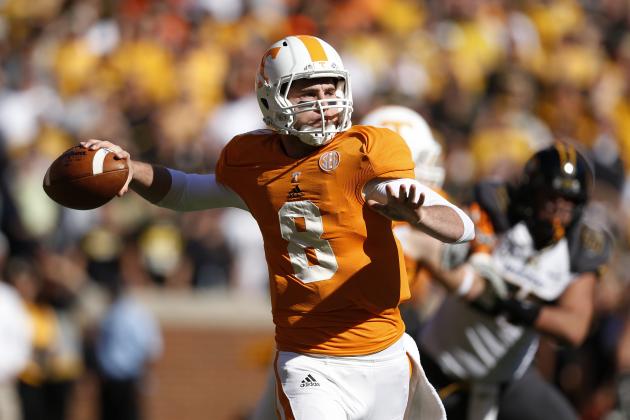 Joe Robbins/Getty Images

Tyler Bray, Tennessee
The Pittsburgh Steelers have to like Tyler Bray's arm. He's raw and needs to work on accuracy and technique, but he could eventually become one of the best quarterbacks in this draft class. If he's still there in the fourth or fifth round, he'll be hard to pass.
Landry Jones, Oklahoma
Landry Jones played in a pro-style offense at Oklahoma and has a good mix of pocket passer and mobile slinger in him. Todd Haley's system could be a good fit for his skills, and he would have the benefit of learning from a similar player in Ben Roethlisberger.
Zac Dysert, Miami (Ohio)
Possibly the best arm in this draft class, Zac Dysert's late-season injury and concerns over playing in a pass-heavy offense in Miami have dropped his stock. He's the most tantalizing passer in this class after Geno Smith because he could go anywhere from the second to the sixth depending on how teams value him.
Matt Scott, Arizona
A good athlete with a decent arm, Matt Scott hasn't had much success raising his stock in a weak year. He has the ability to be a fine backup at the next level and could start if the right system is put around him. He needs work on accuracy and defensive reads first.
Sean Renfree, Duke
Sean Renfree is an intriguing player out of a small school. Pittsburgh has found success in small school prospects before. If they are looking for a good way to spend their final selection, Renfree would be a nice arm to develop.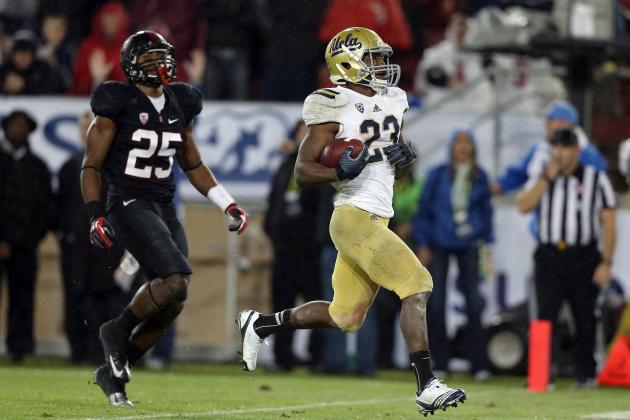 Ezra Shaw/Getty Images

Eddie Lacy, Alabama
The Pittsburgh Steelers need a feature back who can shoulder the load every game. Eddie Lacy is the top back in the draft. He's not worth the 17th overall pick (no running back is in this class), but if the Steelers move back, he'd be one of the top choices.
Johnathan Franklin, UCLA
The Steelers seem to be interested in Johnathan Franklin, whose style fits a need. They have a bruiser and a versatile back, but not a burner. Franklin's speed would allow Pittsburgh to have a breakaway runner whom they haven't had since Willie Parker was in town.
Montee Ball, Wisconsin
Pittsburgh had hoped to get a great cutback runner in Rashard Mendenhall, but that never panned out. Montee Ball is another good cutback runner who has the ability to make defenders miss without breakaway speed. He could be a good second-round option, or he might even slip to the third.
Le'Veon Bell, Michigan State
Le'Veon Bell is a good, bruising back who has great ability to break tackles and keep his feet moving after contact. Pittsburgh could use a guy who doesn't need a big hole to go through as their offensive line will probably have some more growing pains.
Stepfan Taylor, Stanford
Another well-regarded prospect available in the middle, Taylor is a good all-around back who could fit in Pittsburgh, where nothing in the backfield is certain heading into next season. He has good technique, but lacks any great trait.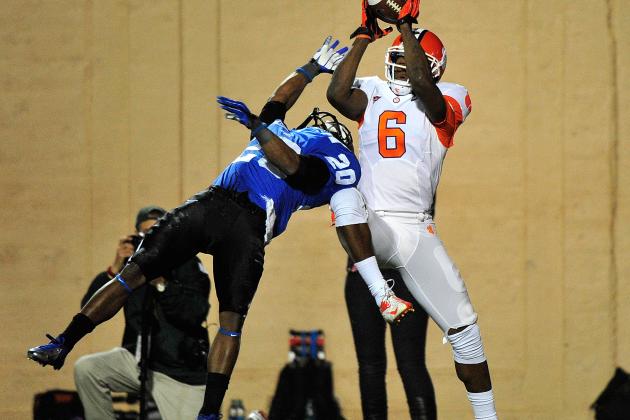 Grant Halverson/Getty Images

Tavon Austin, West Virginia
Austin is the top receiver in this draft and one of the top players available. He could easily be a top-10 pick, but will likely go in the middle of the round. If he's on the board at 17th overall, the Steelers need his speed too much to let him go.
Cordarrelle Patterson, Tennessee
Ben Roethlisberger has always wanted that big receiver whom he can hit with any pass. Patterson is big and has enough speed to stretch the field. He is the second-best receiver in this class and should be available at 17th overall.
DeAndre Hopkins, Clemson
DeAndre Hopkins has comparable size to Patterson, but lacks the same speed. He would be a good option to put opposite Antonio Brown if the Steelers move back in the first round. He's definitely capable of being a starter for any NFL team.
Keenan Allen, California
Keenan Allen is another big possession guy who would give the Steelers a "Hines Ward" element that they've been missing with more size than Ward possessed. He's a tough receiver and could start right away for most teams.
Stedman Bailey, West Virginia
A bit of a reach for the first round, but the perfect second-round steal, Stedman Bailey's speed would make him the perfect slot option. He could have a career arc very similar to Mike Wallace and comes without the baggage Wallace had. He's someone whom any team will be lucky to get.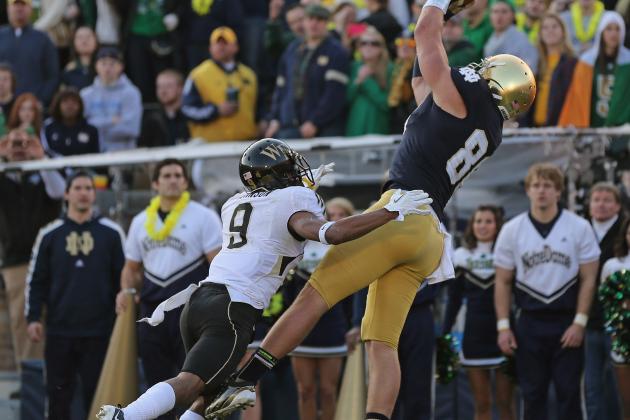 Jonathan Daniel/Getty Images

Tyler Eifert, Notre Dame
One of the best tight end prospects to come out of college in years, Tyler Eifert would give the Pittsburgh Steelers a good one-two punch once Heath Miller is back healthy. He's a great receiver who can also block very well and compares well to Miller.
Zach Ertz, Stanford
Another good receiving/blocking tight end who could be available in the second round, Zach Ertz is a player to target if the Steelers don't want to spend a high pick on a position that isn't an immediate need. He's also a candidate for the end of the first round if Eifert is gone, and the team still wants an tight end.
Vance McDonald, Rice
Vance McDonald is another versatile tight end, although he's a better receiver than a blocker, and he makes some mental mistakes in the passing game that have cost him draft stock. He's also a small-school guy, so there are questions about how he will do against top competition.
Travis Kelce, Cincinnati
He's a better receiver than a blocker, but he's a good athlete overall and his speed is surprising for the position. He compares to a Bo Scaife that might be more of a big receiver than a true tight end. He'd be a good second-round selection.
Gavin Escobar, San Diego State
Another second-round prospect, Gavin Escobar is also more receiver than blocker. He struggles with the blocking aspect of the position and can't hold blocks well. That is problematic for a team that has a quarterback who likes to extend the play, but could be solved by coaching.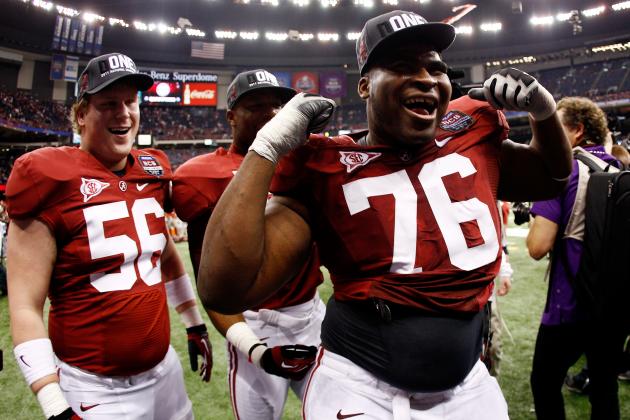 Chris Graythen/Getty Images

D.J. Fluker, Alabama
One of the better tackles available in this draft, D.J. Fluker could go very high or in the middle of the round. He has the ability to start as a rookie and could eventually be one of the better left tackles in the NFL.
Kyle Long, Oregon
Kyle Long is a versatile player who can play either of the left-side positions. He is a similar player to a Doug Legursky: versatile at multiple spots, but a master of none. He's a second-round player who could be very useful on an offensive line that will prize athleticism
Larry Warford, Kentucky
Larry Warford is a big guard who can take up blockers and hold the line. The problem is, he's too heavy, and it slows him down. He could end up struggling at the next level if he can't change that. Still, his ability to hold off blockers makes him an attractive prospect.
Terron Armstead, Arkansas-Pine Bluff
While Terron Armstead needs to improve his strength, his explosiveness and athleticism are very interesting traits. He could surprise, coming out of a small school, and end up being a stalwart starter for many seasons. Jack Bicknell Jr. wants a versatile line. Armstead could fit that bill.
Justin Pugh, Syracuse
Justin Pugh will probably end up at right tackle in the NFL. He's not the physical specimen a team wants anchoring the blind side of a line. He is athletic, but his strength isn't where it needs to be, and he's small for the position. If he can bulk up, he can move to the left side.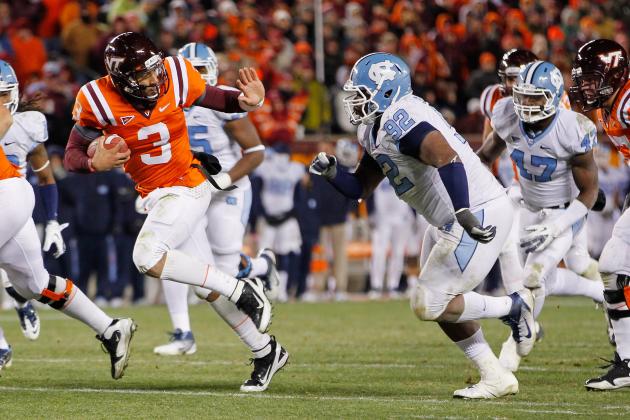 Geoff Burke/Getty Images

Sylvester Williams, North Carolina
More of a 4-3 tackle, Sylvester Williams could be a good 3-4 end because he's explosive and can take on blockers well. He has the ability to be very good and to make the Pittsburgh Steelers a dangerous defensive team up front, but his work ethic is questionable.
Bjoern Werner, Florida State
Bjoern Werner isn't an explosive player, but he'd be a good defensive end in the Steelers' system. He can hold blocks well and doesn't lose leverage at the point of attack very much. The question is whether he can stay healthy and get away from the little dings that have marked him up.
Jesse Williams, Alabama
Jessie Williams isn't a pass-rusher, but he can get into the backfield on occasion and holds the fort in the middle of the line. He's a good fit for a 3-4 nose position where he doesn't have to be athletic as much as he just needs to be a space eater.
Damontre Moore, Texas A&M
Listed as a defensive end, Damontre Moore would become a 3-4 linebacker on the outside and be a pass-rush specialist. He fits Pittsburgh because he's aggressive and could become a sack artist like James Harrison once he learns the intricate nature of the position.
Alex Okafor, Texas
Alex Okafor would also translate as a 3-4 linebacker because of his excellent speed and ability to blast past blockers on the rush. His strength is also an excellent attribute and will serve him well at the next level whether he plays end or linebacker.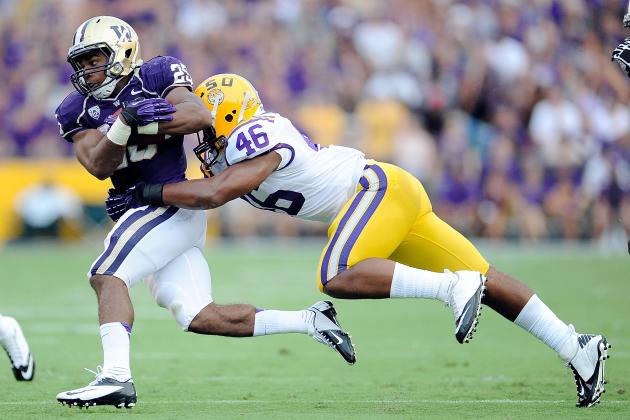 Stacy Revere/Getty Images

Jarvis Jones, Georgia
One of the most watched defensive prospects for Pittsburgh Steelers fans, Jarvis Jones will be the pick if he's available at 17, barring a surprise. He has the skill to be a great outside linebacker immediately, but the injury issues and some questionable efforts will scare some teams away.
Kevin Minter, LSU
One of the top inside linebackers in this draft, Kevin Minter gets knocked most for his lack of physical presence. He does have decent rush ability and could fit well in a 3-4 where he's teamed with another inside linebacker.
Sio Moore, Connecticut
The best athlete at the position in this draft, Sio Moore can play any linebacker position in the 3-4 and can even move out to corner. He's got the ability to become a great outside linebacker and could become a starter within his rookie season.
Kiko Alonso, Oregon
Kiko Alonso doesn't have the starting experience you'd like to see in a first- or second-round player, but the skills are there. He has a high motor, but needs to be tamed a bit with his aggressive play. He can get carried away, but that angry style will make him a good, dangerous player.
Nico Johnson, Alabama
A great fit for the Pittsburgh scheme, Nico Johnson has played in a pro-style defense in a big college conference. That experience will serve him well. He's an aggressive, physical player who seeks contact and can shed blockers well.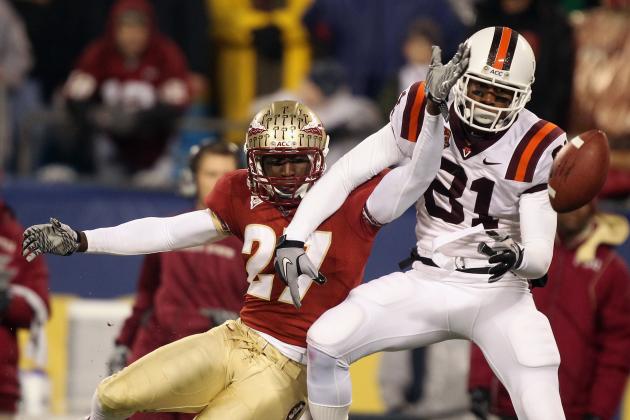 Streeter Lecka/Getty Images

Dee Milliner, Alabama
Dee Milliner is one of the top prospects overall in the draft, but recent concerns about injuries could drop him some. If he gets to the 17th pick, the Steelers would be foolish to skip out on a talent that could give them a Rod Woodson-type player.
Xavier Rhodes, Florida State
With the questions around Ike Taylor's age and Cortez Allen's ability, it makes sense to upgrade the depth at corner. Xavier Rhodes needs some polish, but he should develop into a successful coverage player with skill similar to Taylor and some big-play skills as well.
Desmond Trufant, Washington
Trufant is an aggressive, physical corner who isn't afraid to confront receivers early in their routes. He can also make big plays and doesn't allow receivers to get away. He needs polish on technique, especially in coverage, but he should become a starter.
Johnthan Banks, Mississippi State
A good coverage corner, Johnthan Banks can play man or zone defense. The Steelers need to get more physical with their corners and could use Banks as a move in that direction. He isn't ready to start immediately, but could be ready in a year.
Jamar Taylor, Boise State
Jamar Taylor comes from a school that doesn't play in a powerful conference, but he has the coverage ability to be successful and played against a lot of pass-heavy offenses during his career with Boise State.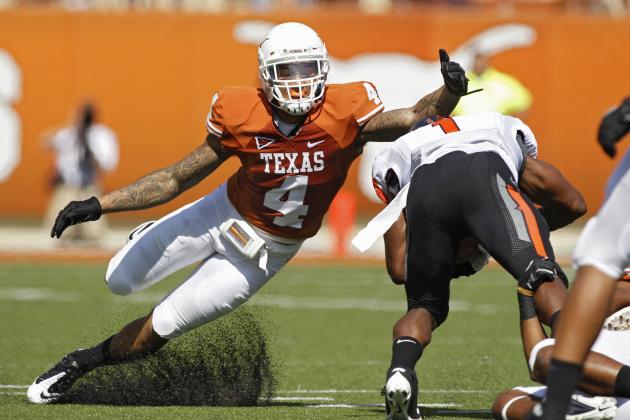 Erich Schlegel/Getty Images

Kenny Vaccaro, Texas
One of the top defensive backs available in the draft, Kenny Vaccaro will go high. If he's available at 17th overall, the Pittsburgh Steelers could take him to groom behind a similar player in Troy Polamalu. He does have the chance to bust, but it's remote given his skills if he's in the right system.
Matt Elam, Florida
An aggressive, physical player in the Ryan Clark style, Matt Elam is a perfect steal late in the first or early in the second round. He can play in coverage or up at the line, so he could eventually be a good replacement at either safety spot for the Steelers.
Jonathan Cyprien, Florida-International
A fast-riser in this class, Jonathan Cyprien is a good option if Pittsburgh trades back in the first round. He has the coverage skills and aggressiveness to be very successful in this system, but needs to sit behind the stars and learn for a season or two.
Shawn Williams, Georgia
A good mid-round prospect, Shawn Williams has the physicality to be a good safety at the next level. He fits well with Pittsburgh because he can get to the quarterback at times while also being decent in coverage. He needs polish in every facet, but he'll be ready sooner than many think.
Shamarko Thomas, Syracuse
Shamarko Thomas is more of a rush safety who can get into the backfield or stop runners at the line of scrimmage. He doesn't cover well, and his size is a major limiting factor to his success, especially against the tight end packages teams like the New England Patriots run.