Dallas Cowboys Big Board: Final Pre-Draft Update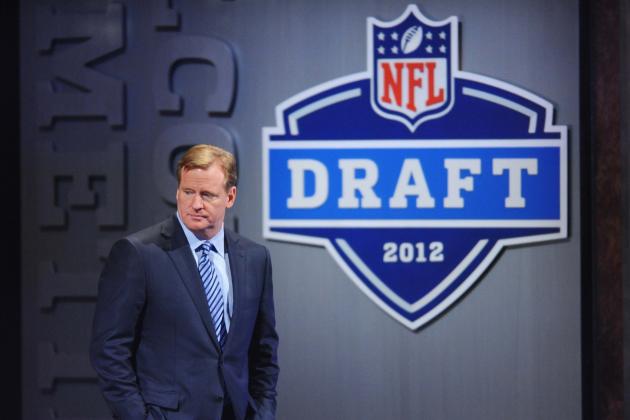 James Lang-USA TODAY Sports
NFL commissioner Roger Goodell
What exactly is a "big board?"
Simply put, this term essentially describes the opinion of all players that are eligible for the NFL draft according to each NFL franchise. It is not an official board or ranking that all teams follow.
In other words, the Dallas Cowboys likely don't give a squat as to what NFL.com's Mike Mayock or ESPN's Mel Kiper Jr. have to say. Sure, they might agree on many points, but America's Team has it's own opinion of the players available.
So why not follow just one board?
Simply put, teams play in their own systems and also have their own salary cap concerns that make it impossible for there to a be consensus regarding the ranking of all the players and positions available in the draft.
Perhaps the biggest reason why Dallas' big board will depart greatly from, for example, the New York Giants is one simple, four letter word: need.
Make no mistake, each and every team drafts much more out of need than out of focusing on the best players available, despite the fact they will all say otherwise. The Indianapolis Colts selected Andrew Luck first-overall in the 2012 NFL draft because he was the best player available. But also true was the fact that the franchise felt that opportunity had presented itself to replace it's best-ever quarterback in Peyton Manning, whose recent injury history was more than enough reason for concern.
But the Colts were in a very unique position that generally doesn't happen for most franchises. They were actually able to draft both for need and they were able to take the best player available.
So if I had to guess, which I will, what the Dallas big board looks like, I'd bet money I don't have that it will reflect team needs much more than it does the best player available approach. Then again, those two factors will fit nicely into the hands of the Cowboys, seeing as how this draft is pretty loaded with commodities that the team should be looking for anyway.
Complicating matters is the fact that Dallas has only six selections, thanks to last season's trade for offensive linemen Ryan Cook from Miami. So there's one selection that, thankfully, is still on the roster.
So here's a look at 20 players likely to reside on the Cowboys' own big board heading into tonight's first round of the NFL draft in New York City. This big board is only partial and might look like many others you may have already seen. But I think you'll see some key differences based on needs rather than talent—hopefully Dallas has meshed these two factors to perfection. But this is why a player like quarterback Geno Smith of West Virginia does not appear, seeing as how the Cowboys could care less about a quarterback early on—or at all—in this draft.
Following the big board, I'll rank additional players at each position and based primarily on fit. I'll discuss whether or not they have any real possibility to continue their football careers in Big D.
All combine results courtesy of NFL.com
All contract data courtesy of Spotrac
Begin Slideshow

»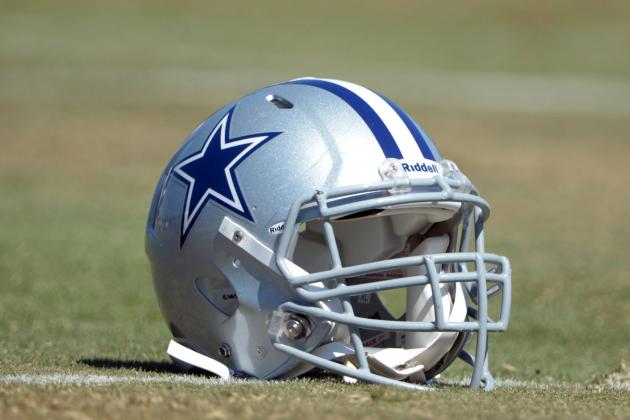 Kirby Lee-USA TODAY Sports

1. Luke Joeckel, OT, Texas A&M: We should hear his named called first by NFL commissioner Roger Goodell, but owner and general manager Jerry Jones would easily make this pick if possible.
2. Sharrif Floyd, DT, Florida: He could possibly be the first defensive linemen chosen, and could possibly be a top priority for Monte Kiffin´s new 4-3 alignment.
3. Eric Fisher, OT, Central Michigan: Fisher is easily the next best tackle prospect below Joeckel, and is possibly the earliest tackle candidate that the Cowboys could trade up for.
4. Lane Johnson, OT, Oklahoma: If there's a new right tackle replacing Doug Free in 2013, Fisher would be a likely candidate to do so. He'd require a trade up likely involving a player(s) and picks.
5. Star Lotulelei, DT, Utah: Since Floyd would never get close to Dallas' range, it's possible that Lotulelei could slide towards the Cowboys due to health concerns. Lotulelei would be a steal at pick No. 18.
6. Ezekiel "Ziggy" Ansah, DE, BYU: Ansah is possibly the most athletic defensive linemen in the class, and Dallas would have to consider the Ghana native's upside vastly superior to Anthony Spencer.
7. Chance Warmack, OG, Alabama: Not many offensive guard prospects have "future Pro Bowl" player written across their forehead, but Warmack does. He might require trade up somehow.
8. Sheldon Richardson, DT, Missouri: According to most mock drafts, Richardson is possibly the most likely player to actually be chosen by Dallas at the 18th pick, as he'll likely be available.
9. Jonathan Cooper, OG, North Carolina: If the Cowboys are determined to address the interior of the offensive line, Cooper is most likely to be available at No. 18—but there is no guarantee of that at all.
10. Dion Jordan, DE/OLB, Oregon: Nicknamed ''The Praying Mantis'', Jordan is probably best suited for a 3-4 defense. But with added weight, Jordan could be long-term compliment to DeMarcus Ware.
11. Sylvester Williams, DT, North Carolina: The underrated defensive tackle would provide a young body to enter Kiffin´s new scheme. He is also coming from the right kind of system with the Tar Heels.
12. Barkevious Mingo, DE, LSU: He is not likely the best fit for the new 4-3, but Mingo's athleticism is impossible to ignore. He could allow Spencer to stay at linebacker and become a bookend to Ware.
13. Jarvis Jones, LB, Georgia: Jones would not necessarily address an area of need, but adding this player to linebackers Sean Lee and Bruce Carter would give Dallas the best linebacker corps in the NFL, period.
14. Dee Milliner, CB, Alabama: Yes, the Crimson Tide has great defensive backs as well. If not for Dallas' expenditures at cornerback last year, Milliner would rank much higher with the Cowboys.
15. D.J. Fluker, OT/OG Alabama: My last mock draft makes Fluker the Cowboys first player chosen at the 18th pick. He's experienced, he's big and he's versatile—and he'll be available.
16. Alec Ogletree, LB, Georgia: See teammate Jones above—he does not fit the biggest need but future upside is off the charts and Ogletree could actually fall to within Dallas' selection range.
17. Matt Elam, S, Florida: Flashes the ability to create huge plays in the secondary if there's pressure upfront—and that's a big if. If Kiffin's line is well built, Elam is the best fit for the Cowboys.
18. Kenny Vaccaro, S, Texas: Vaccaro would bring experience and versatility to the table, and he is just as capable of being as immediate of starter as the ex-Gators defensive back above him.
19. Cornellius "Tank" Carradine, DE, Florida State: Carradine is only sliding this far on all draft boards due to an injury late last season. Otherwise, Carradine could be the best 4-3 defensive end available.
20. Justin Hunter, WR, Tennessee: No, wide receiver may not be a big need early on, but Hunter, standing at 6'4'', is a potential matchup nightmare, much like Dez Bryant.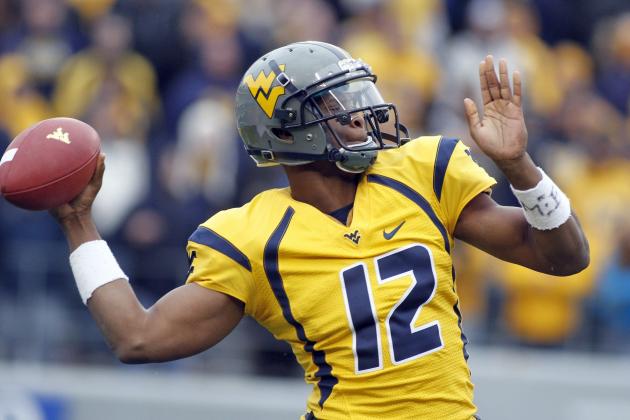 Justin K. Aller/Getty Images
Geno Smith
1.) Geno Smith, West Virginia
2.) Matt Barkley, USC
3.) Tyler Wilson, Arkansas
4.) Ryan Nassib, Syracuse
5.) Landry Jones, Oklahoma
It certainly doesn't appear that the Cowboys will draft a quarterback in any round this year, and I don't say that because of Tony Romo or his recent contract extension.
The main reason why is because this year's quarterback class is nothing at all like last year's group, which saw rookies Andrew Luck, Robert Griffin III and Russell Wilson leading their respective teams into the playoffs.
Another issue is the mere six selections that the Cowboys have this year in a draft that is seven rounds in duration. Dallas doesn't have the luxury of drafting a guy that would serve as the third quarterback and never see the field over the next couple of seasons at least.
But never say never because if the Cowboys take a quarterback, it would be a player like Landry Jones of Oklahoma, Tyler Bray of Tennessee or another prospect that might fall farther than expected who Dallas could flip in a year or two for an additional draft pick.
Does Dallas see it's quarterback of the future beyond Romo in 2013?
No.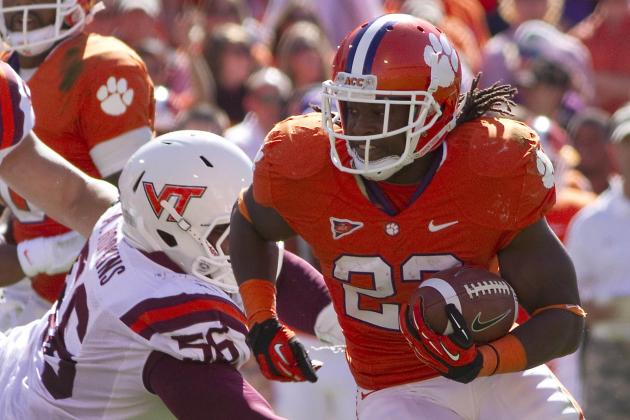 Joshua S. Kelly-USA TODAY Sports
Andre Ellington
1.) Andre Ellington, Clemson
2.) Eddie Lacy, Alabama
3.) Le'Veon Bell, Michigan State
4.) Giovani Bernard, North Carolina
5.) Montee Ball, Wisconsin
Although it is very likely to be the first skill position addressed by the Cowboys, I would still expect no ball carriers chosen until Round 3, at the earliest. But in a running back class that I think is better than billed, any of the names above could be selected by the Cowboys as early as Friday night (Rounds 2 and 3).
I have mocked Le'Veon Bell of Michigan State to the Cowboys in previous mocks, based mostly on his durability and experience carrying the football.
Consider these sobering facts: Julius Jones was the last Dallas running back to rush for 1,000 yards in a Dallas uniform. That was all the way back in 2006!
Only five Cowboys running backs have accomplished this feat, and it's certainly time for the sixth.
Incumbent starter DeMarco Murray has come close but health issues have prevented him from playing a 16-game schedule in his two seasons as a pro. Murray's contract runs through 2014, which gives him two more seasons to justify an extension in the coming months.
In drafting a running back within the first four rounds, Dallas needs a back who could possibly be the answer well beyond the duration of Murray, if necessary. In other words, they can't take another complimentary back like 2008 first-round bust Felix Jones this time.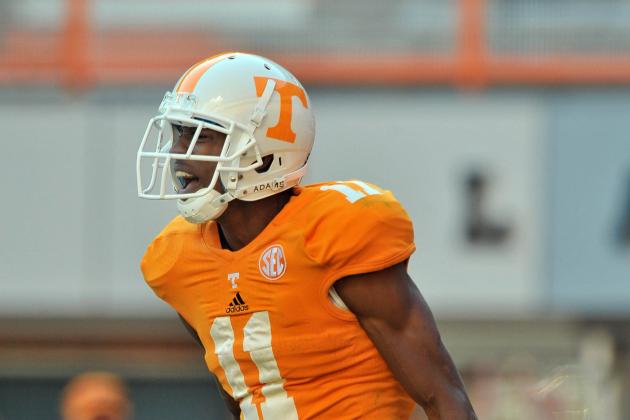 Jim Brown-USA TODAY Sports
Justin Hunter
1.) Justin Hunter, Tennessee
2.) Keenan Allen, California
3.) Tavon Austin, West Virginia
4.) Terrance Williams, Baylor
5.) Cordarrelle Patterson, Tennessee
With starting wide receivers Bryant and Miles Austin under contract for years to come, Dallas would be ill-advised to select another receiver within the first three rounds. But it's important to realize what the depth chart looks like right now.
Beyond the two starters named above, only third receiver candidate Dwayne Harris has seen much action for the team recently, and there is nobody currently on the roster that could play the No. 2 role at a level that would scare opposing defensive coordinators.
Of Dallas' top five rated pass-catchers listed above, a more likely candidate to play in Dallas in 2013 would be a projected mid-round prospect like Olympic speedster Marquise Goodwin of Texas or Oklahoma's Kenny Stills.
The Cowboys need depth for sure, but they won't be looking for a potential No. 1 wide receiver with their first few selections. But whomever they might choose needs to be capable of playing the No. 2 spot.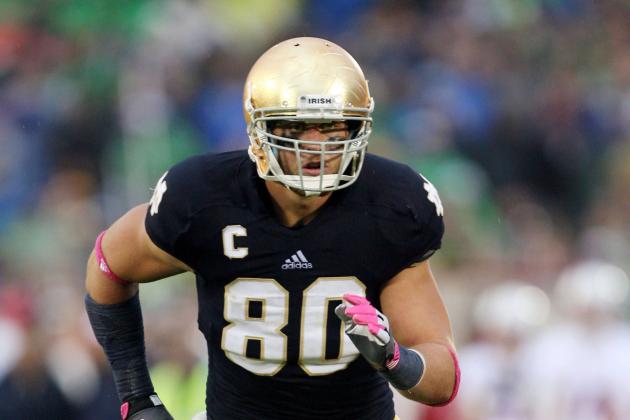 Brian Spurlock-USA TODAY Sports
Tyler Eifert
1.) Tyler Eifert, Notre Dame
2.) Zach Ertz, Stanford
3.) Travis Kelce, Cincinnati
4.) Gavin Escobar, San Diego State
5.) Jordan Reed, Florida
So long as Jason Witten continues to play at his perennial Pro Bowl level, tight end just isn't going to be much of a need for Dallas. Even when not healthy, Witten is the top tight end in the National Football League—yes, toughness is becoming a rare commodity at football's highest level.
Beyond Witten, Dallas spent a sixth-round pick on Oklahoma tight end James Hanna in last year's draft, and I expect him to play a much bigger role in the Cowboys' offense in 2013 and beyond.
I don't see any of the top tight ends above in Dallas next season.
A much better likelihood would be the selection of a true blocking tight end as late as Round 6 or after.
Remember the name Michael Williams of Alabama. At 6'5'' and 269 pounds, he would immediately find a role in short yardage situations and is also mobile enough to play some fullback in goal-line situations.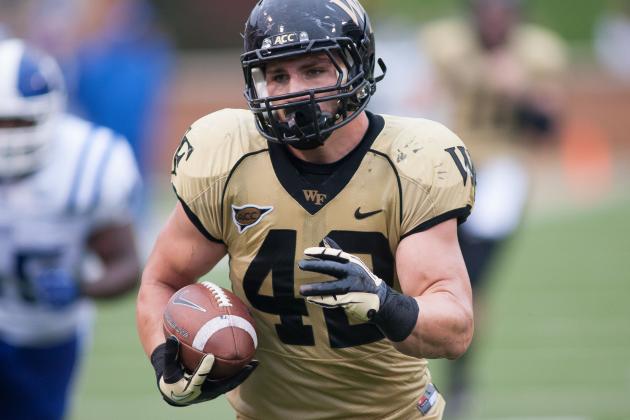 Jeremy Brevard-USA TODAY Sports
Tommy Bohanon
1.) Tommy Bohanon, Wake Forest
2.) Braden Wilson, Kansas State
3.) Kyle Juszczyk, Harvard
4.) Ben Bartholomew, Tennessee
5.) Devon Ramsey, North Carolina
Dallas could easily wait until late Saturday and still have the pick of the litter at fullback, if they choose—and they probably should.
Veteran fullback Lawrence Vickers fills the position in Dallas pretty well, but there's two things to consider:
First of all, Vickers is 29 years old and this means that, while he is not exactly over-the-hill, his best years are behind him.
Second, and most important, is his contract and salary. Vickers is heading into the final year of a two-year contract that he signed last year as a free-agent from the Houston Texans. At a salary of $1.2 million in 2013, Dallas should consider getting younger and cheaper at this position right away.
Any of the prospects listed above would be a good candidate for the long-term future. Highly regarded players like Zach Line of SMU and Lonnie Pryor of Florida State each weigh less than 235 pounds, and there's running backs available that are that bigger and more skilled.
Vickers weighs 250 pounds, for comparison.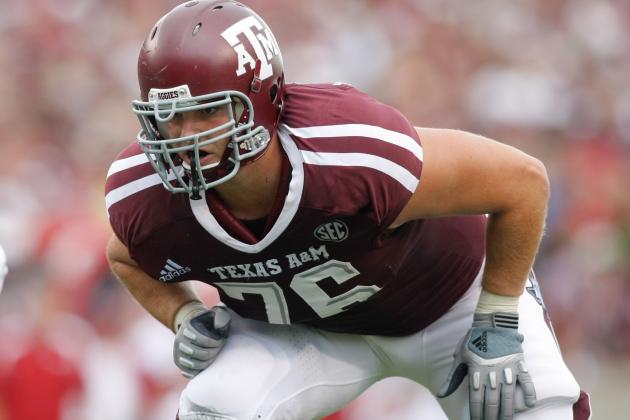 Brett Davis-USA TODAY Sports
Luke Joeckel
1.) Luke Joeckel, Texas A&M
2.) Eric Fisher, Central Michigan
3.) Lane Johnson, Oklahoma
4.) D.J. Fluker, Alabama
5.) Menelik Watson, Florida State
Study the above players closely, especially those after Joeckel and Fisher. Either Lane Johnson, D.J. Fluker or Menelik Watson will be a Cowboy in a matter of hours if Dallas takes an offensive linemen in the first round. Availability plays a part in that idea as well.

The big board essentially details why the top two left tackle prospects won't be Cowboys. But while most mock drafts seem to link guards like Chance Warmack or Jonathan Cooper to Dallas, I believe that the roster and money has already addressed that position—whether the best answers are there or not is another question entirely.
The pink elephant in the room at Valley Ranch is clearly right tackle Doug Free and his expected $7 million salary in 2013, which isn't going to happen. Free was penalized far too often last season, and tackle is a much greater need and provides much greater value in the first round than guard.
Should Dallas trade down in the event that Cooper or Warmack are not available, the bull's eye should fall squarely on Fluker or Watson, somewhere in the mid-to-late 20's of Round 1.
If there's a trade up, which is pretty unlikely, Johnson would be huge grab moving forward.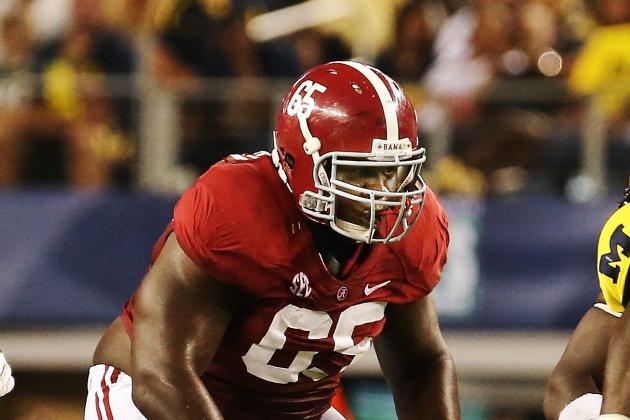 Kevin Jairaj-USA TODAY Sports
Chance Warmack
1.) Chance Warmack, Alabama
2.) Jonathan Cooper, North Carolina
3.) Larry Warford, Kentucky
4.) Kyle Long, Oregon
5.) Hugh Thornton, Illinois
It would surprise nobody to see Dallas choose an offensive guard with either of their first two picks. While the position may not be quite as dire as many think, it certainly could use an upgrade.
It's a virtual tie between Warmack and Cooper as the top two guards available. Warmack brings a little more mass and Cooper offers more in terms of athleticism and definitely strength.
But another guard to watch closely is 6'3'', 330-pound blocker Larry Warford. Should Dallas address offensive tackle or the defensive line with its first selection, either Warford or Kyle Long, son of Howie Long, could be an instant upgrade in the interior of an offensive line that has plenty of holes to fill.
Basically, if you are a Dallas offensive lineman not named Tyron Smith, expect to be pushed for a starting job by a rookie in this draft class or a younger player already on the roster, like Ronald Leary.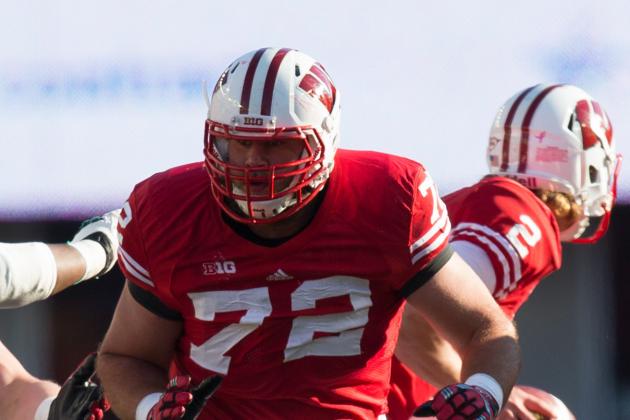 Jeff Hanisch-USA TODAY Sports
Travis Frederick
1.) Travis Frederick, Wisconsin
2.) Brian Schwenke, California
3.) Barrett Jones, Alabama
4.) Khaled Holmes, USC
5.) Braxston Cave, Notre Dame
It's very hard to imagine Dallas choosing a center before the third round of the draft. For this reason, it's not likely that either of the top three or four names above end up with the Cowboys.
Like the guard position, it's widely discussed, and for good reason, that center could use an upgrade—this might very well be true. But also like guard, that upgrade might already be on the roster.
The Cowboys believe that incumbent starter Phil Costa, a fourth-year veteran out of Maryland, played well last season in very limited action due to injuries.
Fine.
But it's not like Costa has any kind of track record of success, especially if you believe, as I do, that your center is basically the quarterback of the offensive line. In the event Costa either can't stay healthy or ends up proving that last year's quality play was just a mirage, Dallas does have the massive Ryan Cook, Kevin Kowalski and perhaps Mackenzy Bernadeau as additional options.
So the odds are very low that Dallas picks a center anywhere in the draft. To believe otherwise is to also buy into the idea that in head coach Jason Garrett's alleged make-it-or-break-it season, the Cowboys could start as many as three rookies or unproven players on the line in the upcoming season—not going to happen.
Kim Klement-USA TODAY Sports
Sharrif Floyd
1.) Sharrif Floyd, Florida
2.) Star Lotulelei, Utah
3.) Sheldon Richardson, Missouri
4.) Sylvester Williams, North Carolina
5.) Kawann Short, Purdue
The Dallas defensive line isn't talked about as much as it probably should be. While there is talent already on the roster, I can't say that there is a ton of it, and you can't overlook the transition the Cowboys are making from the dreadful 3-4 era back to the traditional 4-3 alignment that basically represents a defensive front that's returning home finally.
While Sharrif Floyd and Star Lotulelei will likely be gone far too early for Dallas to pounce on, keep an eye on the latter, as the former Utah defensive lineman's heart condition could cause a surprising drop. Lotulelei would be a perfect, best-case scenario for the Cowboys and easily the only defensive tackle prospect that could trump the all-important offensive tackle question. Yes, he's more than just a 3-4 nose guard.
Mike Mayock of NFL.com has Lotulelei being selected by the Cowboys in his latest mock draft.

More likely is that either of the bottom three prospects above land in Dallas in the first round. Since offensive linemen of the tackle and guard variety will be swallowed up more quickly than in years past, defensive linemen like Sheldon Richardson, Sylvester Williams and Kawann Short could all be available at the 18th pick should the Cowboys make their selection as scheduled.
Dallas has to get serious about defense again. Years of horrible play, especially late in the season, have to fade into the past and be forgotten. Kiffin's 4-3 line will need some bulk and youth that is capable of both pressuring the quarterback and also stopping opposing rushing attacks.
Any of the top five tackle prospects above will help those needs much sooner than later.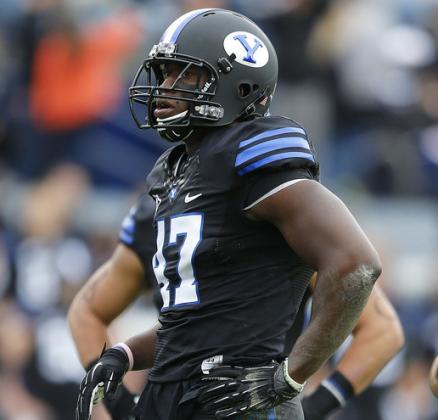 Ezekiel Ansah. Courtesy of Deportesemanal.com
1.) Ezekiel "Ziggy" Ansah, BYU
2.) Cornellius "Tank" Carradine, Florida State
3.) Margus Hunt, SMU
4.) Datone Jones, UCLA
5.) Bjoern Werner, Florida State
While the plan for next season seems to be moving former outside linebacker Anthony Spencer up to the defensive line for the first time in the professional ranks, I'm not completely sold that this is how things will unfold. Ware gets an easy pass because, well, he's Ware, and he's led the Cowboys in sacks since he came into the league in 2005.
I get that Spencer is franchised for the second-straight season but this came with surprisingly little protest from his agent. At 250 pounds, Spencer is a much better fit continuing his career as an outside linebacker in a 3-4 defensive front somewhere else in the NFL.
I suspect a possible trade involving Spencer.

The first player above will never fall to Dallas. Ezekiel "Ziggy" Ansah, a native of Ghana with little experience, is a tremendous athlete that would likely be a dramatic upgrade over Spencer given his 6'5'', 270-pound frame.
Beyond an ACL injury late last season, Cornellius "Tank" Carradine is also built perfectly to play defensive end in the 4-3 alignment, and it's believed that he could be ready to play sooner than later.
The bottom three prospects above might not have first-round grades, but they would be ideal fits in Dallas if, for example, Spencer is traded for just about anything, which may or may not happen.
Great defenses stop the run first—then they rush the passer on third-and-long situations. To do this, size and strength absolutely matter, and I'm not sure that Spencer's matching up with opposing right tackles that could outweigh him by more than 50 pounds makes any sense at all.
Question: if Ware goes down with an injury, do you think that Spencer, with all of one season with double-digit sacks, can make up the difference?
I don't.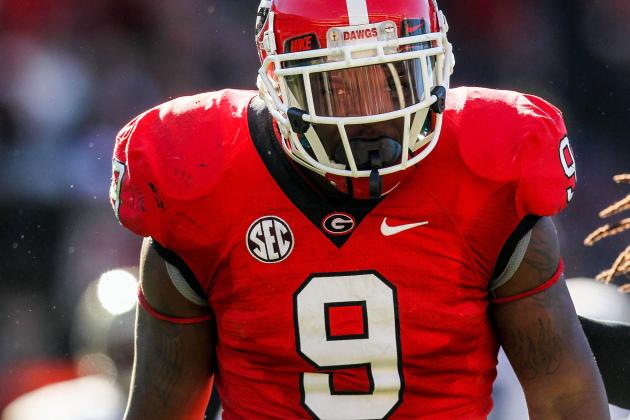 Daniel Shirey-USA TODAY Sports
Alec Ogletree
1.) Alec Ogletree, Georgia
2.) Manti Te'o, Notre Dame
3.) Kevin Minter, LSU
4.) Kevin Reddick, North Carolina
5.) Jonathan Bostic, Florida
Aside from the cornerback position, to be discussed shortly, there might not be a position of less interest to the Cowboys than inside linebacker—or middle linebacker, as is the case now in Kiffin's 4-3.
It's true that future Pro Bowl linebacker Sean Lee will man the ''mike'' position in the middle while another possible future Pro Bowl player in Bruce Carter will land another starting spot, probably on the weakside, or ''will,'' position.
While both of these linebackers carry some injury concern moving forward, it doesn't appear that they suffer from the same type of nagging hold-ups that a guy like Austin does with his hamstrings. Lee and Carter will remain healthier once they no longer have to matchup with opposing fullbacks and offensive linemen as much—I think that day has arrived.
Assuming that Lee plays in the middle, Dallas also has last year's seventh-round selection Caleb McSurdy of Montana also on the roster. There's simply not much need for more middle linebackers.
The top two players above figure to fall more than we might have thought several months ago for differing reasons, but neither represents an upgrade over Lee, and in a weaker linebacker class than usual, Dallas likely won't take an inside linebacker in this draft.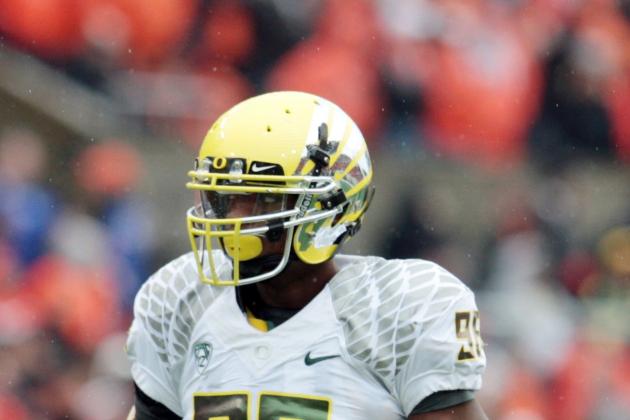 Scott Olmos-USA TODAY Sports
Dion Jordan
1.) Dion Jordan, Oregon
2.) Jarvis Jones, Georgia
3.) Barkevious Mingo, LSU
4.) Arthur Brown, Kansas State
5.) Khaseem Greene, Rutgers
Similar to the interior linebackers just discussed, the outside variety likely doesn't fit Dallas plans early on, at least not concerning the top prospects available.
Most of the names above project as 3-4 outside linebackers that will rush the passer much more than their counterparts in the 4-3 scheme—this is important to understand.
Dion Jordan will never fall to Dallas, as he could be gone by the second selection overall. The third name, Barkevious Mingo, translates as a highly athletic pass-rusher in a mold similar to Ware, although he isn't quite as heavy.
But if there's a name above that could surprise everybody with an early selection by the Cowboys, it's Jarvis Jones, possibly the best overall defensive player in all of college football last season. Like Lotulelei, Jones has health questions that could force him to slide farther than anyone might expect. As a value selection, I wouldn't fault Dallas for selecting him after a trade down in the first round, should that happen. But the idea of Lee, Carter and Jones as starting linebackers in Dallas has to make any Cowboys fan raise an eyebrow with serious intrigue.
Or perhaps even better, Dallas could simply play Spencer at strongside linebacker and look for other options where this draft is deep—like safety, for example.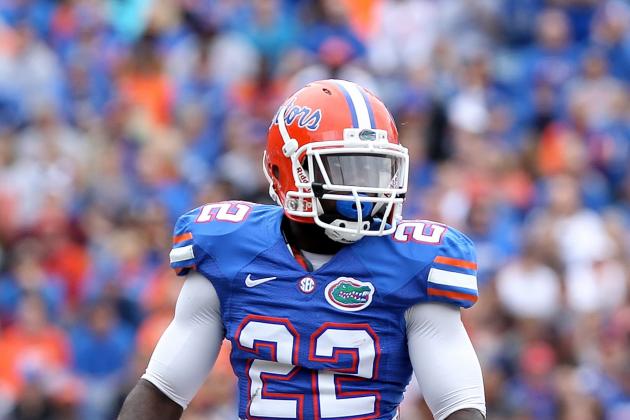 Kim Klement-USA TODAY Sports
Matt Elam
1.) Matt Elam, Florida
2.) Kenny Vaccaro, Texas
3.) Eric Reid, LSU
4.) John Cyprien, Florida International
5.) D.J. Swearinger, South Carolina
Probably the biggest misconception amongst numerous mock drafts is the idea that the Cowboys have their heart set on Kenny Vaccaro, possibly the most overrated safety in a pretty deep class.
Don't get me wrong, Vaccaro wouldn't be a horrible selection, but he'd have to be taken in the first round—precisely where Dallas has much greater needs to address.
There's no need to reach when you already have five total safeties on the roster, which includes recently re-signed strong safety Danny McCray.
While I don't think that Vaccaro is the right safety at the right time, the selection process for the Cowboys likely begins with Matt Elam of Florida. Elam has "electrifying" written all over him, and his history with the Gators shows plenty of big-play ability. Elam also has the quickness required of a true free safety, which is what I believe Dallas would consider early in the draft.
Plus, there's something about former Gators who wore No. 22 in Gainsville. (Emmitt Smith worked out pretty well, didn't he?)

Even more likely is that the Cowboys allow the current roster to determine the starting free safety—remember the name Matt Johnson, a fourth-round selection from last year's selection meeting.
Either D.J. Swearinger, John Cyprien or Eric Reid would be considered steals in the third round or later—and hopefully later.
Kevin C. Cox/Getty Images
Dee Milliner
1.) Dee Milliner, Alabama
2.) Desmond Trufant, Washington
3.) D.J. Hayden, Houston
4.) Johnthan Banks, Mississippi State
5.) Xavier Rhodes, Florida State
I have no shame in admitting that I have scouted cornerbacks very little this offseason. I still find it ridiculous that Dallas spent the money and resources it did a year ago on two new corners that obviously weren't as necessary as originally thought. Free-agent Brandon Carr, from the Kansas City Chiefs, cost a king's ransom, and first-round selection Morris Claiborne cost the franchise a second-round selection.
A second consecutive 8-8 season was basically the result.
One new corner? Fine. But two? Please.

Meanwhile, replaced corner Terence Newman had a solid season with a better defense in Cincinnati and helped the Bengals reach the playoffs.
So, not one name above has any business being chosen by the Cowboys unless they all fall to the mid-rounds, which obviously won't happen.
But this doesn't mean that Dallas should not select any corners in this year's draft. While the Cowboys appear set with Carr and Claiborne as the top starters, today´s NFL requires numerous cornerbacks—and they should go beyond apparent third cornerback Orlando Scandrick.
It's hard to say if third-year veterans Sterling Moore and Brandon Underwood are keepers for 2013, but there's options later in the draft that the Cowboys should possibly consider.
I have mocked Ohio State's Travis Howard to the Cowboys earlier this offseason on the basis of his experience and overall build at 6'0'' and 200 pounds. Howard was part of an undefeated Buckeye's squad that was good enough to play in the BCS National Championship Game.
It would be impossible to guess who else the Cowboys are looking at as potential defensive backs later in the draft, but it would surprise nobody to see another young corner drafted before it's all said and done.