Initial Post-Draft Depth Chart for the Seattle Seahawks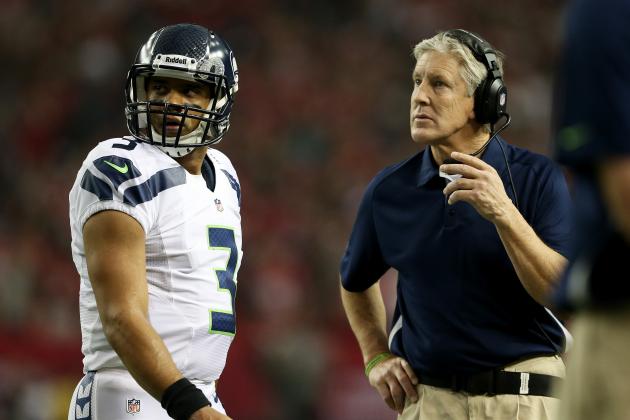 Streeter Lecka/Getty Images

The 2013 NFL draft has wrapped up, and rosters around the National Football League are pretty much set for training camp in August.
While teams will add veteran talent here and there, especially after June cuts, don't expect a whole lot of turnover for contending teams such as the Seattle Seahawks.
In addition, we have no idea how many players from the 2013 draft will yield players who make Seattle's final 53-man roster.
On that note, here is Bleacher Report's initial post-draft depth chart for the Seattle Seahawks.
Begin Slideshow

»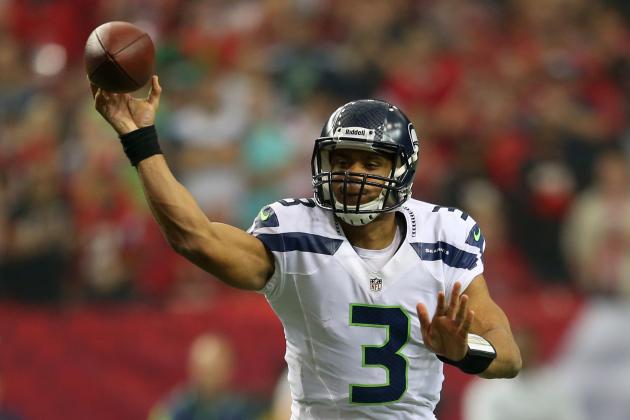 Mike Ehrmann/Getty Images

Depth Chart: Russell Wilson, Brady Quinn, Josh Portis and Jerrod Johnson
Seattle's depth chart, at least in terms of who makes the 53-man roster, may already be set. I don't envision a scenario where Jerrod Johnson beats out either Brady Quinn or Josh Portis for the No. 3 spot.
The larger question here is who backs Russell Wilson up.
After Seattle retained Portis on a two-year contract extension earlier in April, there were some that believed he would just come in and remain the third-string quarterback.
Not so fast.
Seattle's brass appears to be pretty high on the California (PA) product, who it signed to an undrafted free-agent contract shortly after the lockout ended in 2011.
If Portis does beat Quinn out for the primary backup spot, it could open the door for Johnson or another young quarterback to earn the third-string job.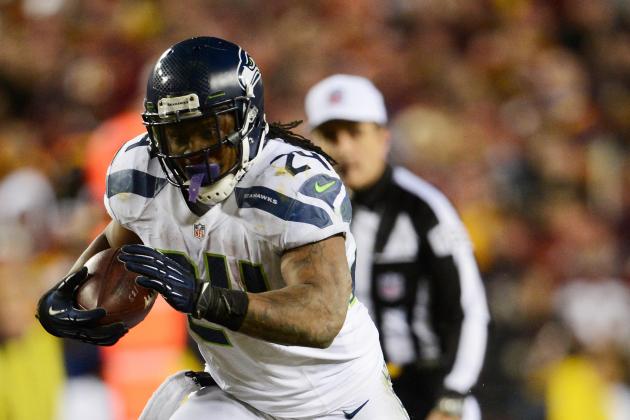 Patrick McDermott/Getty Images

Depth Chart: Marshawn Lynch, Robert Turbin, Christine Michael, Spencer Ware and Derrick Coleman
There isn't much drama as it relates to Seattle's running back depth chart either. The top three are etched in stone after John Schneider and Co. surprisingly took Christine Michael in the second round.
Do you see Derrick Coleman stepping up and taking one of these spots? If not, do you see the Seahawks taking four natural running backs on the 53?
This seems to tell us a story that had already been sent to press for print.
The one wild card here could be 2013 sixth-round pick Spencer Ware, who seems like more of a fullback fit than anything. In fact, I honestly see him backing up Michel Robinson before eventually taking over for him as the starter.
Obviously, that's nothing more than conjecture on my part.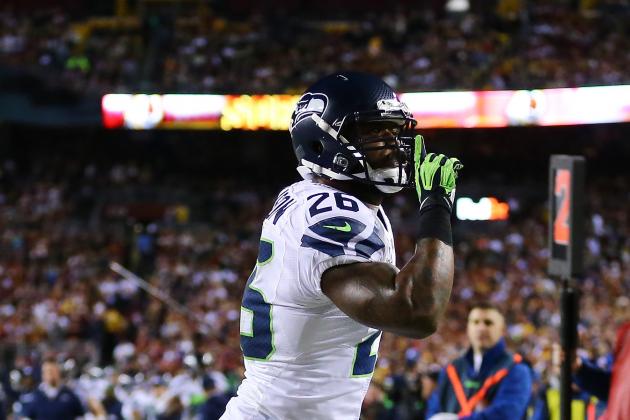 Al Bello/Getty Images

Depth Chart: Michael Robinson and Spencer Ware
Robinson will be lined up in front of Marshawn Lynch in Week 1 in September. However, that's not really what matters here.
Will Seattle carry two fullbacks on the roster? If so, will it attempt to convert late-round draft pick Spencer Ware to that position?
My answer to both questions is an emphatic yes.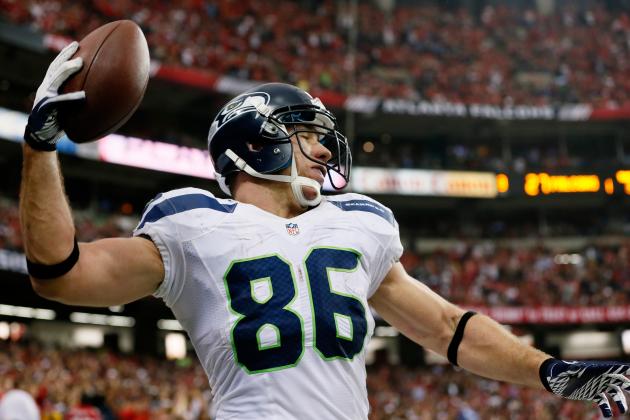 Kevin C. Cox/Getty Images

Depth Chart: Zach Miller, Anthony McCoy, Luke Willson, Darren Fells, Sean McGrath and Cooper Helfet.
I honestly don't see Seattle carrying more than three tight ends on the roster. While there will be a camp battle between rookie fifth-round pick Luke Willson and a whole host of youngsters, it makes sense for Seattle to hold on to the pick they made yesterday.
Darren Fells may be an interesting story, but it remains to be seen if he can make the jump from outstanding "athlete" to football player. His best spot out of training camp is likely the practice squad.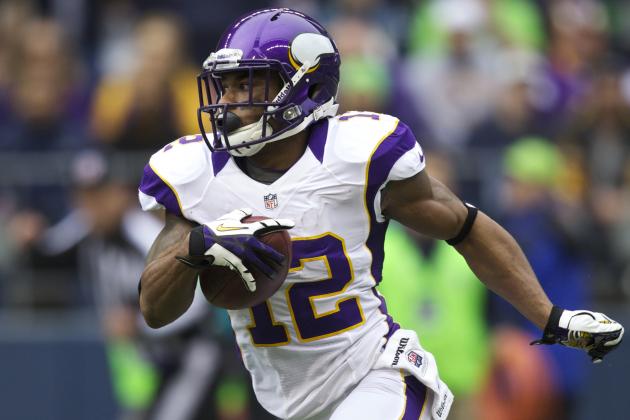 Stephen Brashear/Getty Images

Depth Chart: Percy Harvin, Sidney Rice, Golden Tate, Doug Baldwin, Chris Harper, Brett Swain, Bryan Walters, Jermaine Kearse, Stephen Williams and Charly Martin
You have to assume that Seattle will keep between five or six wide receivers on the 53-man roster. This leaves Harper, Swain, Walters, Kearse, Williams and Martin battling for one or two spots in training camp.
Talk about competition.
It's pretty obvious that if all things were created equal, Seattle's fourth-round pick, Chris Harper from Kansas State, would be the consensus choice to make the 53.
That being said, Carroll and Co. could decide to keep six receivers on the roster. If that's the case, Swain Walters or Kearse would have the inside track for the No. 6 slot. I highly doubt this latter scenario plays out.
Stephen Brashear/Getty Images

Depth Chart: Russell Okung, Mike Person and Michael Bowie
Not a whole lot of depth here. Seattle has San Francisco's former seventh-round pick Mike Person as a primary swing tackle behind Okung, but he could get challenged by the rookie Bowie.
A likely conclusion to this somewhat questionable situation would be for Seattle to bring in a veteran backup who could rotate between right and left tackle if something were to happen to one of its starters or find an upgrade along the right side.
Outside of that, the Seahawks risk going into the 2013 season one injury away from a major setback along the offensive line.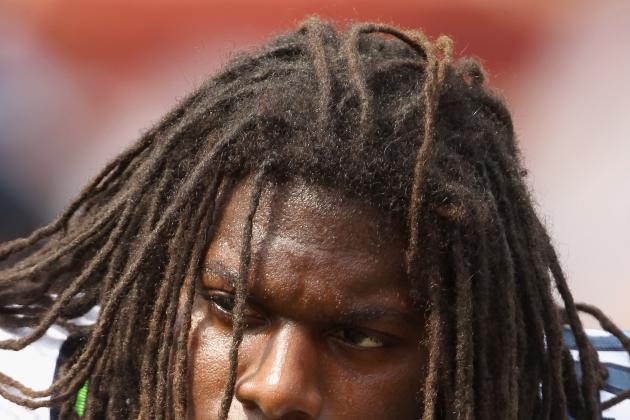 Ezra Shaw/Getty Images

Depth Chart: James Carpenter, John Moffitt, Rishaw Johnson, Michael Bowie and Jared Smith
What's interesting here is that Seattle may have two starter-caliber left guards, neither of whom are capable of moving outside to challenge Breno Giocomini at right tackle. Instead, you can expect Moffitt to be one of the better interior line backups in the entire NFL.
The larger decision here will be who to keep after those two. Johnson is entering his second season and represents some upside as a potential primary backup. His lack of game experience and the fact that he can from a small school pretty much hinders any chance that Seattle can rely on him to be a plug-and-play guard in 2013.
Bowie and Smith are both project late-round picks from this weekend. They'll need to be scouted and gauged during training camp before we can draw a "final" conclusion.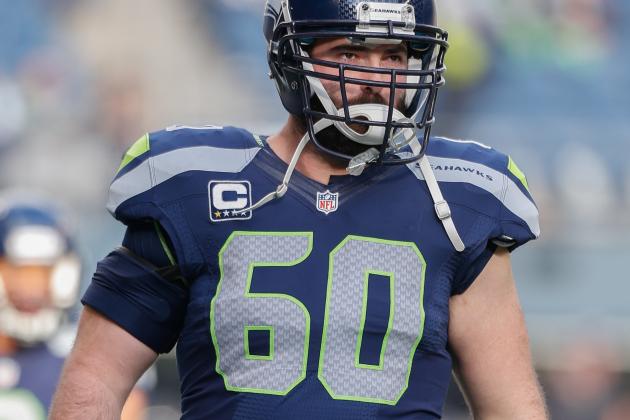 Otto Greule Jr/Getty Images

Depth Chart: Max Unger and Lemuel Jeanpierre
Unger is the obvious starter. Though, it remains to be scene whether Seattle will keep two natural centers on the roster or attempt to utilize 2012 seventh-round pick J.R. Sweezy as an interior line backup at multiple positions.
If so, Jeanpierre will obviously find himself without a job. The South Carolina product started five games at guard in 2012 but didn't see the field on a regular basis this past season.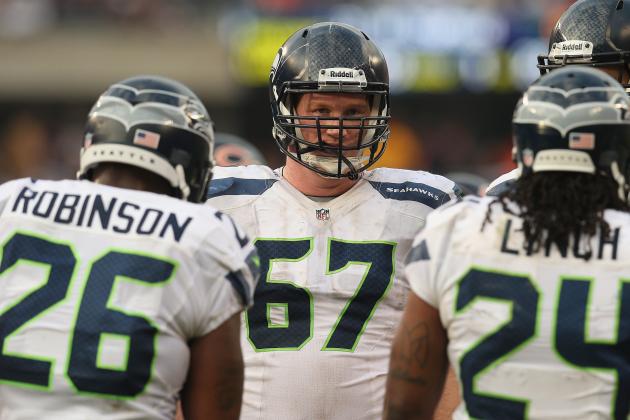 Jonathan Daniel/Getty Images

Depth Chart: Paul McQuistan, J.R. Sweezy and Ryan Seymour
Sweezy likely locks up a backup role due to his versatility along the offensive line. However, the door could be open for Seymour or another late roster addition to find his way on the roster should Seattle decide to utilize Sweezy solely as a backup center to Max Unger in 2013.
That's not likely.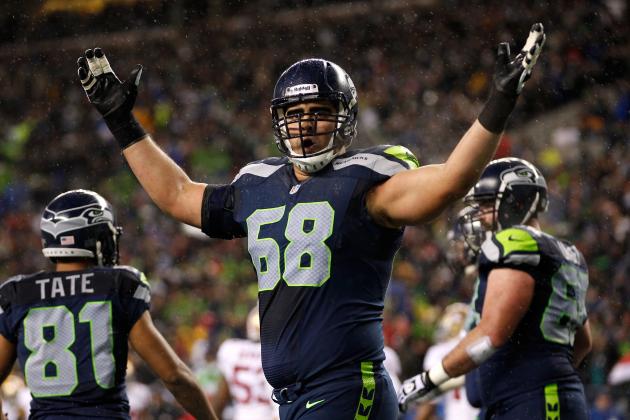 Otto Greule Jr/Getty Images

Depth Chart: Breno Giacomini, Michael Bowie and Mike Person
I am still pretty certain that Seattle will go out there and attempt to find someone to compete with, if not take over for Giacomini at right tackle. Without going into too much further detail, he has to be considered the weakest link along a vastly improved offensive line.
Bowie and Person are not short-term answers as starters for a contending team, so their worth is likely in a reserve role or on special teams.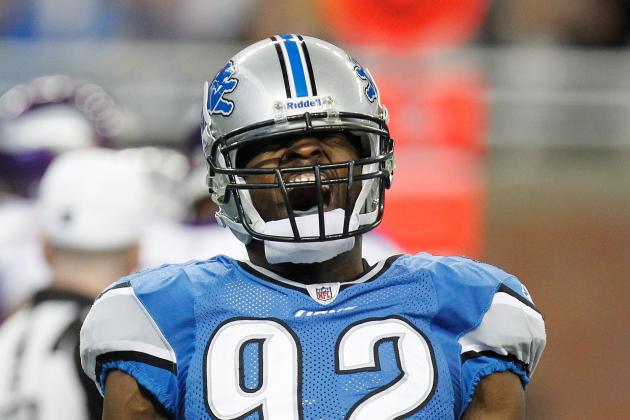 Gregory Shamus/Getty Images

Depth Chart: Cliff Avril, Red Bryant, Bruce Irvin, Michael Bennett, Chris Clemons and Greg Scruggs
This is where it gets a bit interesting.
Avril, Bryant, Irvin and Bennett will be rotating in at defensive end throughout the season. How much each plays will rely a great deal on the specific situation in the game and the type of defensive set Seattle finds itself having to utilize. If it wants to stop the run, Bryant and Bennett will be on the field. Again, that may depend on the strength of the offense Seattle is going up against.
Clemons is the wild card here. Does he start the season on the physically-unable-to-perform (PUP) list or does Seattle make the decision to simply cut ties with him? That's where the depth comes into play, and that could also indicate whether or not another spot may open up on the 53.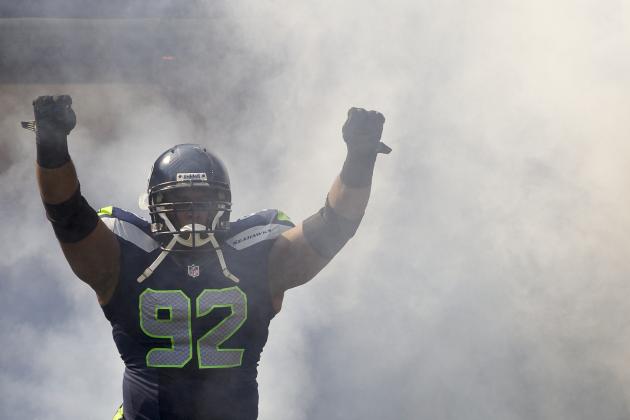 Stephen Brashear/Getty Images

Depth Chart: Brandon Mebane, Tony McDaniel, Jordan Hill, Jesse Williams, Jaye Howard, Clinton McDonald and Myles Wade
The loss of Alan Branch to the Buffalo Bills in free agency opened up spots for others to make a difference and show Seattle's coaching staff that they belong.
Howard was a fourth-round selection out of Florida last April. His versatility and ability to play either the 3-tech or the 5-tech is what drew interest from John Schneider and Co. That being said, the Florida product didn't see the field a lot last season.
Seattle did bring in a decent veteran to compete in training camp in the form of Tony McDaniel, who has been mired with injuries in his seven-year career. Despite being productive when he was on the field, I am not too sure Seattle can rely on him as a starter opposite Mebane.
Enter into the equation Jordan Hill, who was selected in the third round on Friday. The Penn State product is an absolute force along the interior of the defensive line and could actually be a day-one starter.
The real training camp battle here will likely be between Hill and McDaniel. Williams and Howard have also likely locked up spots considering where they were selected in the draft over the last two seasons and represent versatility as well as upside.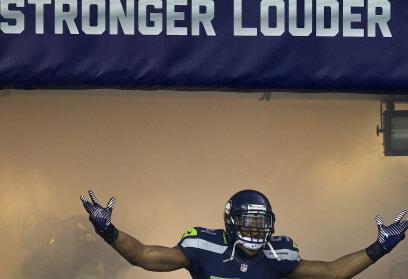 Stephen Brashear/Getty Images

Depth Chart: Bobby Wagner, K.J, Wright, Malcolm Smith, Heath Farwell, Ty Powell, Michael Morgan, Korey Toomer, Allen Bradford and Kyle Knox
Seattle runs a lot of sub packages that enables it to play defensive backs outside in a makeshift outside linebacker role. This blitz scheme allows for the Seahawks to go relatively thin at weak-side linebacker. It is also one of the primary reasons that John Schneider didn't spend a higher pick on this position in the draft.
Wagner and Wright are among the two best young linebackers in the NFL. Their roles are etched in stone at this point. What is in question is who will see the majority of the time on the weak side and who will find backup roles.
Pure conjecture here, but I think the "starter" there will be Malcolm Smith, who saw time at that position last season.
Ty Powell is the real wild card. The seventh-round pick from Harding has tremendous upside and should find himself right in the thick of battling for a roster spot. This could leave Farwell or Morgan out of the final 53 when camp breaks in early September.
Otto Greule Jr/Getty Images

Depth Chart: Richard Sherman, Brandon Browner, Antoine Winfield, Jeremy Lane, Tharold Simon, Walter Thurmond, Byron Maxwell, DeShawn Shead, Will Blackmon and Ron Parker
Talk about stacked.
Seattle will likely keep five or six cornerbacks. This means that rookie fifth-round pick Tharold Simon will be battling with Thurmond, Lane and Maxwell for the final two or three spots on the roster. All three would would rotational players in most secondaries, but could become a victim of the numbers game.
Working under the assumption that Simon was selected to actually make the team, this leaves the other three fighting for their Seattle careers come August.
The odd man out here could be Thurmond because of his history with injuries. As it is, this is a great problem for Pete Carroll to have.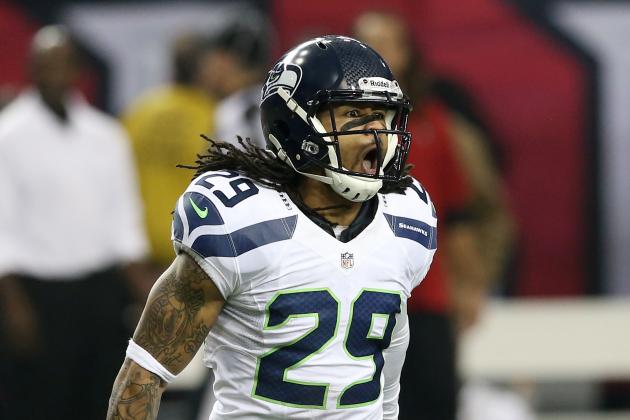 Streeter Lecka/Getty Images

Depth Chart: Earl Thomas, Kam Chancellor, Jeron Johnson, Chris Maragos and Winston Guy.
Where Seattle has a ton of depth at cornerback, it lacks more than two starter-caliber safeties. If Thomas or Chancellor were to go down for a lengthy period of time, Seattle would be in a bit of trouble.
Some are high on Johnson, but I just haven't seen enough of him to form a decent opinion. Living in Northern California and being privy to the 49ers situation from a few years ago, I can say that Seattle doesn't want Maragos to see the field on a consistent basis.
This seems to indicate that the Seahawks will look for a veteran safety on the open market. If that's the case, expect either/both Maragos and Guy to be let go or relegated to practice squad duty.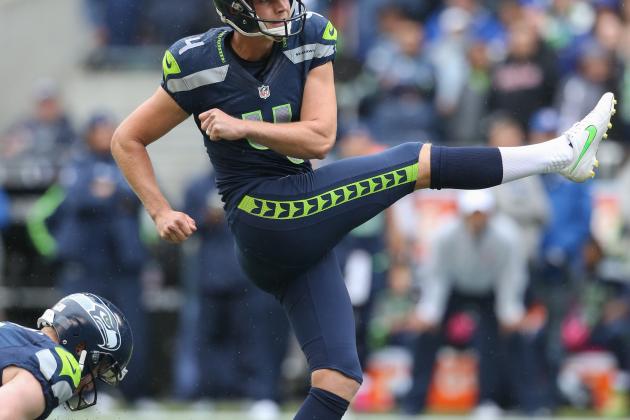 Otto Greule Jr/Getty Images

Kicker: Steven Houschka and Carson Wiggs
Punter: Jon Ryan
Long Snapper: Clint Gresham
This is about as clear cut as it gets. Seattle will be going into the 2013 season with its three "starters" on special teams intact.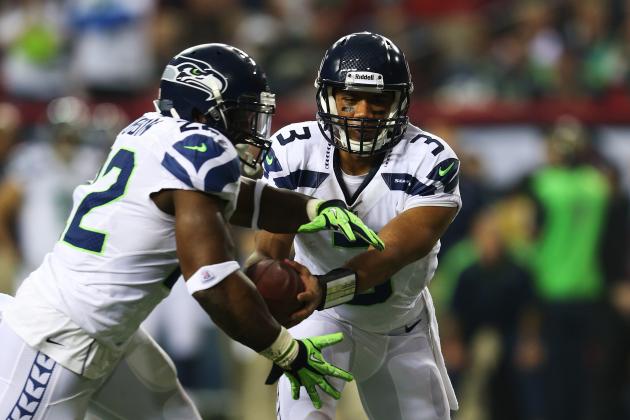 Mike Ehrmann/Getty Images

QB (3): Russell Wilson, Josh Portis and Brady Quinn
RB (3): Marshawn Lynch, Christine Michael and Robert Turbin
FB (2): Michael Robinson and Spencer Ware
TE (3): Zach Miller, Anthony McCoy and Luke Willson
WR (5): Percy Harvin, Sidney Rice, Golden Tate, Doug Baldwin and Chris Harper
OT (4): Russell Okung, Breno Giacomini, Mike Person, Jared Smith or Michael Bowie
C (2): Max Unger and J.R. Sweezy
G (3): James Carpenter, Paul McQuistan and John Moffitt
DE (4): Cliff Avril, Bruce Irvin, Red Bryant, Michael Bennett, Chris Clemons (IR?),
DT (5): Brandon Mebane, Jordan Hill, Tony McDaniel, Jesse Williams and Jaye Howard
LB (6): K.J. Wright, Bobby Wagner, Malcolm Smith, Heath Farwell Korey Toomer, and Ty Powell
CB (6): Richard Sherman, Brandon Browner, Antoine Winfield, Tharold Simon, Walter Thurmond and Jeremy Lane
S (4): Earl Thomas, Kam Chancellor, Chris Maragos and Jeron Johnson
ST (3): Steven Hauschka, Jon Ryan and Clint Gresham