How Are Washington Nationals Performing Compared to Preseason Expectations?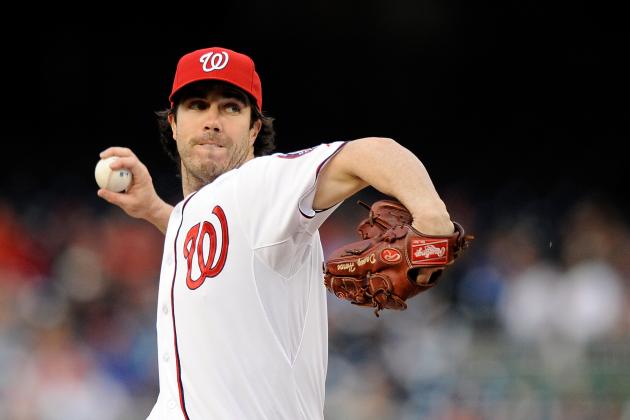 Patrick McDermott/Getty Images
Dan Haren is one of many Nationals underperforming.
The 2013 season has not begun the way the Washington Nationals envisioned it would. They are 10-11 through 21 games, five full games back of the Atlanta Braves (15-6) for first place in the National League East.
There's no need to panic, though. With 141 regular-season games remaining, the Nationals have plenty of time to figure it out before panic should set in.
The offseason and spring training were filled with high expectations for the Nats. After losing a tough Game 5 in the NLDS against the St. Louis Cardinals last season, general manager Mike Rizzo made a couple of moves to shore up areas of need on the roster. Entering the season, there wasn't a single hole on the roster.
This led to not only high personal expectations, but also high expectations from analysts around the nation. Sports Illustrated chose the Nationals as their World Series favorites, as did the Bovada.lv oddsmakers (via CBSSports.com).
It's obvious that the team has yet to click through 21 games. The lineup, rotation, bullpen and bench have all experienced their fair share of issues. But just how far off are they from the expectations placed upon them during the preseason?
Begin Slideshow

»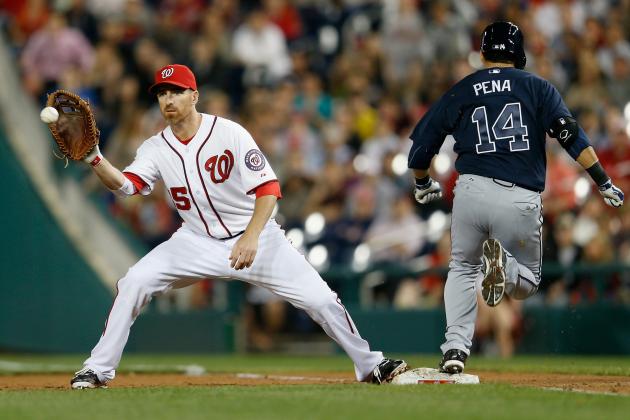 Rob Carr/Getty Images

The Nationals lineup has been borderline abysmal in April. Washington has had issues moving runners along and even getting on base to begin with. An offense that was expected to produce near the top of the league has produced near the bottom.
A .235 team batting average is unacceptable. Danny Espinosa (.155), Adam LaRoche (.169), Ryan Zimmerman (.226) and Kurt Suzuki (.250) all need to step it up offensively. Even Bryce Harper's .351 and Steve Lombardozzi's .345 have not been enough to keep the team's average from ranking 23rd in the bigs.
Their on-base percentage of .299 ranks even lower. It ties them with the Pittsburgh Pirates for 24th in the league. The team's biggest culprits there are Espinosa (.197), Chad Tracy (.237), Adam LaRoche (.258), Ian Desmond (.286) and Jayson Werth (.302).
The league's best offenses get on base at high clips. The Oakland Athletics lead baseball with 119 runs scored, and their .349 OBP is also tops. The Cincinnati Reds have scored 114 runs (second best), and their .348 OBP is also second. The statistics show how simple the solution is.
Washington batters need to get on base. Teams can't score if runners don't get on. Being more selective and capitalizing on hittable pitches are the best ways to change the trend.
Given these facts, it's obvious that the lineup is underperforming. This lineup won't bring them to the World Series.
It might not even lead them to the postseason.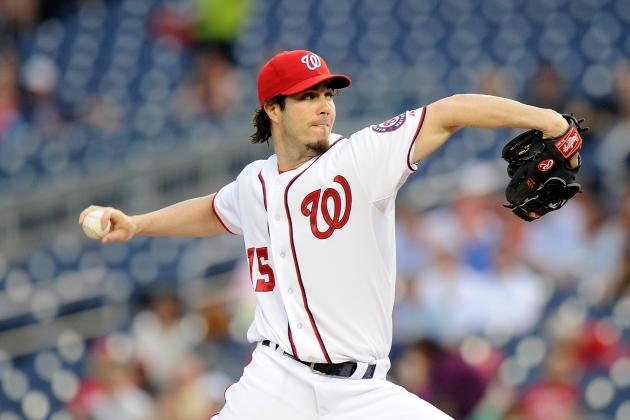 Greg Fiume/Getty Images

Considering the early struggles of both Gio Gonzalez and Dan Haren—they boast ERAs of 5.85 and 7.36, respectively—the starting rotation really hasn't been all that bad.
Ross Detwiler (1.38), Jordan Zimmermann (2.67) and Stephen Strasburg (3.16) have all pitched well. Strasburg has already racked up four losses, but that's the result of both poor first innings and bad offensive showings by his lineup.
Detwiler and Zimmermann have been spectacular. They own a combined WHIP of 1.11, a .244 BAA (batting average against) and a SO/BB ratio of 28/11. Strasburg has struck out 28 through 31.1 innings, further establishing his reputation as a strikeout pitcher.
Gonzalez and Haren have both been terrible, though. Gonzalez has walked 11 over just 20 innings. That's really been the killer for him. Batters are only hitting .240 against him, so the 13 earned runs he's allowed have mostly come from the free pass.
Haren's problem is no secret. He's had difficulties keeping the ball in the ballpark. Allowing five home runs in just 18.1 innings is a great way to lose a spot in the rotation. Luckily for him, his track record and the confidence that Davey Johnson has in him will keep Haren in the No. 5 spot.
The team's 3.99 ERA ranks them 17th in baseball. Their WHIP 1.32 ranks them 19th. Their rotation is performing in the middle of the pack right now, and that would be good enough for them to make the playoffs if their lineup was producing.
There's no doubt this rotation is capable of much, much more, but for now, it could be worse.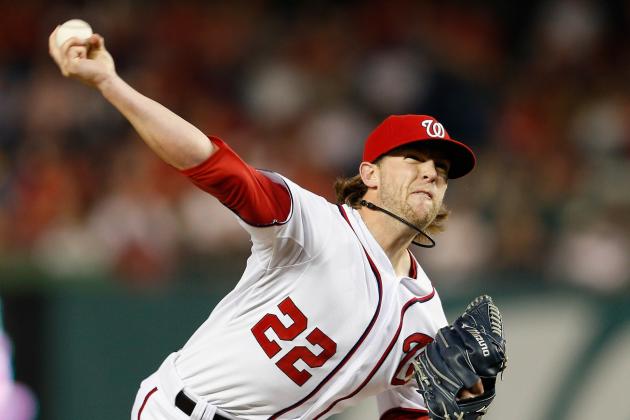 Rob Carr/Getty Images

The Nationals bullpen has been abysmal—plain and simple.
Their bullpen's WAR is just 0.2. When comparing that to the Detroit Tiger's league-leading 1.3, it's clear that there's a huge difference between the two units. The Nat's pen has a 4.48 ERA and allows 1.16 HR/9 innings.
Rafael Soriano, Tyler Clippard and Drew Storen each have ERAs of 4.00 or higher, and the trio has already combined to blow two saves. Ryan Mattheus and Craig Stammen are the two other members of the bullpen to have blown saves.
Stammen also boasts the bullpen's lowest ERA at 3.38. A typical bullpen would have at least one pitcher in the low twos. Not even Zach Duke, the team's lefty specialist, has a strong ERA. His 5.91 mark is indicative of just how much the team misses left-handers Sean Burnett and Mike Gonzalez.
When it comes down to it, there really isn't much need for analysis here. The simple eye test can prove to everyone that the Nationals bullpen has been bad. I don't care how good a team's lineup or rotation are. If their bullpen can't get out, then the team will not succeed—period.
The bullpen was likely the only aspect of the team that didn't have extremely lofty expectations, but they are still performing at a level that is surprising for most.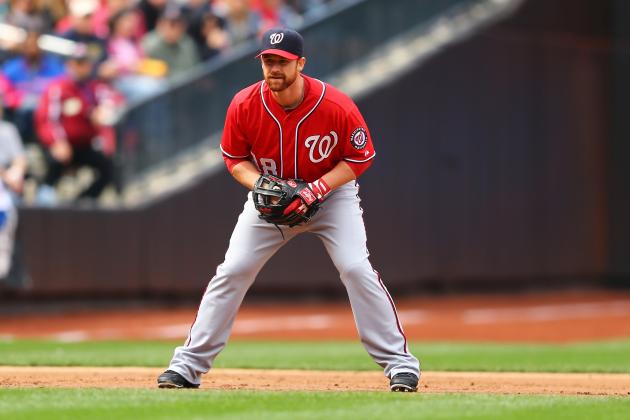 Al Bello/Getty Images

Aside from Steve Lombardozzi (who has been spectacular and deserves to start over Danny Espinosa, in my opinion), the bench has performed quite poorly.
Roger Bernadina has yet to record a hit in 16 at-bats and has walked just one time in the process. Chad Tracy has a slash line of .130/.231/.130 with no home runs and one RBI, and Tyler Moore is hitting .190/.227/.333 with no homers, four RBI and 10 strikeouts.
Jhonatan Solano has been brought up to replace Wilson Ramos on the roster, and he has also hit poorly. Not exactly noted for his offense, Solano's has recorded just one hit in five at-bats. He's also been caught stealing.
The bench was a strength for manager Davey Johnson last season. Bernadina, Moore, Lombardozzi and Tracy were all capable of producing when called upon. Rizzo and Johnson were so confident in the bench that they left in intact from 2012 to this season.
Moore's struggles are exceptionally frustrating. He has worlds of potential and crushed 10 home runs in limited playing time last season. Prior to LaRoche's re-signing, there were several theorizing that Moore could be the heir apparent at first base. His current performance suggests that he may not be ready just yet.
Johnson loves going to his bench to pinch-hit, pinch-run and play late-inning defense, so having a struggling bench is detrimental to this team's success. They have severely underperformed in 2013.