Bust Odds for NFL Draft Prospects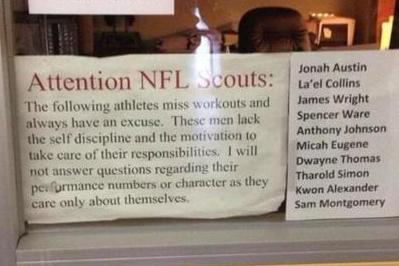 The one sure thing in the NFL draft is that there are no sure things.
Every draft is chalk full of busts, and so is this one. No one has any reason to think otherwise. Look at first rounds historically. Bust after bust.
For every sixth-round Tom Brady story, there are seemingly a thousand tales of "huge upside" first-round gambles that never panned out.
Here we look at 2013 NFL draft prospects with questionable circumstances, and address their odds of going bust.
All quotes obtained first hand unless otherwise noted.
Begin Slideshow

»
Why might Dion Jordan be a bust?
He's spread himself too thin.
One look back at the film tells the entire story here. The very aspect of Jordan's game that evaluators have fallen in love with is also one of the most troubling when analyzed objectively.
It's his versatility.
Jordan lined up all over the field at Oregon, and showed he had the type of body that could bend, stretch, twist and rip through most situations on the football field. Jordan would line up at the five-technique with his hand in the dirt, stand up in free space to the outside, line up inside stacked as a linebacker and cover slot wide receivers in press coverage.
That is ridiculous, and it shows off his amazing athleticism and fundamental understanding of a defense's operation.
What does all this show us about how he sets up a pass rush through a game, though?
I asked Jordan at the NFL combine what his goal was at the NFL level given his background "wearing so many hats" collegiately. He was clear in his answer, saying he wants to rush the passer in a 3-4 defense as an outside linebacker.
While Jordan possesses the most upside of nearly any prospect in the 2013 draft to flourish doing just this—the fact is, we haven't seen it.
BUST ODDS: Medium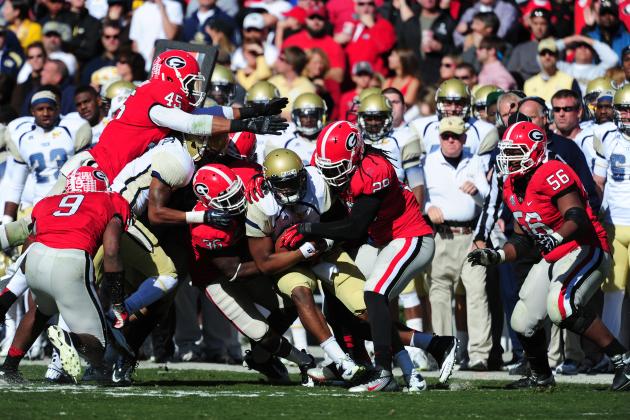 Scott Cunningham/Getty Images

Why might Jarvis Jones be a bust?
He has spinal stenosis and he tested horribly.
Jarvis Jones is a freak on the football field, who plays with a mean streak and motor that leave nothing to be desired. He gets after quarterbacks and consistently brings pressure even when it doesn't result in a sack. He is a disruptive force on the outside who was his most menacing in big games.
But he has spinal stenosis. Congenital cervical spinal stenosis to be exact. Jones wasn't cleared to return to football by the USC medical staff his freshman year after suffering a stinger that reportedly led to the discovery of the condition. His home-state Georgia Bulldogs had no problem with allowing Jones to continue putting his body at risk upon transfer, and he has had no issues since.
This is the same ailment that ended the careers of Marcus McNeil, Chris Samuels, Michael Irvin, Sterling Sharpe and scores of others earlier than expected.
If you talk with the director of spine surgery at Mount Sinai Medical center and the spine consultant for the New York Jets, he'll tell you it's no big deal.
The 4.92 40-time Jones ran at his Georgia pro day after ducking out of combine drills is, though.
It shows that Jones may be maxed out as a player whose success was based on motor and positioning. Athleticism coupled with these attributes at the NFL-level leads to dominance, but they don't do it on their own.
BUST ODDS: Medium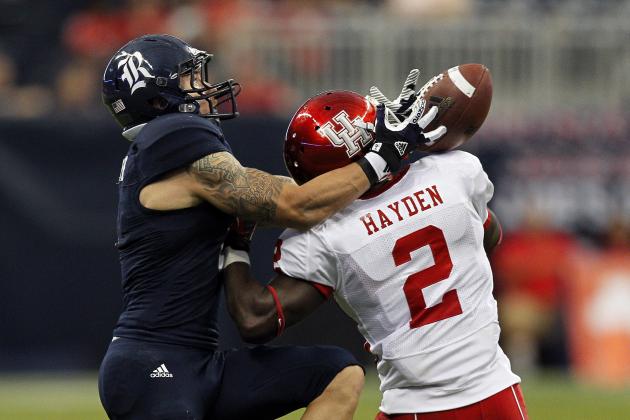 Bob Levey/Getty Images

Why might D.J. Hayden be a bust?
He suffered a horrible freak accident to his heart.
D.J. Hayden has had a meteoric rise up media draft boards in the week coming into the draft.
The reasons why are easy enough to understand. After all, Mike Mayock said he hadn't even watched D.J. Hayden when asked about him at the NFL combine. Hayden has now hurdled into position as the No. 1 cornerback on Mayock's board and other analysts have seemingly followed suit.
Hayden is a playmaking corner who can rip away balls and cause fumbles. He has fluid hips and a quick twitch. Hayden makes big plays with the ball in his hands, too—taking two of four interceptions in his injury-shortened 2012 season back to the house.
The injury is what's bad. The vein that carries the blood from the heart to the legs was severed in practice, and Hayden is lucky to be alive.
BUST ODDS: Low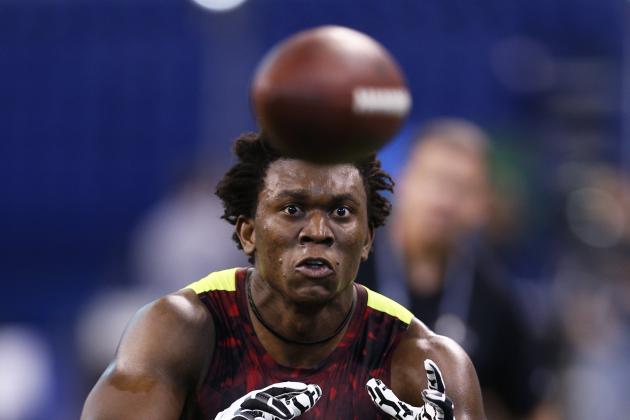 Joe Robbins/Getty Images

Why might Ezekiel Ansah be a bust?
He's new to football.
Ezekiel Ansah only first strapped on football pads just over two years ago. A native of Ghana, Ansah was originally at BYU on a track scholarship.
He is an outstanding, crazy athlete. When watching back tape, Ansah simply looks bigger than everyone else, and while sometimes seeming lost at first—he can always work his way back into the play with functional strength.
Ansah became even more enigmatic for NFL evaluators during the Senior Bowl where he was silent all week during practices. Outside of a poked eye (and a large majority of Wednesday practice missed), Ezekiel Ansah didn't cause a peep. He was pedestrian in South roster pass rush and team drills, but shined in the game, showing elite burst and conversion moves against a stacked North offensive line.
Like so many others in this draft, Ansah is being taken based on a whole lot of upside. The good news is he seems focused and ready to harness it.
BUST ODDS: Low
Scott Halleran/Getty Images

Why might Damontre Moore be a bust?
He doesn't prepare well.
Damontre Moore showed up to a multi-million dollar job interview unprepared and, honestly, unqualified.
Moore put up an absolutely pathetic 12 bench press reps of 225 pounds at the NFL combine. It would have been close to worst against even the wide receiver group.
Moore came into the 2013 NFL draft season as a player who many thought would leap up draft boards into top-five and top-10 consideration when late April arrived.
The knock on Moore coming into the process was that he crumbled when trying to set the edge, and was an on/off situational player. He also has a relatively slow first step despite his great functional balance and acceleration through upfield contact.
He is a player with value, for sure—just not as much as someone who can set an edge and operate in tight spaces and still be rangy enough to handle contain.
The reason Moore looks so bad on film setting an edge showed up in Indianapolis. It isn't just the lack of power, because a bench press doesn't mean everything. It's about not being prepared, and being lazy in execution of vital assignments.
BUST ODDS: High
Why might Sam Montgomery be a bust?
There are indications that he may not take football seriously.
The photo in the first slide of this article via @SEC_logo pretty much says it all. Forget the gambling and the sack-number bets between Sam Montgomery and teammate Barkevious Mingo (who has a bit of 'bust potential' himself) that surfaced at the NFL combine.
Sam Montgomery's own strength and conditioning coach was, at one point, very fed up with him. That is bad, bad news.
Scouts and evaluators question Montgomery's motor and pad level to begin with. They question why he can lose his feet on engagement and get caved inside. Any person may question why a player at a multi-million-dollar job interview would tell reporters he intentionally took games off.
Some things just spell out "bust."
BUST ODDS: High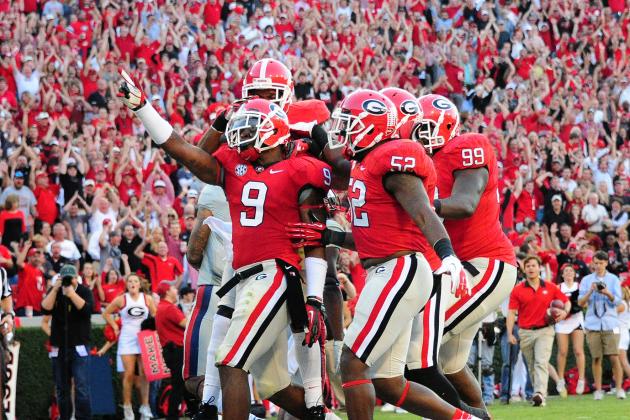 Scott Cunningham/Getty Images

Why might Alec Ogletree be a bust?
He doesn't know what he's doing.
Alec Ogletree flies to his assignment like a missile, but he sure doesn't take contact like one. He's a sideline-to-sideline prowler with exceptional quickness to vertical stems. He has lateral agility, which aids his nose for the ball. He doesn't hit like a missile, but he gets to his spot like one.
He's reckless and he's not necessarily powerful. Sometimes he can look like a pin-ball operating through the middle of the defense.
As Mike Mayock said on his pre-draft conference call,
"I'm scared to death about Ogletree, both for on and off the field issues. When you put the tape on, he has no clue what he's doing. He looks like a safety that somebody plugged inside at inside linebacker. He just runs around.

"He's gong to go in the first round. Some of the Cover-2 teams will love him because he can run down the middle of the field like a safety. If you can train him and he loves the game and he has a work ethic, all of which are question marks right now, the kid can be special.

"But I'm very hesitant about this kid. I recognize his athletic ability. I know he fits today's NFL. But if I was a GM, I'd probably be leaning toward Te'o or Minter because I'm a little more conservative."
Add in a February DUI charge, and one thing seems obvious.
BUST ODDS: High