Arizona Cardinals' Big Board: Final Pre-Draft Update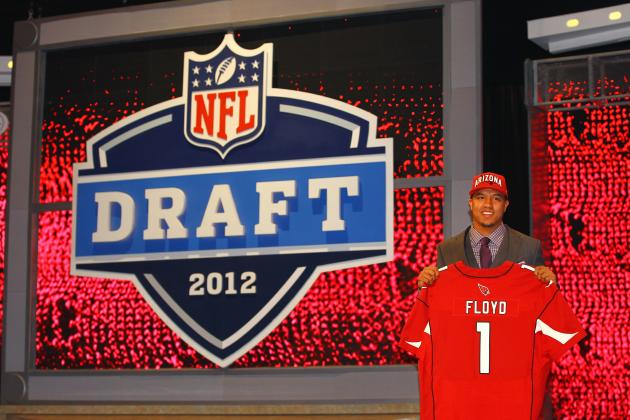 Al Bello/Getty Images
Last season Michael Floyd went in the first round. Who will it be this year?
Tonight, the Arizona Cardinals head to the NFL draft and are armed with the seventh-overall pick. With this possibly being one of the most unpredictable drafts in the last decade, there has been plenty of speculation about whom the Cardinals will take.
The offensive line seems to be the most-likely position to be drafted in today's first round, but there are high-end defensive prospects that may catch the Cardinals' eye.
There are also hints of a possible trade with the Oakland Raiders, according to NFL.com, for the Cardinals to move up to the third spot, which could alter the team's strategy.
Arizona signed four players this week with wide receivers Robert Gill and Jarett Dillard, offensive tackle Paul Fanaika and tight end/long snapper Alex Gottlieb joining the team. None of those signings are expected to impact the team's strategy at tonight's draft.
Fullbacks, punters and place-kickers have been excluded from the rankings.
With all of the uncertainty, the team's big board is going to be key as to whom they might take with their first-round pick. Start the slideshow below to take a look what the big board could look like as well as the team's possible top-five players at the rest of the positions.
Begin Slideshow

»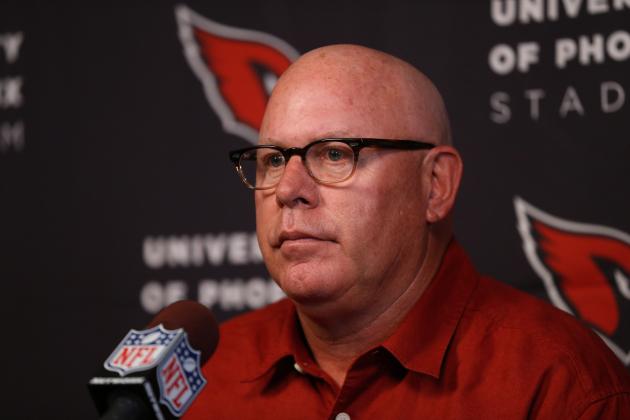 Mark J. Rebilas-USA TODAY Sports
Who does Bruce Arians and the Cardinals brain trust have at the top of their big board?
This is our best estimation of how the Cardinals' big board could look for tonight's draft.
1. Eric Fisher, OT, Central Michigan
2. Luke Joeckel, OT, Texas A&M
3. Lane Johnson, OT, Oklahoma
4. Chance Warmack, OG, Alabama
5. Barkevious Mingo, DE, LSU
6. Johnathan Cooper, OG, North Carolina
7. Sharrif Floyd, DT, Florida
8. Dion Jordan, OLB, Oregon
9. Jarvis Jones, OLB, Georgia
10. Tank Carradine, DE, Florida State
The ensuing slides are lists of the top five players at each position according to the needs and coaching philosophy of the Cardinals.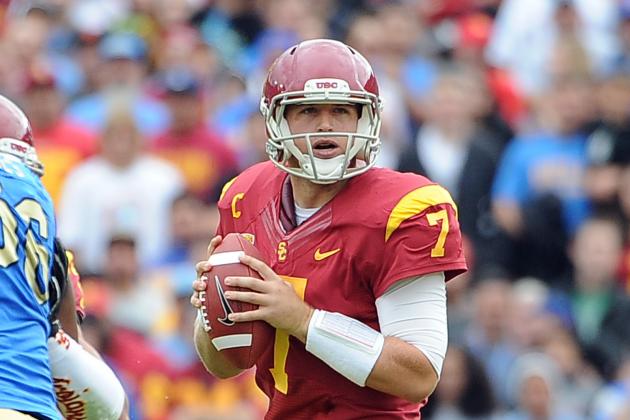 Jayne Kamin-Oncea-USA TODAY Sports
Barkley might be the Cardinals' top-ranked quarterback.
The Cardinals' top five quarterbacks could be as follows:
1. Matt Barkley, USC
2. Mike Glennon, North Carolina State
3. Geno Smith, West Virginia
4. E.J. Manuel, Florida State
5. Tyler Wilson, Arkansas
Analysis: Arians' coaching style favors the drop-back passer over the mobile quarterback, so that's why Barkley and Glennon are both ahead of Geno Smith. E.J. Manuel would be an interesting addition to the Cardinals, but again, he doesn't fit the coaching theory.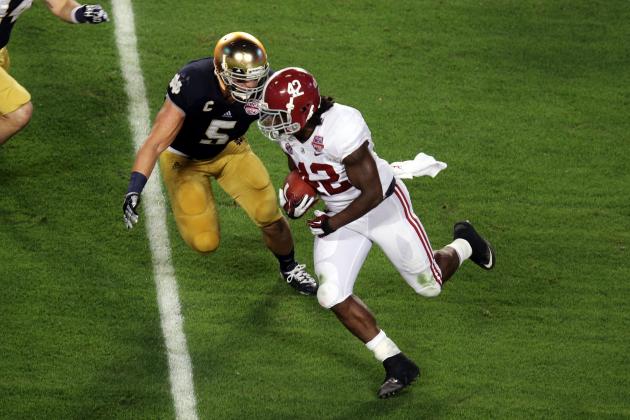 Robert Mayer-USA TODAY Sports
Lacy avoids the pursuit of Manti Te'o in the BCS Championship Game.
Arizona's top five running backs in the draft could be as follows:
1. Eddie Lacy, Alabama
2. Montee Ball, Wisconsin
3. Kenjon Barner, Oregon
4. Le'Veon Bell, Michigan State
5. Giovani Bernard, North Carolina
Analysis: The Cardinals' running-back health issues are well-documented, and any of the top three on the list would be solid, reliable solutions for the Arizona backfield. Bell is a big-body, downhill runner that Arizona could use around the goal line to give Rashard Mendenhall and Ryan Williams a bit of break in short-yardage situations. Bernard is a low-to-the-ground, smaller running back and can make defenders miss, especially in the open field.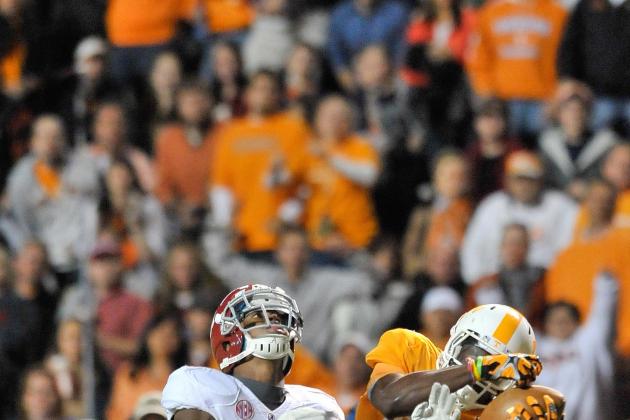 Jim Brown-USA TODAY Sports
Patterson makes a catch against Alabama.
Arizona's big board on wide receivers might look like this.
1. Cordarrelle Patterson, Tennessee
2. Marquise Goodwin, Texas
3. Tavon Austin, West Virginia
4. Markus Wheaton, Oregon State
5. Robert Woods, USC
Analysis: While this position is not as critical of a need as others, it still bears mentioning. Patterson is that big-body receiver that can create separation from defenders and make catches in traffic. His football intelligence is also a big asset. Goodwin is all about speed, while Auston, Wheaton and Woods would be better as slot receivers.
Justin Hunter of the Volunteers also merits a mention, but he wouldn't be on the top five for the Cardinals. While his stats are good, Hunter doesn't offer much after the catch and seems to play rushed; that also leads to mistakes, like trying to do too much on a play. He also doesn't have the build to break tackles and has been known to alligator-arm a pass over the middle.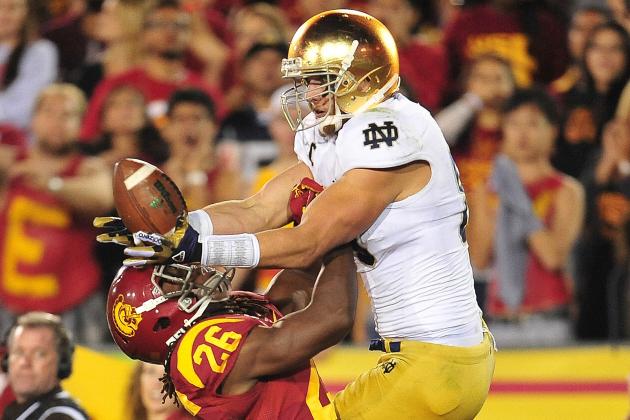 Gary A. Vasquez-USA TODAY Sports
Eifert tries to make a difficult catch against USC.
The Cardinals' board at the tight-end position could look like this.
1. Tyler Eifert, Notre Dame
2. Zach Ertz, Stanford
3. Gavin Escobar, San Diego State
4. Vance McDonald, Rice
5. Travis Kelce, Cincinnati
Analysis: Eifert and Ertz are the two big tight-end targets in this draft class, and either would be a great help for the Cardinals. Carson Palmer likes to throw to his tight ends quite often, and having either of those two in the second round would be a big boost to the Arizona offense.
Escobar looks like a nice hybrid wide receiver/tight end that is sought-after in the modern NFL. He could be used inside or be effective split-out wide to take advantage of his pass-catching skills, but he would need to shore up his blocking skills.
McDonald is going to be a passing asset, but he doesn't give as much in the blocking game as other players on this list do. If Arizona can shore up its offensive line, then McDonald could be a good fit for the team.
Kelce will give good value in the passing game, but he has more value as a run-blocker. He is coming off sports-hernia surgery that limited him during the combine and pro day part of the scouting process. Kelce could make a good second tight end in bigger formations.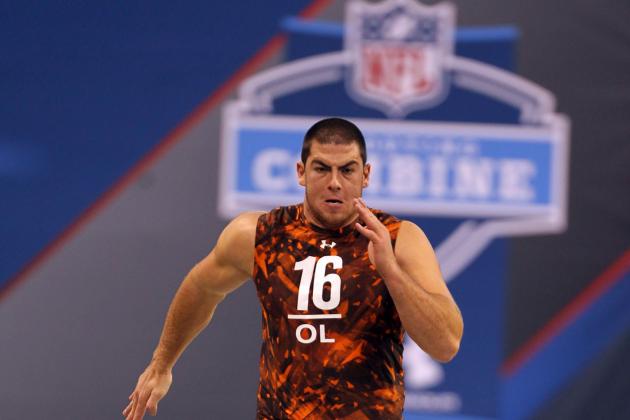 Brian Spurlock-USA TODAY Sports
Fisher might wind up going first overall.
Arizona's top five offensive tackles on the big board could easily all go in the first round.
1. Eric Fisher, Central Michigan
2. Luke Joeckel, Texas A&M
3. Lane Johnson, Oklahoma
4. D.J. Fluker, Alabama
5. Justin Pugh, Syracuse
Analysis: Any of these five tackles would help an offensive line that's been run-through over the last three years. Arizona has given up more than 50 sacks each of the last three seasons, and at the seventh spot, one of them should be there for the Cardinals to grab.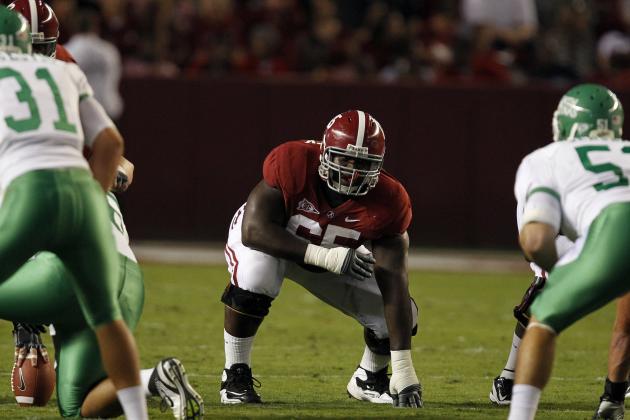 Butch Dill/Getty Images
There's a good Chance that Arizona takes Warmack with the seventh pick.
Arizona's offensive-guard list could look like this.
1. Chance Warmack, Alabama
2. Johnathan Cooper, North Carolina
3. Kyle Long, Oregon
4. Larry Warford, Kentucky
5. Hugh Thornton, Illinois
Analysis: Warmack has been talked about quite a bit as the Cardinals' first-round pick if Fisher, Joeckel and Johnson are all taken ahead of the Cardinals' spot. Warmack has the size to be the straight-ahead mauler and help the ground game in a big way. Cooper can make the pulling plays and add that extra dimension to the rushing attack.
Long has the lineage teams like, and he has the speed and mobility to make plays at the second level. Warford is more of a mauler, and Thornton has the ability to get to the second level and make blocks in space.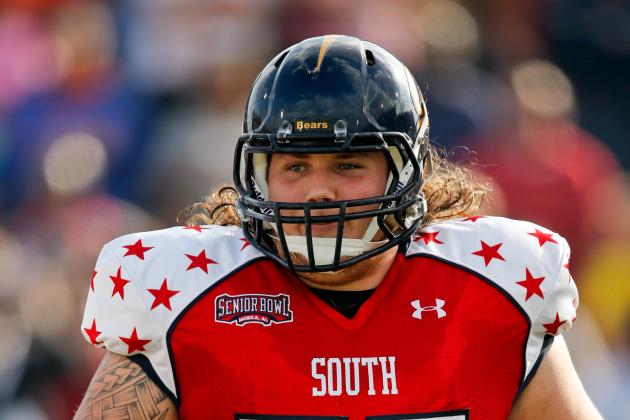 Derick E. Hingle-USA TODAY Sports
Schwenke could be the best center available.
If Arizona's looking for a center, their big board at the position might look like this.
1. Brian Schwenke, California
2. Barrett Jones, Alabama
3. Travis Frederick, Wisconsin
4. Khaled Holmes, USC
5. Braxston Cave, Notre Dame
Analysis: This area isn't as glaring of a need as the other positions on the offensive line, so Arizona wouldn't be likely to pick up a center in the draft. There might be a slight need, as Lyle Sendlein missed the final month of the season after tearing his medial-collateral ligament in his knee. Then again, Sendlein hadn't missed a game in five seasons, so it's not a big concern for the Cardinals.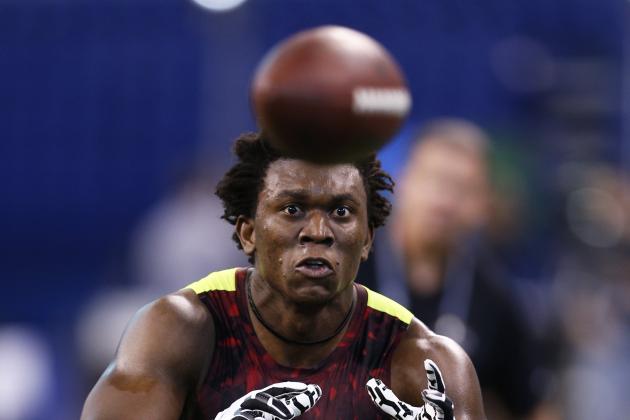 Joe Robbins/Getty Images
Ansah might be an answer on the Cardinals defensive line.
Arizona's big board on defensive linemen might read this way.
1. Ziggy Ansah, BYU
2. Star Lotulelei, Utah
3. Bjoern Werner, Florida State
4. Datone Jones, UCLA
5. Margus Hunt, SMU
Analysis: Ansah poses the best skills with the least amount of risk at this position. Arizona might consider taking Ansah with their first-round pick to try to bolster the team's tough defense. Lotulelei had well-documented medical issues that can alter how the Cardinals perceive him.
Jones could fit either a 3-4 or 4-3 scheme, but he isn't solid enough to be a true, pure-fit in either scheme.
Werner and Hunt are both foreign-born players with little experience outside of college football.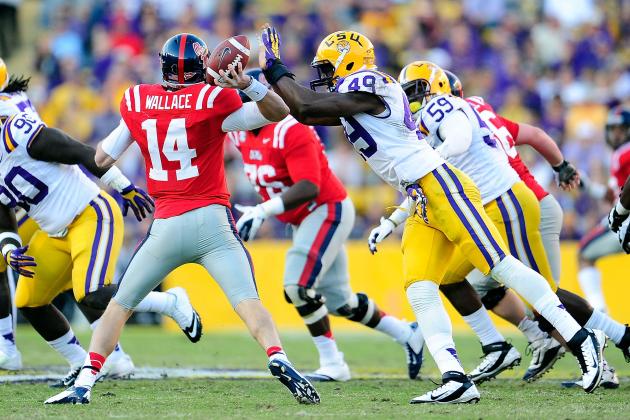 Stacy Revere/Getty Images
Mingo gets the Ole Miss quarterback in SEC action.
Arizona's list of outside linebackers could be in this order.
1. Barkevious Mingo, LSU
2. Dion Jordan, Oregon
3. Jarvis Jones, Georgia
4. Arthur Brown, Kansas State
5. Sio Moore, Connecticut
Analysis: Mingo, Jordan and Jones would all be solid fits to boost the Arizona pass rush. The team will be without Pro Bowl linebacker Daryl Washington for the first four games of the season, so if the Cardinals go for a linebacker, it would have to be one that could have an immediate impact. The team doesn't have much of a concern with Washington, but it is worth pointing out.
Brown can be versatile in coverage and pass rush, but Arizona really needs run-stuffers as they were torn up by opposing running backs last season. Moore is also a better pass-coverage linebacker, and that could be an asset with the teams Arizona faces this season. Moore is a strong hitter, and that could help in the rushing defense.
Either way, Arizona would be able to boost its linebacker corps with any of these players. The question is whether they address the run defense or the pass defense with the pick.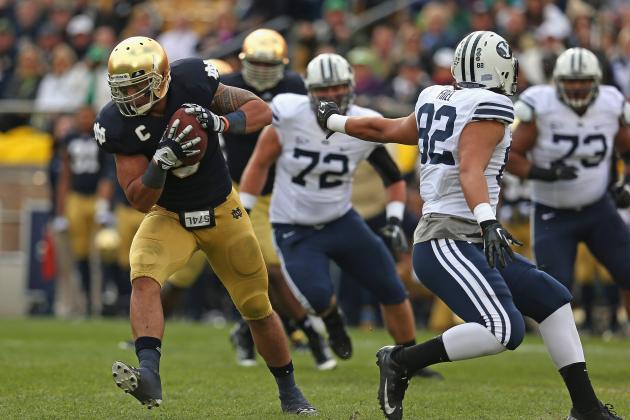 Jonathan Daniel/Getty Images
Te'o returns an interception against Brigham Young.
If Arizona is looking for a middle linebacker, their board for the position could be as follows.
1. Manti Te'o, Notre Dame
2. Jon Bostic, Florida
3. Kiko Alonso, Oregon
4. Alec Ogletree, Georgia
5. Kevin Minter, LSU
Analysis: Te'o is the best middle linebacker in the draft and should be gone before Arizona gets on the clock in the second round. Bostic should be able to make the move into the middle linebacker spot in Arizona's 3-4 defense. Bostic's ability to sniff out and shut down the run should help the Cardinals' leaky defense against running backs.
Alonso's athleticism is a huge asset, as is his straight-line closing speed and tackling skill. Despite some baggage, Alonso is worth a look as both a run-stuffer and in pass coverage. Ogletree and Minter are more SEC players who would give Arizona upgrades in run and pass coverage.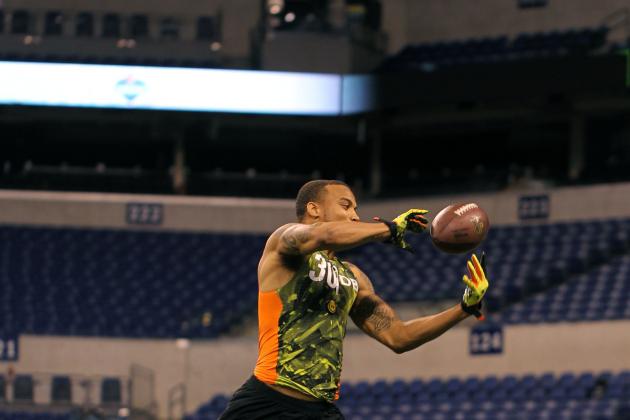 Brian Spurlock-USA TODAY Sports
Millner is a sure-fire first-round pick.
When Arizona looks for a cornerback, their top five options could be these players.
1. Dee Millner, Alabama
2. Desmond Trufant, Washington
3. Xavier Rhodes, Florida State
4. Johnathan Banks, Mississippi State
5. Jamar Taylor, Boise State
Analysis: Millner is the consensus top cornerback.
Trufant's size and speed are nice, and having two older brothers (Marcus and Isaiah) in the league is a big intangible. Not only can he defend in the passing game, but he's also willing to come up and stop the run, which is a big area of focus for the Arizona defense.
Rhodes left Florida State a year early and has the size, speed and skill to compete at the NFL level. Banks and Taylor would be nice additions in pass-coverage situations.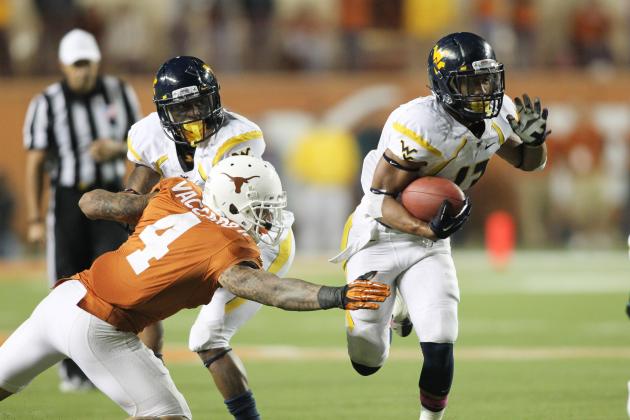 Tim Heitman-USA TODAY Sports
Vaccaro fights off a block while trying to make a tackle.
When it comes to safeties, Arizona could be looking at these as its top five.
1. Kenny Vaccaro, Texas
2. Matt Elam, Florida
3. D.J. Swearinger, Texas
4. Johnathan Cyprien, Florida International
5. Shamarko Thomas, Syracuse
Analysis: Arizona could use some help in the backfield, but this would be more of a late-round priority. Vaccaro leads the way, but he won't be there when Arizona comes up in Round 2. Elam makes a nice hybrid safety and is a strong tackler, especially in the run game, so Elam could be a nice addition to the Cardinals' defensive backfield.
Swearinger is an aggressive tackler, but sometimes he's too forceful and draws penalties. He looks to intimidate opponents with big hits but needs to draw the line between big and penalty. Cyprien is aggressive, active and meets runners with authority, and that should be a nice draw at the NFL level. Thomas loves to hit and uses his speed to wreak havoc at the line of scrimmage, especially in blitz situations.