2013 NFL Mock Draft: Breaking Down Final Projections for 1st Round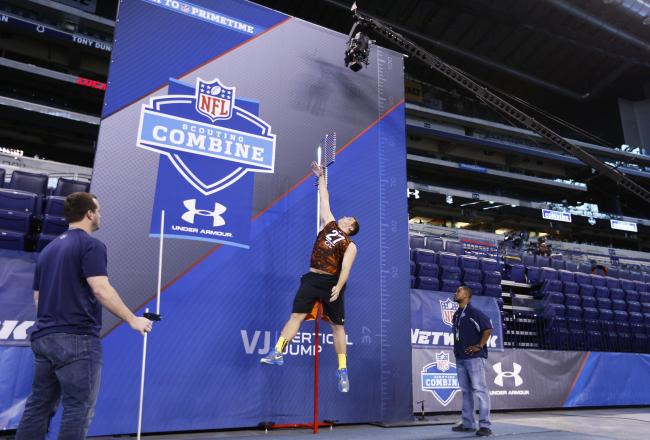 Joe Robbins/Getty Images
With little time remaining before the NFL draft, final mock drafts are being put out as the final predictions before teams make their selections. This draft class has a ton of depth, but not a lot of premier talent at the top, making mock drafts exceptionally challenging.
The structure of the class should also lead to multiple trades in the first round that will shape how the first round plays out. The rookie wage scale should also increase the likelihood of trades being made.
Here is a look at final projections for the first round, excluding trades.
1. Kansas City Chiefs (2-14): Luke Joeckel, OT, Texas A&M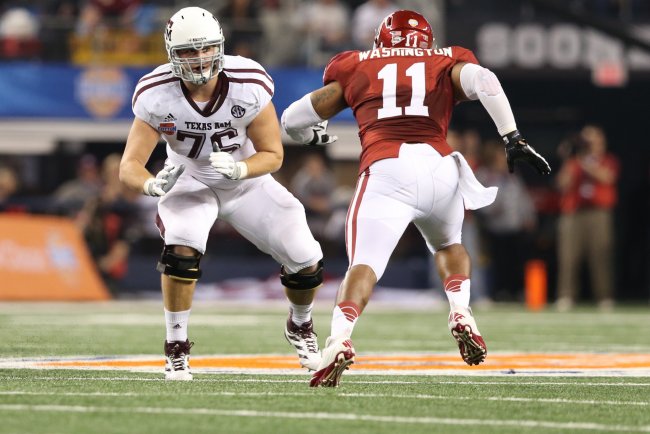 USA TODAY Sports
There has been much debate over what the Chiefs will do with the first overall pick in the draft. The likeliest option seems to be taking an offensive tackle and working to move Branden Albert. With Albert as a competent tackle, it seems almost a waste of pick to go with a tackle, but the Chiefs seem determined.
Joeckel is the best option for the Chiefs with Eric Fisher as a close second. While Fisher is more athletic and nasty, Joeckel shows up and gets the job done. He's also better in the running game, which should be a nice benefit for an offense that has Jamaal Charles in the backfield.
2. Jacksonville Jaguars (2-14): Dion Jordan, DE, Oregon
The Jaguars need as much help as they can get on their defensive line. Adding the freakishly athletic Dion Jordan should help them win more battles in the trenches. While Eric Fisher is on the table for Jaguars here, Jordan's rare skill set presents too great an opportunity to pass up.
3. Oakland Raiders (4-12): Ezekiel Ansah, DE, Brigham Young
The Raiders are in a similar position to the Jaguars. They need improvements on their defensive line. After shedding ridiculous contracts this offseason, the Raiders need a new pass-rusher to build around, and Ansah is the guy they need.
4. Philadelphia Eagles (4-12): Eric Fisher, OT, Central Michigan
Whoever ends up as the starting quarterback for the Eagles will need to be protected. Michael Vick, Kevin Kolb and Nick Foles have been abused in the last few seasons because of a lack of talent on the offensive line. Fisher isn't the most attractive pick, but it's the most practical.
5. Detroit Lions (4-12): Lane Johnson, OT, Oklahoma
The Lions offense took a huge step back in 2012, behind the struggles of their offensive line and quarterback Matthew Stafford. In order to get Stafford back to his 2011 form, the Lions need to make sure he's standing upright. Getting Johnson to improve the offensive line in both the running game and the passing game will do that.
6. Cleveland Browns (5-11): Dee Milliner, CB, Alabama
The Browns defense is on the rise, and adding the best cornerback in the draft would help them take the next step. Milliner can come in at the start of training camp and fit in immediately.
7. Arizona Cardinals (5-11): Barkevious Mingo, OLB, LSU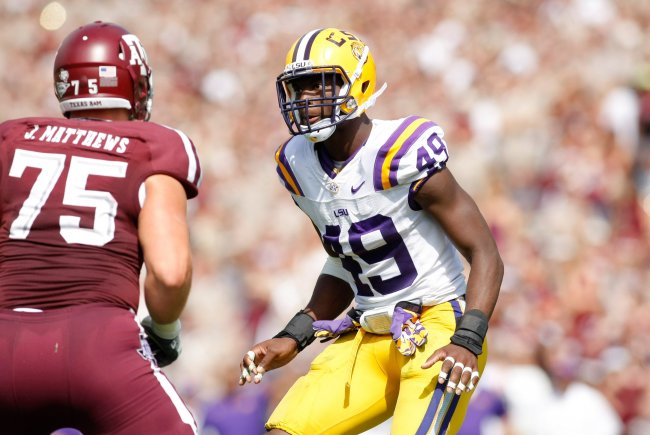 Brett Davis-USA TODAY Sports
The Cardinals are in an interesting position as they have numerous holes on both sides of the ball. Their offense should improve with Carson Palmer at the helm, but they need a defensive playmaker for that side of the ball. While trading up for an offensive lineman or grabbing a young quarterback could be an option, the best selection is Barkevious Mingo.
Another freakish athlete, Mingo should be able to come in and get some pressure on opposing quarterbacks. He has the type of game that would help against the plethora of offensive talent in the NFC West.
8. Buffalo Bills (6-10): Jonathan Cooper, OG, North Carolina
The Bills are in need of a quarterback after letting go of Ryan Fitzpatrick, but it won't matter who starts unless they improve their offensive line. Getting Cooper to add to their line would help the Bills get their offense straightened out. They can turn their attention toward getting a quarterback in the next rounds.
9. New York Jets (6-10): Tavon Austin, WR, West Virginia
From top to bottom, the Jets roster lacks the elite talent and athleticism needed to win in the NFL. In order to start changing that, the Jets need to take advantage of Tavon Austin being available early in the draft. Austin's playmaking ability will help whoever starts at quarterback for the Jets.
10. Tennessee Titans (6-10): Star Lotulelei, DT, Utah
The Titans seem to have their offense in decent change with a solid direction. Defensively, they aren't there yet. They will benefit from the run of offensive players and athletic defensive players taken earlier in the top 10 and be able to land a premier defensive tackle.
11. San Diego Chargers (7-9): Chance Warmack, OG, Alabama
The Chargers need to improve their offensive line in order to see if Philip Rivers can really be the franchise quarterback going forward. Too often he's been under pressure and made mistakes that have cost the team. While the tackles will go early, they can still get great value with Warmack.
12. Miami Dolphins (7-9): D.J. Fluker, OT, Alabama
The Dolphins have used free agency to fill a good number of holes this offseason, but that offensive line still has some major question marks. Fluker might be considered a reach with the 12th pick, but if he pans out, it will be well worth it for the Dolphins.
13. New York Jets (via Tampa Bay Buccaneers 7-9): Geno Smith, QB, West Virginia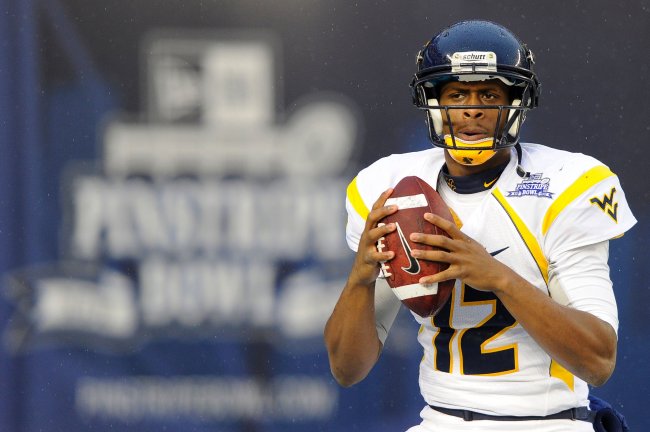 Rich Barnes-USA TODAY Sports
The Jets need better quarterback play going forward. It's as simple as that. Mark Sanchez hasn't lived up to expectations, and he hasn't shown the potential to be much better than he is right now. Instead of embracing mediocrity, the Jets need to move on from Sanchez as the starter.
Geno Smith doesn't have the skill set and NFL readiness that some of the top quarterbacks had last draft, but he's still capable of being a starting quarterback. With the right personnel around him and a chance to grow into the offense, Smith is the best option for the Jets.
14. Carolina Panthers (7-9): Sharrif Floyd, DT, Florida
The Panthers defense was fairly strong last season, but their biggest weakness was in the middle. Adding Floyd would give them a defense capable of being among the top in the NFC.
15. New Orleans Saints (7-9): Jarvis Jones, OLB, Georgia
The Saints desperately need a new defensive identity, and Jarvis Jones is the player to do so. Jones has exceptional athleticism and big-play ability. His physical but clean style of play makes him the perfect fit for the Saints defense.
16. St. Louis Rams (7-8-1): Kenny Vaccaro, S, Texas
With two talented cornerbacks, the Rams secondary just needs a weapon at safety to be considered one of the best in the league. Grabbing the top safety in the class, Kenny Vaccaro, would surely do that. Vaccaro has great range and playmaking ability that make him well worth the 16th pick.
17. Pittsburgh Steelers (8-8): Xavier Rhodes, CB, Florida State
The Steelers defense was still strong in 2012, but age and lack of athleticism have them on the verge of falling quickly. Drafting a young, athletic cornerback would help to make sure their defense doesn't take too much of a drop.
18. Dallas Cowboys (8-7): Sheldon Richardson, DT, Missouri
The Cowboys defense wasn't physical enough last season as they repeatedly got out-played in the trenches. They need a future replacement for Jay Ratliff, who will be 32 years old when the season begins. Richardson has the size needed to take up space, but also the athleticism to penetrate.
19. New York Giants (9-7): Bjoern Werner, DE, Florida State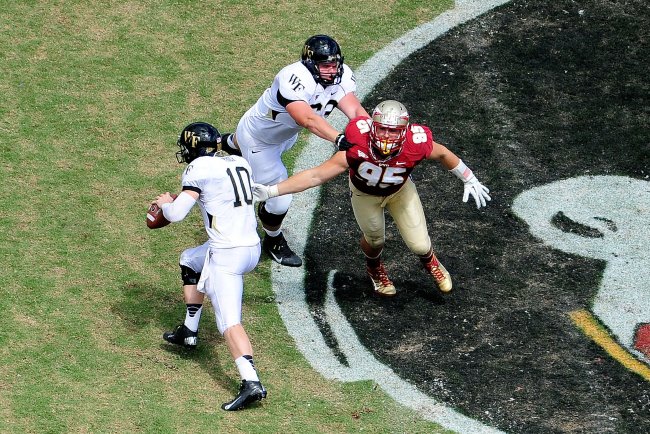 Stacy Revere/Getty Images
The Giants defense took a large step backward following their Super Bowl appearance in 2011. They struggled to get pressure on the quarterback as their defensive line failed to replicate prior success. Adding Bjoern Werner should help to alleviate the void left by Osi Umenyiora this offseason.
Werner has great length and explosiveness to be a real fit on the defensive line. He can use his speed to get around blockers or his strength to bull-rush them. He needs work to improve his overall technique and to be consistent for longer stretches.
20. Chicago Bears (10-6): Desmond Trufant, CB, Washington
The success of the Bears defense is heavily reliant on their cornerbacks being athletic ball hawks. With Charles Tillman, 32, Kelvin Hayden, 29, and Tim Jennings, 29, aging, the Bears need to get some younger talent in the mix. Trufant offers them the skill set the Bears usually look for.
21. Cincinnati Bengals (10-6): Menelik Watson, OT, Florida State
With Andy Dalton, A.J. Green and BenJarvus Green-Ellis, the Bengals offense has improved drastically. They still need some help on the offensive line though and could look to grab Watson even though it might be considered to be a reach.
22. St. Louis Rams (via Washington Redskins 10-6): Cordarrelle Patterson, WR, Tennessee
The Rams have done a decent job putting talent around Sam Bradford, but they need to give their franchise quarterback more receiving options. Patterson probably has the highest ceiling in the draft, but he is still raw. With a chance to grow into this offense, Patterson could make a big difference for the Rams in the crowded NFC West.
23. Minnesota Vikings (10-6): Manti Te'o, LB, Notre Dame
The Vikings defense has some young playmakers in the secondary to go with their talented defensive line, but they could improve in the middle of the field. Te'o comes with some question marks, most notably his speed, but his football instincts make up for those questions enough to make him worth it.
24. Indianapolis Colts (11-5): Datone Jones, DE, UCLA
With Dwight Freeney's Colts career coming to an end this offseason, the Colts need to grab a defensive end who can get pressure on the quarterback. Jones has great athleticism for his size, making him an attractive option.
25. Minnesota Vikings (via Seattle Seahawks 11-5): E.J. Manuel, QB, Florida State
Christian Ponder still has some proving to do in order to be considered the Vikings franchise quarterback. Grabbing E.J. Manuel allows the Vikings to give Ponder another chance to prove himself while grooming another option behind him. If Ponder turns out to be the guy, the Vikings will have a nice tradeable asset in Manuel.
26. Green Bay Packers (11-5): Jonathan Cyprien, S, Florida International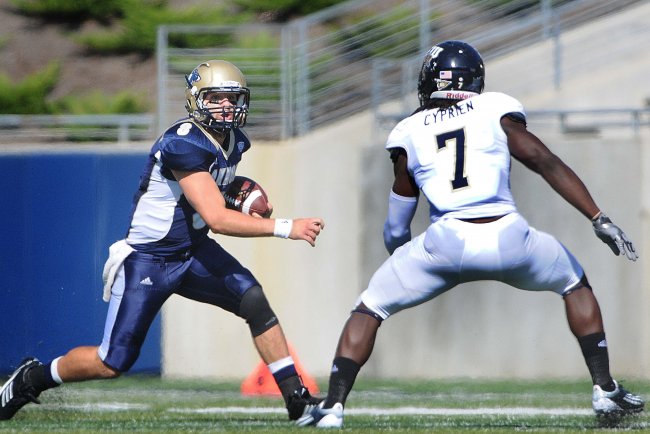 Eric P. Mull-USA TODAY Sports
The Packers have needs along the defensive line, but the value might not line up and force the team to go in a different direction. With Jonathan Cyprien still on the board, the Packers could look to improve their secondary with an immediate starter. The Packers haven't been able to find a player to pair with Morgan Burnett since Nick Collins' career-ending injury in 2011.
Cyprien would give the Packers a hard-hitting playmaker in the secondary. The Packers defense has been notably soft in the last couple seasons, and Cyprien's presence would work to change that perception. With up-and-coming, young cornerbacks, the Packers could have one of the league's best secondaries with Cyprien in the mix.
27. Houston Texans (12-4): DeAndre Hopkins, WR, Clemson
The Texans offense is too old and too slow. In addition, they are too focused on Andre Johnson in their passing game. The team needs another option at wide receiver. Hopkins gives them a playmaking wide receiver who can be paired with Johnson now and later be the top receiver.
28. Denver Broncos (13-3): Johnthan Banks, CB, Mississippi State
The Broncos defense got abused in the playoffs as the Baltimore Ravens' passing attack was able to move the ball. In order to improve their secondary, expect the Broncos to take a hard look at the cornerbacks available late in the first round.
29. New England Patriots (12-4): Margus Hunt, DE, Southern Methodist
The Patriots defense has repeatedly been their downfall over the past few seasons, especially their secondary. While they need players to improve their secondary play, the Patriots could also use some length on the defensive line to make opposing quarterbacks unhealthy. Hunt has good size and tremendous arm length, both making him a strong fit in the Patriots defense.
30. Atlanta Falcons (13-3): Tyler Eifert, TE, Notre Dame
The Falcons don't have a big need at tight end with Tony Gonzalez in the mix for 2013, but Eifert would give them great value. Instead of having a big hole at tight end when Gonzalez retires, the Falcons would be able to just increase Eifert's offensive role.
31. San Francisco 49ers (11-4-1): Jesse Williams, DT, Alabama
The 49ers are a team to watch throughout the first round as they have the ammo to move up for a higher pick. If they stick with the 31st pick, the 49ers could be in the market for a defensive tackle. Their defense collapsed down the stretch following an injury to Justin Smith. Adding Jesse Williams gives them a beast to add to their rotation.
32. Baltimore Ravens (10-6): Kevin Minter, LB, LSU
The Ravens have a big hole to fill at inside linebacker with Ray Lewis off the team. Minter's good instincts and strong play will help the Ravens defense pick up right where they left off with Lewis.
This article is
What is the duplicate article?
Why is this article offensive?
Where is this article plagiarized from?
Why is this article poorly edited?